E-scooters are becoming more and more popular every year.
Residents of megapolis cities found out all the advantages of this type of vehicle compared to using cars or, for example, bicycles:
no traffic jams;
eco-friendly;
flexibility and ease of use;
the minimum amount of energy expended;
a lot of parking spots;
the fastest way to get from point A to point B (obviously, if the distance is not counted in tens of kilometers).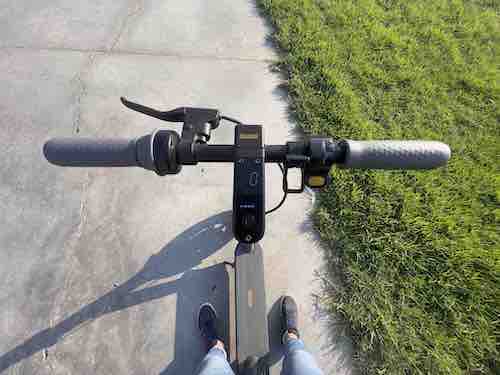 And what about travel? Traveling is exactly the same!
It comes with a huge bonus – TONS of cool emotions from the trip, the opportunity to get to know a new place, and the chance to see the country not only from the window of a tourist bus or a rented car but also by experiencing everything first-hand!
I tested electric scooters in different countries, including Cyprus, and decided to share my experience in this article.
Are Electric Scooters Legal In Cyprus?
Absolutely.
But you should remember a few rules, including the age range, maximum speed limits, and the correct use of a roadway.
And obviously you need to follow them.


I would like to make a small comment regarding the rule that scooter riding is only possible on bike paths.
Not all the cities of the island have bike paths everywhere, but this does not mean that it is forbidden to ride a scooter there at all.
Mostly, in such cases, travelers use the roadway or sidewalk.
I can't say that it's totally allowed to do so, but in most cases, the locals don't care about it.
Therefore, use this option only in case of urgency and, of course, do not forget about road safety.
---
If you are a foreign tourist, you don't need to pay extortionate roaming charges nor do you need to buy a local SIM card to use E-Scooters in Cyprus.
Just get yourself an eSIM instead. It is by far the cheapest and easiest way to get data abroad.
Electric Scooter Hire Ayia Napa
We live in the Famagusta region, where the nearest city to us is Ayia Napa, so we have checked all the possible ways to rent electric scooters there.
I must notice that there are not so many offers in Ayia Napa, or rather say, it's almost impossible to find it. 
But still, it's not all that bad.
We found at least two e-scooter rental companies.
One of them has a mobile app, the other has a website and a proper vehicle drop-off point.
Take A Ride Scooter Cyprus
You will find these e-scooters everywhere in Ayia Napa: on all the central streets of the district, almost every 100-200 meters.
To unlock the scooter, you need to download the app and sign in to it.
Just be sure that you have enough mobile data, as you will need it to both unlock and lock the scooters.
We always get a local eSIM when travelling to ensure that we have adequate data, and you'll be surprised at just how much cheaper it is than roaming changes!
On the map there you will find all scooters available, plus you can check the battery charge of the scooter you plan to rent and check the price.
Unlocking the e-scooter costs 80 cents, the reservation costs 80 cents, and each minute of the ride costs 20 cents.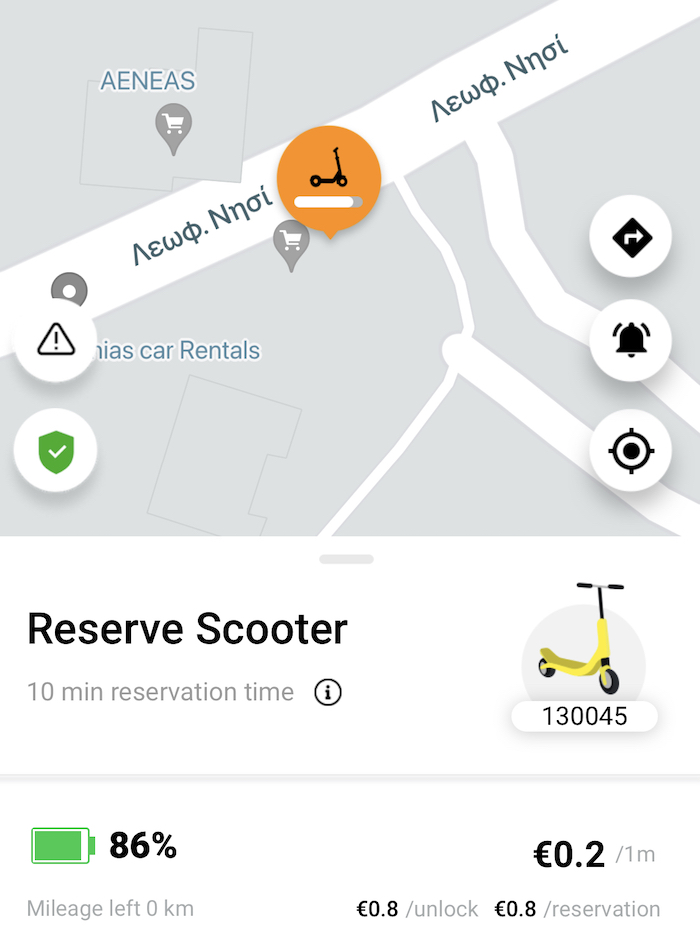 Also, in order to unlock the scooter, you need to make a deposit in your account, which is at least 10 euros.
Good news: you can use one phone and one deposit in order to unlock two scooters.
Our review:
Unfortunately, I cannot say that we were quite happy with the ride.
Firstly, the vehicle itself is a bit hard to drive, the scooter moves "tight".
The maximum possible speed is 18 km/h, which in my personal opinion is slow for the relatively empty cycle lanes of Ayia Napa.
We could turn a blind eye to that, but eventually the end of the trip drew a no-going-back line in our experience with Take A Ride e-scooters.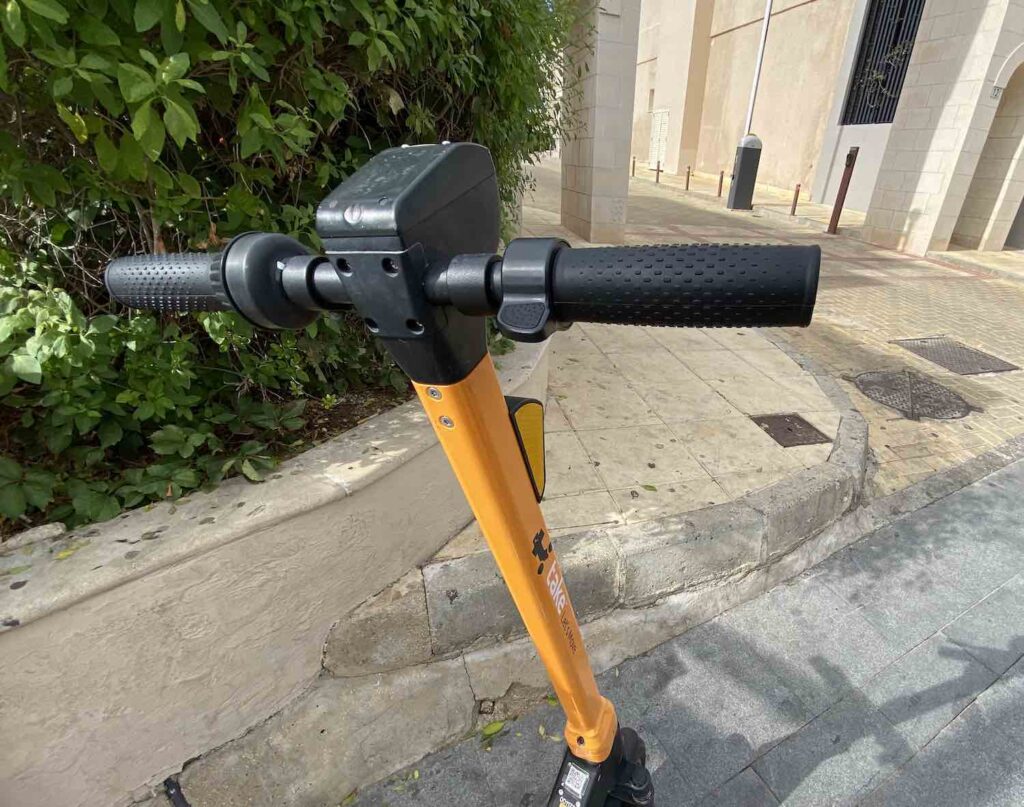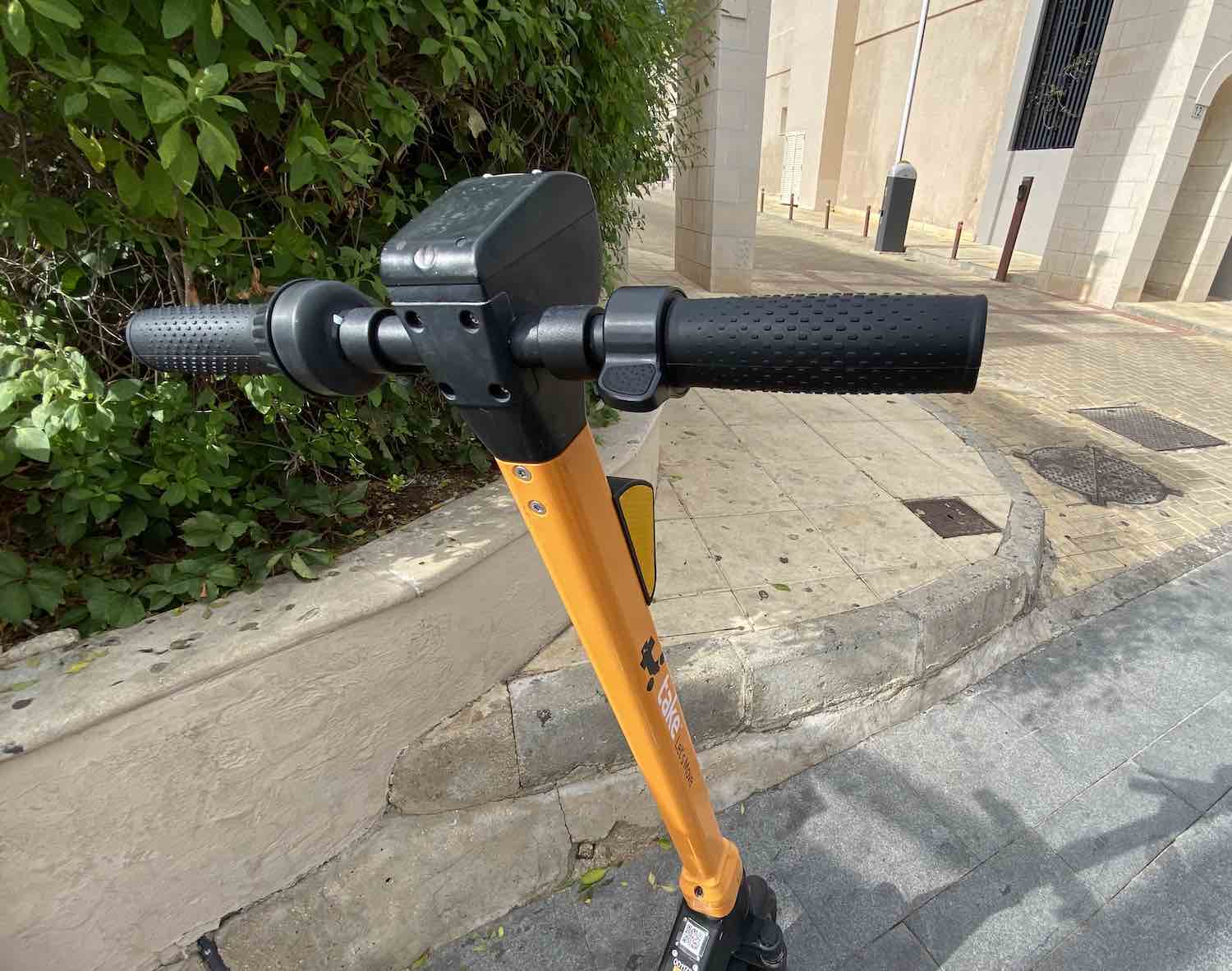 While riding to the place of destination, one of the scooters abruptly stopped moving and showing any signs of being alive.
Although the battery charge was about 60-70%, plus we were in the permitted riding area.
The app also crashed and we had to reload it to stop the renting, which ended up taking at least a couple of minutes, and of course, the renting period of this time was counted.
And even so, we could have been less disappointed with the ride, but after the trip was completed and the scooters were blocked, we were charged extra money.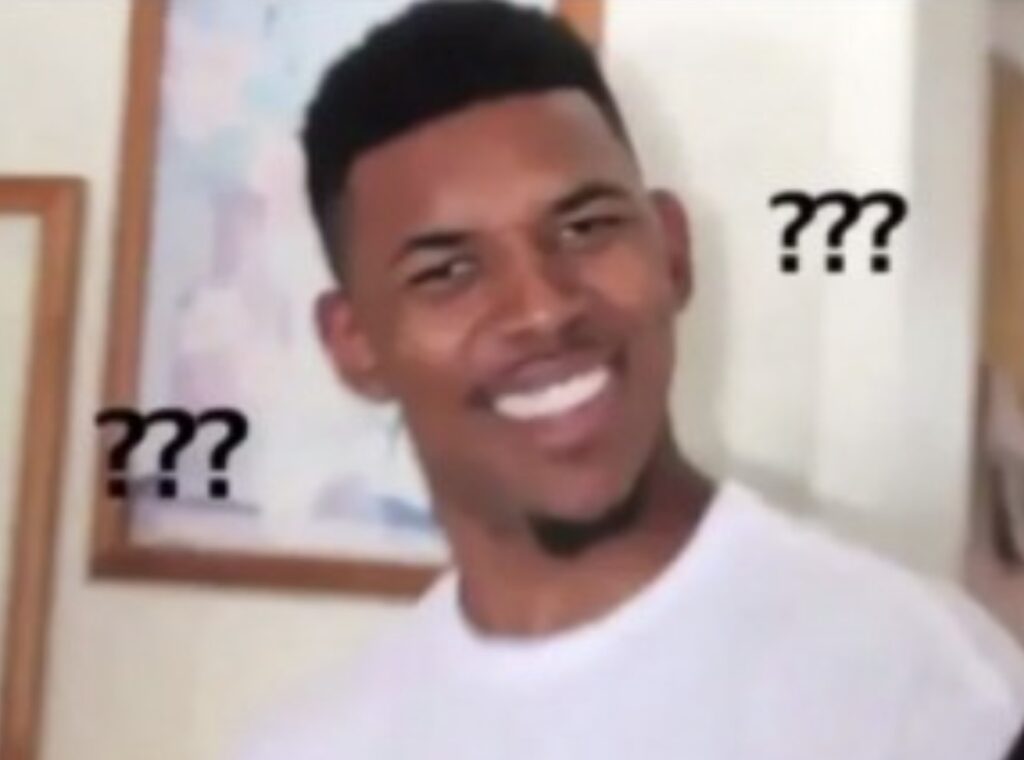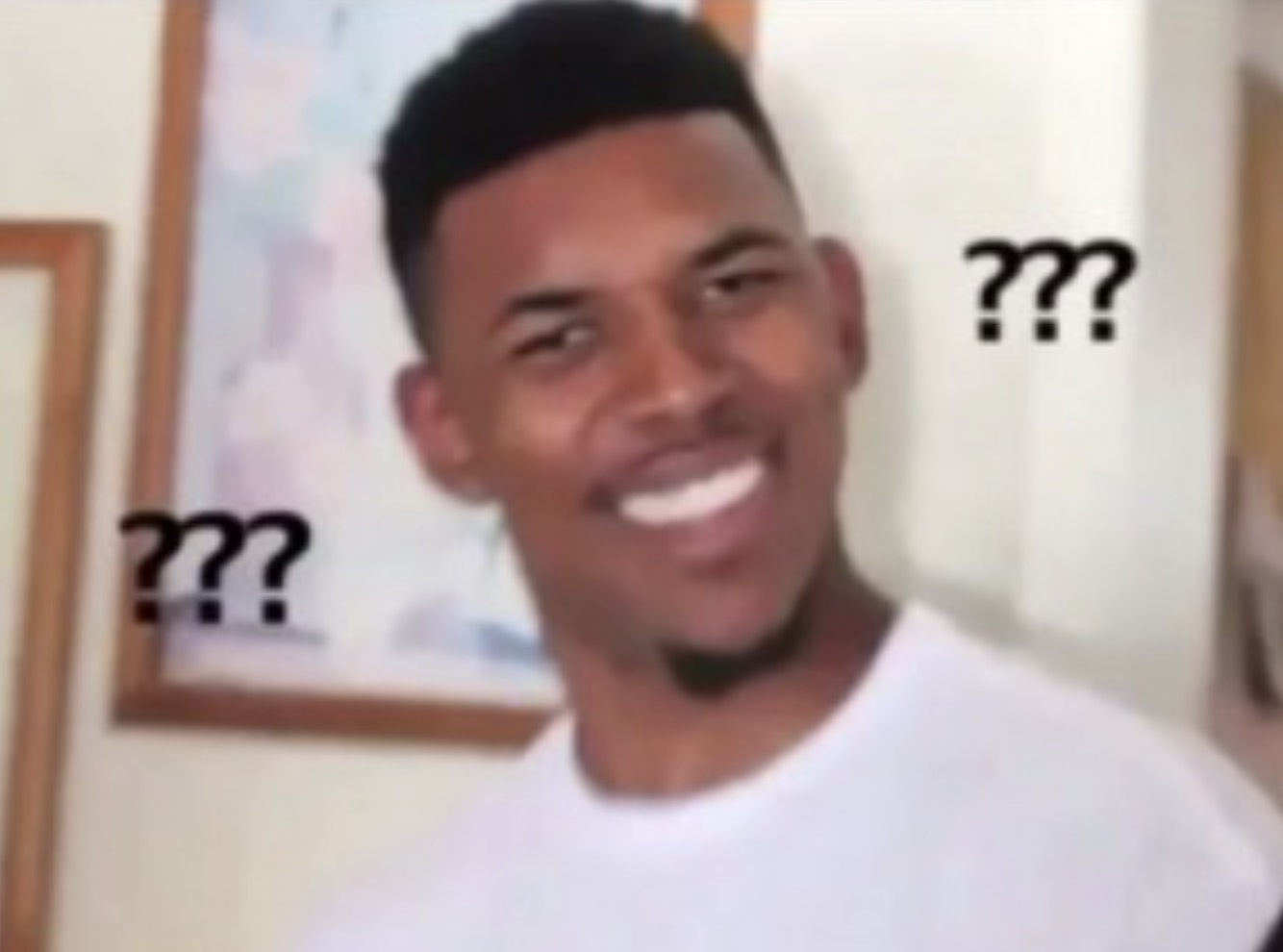 Still not clear for what 😀
For 13 minutes of riding two scooters, of which 2-3 minutes were spent on one non-working scooter and a broken app, we paid 9.5 euros.
According to their price, it should have been no more than 7.5 euros. We sent a request to the support service to clarify the calculation, but no one ever answered us.
I don't want to sound picky, the extra 2 euros is not a lot of money, and perhaps the app's bug is an exception.
But the main issues are the feedback and the ease of use of both the app and the vehicle.
If the support team would have answered us and explained the calculation, and if they would have given us feedback regarding the non-working scooter, the overall impression would have been much better.
Erun Cyprus
Website | Address in Ayia Napa | Address in Protaras
Absolute recommendation!
This is one of the most comfortable scooters I have ever used!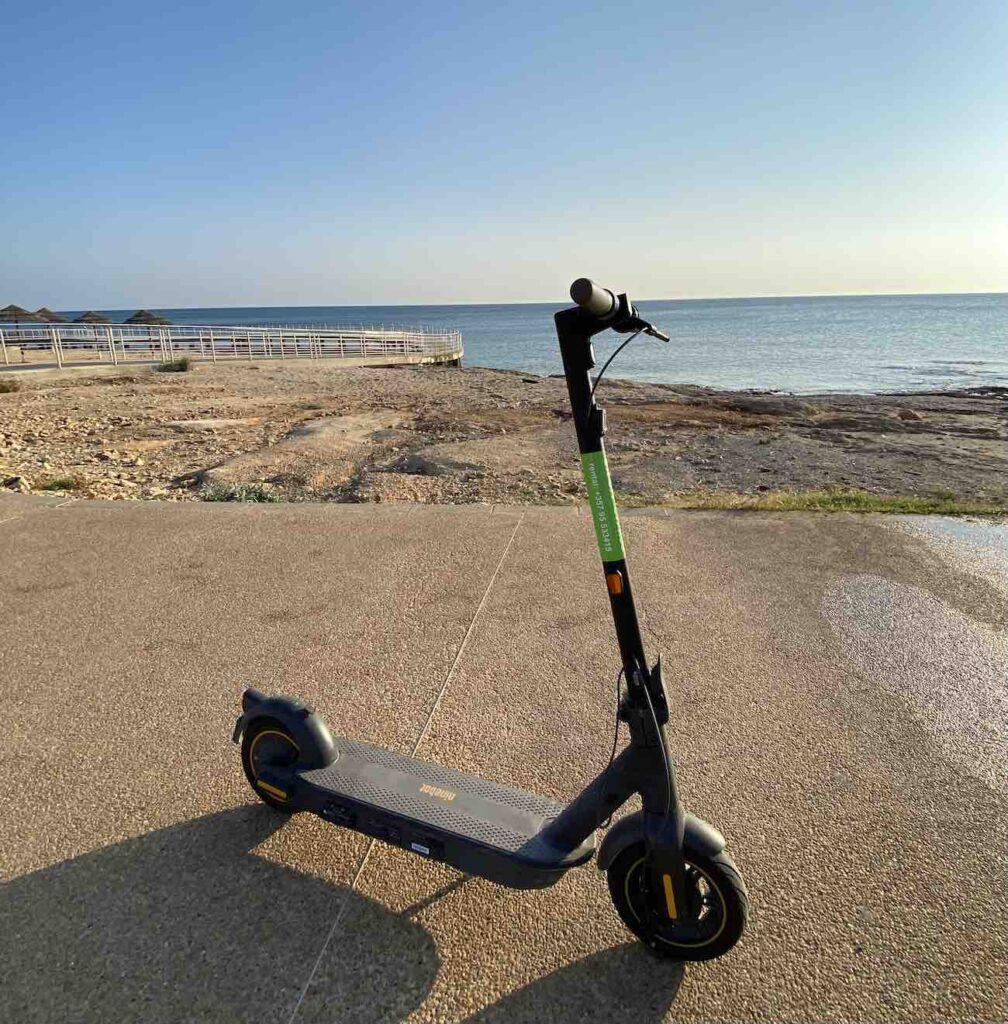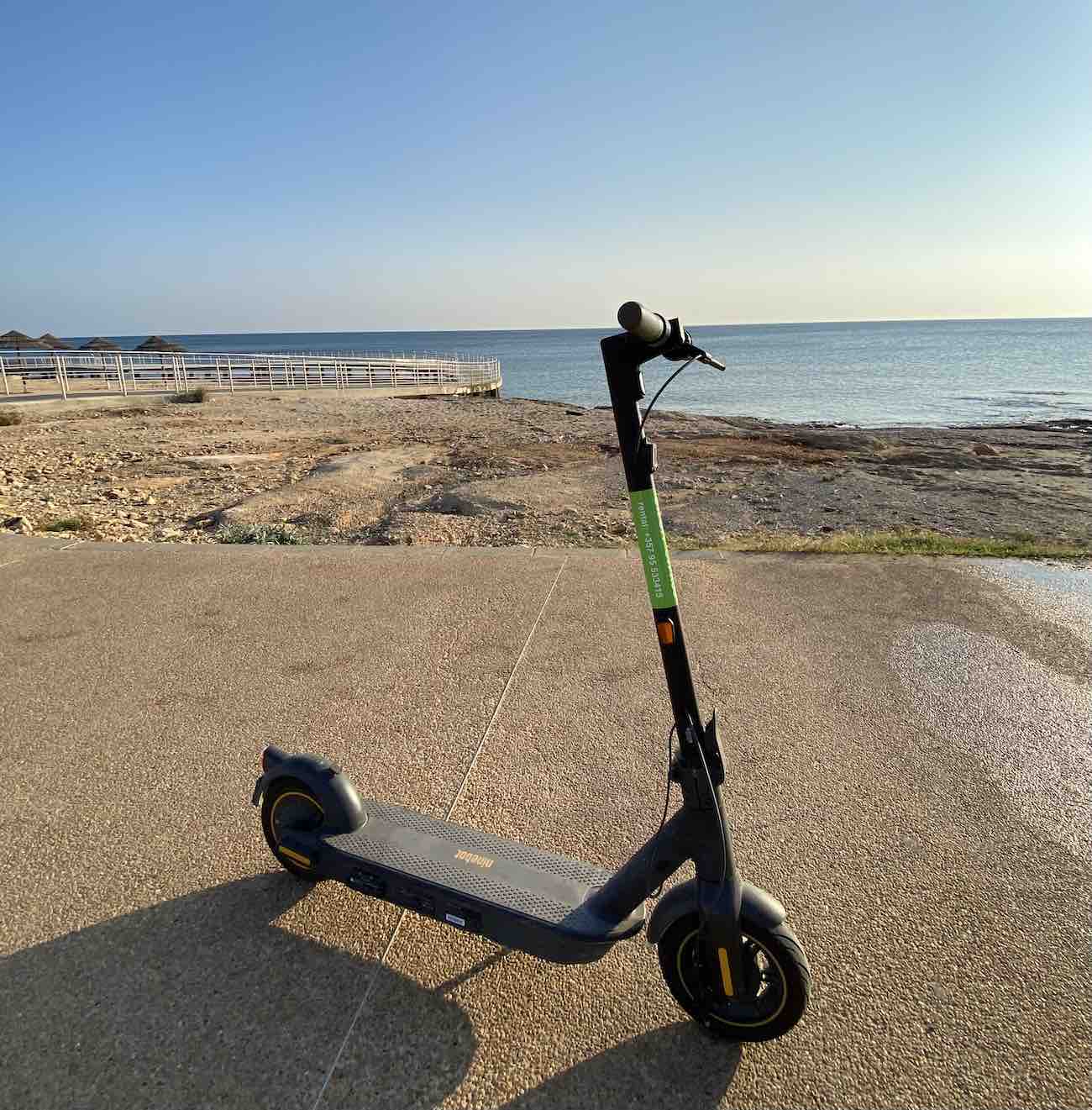 The renting company does not have an app (yet!), and the scooter cannot be taken just somewhere on the street.
You need to go to the pickup point and rent it on the spot.
In return, you will get scooters in a perfect condition with a fully charged battery, a long ride time and a relatively low cost.
Important note: the minimum rental time is 2 hours, the rental price is 10 euros.
You can return the scooter earlier, but the money will not be recalculated.
Therefore, it is better to consider at least this time for riding.
They also have offers for long-term rentals, for 1 day or up to 10 days, which is also very convenient for those who come on vacation.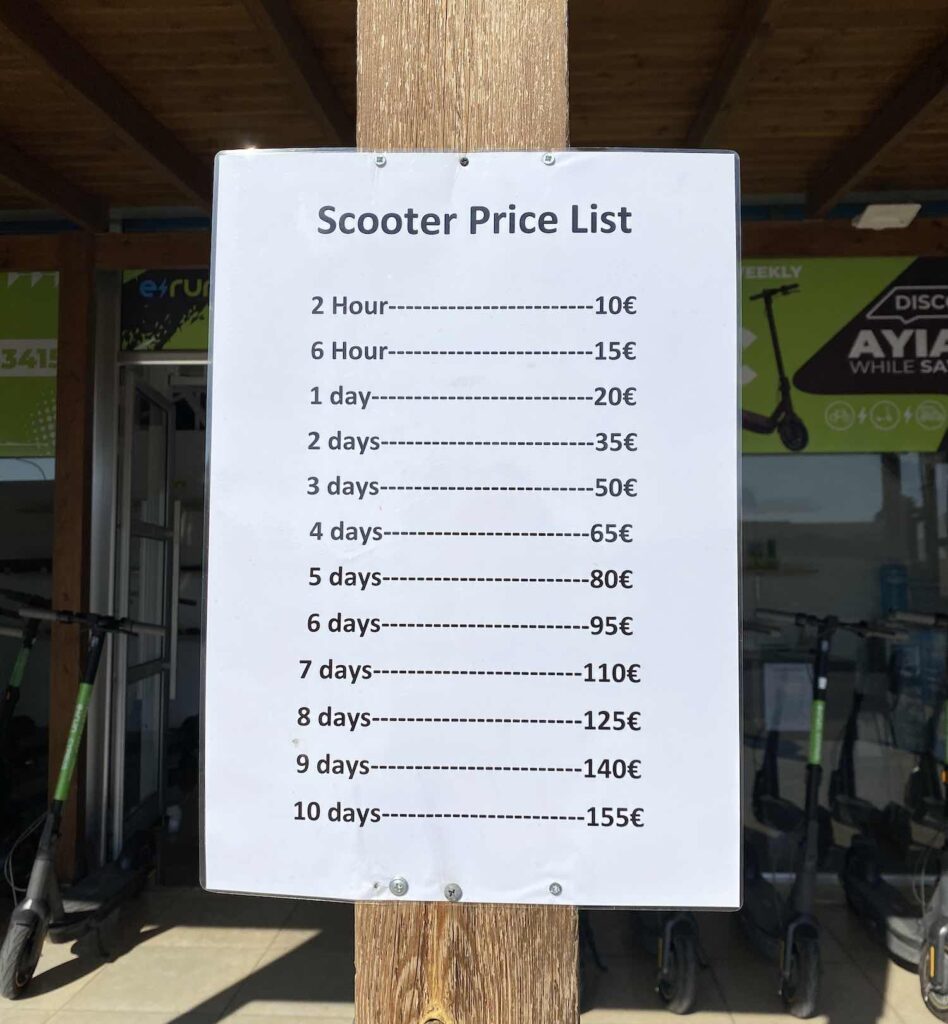 The prices, in comparison with other European countries, are more than reasonable.
As I wrote above – I completely enjoyed the ride!
The scooter is very comfortable and easy to drive (which is important for a girl!).
It has three different speed limits to choose from – from 18 to 25 km/h.
And the shop assistant is a very friendly and welcoming guy.
Rent Electric Scooter Larnaca
Pick'n Click
In Larnaca, I would highly recommend this company for e-scooter renting.
They offer mopeds, electric scooters, e-bikes and other various vehicles for hiring.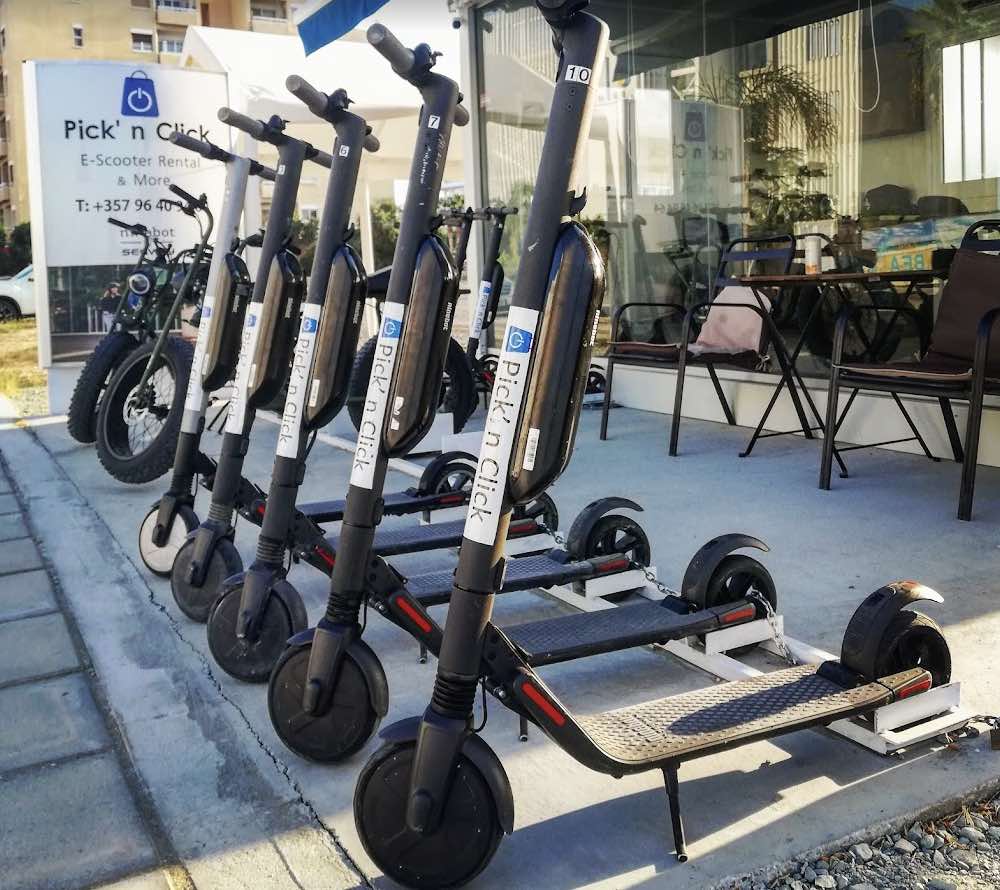 Their advantages:
Affordable rental price – 15 euros per day;
Vehicles with an excellent condition and with a fully charged battery;
Friendly staff and great service;
Convenience and ease of use.
I should mention that on a scooter you can go around and explore the whole city of Larnaca, also you can visit all the most beautiful spots and viewpoints of the Larnaca Salt Lake.
You should definitely do it! 🙂
Scooter 2 Go
Another cool company for those who will be searching for hiring an e-scooter in Larnaca.
This is a small local electric scooter and bike rental shop.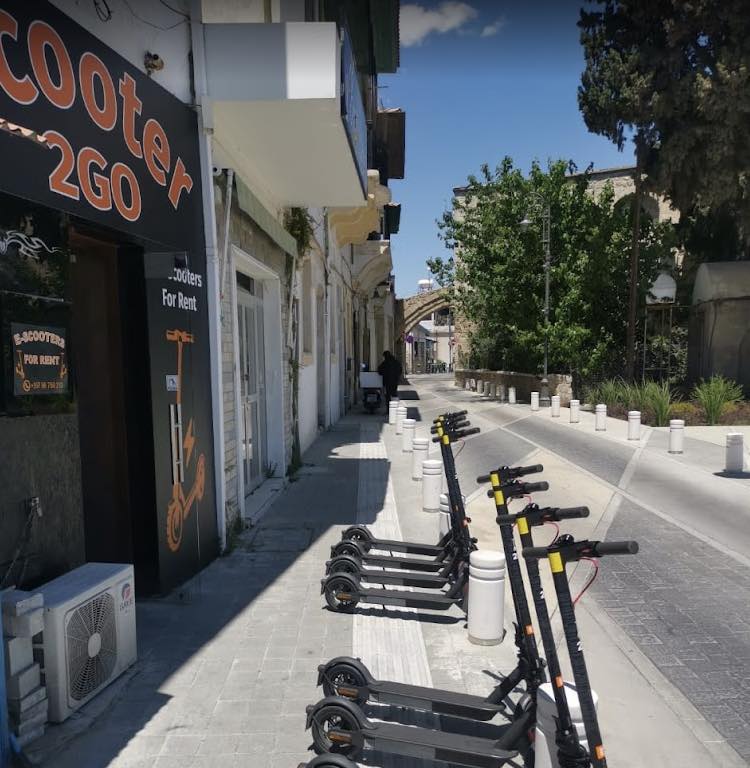 They don't have their own app or website, but they DO HAVE very good prices.
And friendly staff, of course.
Renting an e-scooter here will cost you only 10 euros per 6 hours or 15 euros per day.
Renting a bicycle, by the way, will cost only 5 euros per 6 hours or 8 euros per day.
Rent Electric Scooter Nicosia
Unfortunately we couldn't find any e-scooter rental companies in Nicosia.
Perhaps this is due to the fact that the capital of Cyprus is located in the center of the island, not on the coast, so there are fewer tourists here, which means there is less demand for e-scooters.
Plus it doesn't have a lot of bicycle lanes which are required for riding this type of vehicle.
However, if you'd like, you can purchase an electric scooter there.
Or arrange a half-day segway tour with a local guide through the center of Nicosia.
Rent Electric Scooter Limassol and Paphos
Again such a pity, but it's currently not possible to rent an electric scooter in Limassol or Paphos.
I think this is due to the rule of available bike lanes on the streets, which are not so many in these areas.
Anyway I think it's a matter of time. 
Cyprus is actively developing and being built up, so soon there should be more bike paths in the city. 
Which means that electric scooter rentals will appear, especially given their advantages over other classic types of transport.
---
If you like this article you might be interested in checking my post about best cheap hotels in Ayia Napa for partying.
Looking for somewhere to really get your teeth into electric scooters? We would recommend E-Scooters in Berlin!