Koh Lipe is a tiny island in the southwestern part of Thailand.
Such a kind of pearl, hidden in the bowels of the Indian Ocean, which is not so easy to find, and which is more pleasant and exciting to meet with.
The crisp white beaches of Koh Lipe and the surrounding emerald green hill islands are stunning, the incredibly turquoise sea color beckons, and Thai hospitality, bungalow resorts in jungles and local food, of coooourse, leave no chance for those who face a dilemma about choosing a place for their next cool and unforgettable trip.
---
Often there are great deals with flights.
For example, a round-trip flight from Abu Dhabi to Bangkok can sometimes be as low as $370!
Click here in order to check all the other flight offers.
Is Koh Lipe in Pattaya?
While I was doing research on this topic, I noticed that many people are confused about the location of Koh Lipe relative to Pattaya.
Most likely, this is due to the fact that the island has a beach called Pattaya Beach.
So I want to clear it.
Pattaya is a mainland city in the southeast of Thailand, located on the coast of the Gulf of Thailand.
Koh Lipe is an island in the southwest of Thailand, almost at its southernmost point, on the border with Malaysia.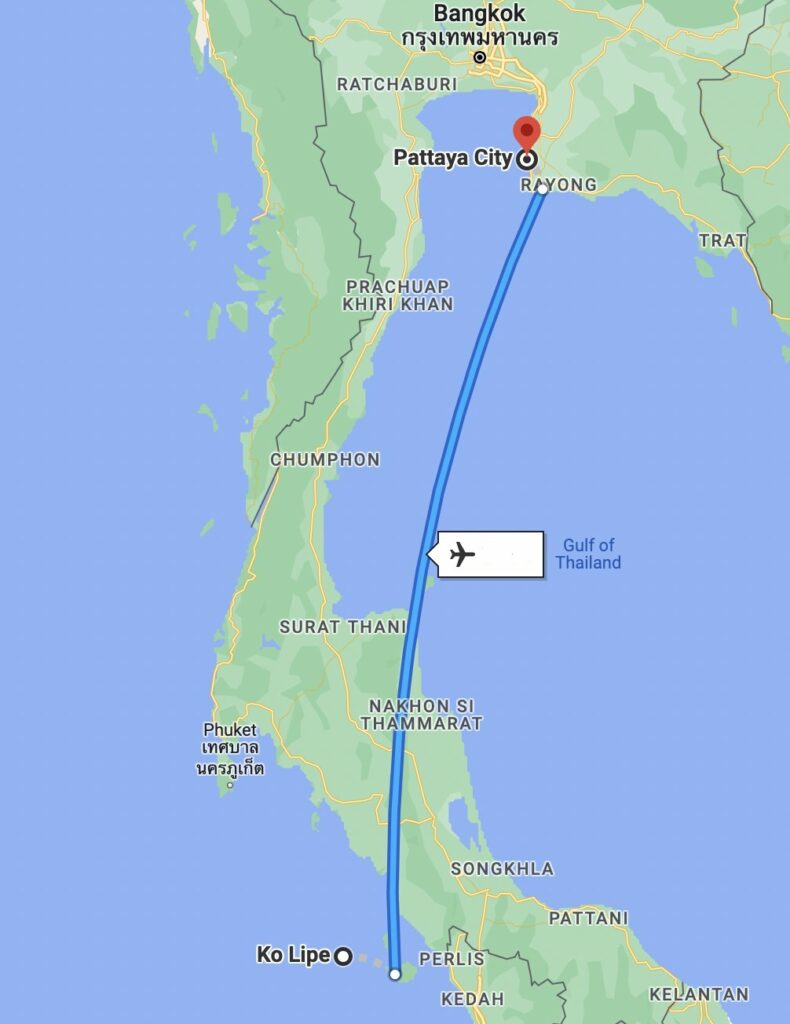 But on the island of Koh Lipe there is a beach – Pattaya Beach. It is one of the most popular beaches there, with several hotels, restaurants and bars.
Is Koh Lipe Worth It?
Ab-so-lu-te-ly!
I have visited many Thai islands and Koh Lipe was one of the best for me, if not the best.
EVERYTHING you want to get from a holiday in Thailand can be found here:
clean and beautiful sandy beaches,
an Asian vibe,
delicious food and many international cuisines restaurants,
all kind of activities: excursions, diving, fishing, etc.,
massage,
and the most important – the very feeling of relaxation, harmony and tranquility, which we strive for so much on trips to the Kingdom of Siam.
During my stay on Koh Lipe, I talked a lot to backpackers and people who explore Thailand for months, and we agreed that Koh Lipe is an island that is definitely worth visiting, at least once.
Koh Lipe Thai Street Food
Thai street food is famous and popular all over the world.
Just take this spectacle alone, some kind of performance, when right in front of you, with the dexterity of a magician, the locals cook Chicken Fried Rice or Pad Thai.
Or deep fried shrimps!
Or pancakes with chocolate and mango!
Or ice cream!
I can keep the list endlessly! 😀
In fact, if you've been to Thailand and haven't tried the street food, you're missing out! 
Be sure to come back and arrange this experience for yourself! 
It's worth it!
In the meantime, I will share the ideas and best spots of Thai street food on Koh Lipe island.
Yellow-and-red Kiosks
The main pedestrian and tourist street of Koh Lipe – Walking Street – is a place where you can try a lot of local street food.
For example, at the beginning of the street from Pattaya Beach side and closer to its middle, there are two similar kiosks, without a name, but with the same yellow-and-red menu across the entire wall of the kiosk (so you should not pass by).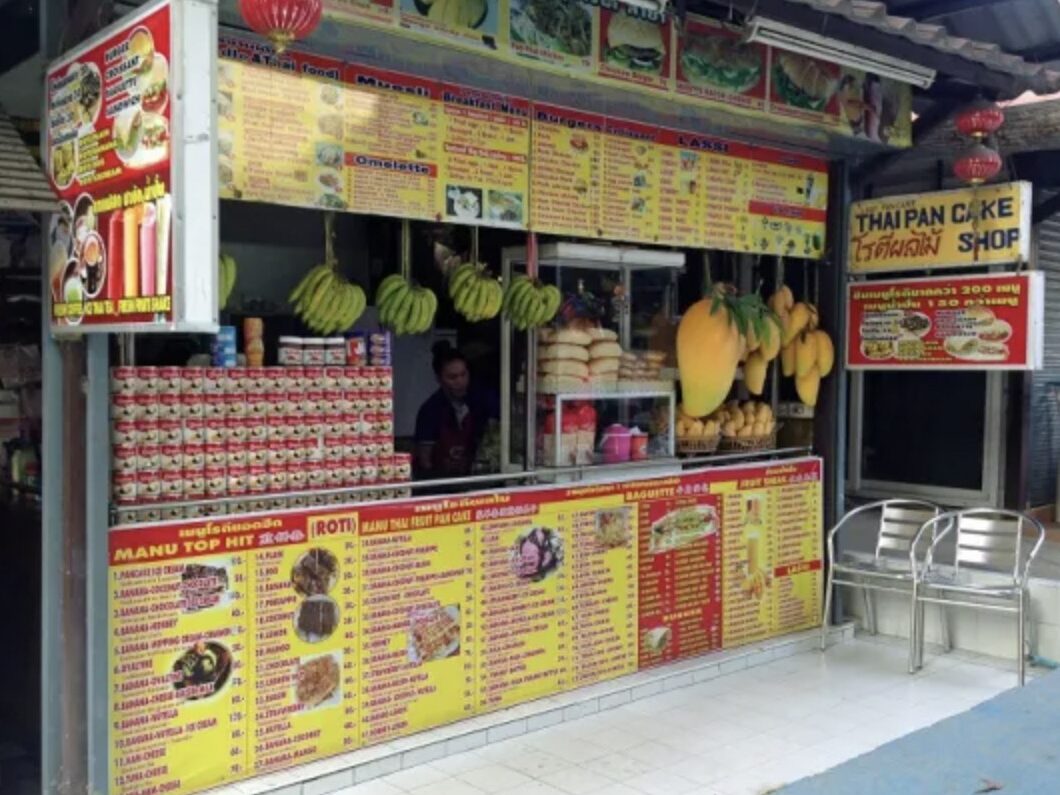 There you can try Thai food, have breakfast or order burgers.
In addition, they cook pancakes and Roti (Indian flatbread).
Prices are more than reasonable: burgers or sandwiches cost 70-120 baht, Roti and pancakes from 40 baht and above.
Coconut Donut
If you want to try exceptionally delicious coconut pancakes and only for 10 baht, you need to find a cute Thai old man who usually stands on the right side from Walking Street, next to the Chic Lipe Hotel.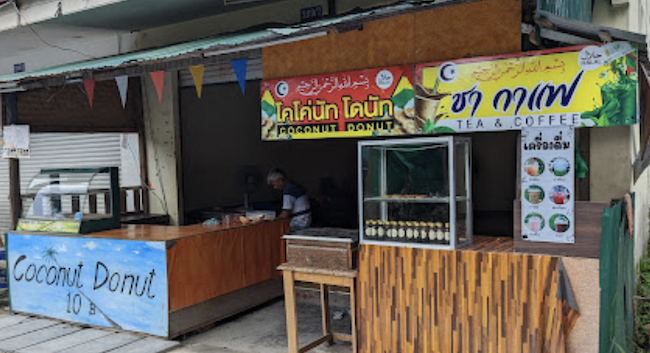 Believe me, this will be your best 10 baht purchase!
By the way, there you can also buy fresh coconut oil.
Be sure to save the address.
Chicken Kebab
One of the cheapest places to eat on Koh Lipe.
For example, chicken kebab costs ONLY 60 baht here!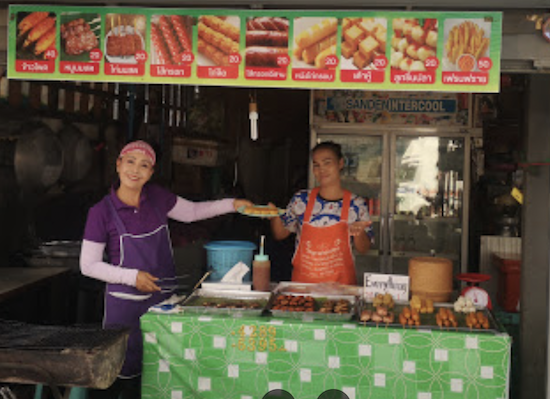 And for pizza the price varies only from 140 to 300 baht.
Flatbread – 10-20 baht, French fries – 50 baht, small chicken and pork satays – 20 baht!
Despite such a low price, the food there is quite tasty, and many tourists are regular visitors.
The cafe is located right opposite the Siam International clinic.
Koh Lipe Slush
Exploring Koh Lipe Walking Street, do not pass by the Slush fruit cocktail bar.
This is a bar where they make incredible fruit cocktails with many different flavors.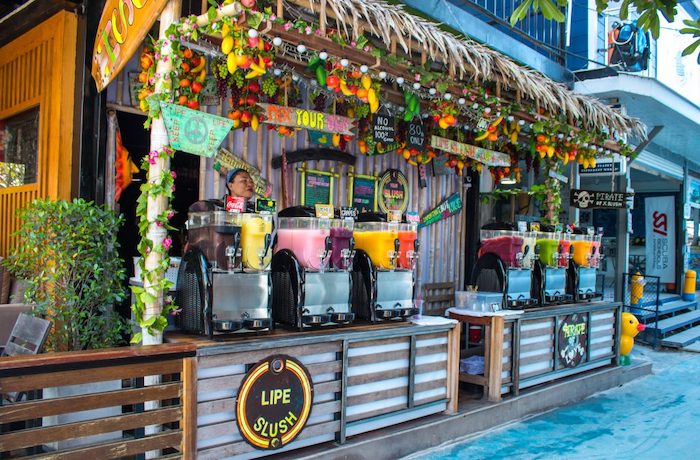 Cold and refreshing – exactly what you need in hot and humid Thai climate!
Be sure to try a mix of two or more flavors – you'll love it!
The cost of one cocktail is just 80 baht.
Coordinates of the place (on the left side from Scuba Diving School).
Meetang Crepe
A food stall with pancakes, next to which at any time of the day and night there is a queue.
Believe me, these pancakes are worth the wait.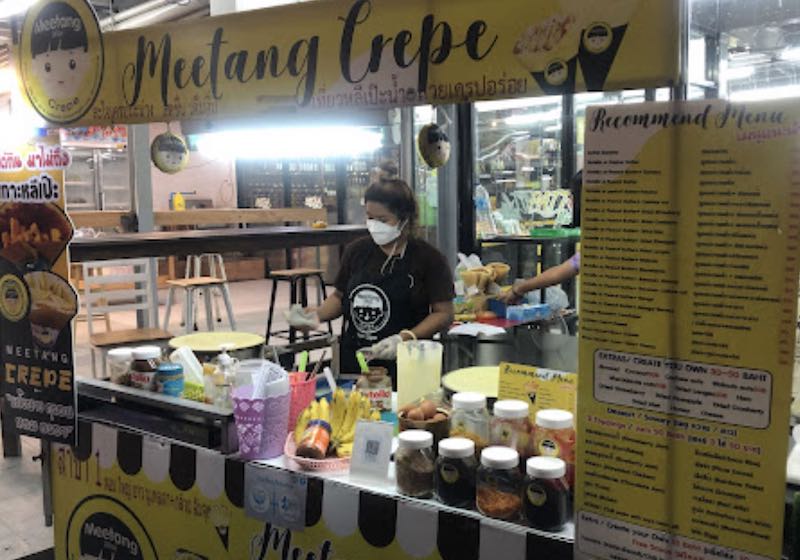 Here they cook the world-known Thai crepes with a hundred tastes: nutella with banana, banana with mango, mango with cashew, strawberry with cereal, strawberry with nutella and many others.
The cost of pancakes depends on the topping, prices vary from 50 to 140 baht per one piece.
Ideal for breakfast, dessert after dinner, or just at any other time!
Madame Yoohoo
Another place you shouldn't miss while visiting Koh Lipe island.
Super budget place with super tasty Thai food.
30 items on the menu, each of which costs around 70-150 baht.
Fried rice with shrimp – 70 baht, Pad Thai with chicken – 70 baht, Tom Yum with crab – 100 baht, Curry – 100 baht, what a wonder!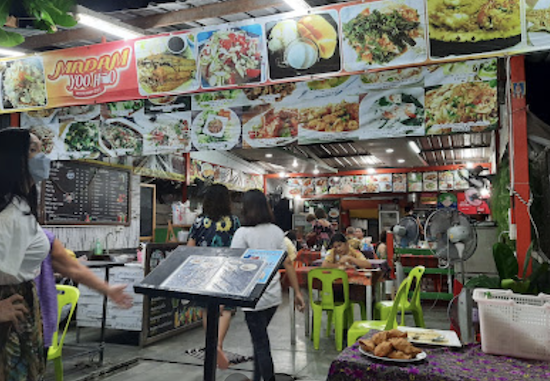 Madame Yoohoo is more than just a restaurant. 
The owner of the place is a lovely Thai lady who is very hospitable and friendly. 
You will get great pleasure from communication with her and from your gastronomic experience there.
Ice Cream man near Street Hostel
Not far from the Pattaya Beach entrance, next to The Street Hostel, every evening a Thai old man appears with a food stall where he makes fantastically delicious ice cream.
There is something special and fascinating about the way Thais cook street food, and this old man is no exception.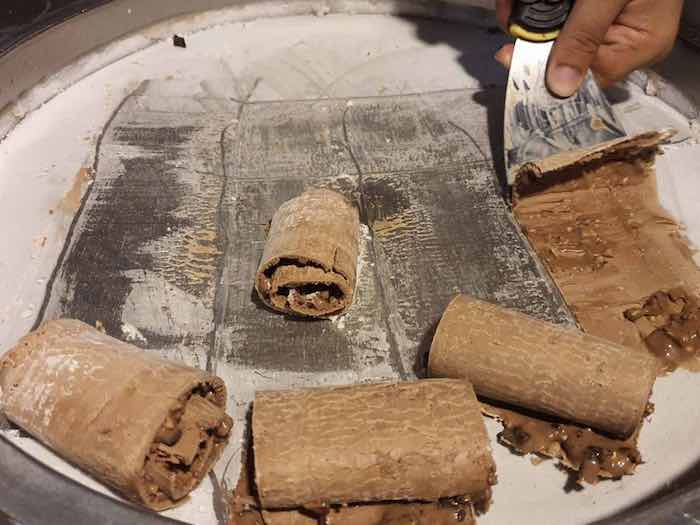 Every second tourist waiting in line takes a video of him, and this is obviously very interesting to watch.
Plus ice cream is a great way to cool off after a hot day at the beach.
Coordinates of the place (next to the Street Hostel).
Seafood
If you want to try real and delicious Thai Seafood and not very expensive, then I recommend you to take a walk to the right side of Walking Street towards Chic Lipe Hotel.
There are two restaurants located there, run by locals, with local customers and with prices for locals.
By the way, the quality of this is not getting worse at all, but on the contrary, it's quite high.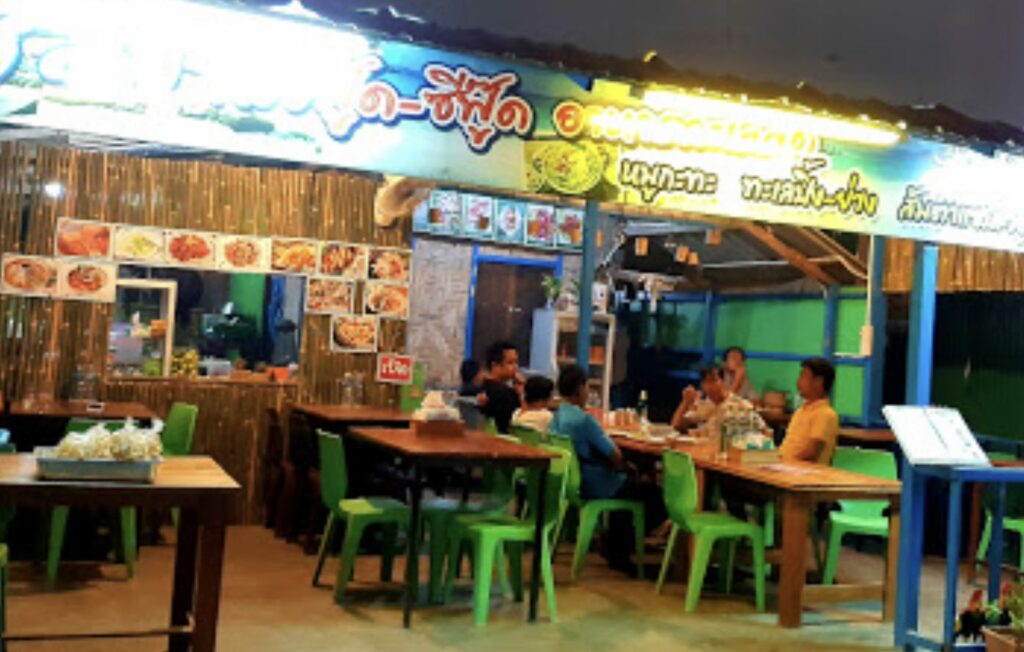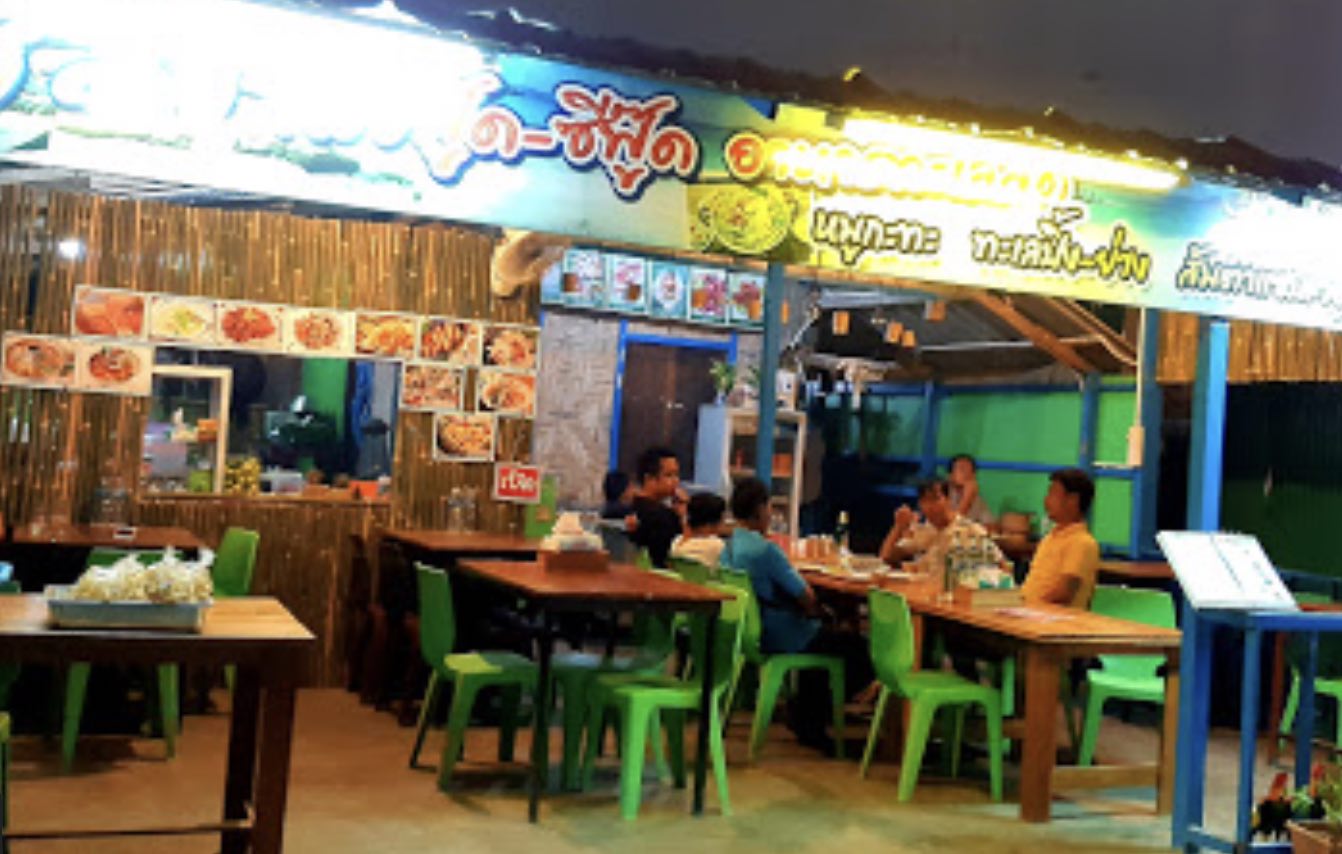 Fresh products, friendly staff, absolutely delicious food and my strong recommendation.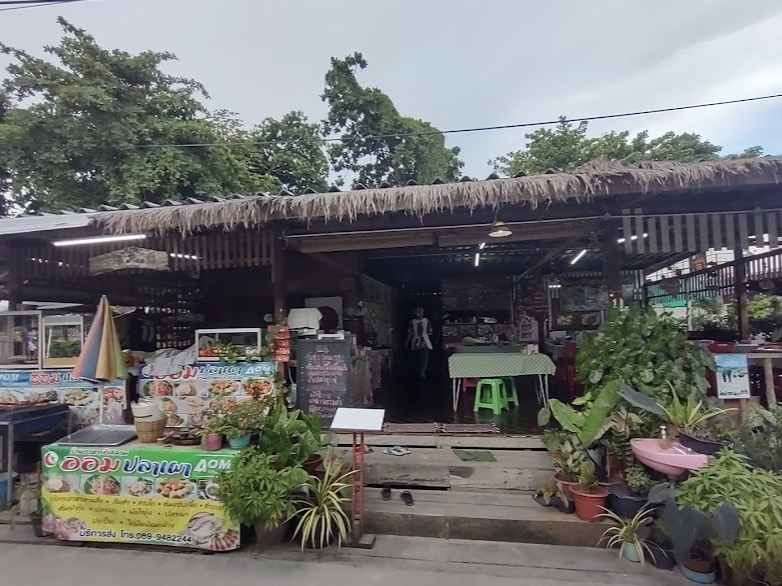 For a seafood dinner, you will pay approximately 200-300 baht, even including drinks, if you are lucky 😀
These cafes are not so easy to find on Google search, so safe its direct coordinates:
Restaurant 1 (วัลย์ วัลย์ ไทยฟู๊ด ซีฟู๊ด).
Restaurant 2 (อ้อม ปลาเผา Aom restaurant).
For Dessert
At the moment I am sitting in my room, in a rented apartment in one of the villages of Cyprus.
And to be honest, while I was writing this article, I realized how much I want to return to Koh Lipe island again and how I totally miss Thai food. 
But my plans for the near future have already been determined, and so far it is not possible to travel to Thailand.
Therefore, if you plan to be there soon, then promise to arrange for yourself a cool street food tour there. 
Maybe something from the list above will be useful to you, or maybe you'll try something new that didn't cross your mind before.
And in any case, have a greeeeaat food trip to the Kingdom of Siam!
---
If you like this article you might be interested in my post about a cool Benjakitti Park in Bangkok and best hotels to stay there.