Odd, contradictory, mysterious, stunning, noisy, hectic, colorful, inspiring, magnificent, spacious, sacred, monumental, powerful, epic, Asian.
Bangkok.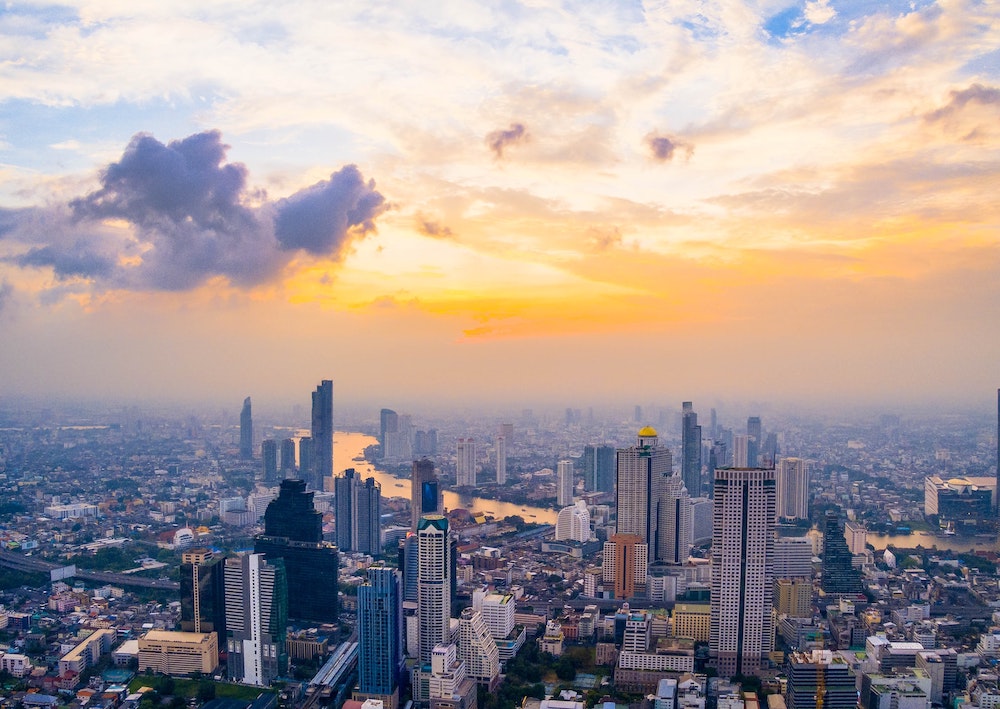 A city with which everyone can develop different relationships, but obviously, this is a city that will not leave anyone indifferent.
Someone will arrive and be just happy to walk around the city, check the main tourist routes and guides' recommendations.
Someone will arrive and won't be able to understand what is so special about it, what triggers people so much and goes deep into their hearts.
Someone will come again and again to try to unravel the secret of this very mysterious and very atmospheric city.
And someone, on the contrary, will find himself or herself there, and decide to change the background for eternal summer, palm trees, ubiquitous cheerful Thais, hawkers and a city of skyscrapers.
Everyone has his own way.
Benjakitti Park What Is It?
As an Asian metropolis, Bangkok has a super-huge agglomeration and an intense rhythm of life.
It is actively developing and offers its guests and residents new locations as a place for leisure time or permanent residence.
One such place is the Benjakitti (or Benchakitti) Park.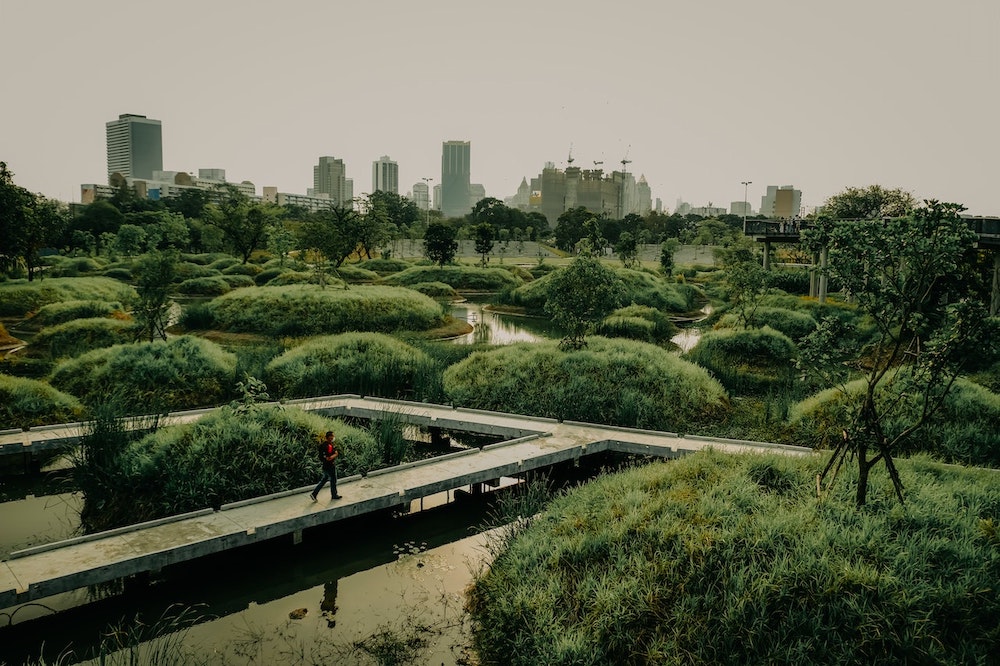 This is a giant green park area, the final construction of which was completed in 2022. 
The park has around 2 km walking or running path, so it offers a big territory for jogging, cycling, yoga or just for quiet and relaxing walks around.
It is located in the business district of central Bangkok and opens a nice background view on the city skyscrapers.
Often there are great deals with flights.
For example, a round-trip flight from Abu Dhabi to Bangkok can sometimes be as low as $370!
Click here in order to check all the other flight offers.
Benjakitti Park Map
Benjakitti park is located in the Khlong Toei District, just a 20-minute drive from the Grand Palace and Chinatown.
How Can I Get To Benjakitti Park?
There are three options: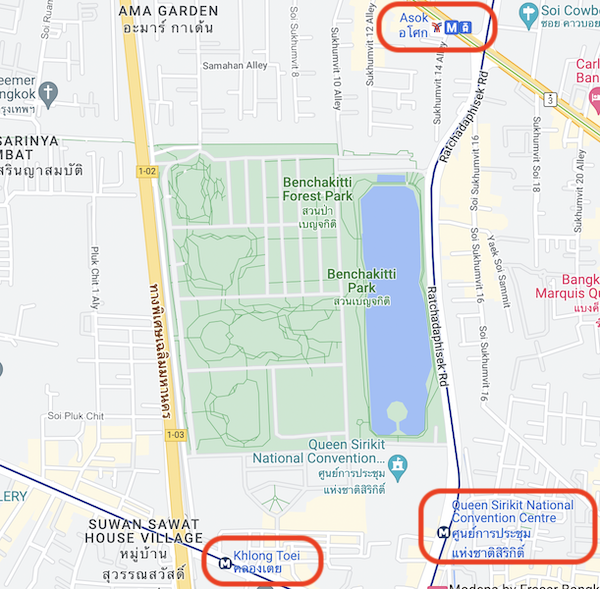 The best time to visit:
On weekday mornings, when there are not so many people in the park, or at sunset time, when the sun is beautifully reflected in the windows of nearby skyscrapers, and the entire park begins to be illuminated with bright lights.
The main entrances to the park are located near BTS Asok and Queen Sirikit Convention Center metro stations.
Additional entrances are located along the entire western side of the park.
Opening hours: Daily from 5 am to 8 pm.
Best Places To Stay Near Benjakitti Park
The area is becoming more and more popular among locals and tourists, and many attractive hotels are available on offer.
Hostels and budget hotels:
A vibrant modern hostel located just 15 minutes walk from the Benjakitti park.
This is that very moment when the interior looks more like a 5* hotel than a hostel, but this is not uncommon for Thailand.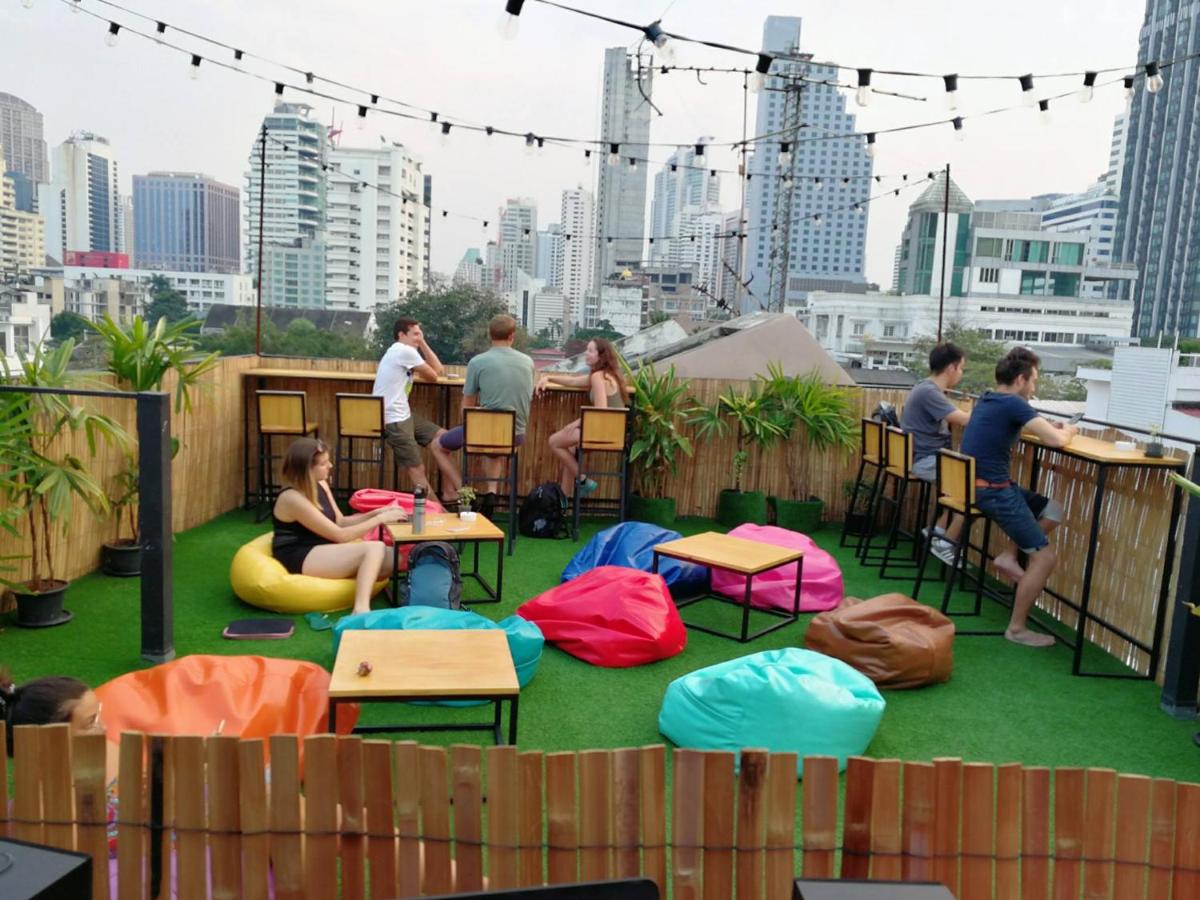 The hostel has a very friendly and hospitable staff, there is a shared kitchen area.
But the most lovely thing there is a rooftop terrace with a breathtaking view of the Bangkok skyscrapers. 
Where else to drink coffee in the morning, if not with such a view!
The hotel is 500 meters from Sukhumvit MRT Station and Asok BTS Skytrain Station.
There are many cafes and restaurants of Thai and European cuisines in the area, and a shopping mall Terminal 21 is a 10-minute walk away. 
I recommend you to visit it – you will not regret that!
Another hostel providing a unique design and eco-friendly concept.
You can reach the Benjakitti park in 15-20 minutes.
There is a 7-11 supermarket right across the street from the hostel, and there are also several cafes where you can get some food.
The nearest metro station is Queen Sirikit National Convention Center MRT Station which can be reached on foot in about 10 minutes.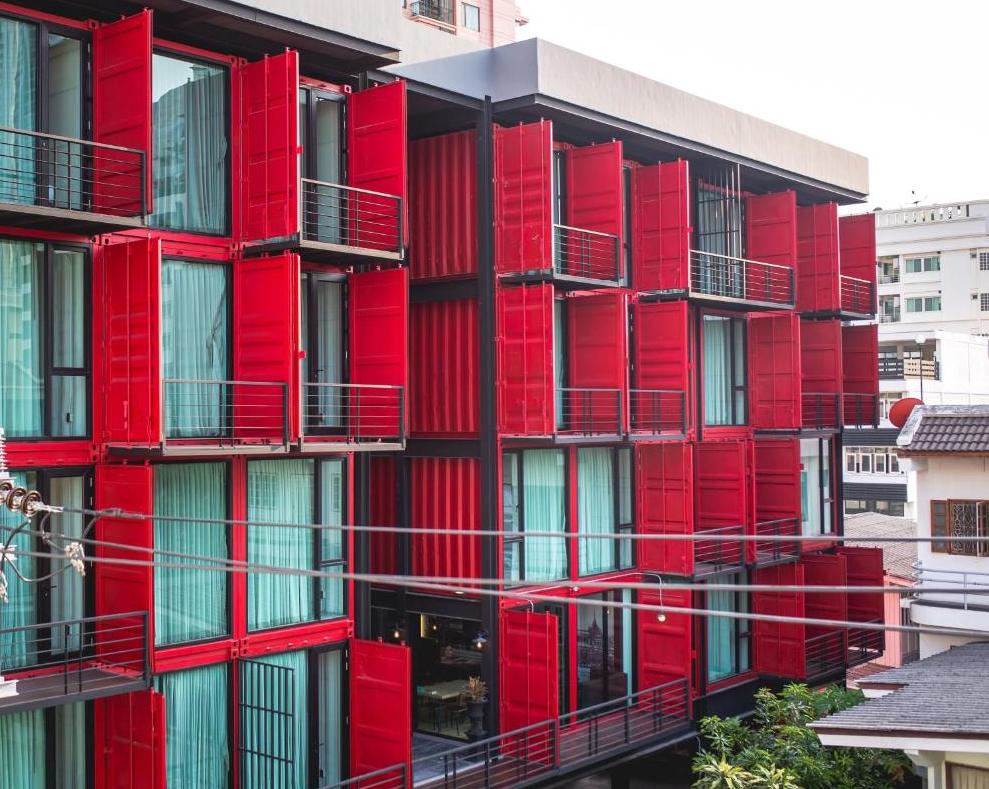 In addition to the unusual design, the hostel offers dormitory rooms with capsule beds and double rooms with its private bathroom.
Each capsule has an outlet, a small lamp and a curtain, so it will be quite comfortable and secluded to stay there.
By the way, if you are traveling with three or four people, you can rent a 4-bed mixed dormitory room as your own private room.
Possibly the cheapest hotel in this part of the city.
For the price of a hostel, you will get a double room with a private bathroom, refrigerator and air conditioning.
And this is not just some 6 square meters, but a full-fledged spacious room!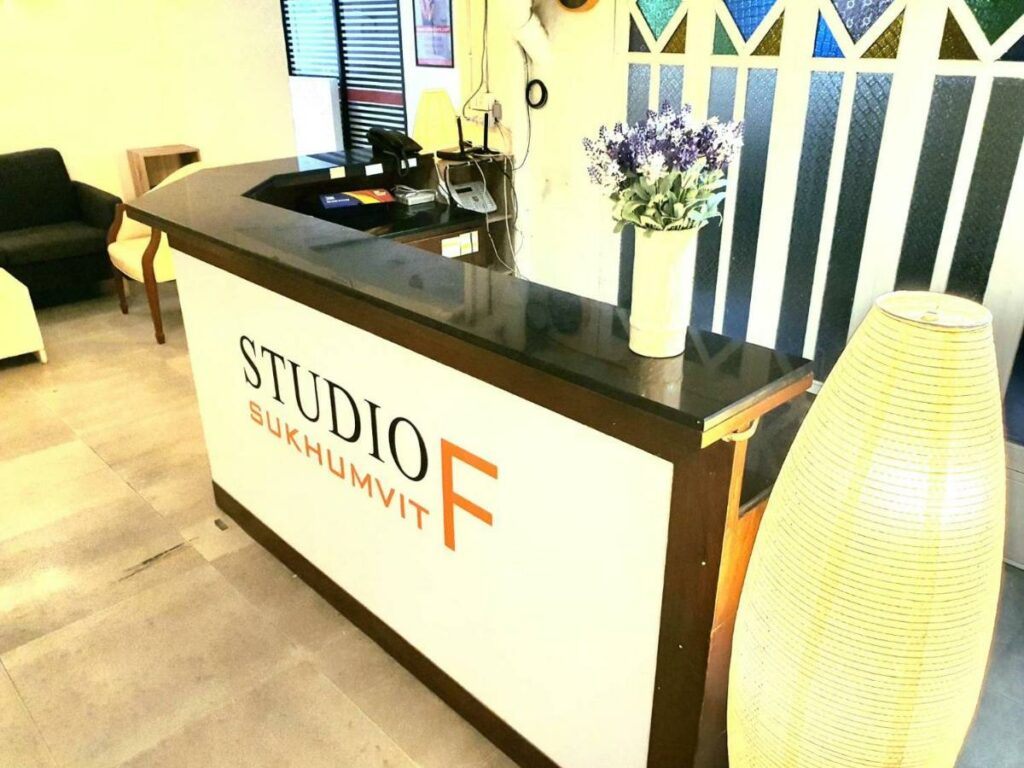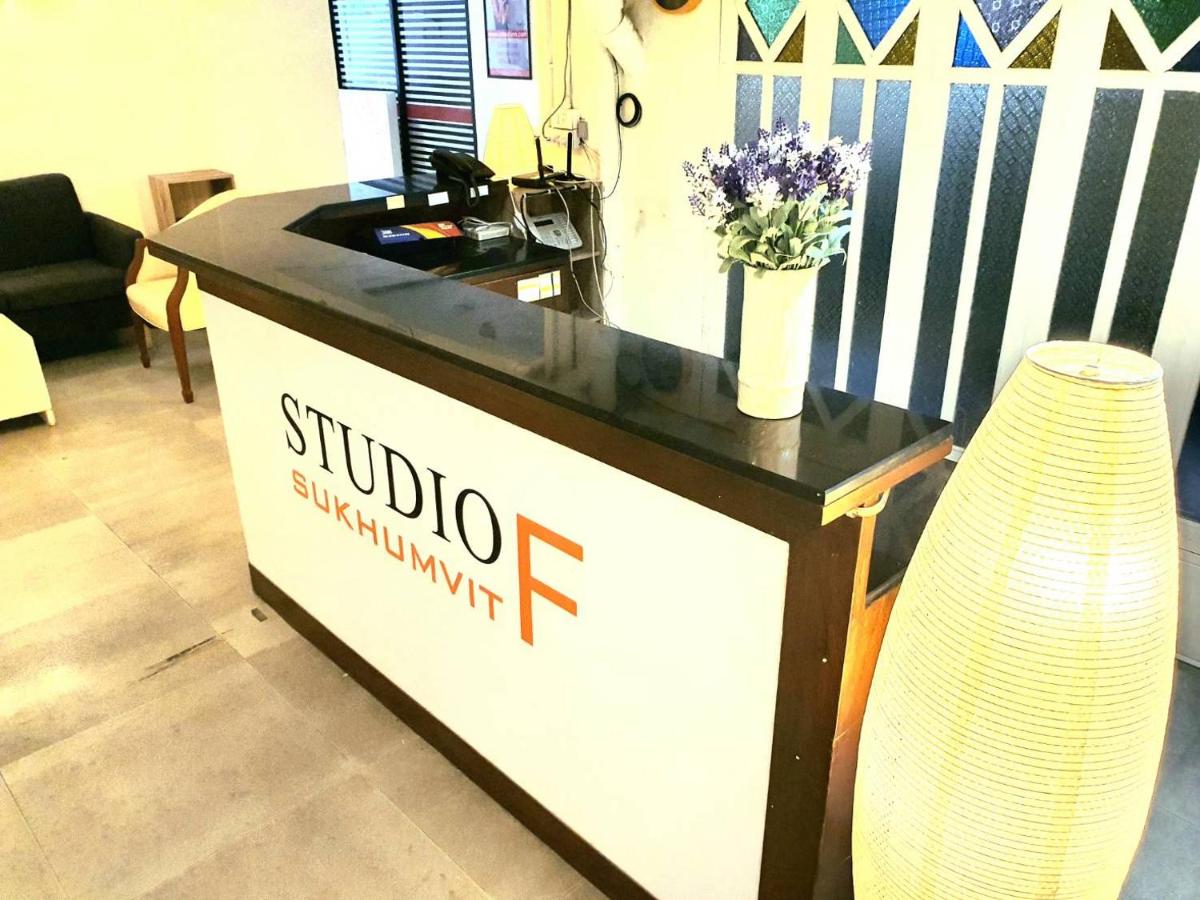 The hotel is located in a fairly bustling area, close to a huge selection of restaurants and other food venues.
The Benjakitti park is just over 10 minutes walk away, and BTS Asok Skytrain Station is only a 6-minute walk from the hotel.
Don't forget to visit the shopping mall Terminal 21, they have a very nice rooftop with an amazing view of the city.
Hotels next to the Benjakitti park:
The hotel is just a catch for this area of ​​the city!
For a very reasonable cost there is:
Coolly equipped rooms with new furniture and nice city view;
lovely coffee shop with delicious coffee;
parking available 24 hours a day;
most important: a small but cozy pool with amazing views of Bangkok.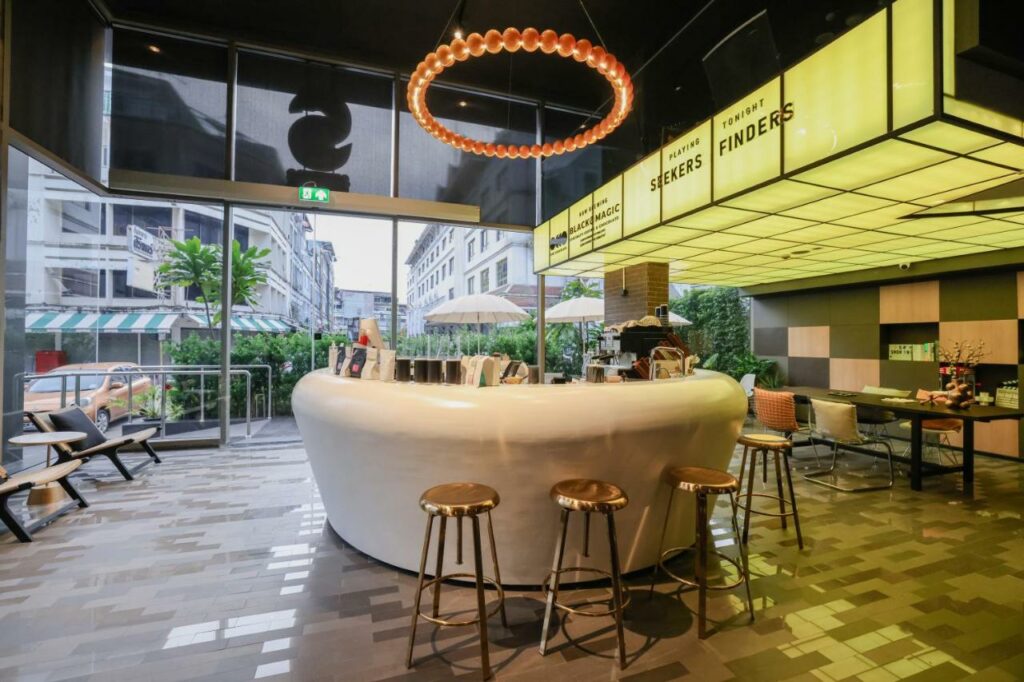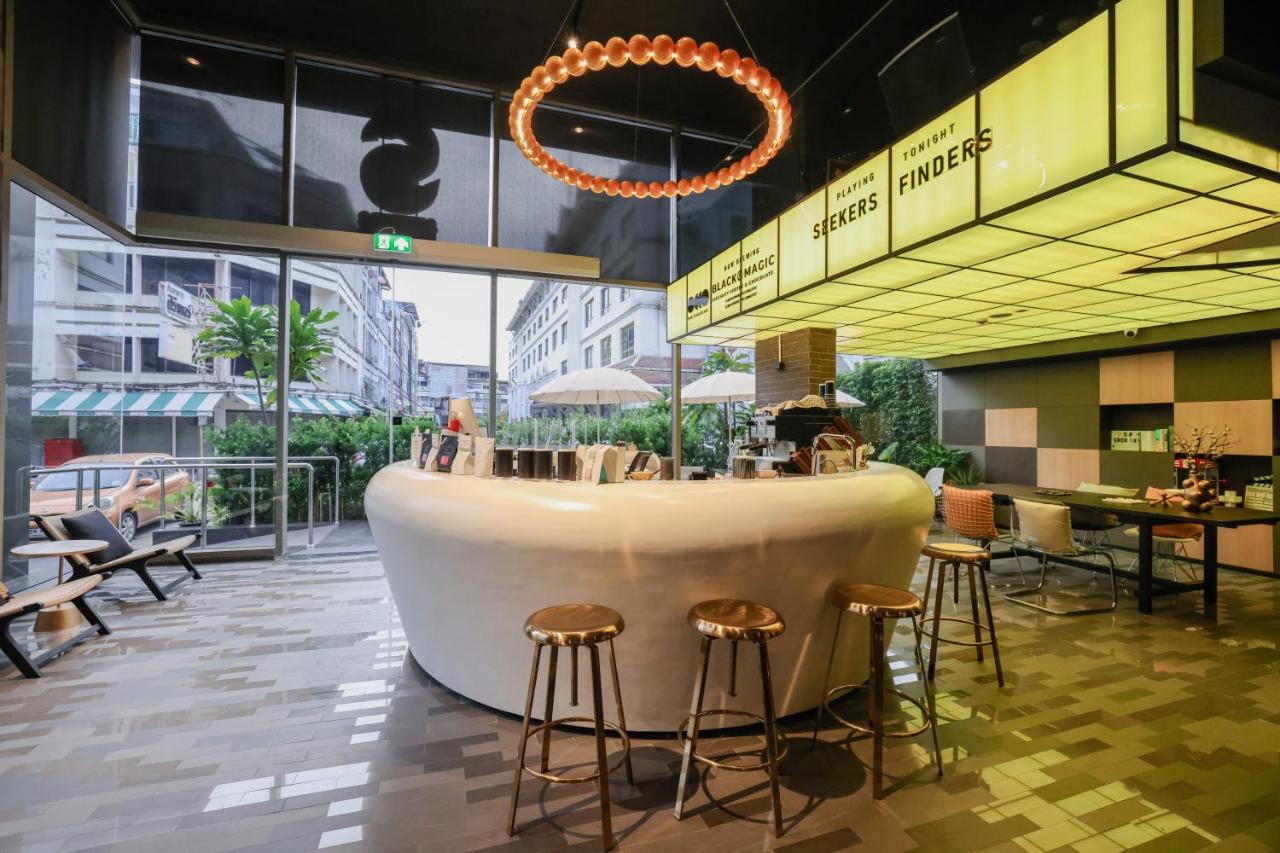 Nearby there are many traditional places to eat at very affordable prices and at any time of the day.
The Benjakitti park is only a 7-minute walk, the nearest subway station is Khlong Toei, which is 400 meters away from the hotel.
Quiet and green oasis in the middle of the busy city center.
A cozy boutique hotel offering spacious standard, premium rooms and suites with city views. Some rooms have a kitchenette and a coffee maker.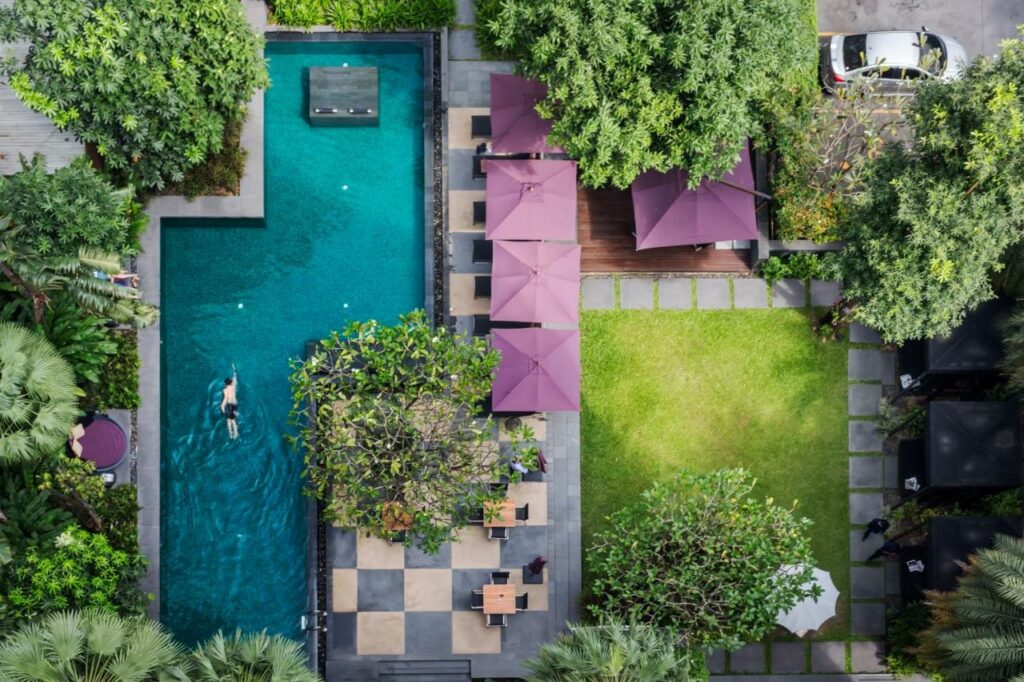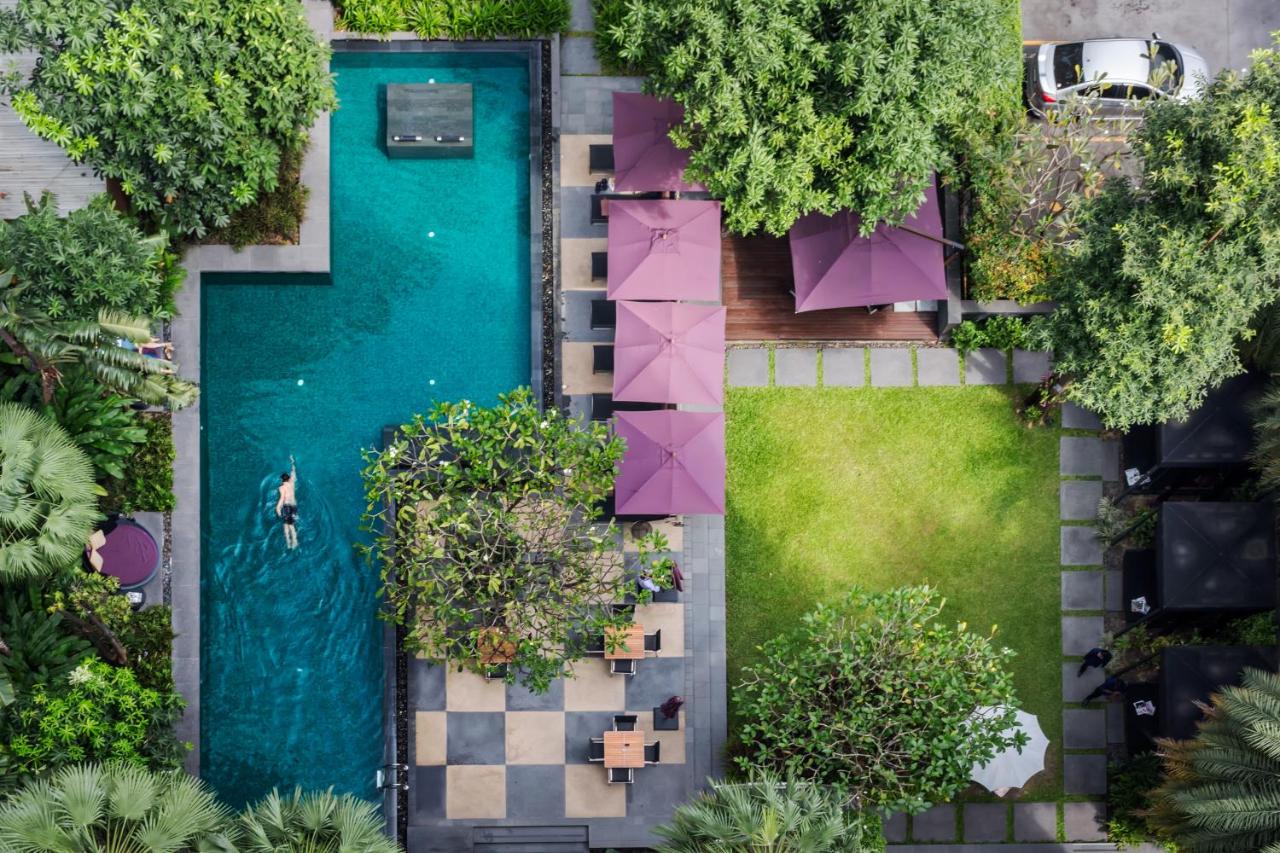 The highlight of this hotel is a swimming pool and relaxing area around: a great way to take a break from walks through the bustling streets of Bangkok. 
The hotel has its own gym.
It is located right in front of the Benjakitti park entrance and just a 5-minute walk from the Asok BTS subway station.
By the way, guests are offered a free tuk-tuk transfer service to Sukhumvit road.
A charming hotel with rooms that really make you feel at home.
Each room has a small kitchen and dining area.
Families and large companies might be interested in two- or three- bedroom suites with two bathrooms, its own dressing room, a kitchen and a washing machine.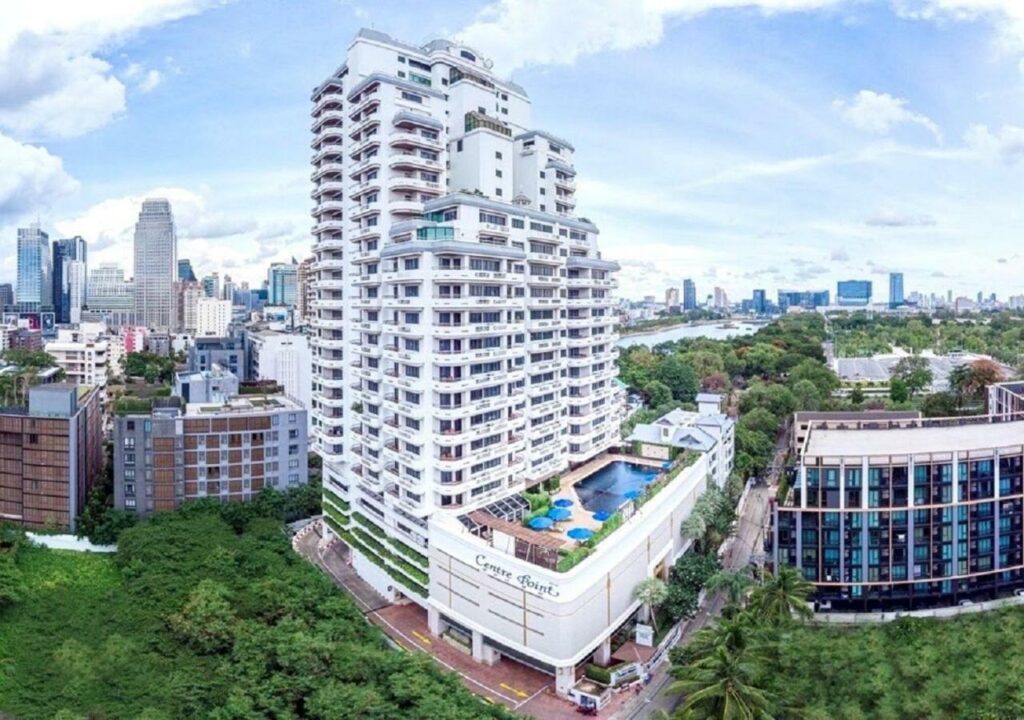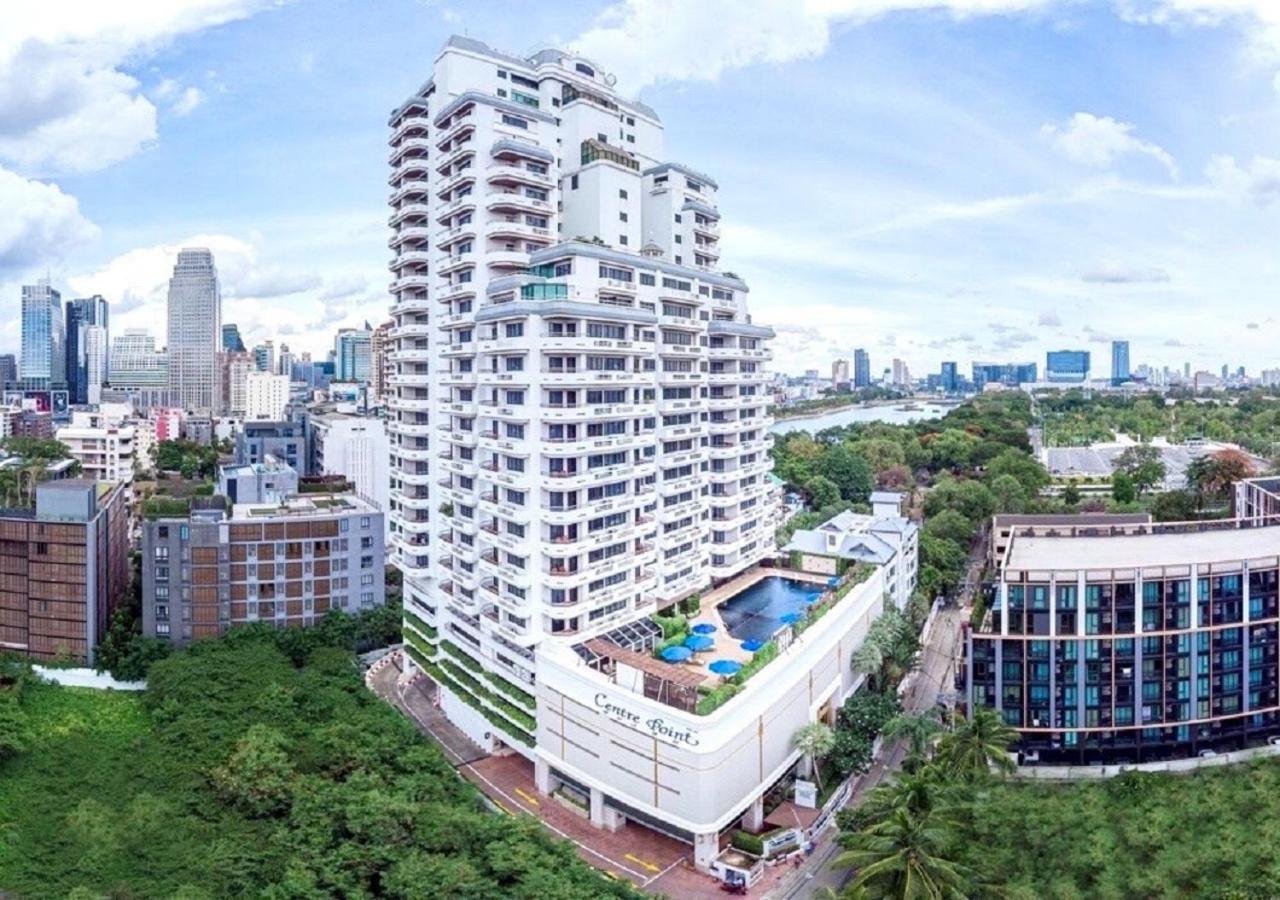 Rooms on upper floors have a view over Benjakitti Park and just this view alone is worth staying here.
Despite the closeness to the city center, this area is very quiet.
Check-in is open 24 hours, plus the hotel offers a free shuttle to the main road.
Try the rooftop pool – you'll love it!
It is an ideal option for those who prefer small hotels to large chains: cute, cozy, quiet.
An elegant and stylish boutique hotel that represents a mix of European design and Thai hospitality.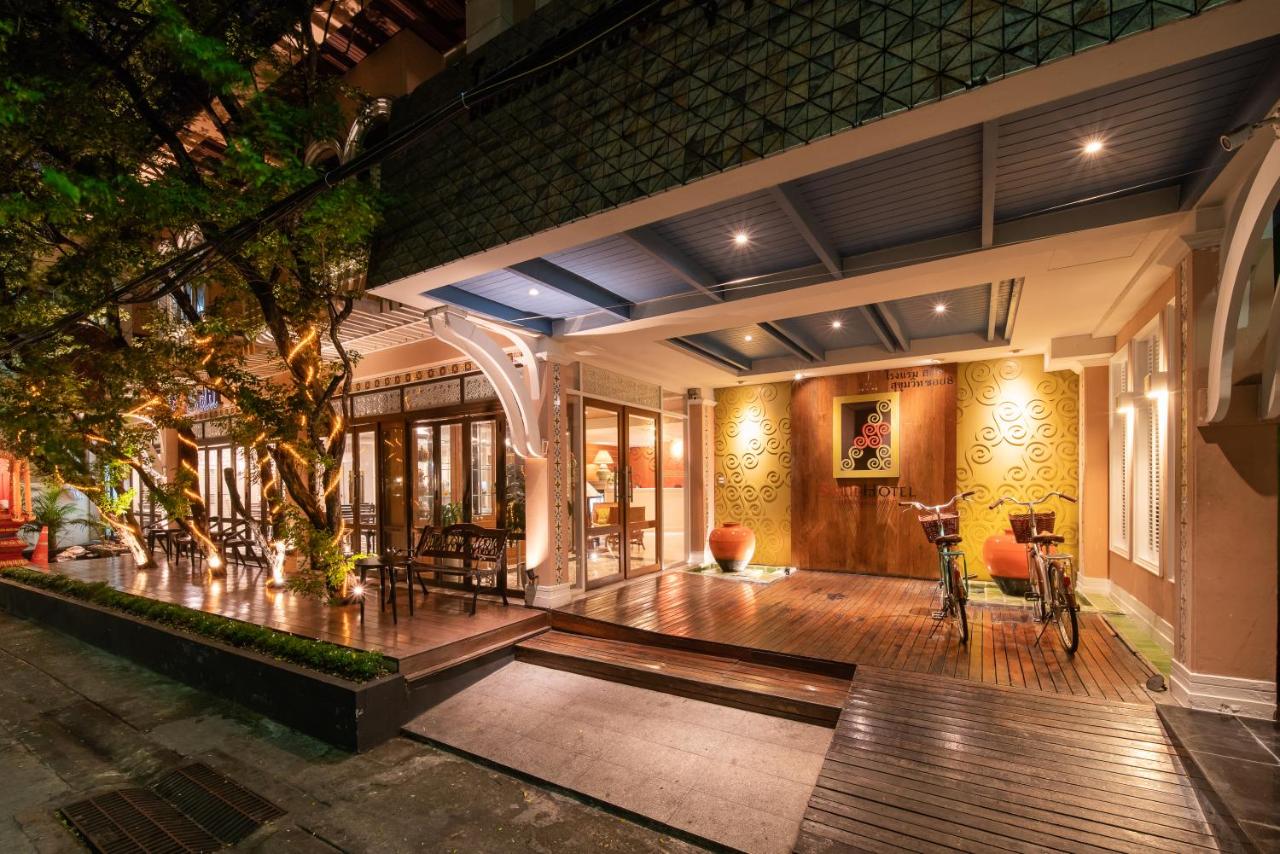 Girls will definitely like it!
It takes about 15 minutes to walk to the Benjakitti park, also the hotel offers a free 24/7 shuttle service to the main street or Nana Skytrain Station.
There are many restaurants, bars and cafes around, as well as the shopping mall Terminal 21.
Hotels with spa:
The hotel is located right in the center of a hectic Sukhumvit street area, but despite this, all rooms have excellent noise canceling.
You will have an incredible view over the Benjakitti park as well as over the city that never sleeps.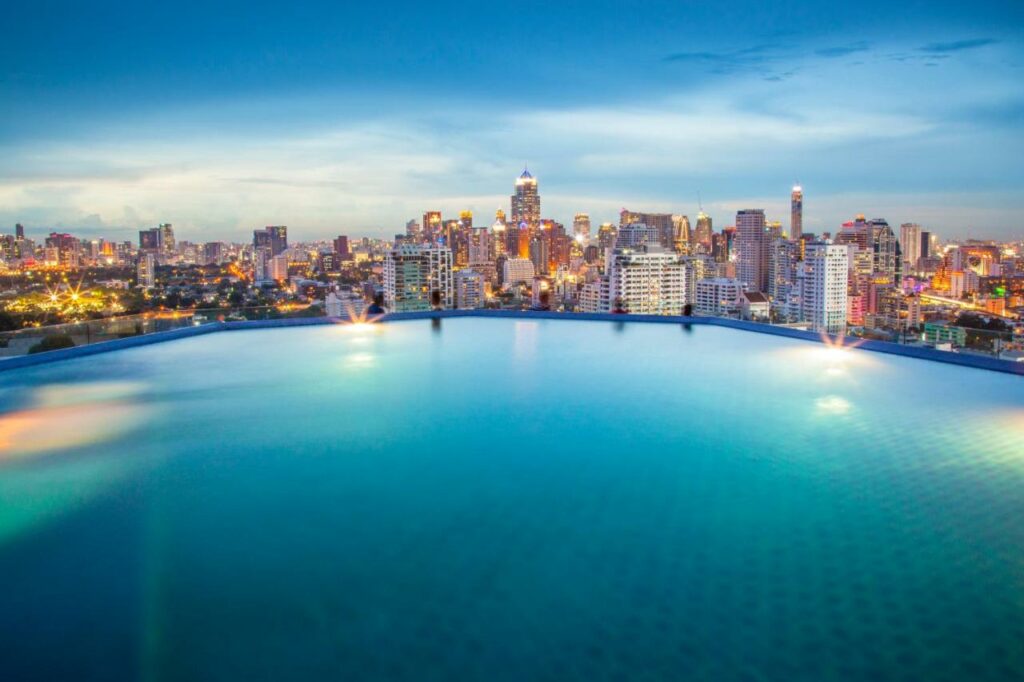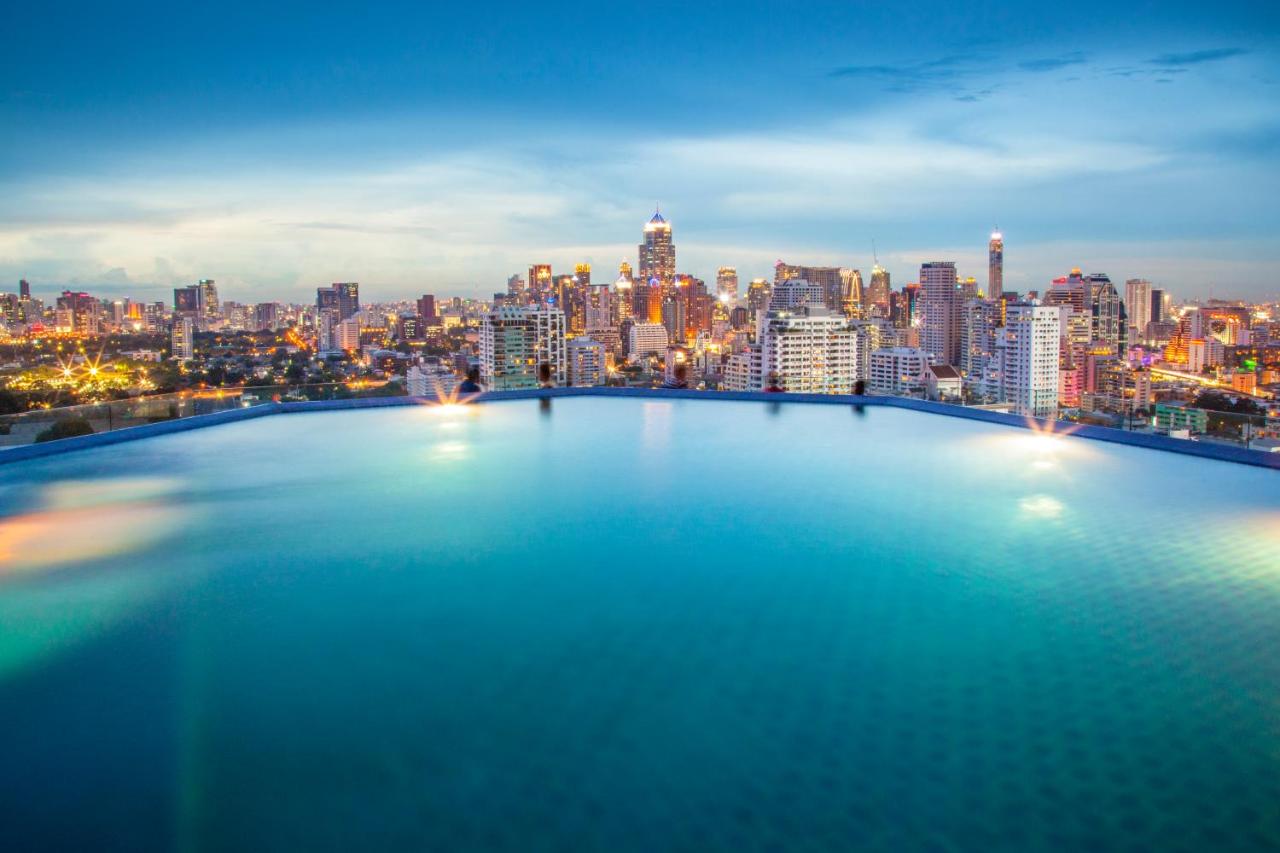 Considering the relatively low price of staying, the rooms designed in traditional Thai style are very spacious, and each has its own kitchen and dining area.
The hotel also offers full-fledged apartments with everything you need for a long stay and two bedroom suites.
Gym and infinity pool on the 25th floor – for inspiration;
Spa and wellness center – for relaxation.
The park is just a 6-minute walk and Asok Subway Station is an 8-minute walk.
The hotel is just a one-minute walk from Nana BTS Skytrain Station.
Benjakitti Park is a 15-minute walk away.
It is surrounded by a huge number of places to eat, as well as bars and supermarkets.
It offers exceptional modern rooms of different categories and space.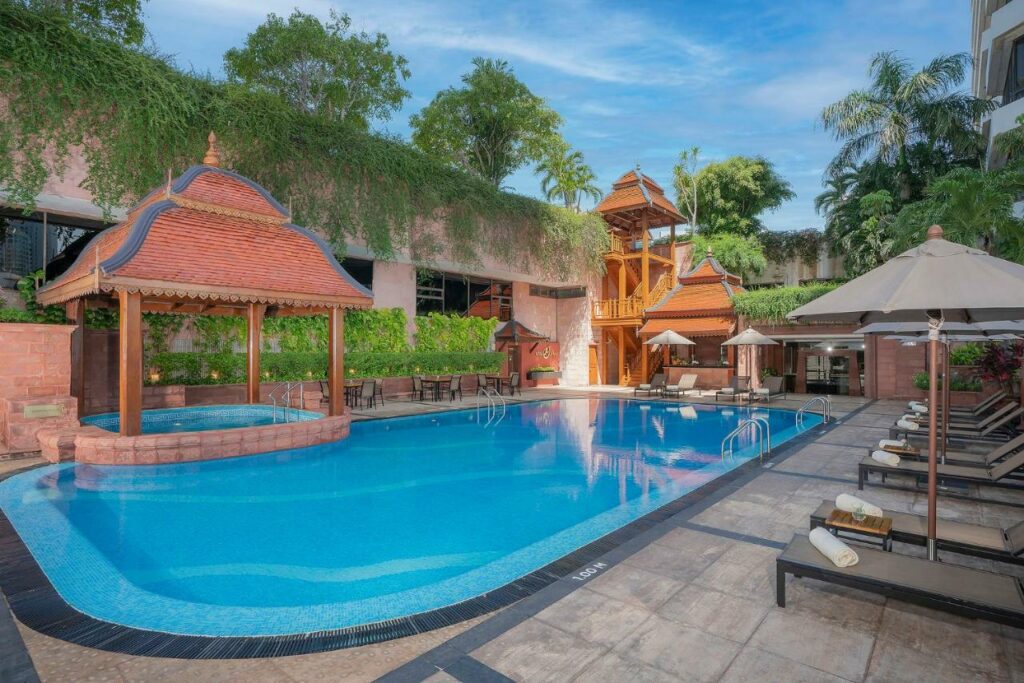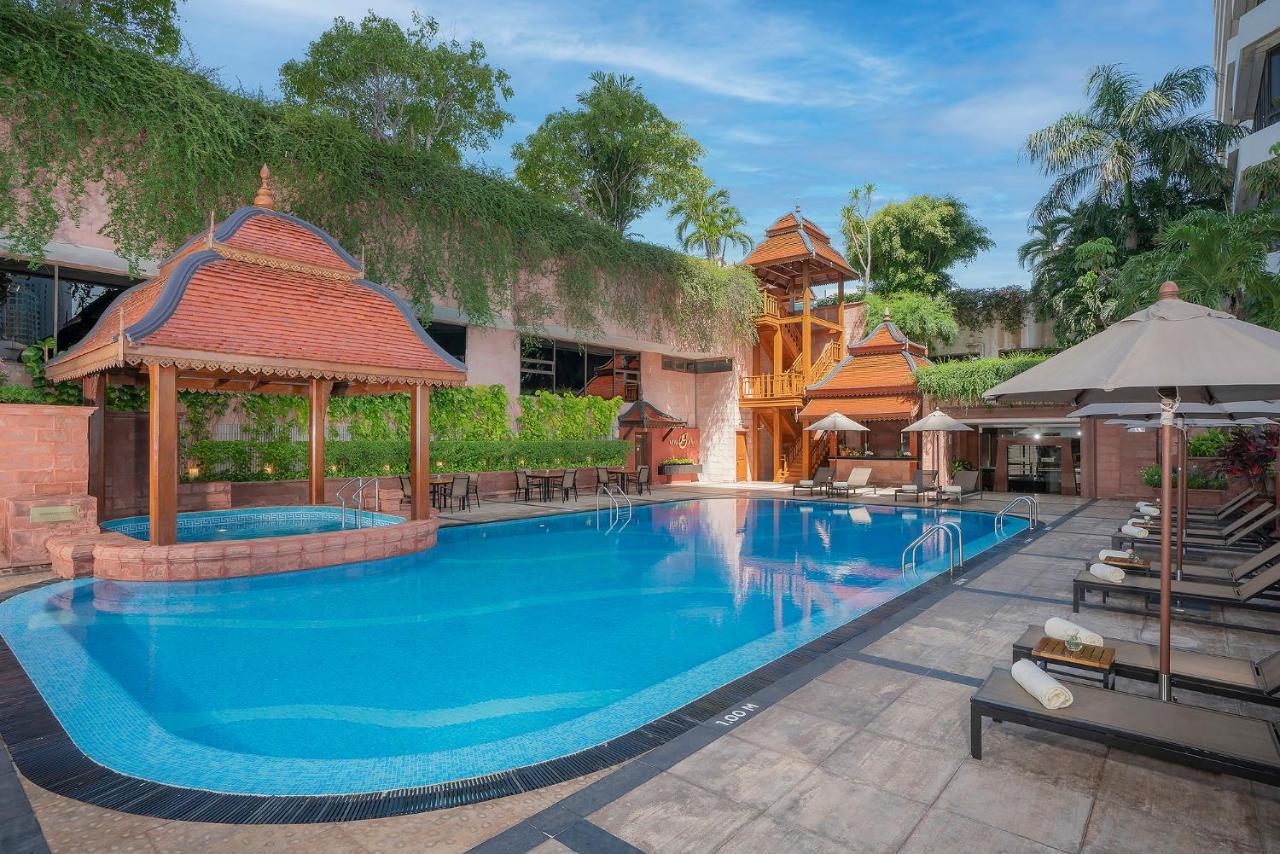 Check the premium corner rooms, they highlight the atmosphere and grandeur of the city of Bangkok.
The hotel has a fairly well-equipped gym, swimming pool with jacuzzi and relaxation area, as well as an excellent spa with an extensive wellness program.
There are 5 restaurants on site, including restaurants of Chinese, Japanese and Asian Cuisine, as well as the atmospheric Rendezvous Bar and the exceptional The Rib Room Bar & Restaurant on the 31st floor.
The hotel is a 15-minute walk from the Benjakitti park and 10 minutes from Asok BTS Skytrain Station.
Plus they offer a free tuk-tuk shuttle service to the metro.
Guests can visit 3 restaurants serving Indian, Mexican and Continental cuisines, as well as the spectacular rooftop bar – 1826 Mixology Bar, where you can grab a drink at sunset and enjoy fantastic views of Bangkok at night.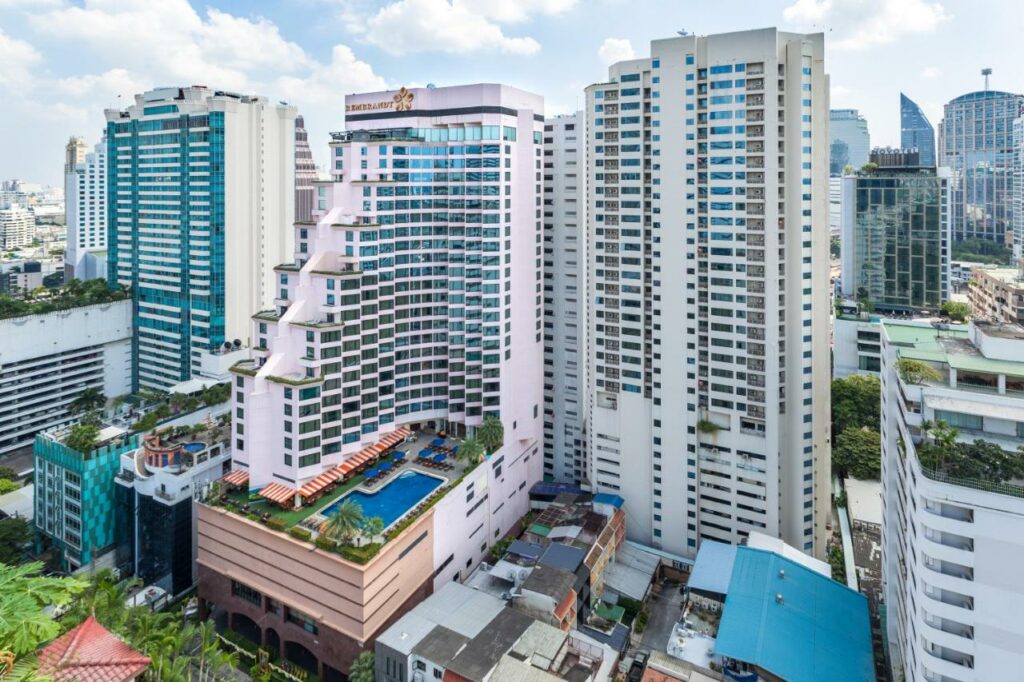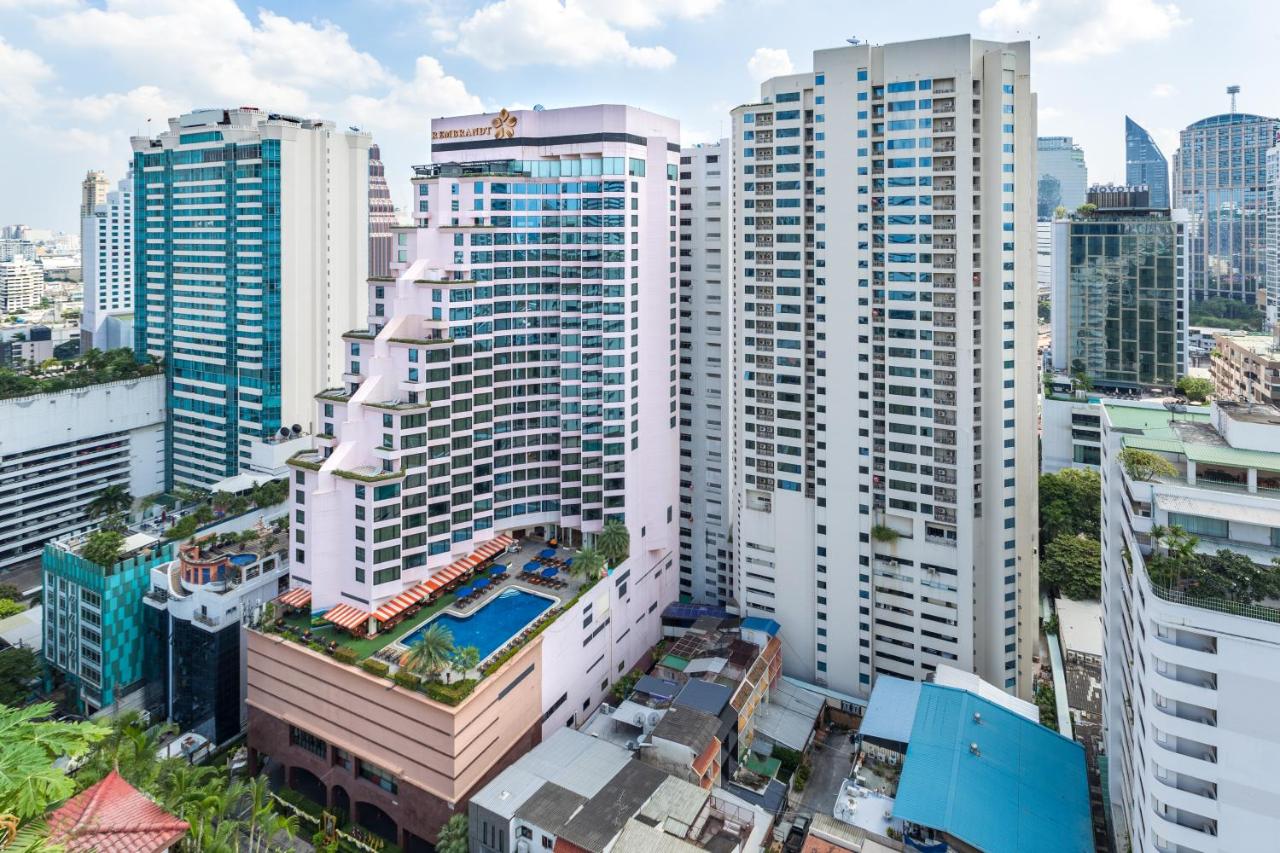 A swimming pool with a relaxation area, a gym overlooking the city skyline, a spa and wellness center will complete the wonderful emotions of your stay at this hotel.
Accommodation is offered in rooms of different space and categories, as well as family rooms.
Check the Executive Club Room, if to choose this category you will be granted executive privileges:
Daily breakfast;
Plate with exotic fruits in the room;
Welcome drink;
Evening cocktail at the Club Lounge from 17:30 to 19:30 on the ground floor.
A hotel that is located right in the middle of the tourist hustle and bustle but still maintains a level of high standards, classic style and sophistication.
Even being thousands of kilometers away from home, you feel at home here.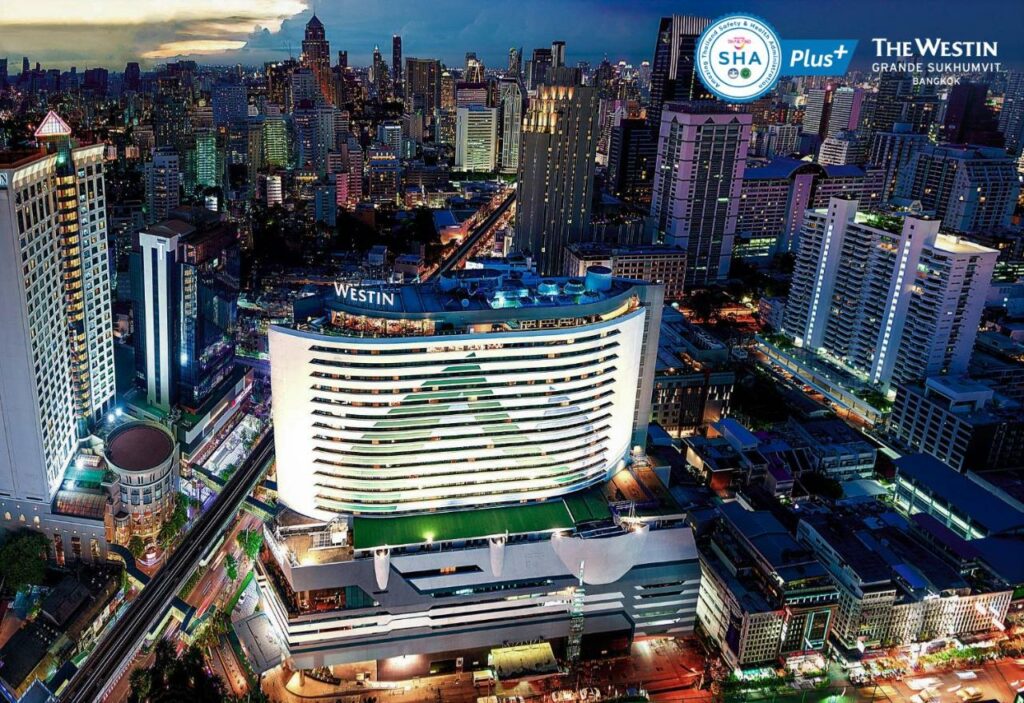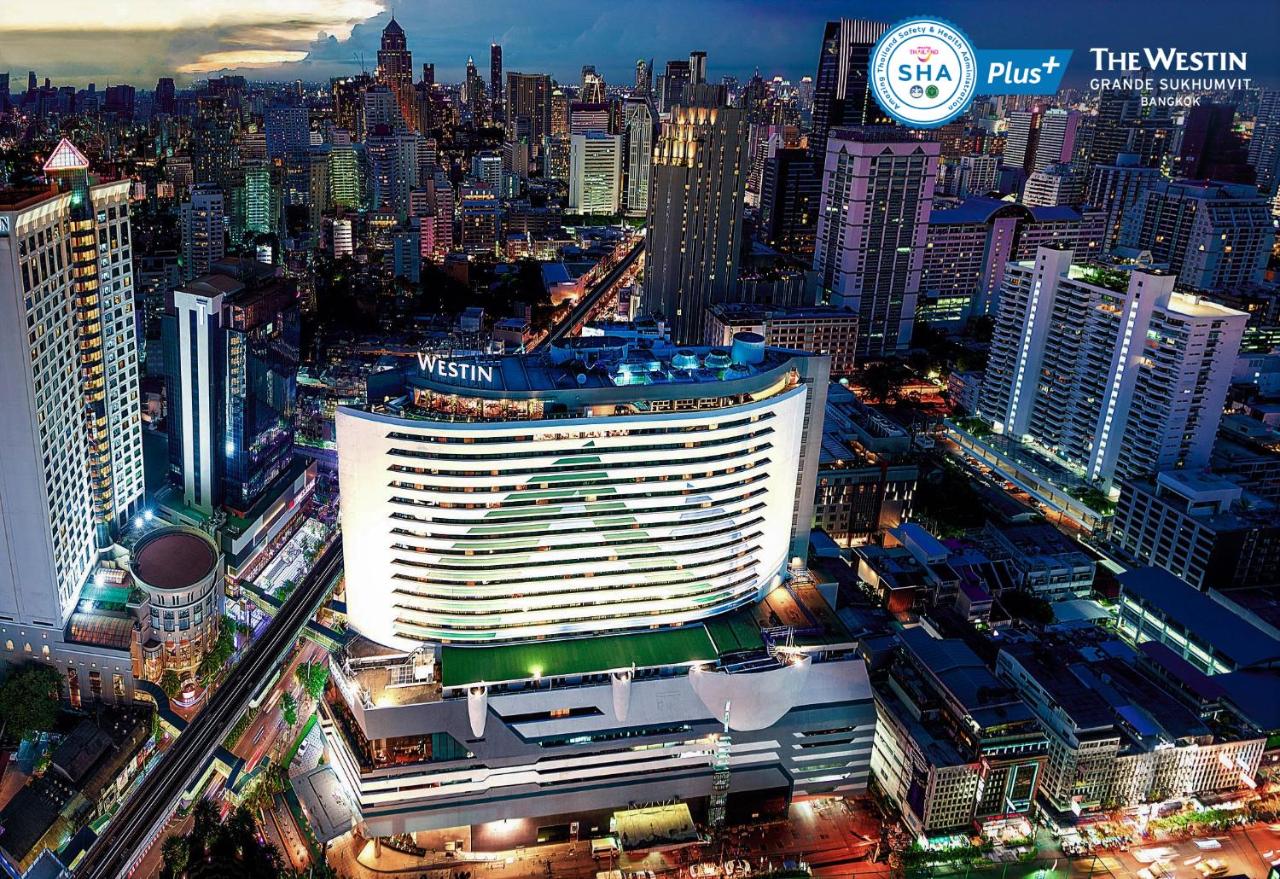 It is situated just 100 meters from Asok Subway Station and Terminal 21 Shopping Mall. Benjakitti Park is only a 10-minute walk away.
ALL hotel rooms are quite spacious and with instagrammable views of instagrammable Bangkok.
Some room categories include a welcome drink and lounge access.
By the way, if you work remotely and you are crazy in love with coffee, be sure to visit the lounge area, you will love it!
Something special:
A quiet green paradise in the middle of a hectic city.
An oasis of calm, peace, Thai hospitality and harmony.
Exceptional service.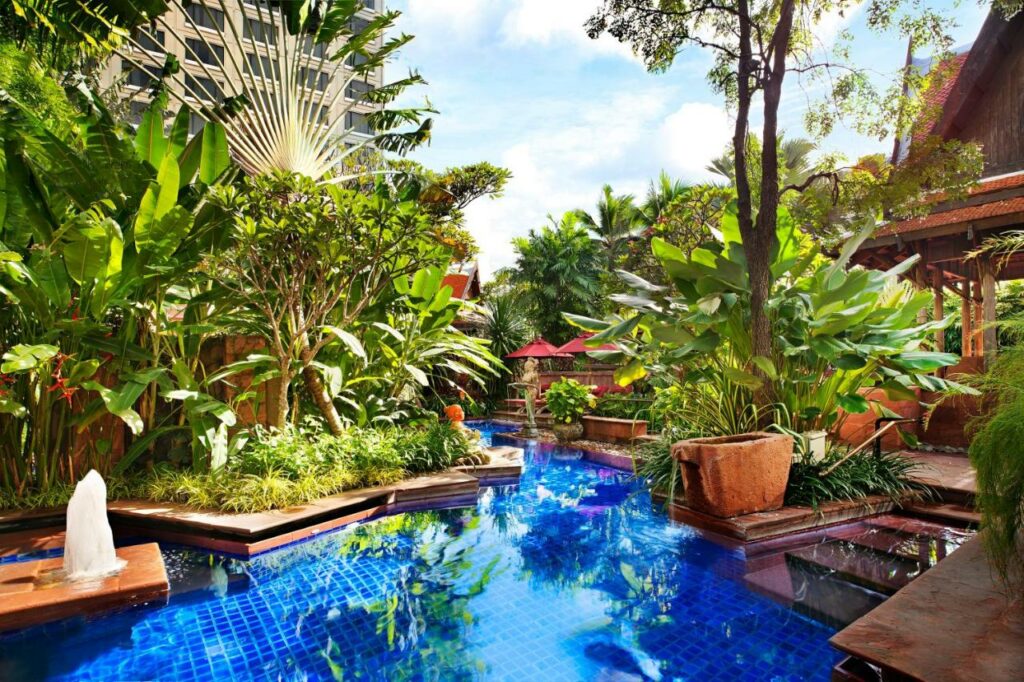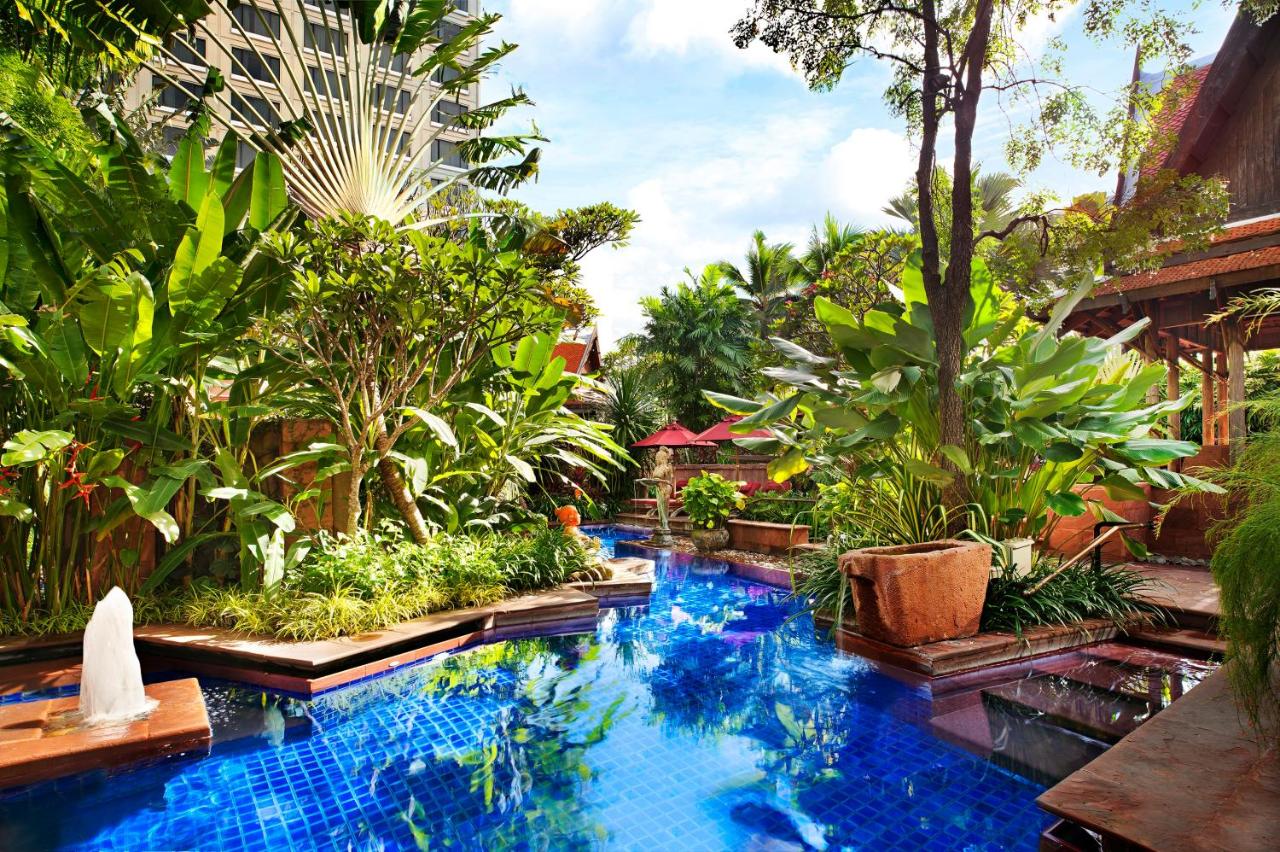 Modern spacious rooms with endlessly fascinating views of Bangkok.
Plenty of chillout areas tastefully distributed around the hotel.
Swimming pool, huge relaxation zone and Thai-style spa.
6 restaurants and bars serving drinks and cuisines from all over the world.
All this is Sheraton Grande Sukhumvit.
And as a bonus, only 300 meters to Benjakitti Park and 100 meters to BTS Skytrain.
What Can I See And Do Near Benjakitti Park?
In the park you can find walking and cycling trails, playgrounds, skateboard ramps and a picnic area where you can rest after long walks.
The closest shop for buying picnic supplies is the 7-Eleven located in the Queen Sirikit Convention Center's basement.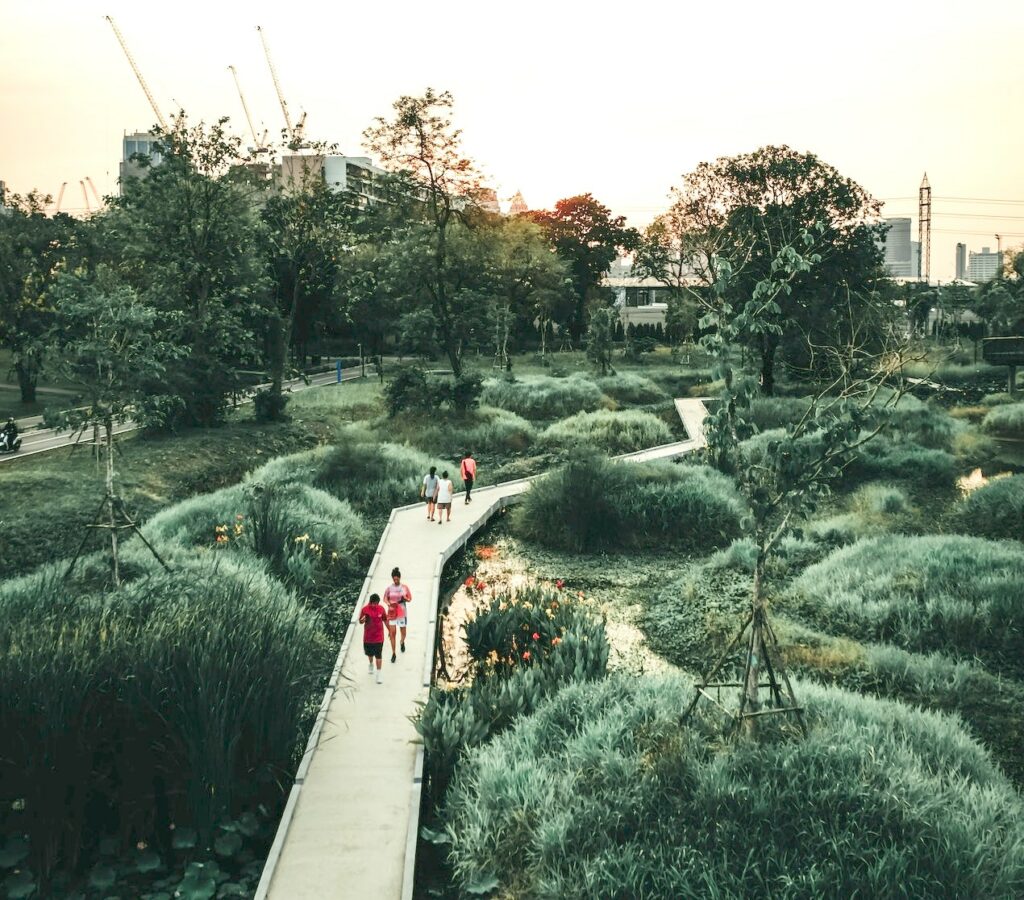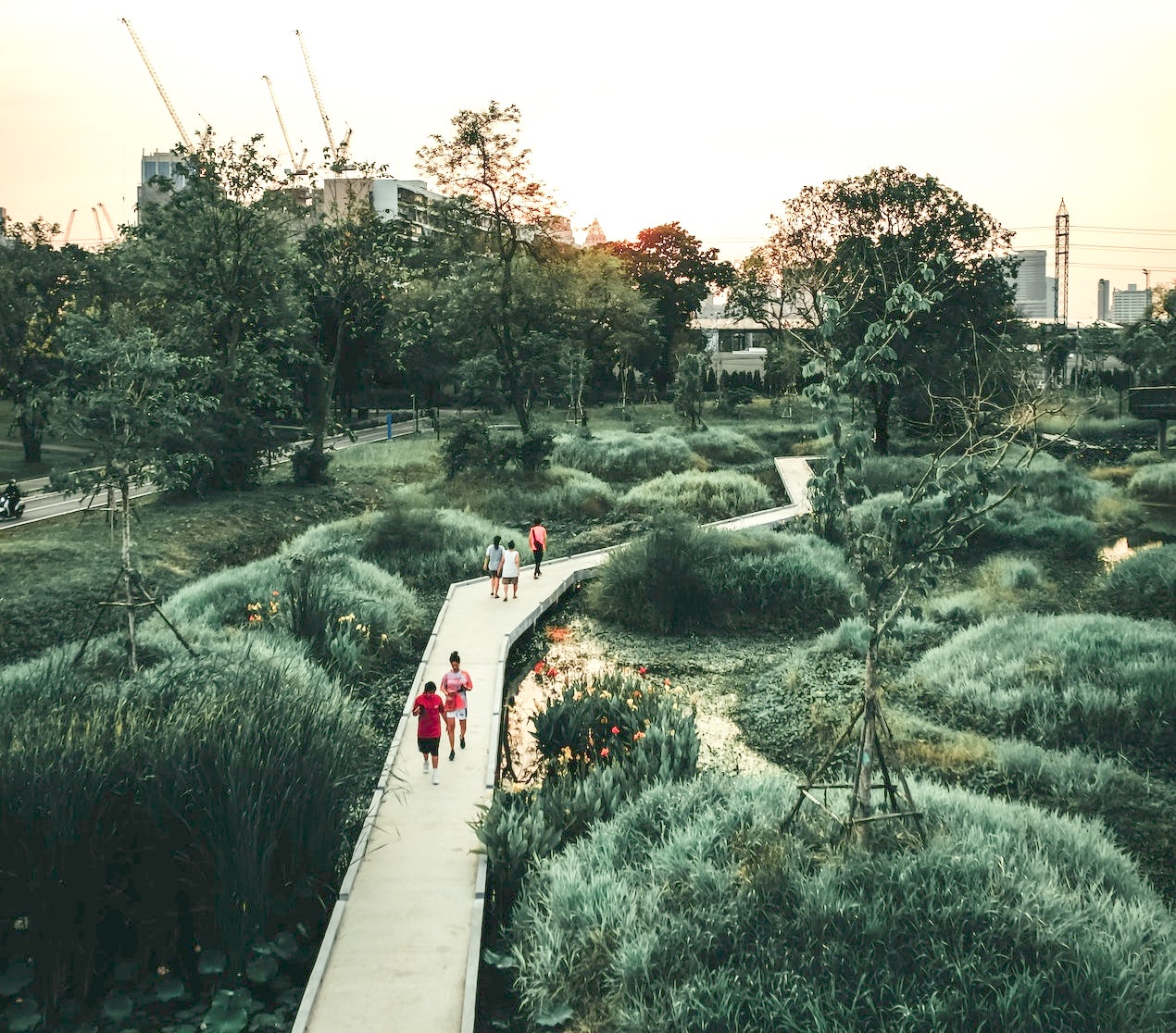 Water, specifically Lake Ratchada, makes up the majority of the park. Around this lake is a lovely walking trail. 
Additionally, you may rent a quirky swan boat here and take a romantic cruise around the lake full of turtles and fish. 
You will see the Bangkok background in an entirely different way from the water!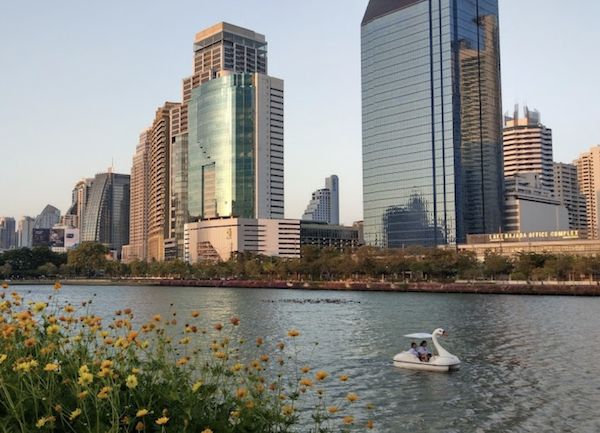 Only 80 Baht is required to rent the boat, and if you return it on time, you'll get back 40 Baht.
The Green Mile In Benjakitti Park
Few tourists are aware that there is another bicycling and walking trail called the Green Mile that connects Benjakitti and Lumpini parks.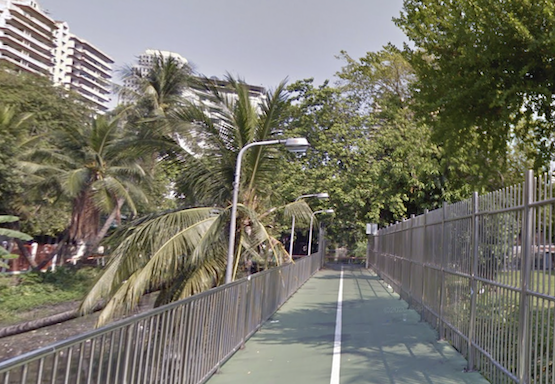 By joining it, you can combine visits to both parks without needing to cross busy streets.
While walking there you can see some of Bangkok's historic neighborhoods and get a glimpse into locals' daily lives.
The Green Mile starting point can be found in Benjakitti Park's far northwest section.
An arrow-shaped green sign with a white background designates the beginning of the Green Mile.
---
I bet you didn't know that near Bangkok there is a mysterious Dragon Temple which you never heard about.