Jeju Island.
The island, perhaps, someone has heard something about, someone found out only after watching "The Squid Game", and someone may never have heard of it at all.
To be honest, just three years ago I did not know anything about this glorious beautiful island.
Of course, such large cities of South Korea as Seoul, Busan, Incheon were familiar to me.
As well as there was a huuuuge desire to visit this mysterious East country and fascinating Asian culture.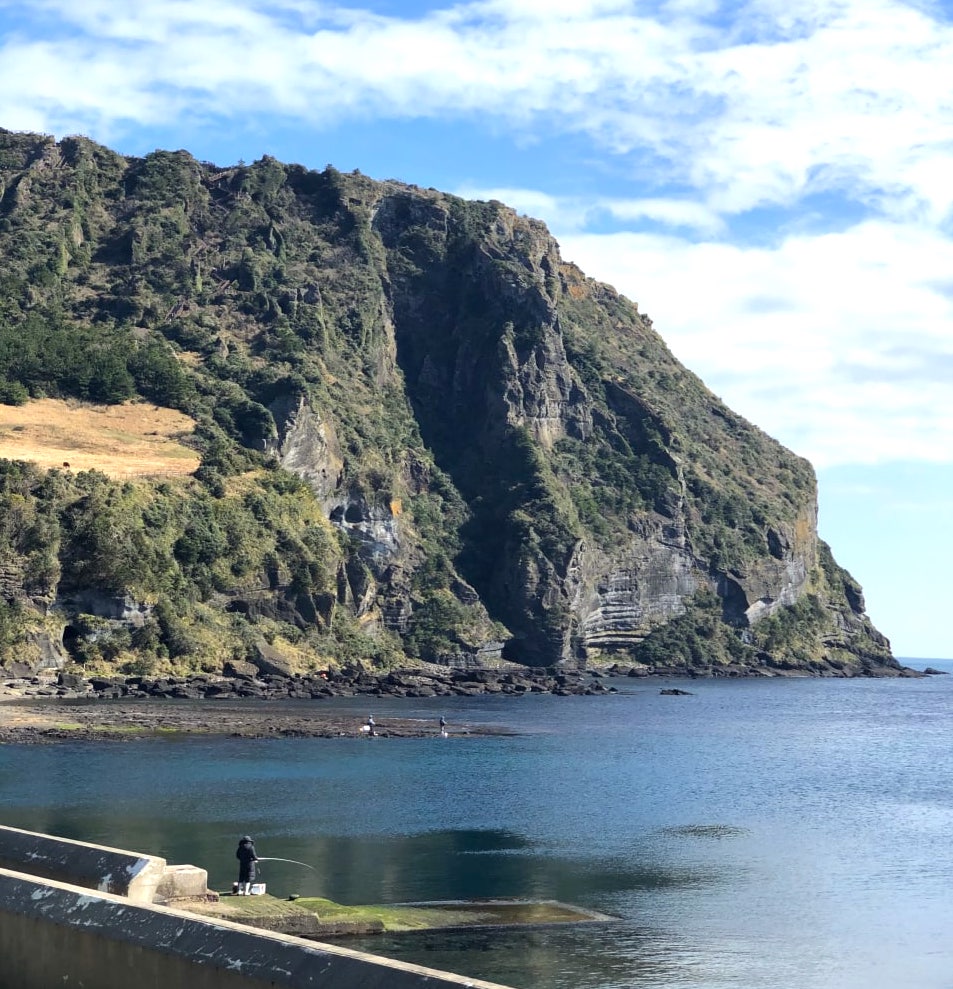 I love to experience new things (or places) by nature, so when I opened the skyscanner and noticed cheap flights from Seoul to the mysterious island of Jeju, after reading a couple of reviews about it, I decided to buy tickets there to see everything for myself.
Is Jeju Good For Solo Travel?
It is definitely good and it is definitely worth it.
I have traveled to South Korea including Jeju Island alone and have totally enjoyed the trip.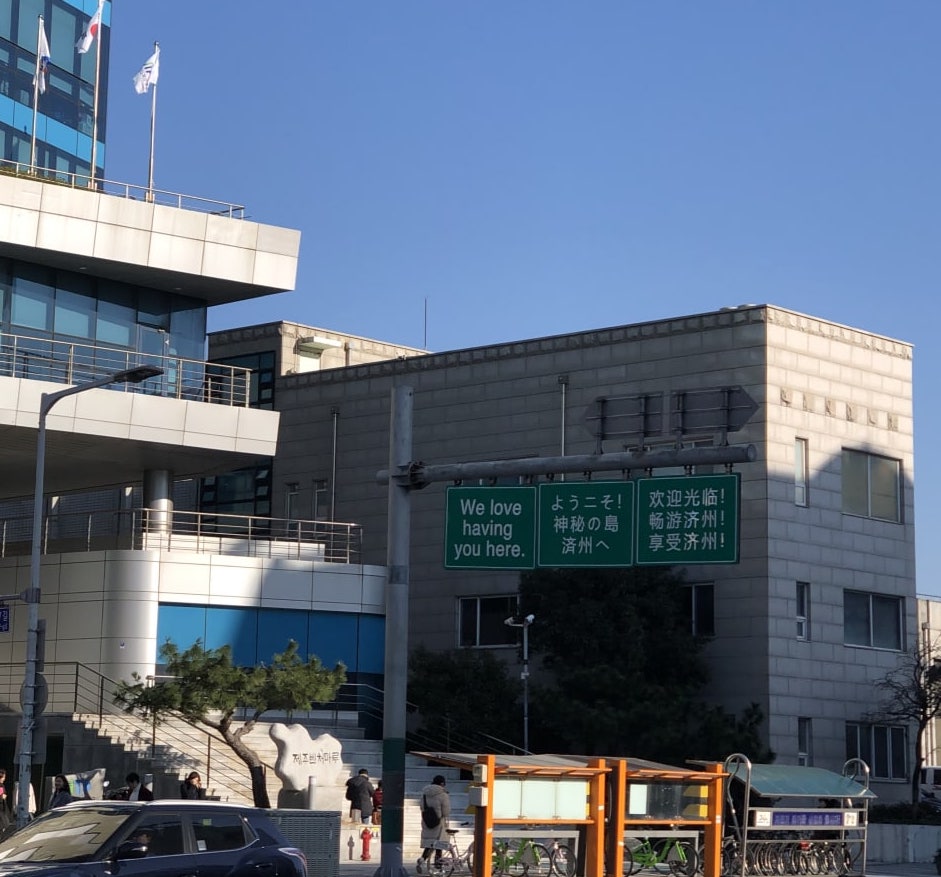 Speaking about the safety topic, I can say that there were no questions at all about this. I could go anywhere and anytime, of course, considering behaving intelligently.
Imagine how many benefits I had!
So many options:
Without any need to be dependent on another person's routine.
Although, perhaps, one small minus of traveling alone in Jeju island can be noted: no one will share with you the wonderful moments of communication with locals who do not know English so well.
You do your best, use all your skills gained in the charade games to try to talk to them, and in the end there is no one to discuss and laugh about it. 
But these are just some insignificant side effects.
Can You Explore Jeju Without A Car?
Absolutely.
I do not have a driver's license, so I only traveled around the island on foot or by bus.
The transport network on the island is quite well developed, buses run on time, at the main city stops there is a board showing the time of arrival of the next bus and its route.
By the way, Google maps also shows this information, but I'm not sure that it can be relevant in 100% of cases. Google maps works with a limited number of functions in South Korea, maybe due to its closeness to North Korea.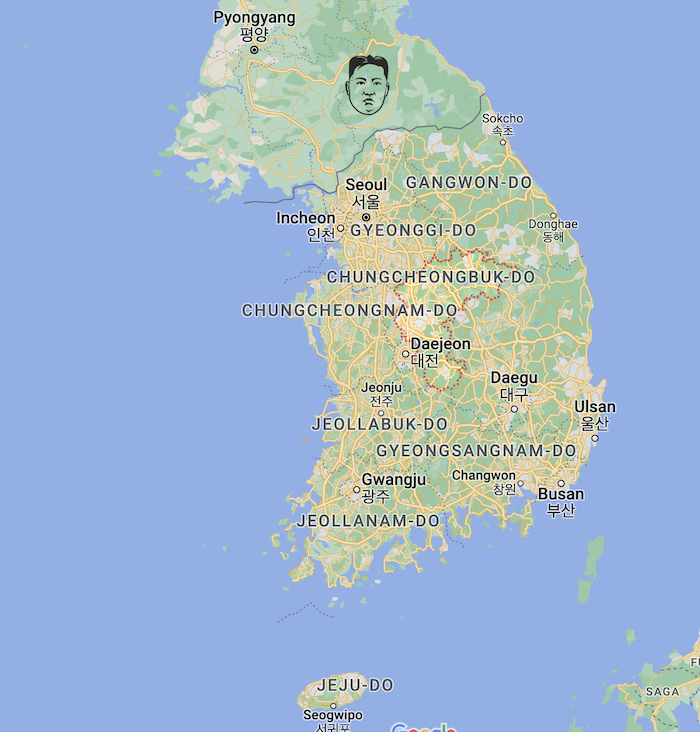 In this case, in order to plan the route you can use the Maps.me app.
It works offline, you only need to download the city or region you plan to visit in advance.
Is Taxi Expensive In Jeju?
Taxi, which is obviously quite useful for those who travel without a car, is quite inexpensive in Jeju and it is a convenient way to get around the island.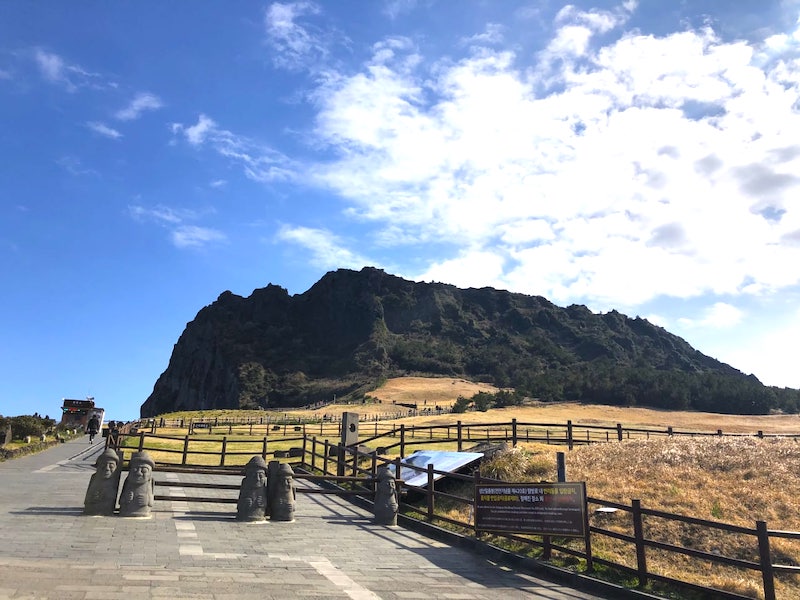 The basic fare is around 3,500-4,000 won (or 2.5-3 USD). It includes the first 2 kilometers of the trip. The price for an extra one kilometer will be about 800 won (or 50-60 cents).
To call a taxi, you can use the Global Taxi service, which provides English-speaking drivers. Their contact number is 1899-4314, after which you need to press "1" for English.
At Jeju Airport, all the taxis are located on the 1st floor, right outside Exit 3 of the Arrivals zone.
There are regular taxis with up to 4 seats or Jumbo taxis with up to 8 seats.
Does Jeju Have Uber?
No, there is no Uber or Grab or Lyft in Jeju.
But they have their own quite convenient mobile app for calling a taxi – Kakao T app.
This app is very popular in South Korea and works in the same way as Uber and other taxi apps.


You need to download the app and sign in to it, choose your address and a place of destination, then select the type of taxi and payment method.
Payment can be made online or by cash to the driver. By the way, please note that when choosing to pay online, the app may require a Korean bank account, so it might be more comfortable for you to pay in cash to the driver.
Jeju Where To Stay Without A Car?
In Jeju City:
This is the guesthouse I stayed in and I highly recommend it. Despite the small distance from the center, it was one of the most interesting experiences of all the time of all my travels.
The guesthouse is a three-storey building, including a hostel and budget double rooms with a shared bathroom.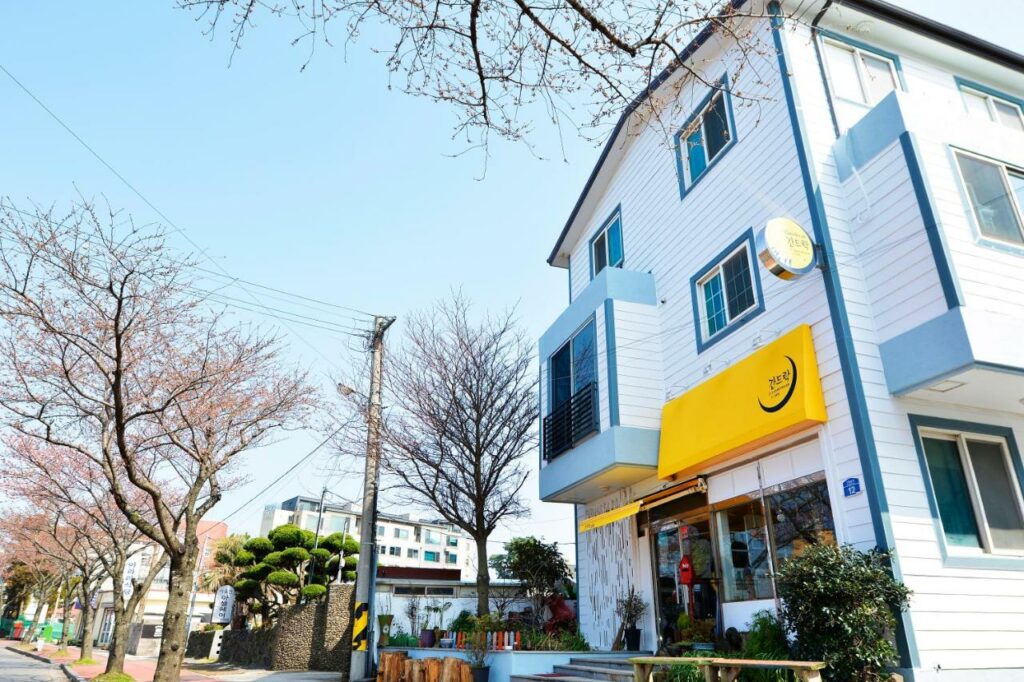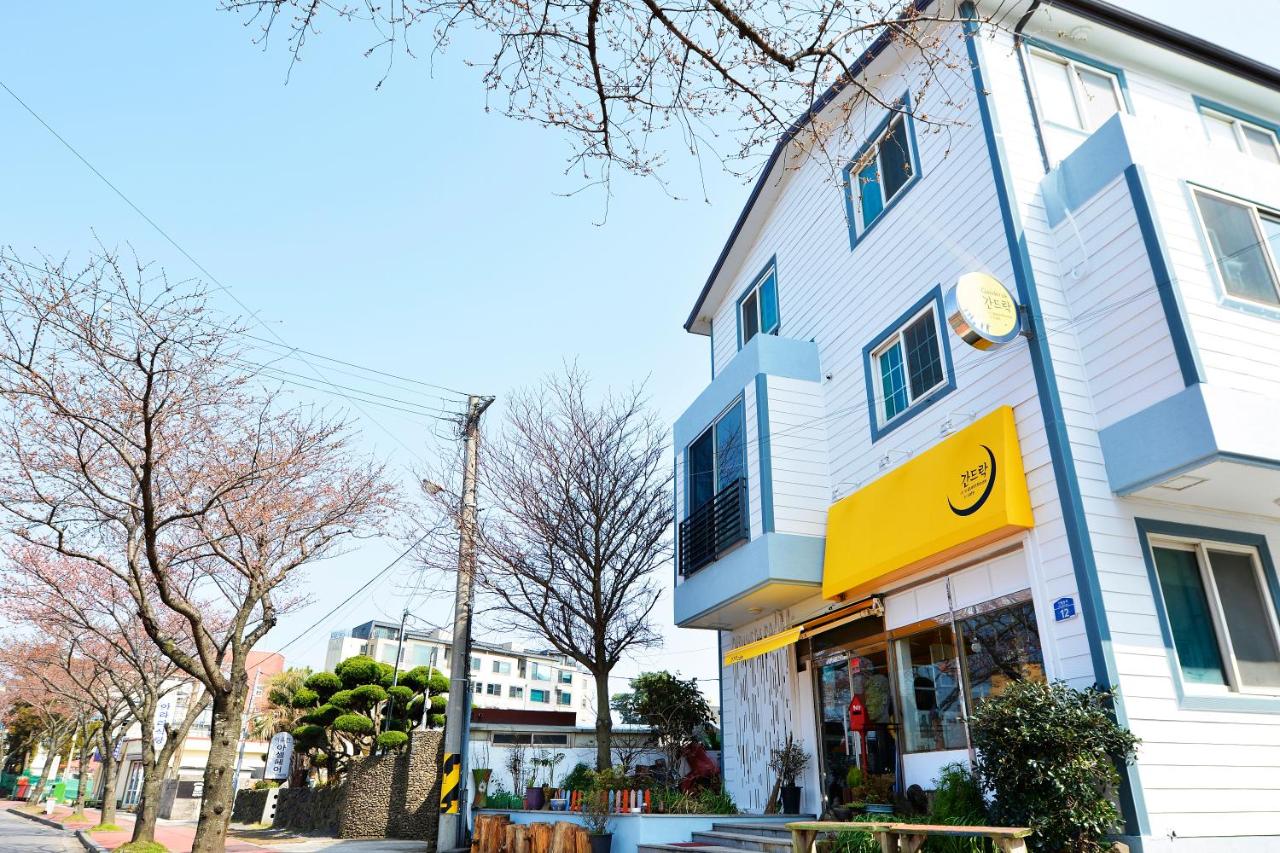 But the most interesting thing about this hotel is its owner and the library on the ground floor, where breakfast is served in the morning (which is included in the price of staying).
And this is just an amazing immersion into South Korean culture.
Imagine: lovely morning, you go down to have breakfast at the library, which is made in the classic Korean style, so that there is even a stove in the middle of the room!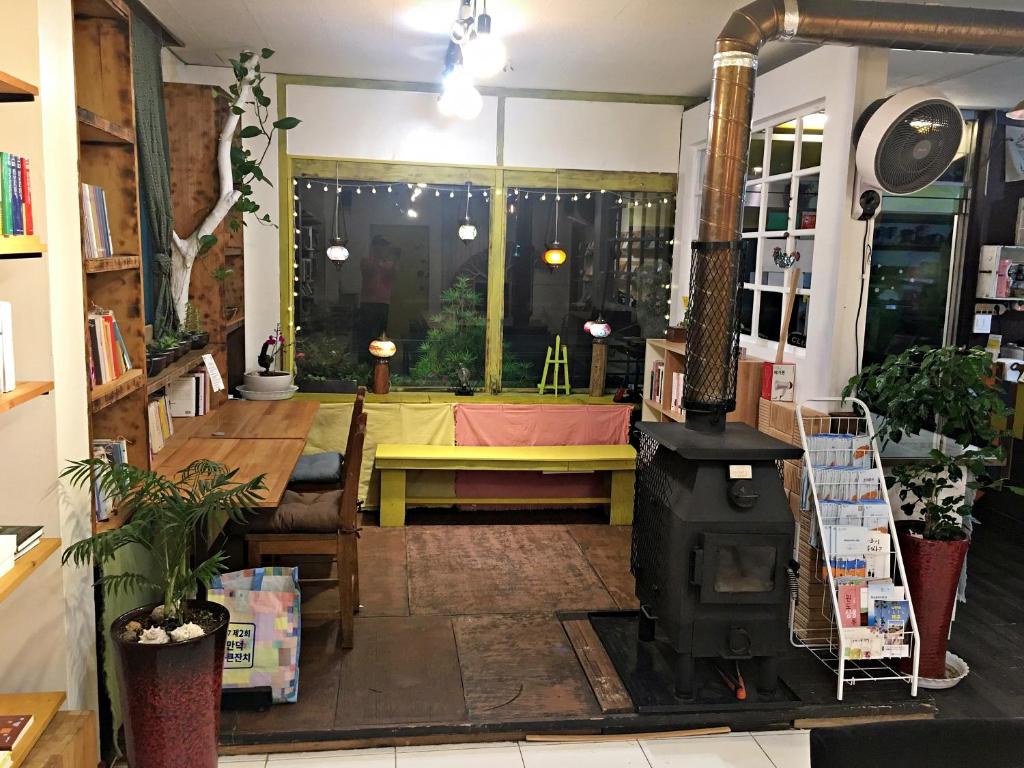 The sweet and very friendly host HIMSELF prepares breakfast for you, and then you enjoy it right in the middle of the library being surrounded by many books in mysterious Korean language.
No kidding, this breakfast was one of the best breakfasts I have ever tried in a hotel.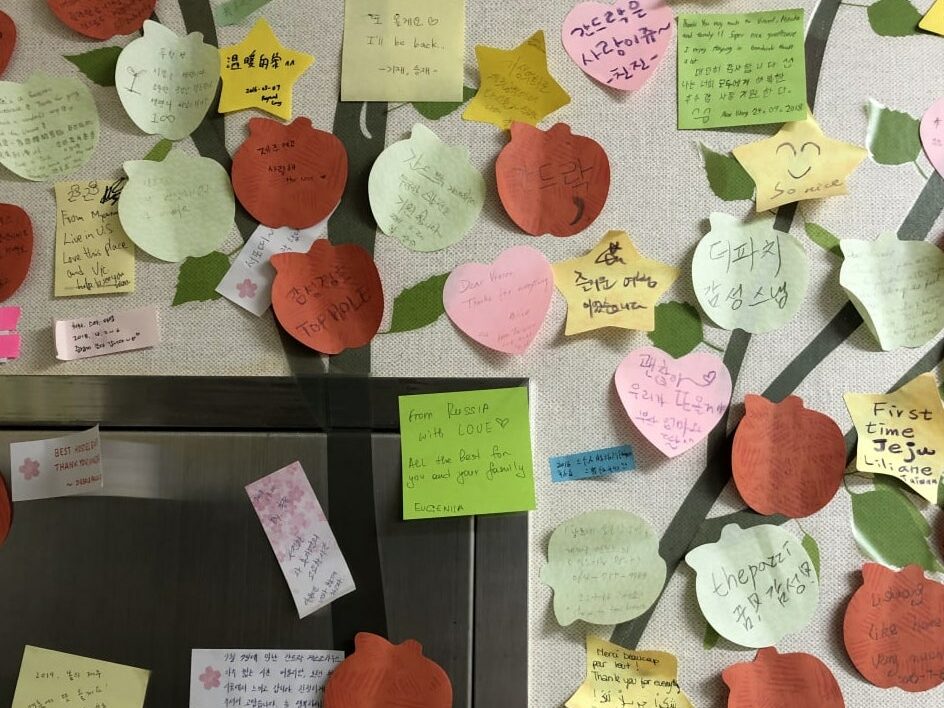 By the way, books from the library are available for buying. 
As for the location of the guesthouse, the center is within walking distance, but the walk will take about half an hour. There is a bus stop within a 2-minute walk from the hotel, from where you can quickly get to the center and the main attractions of Jeju City.
The main convenience of the hotel is its location just 200 meters from the city bus station, from where you can conveniently get to most of the interesting island locations or to the airport.
The city center, as well as the Pacific coast, can be reached by walking.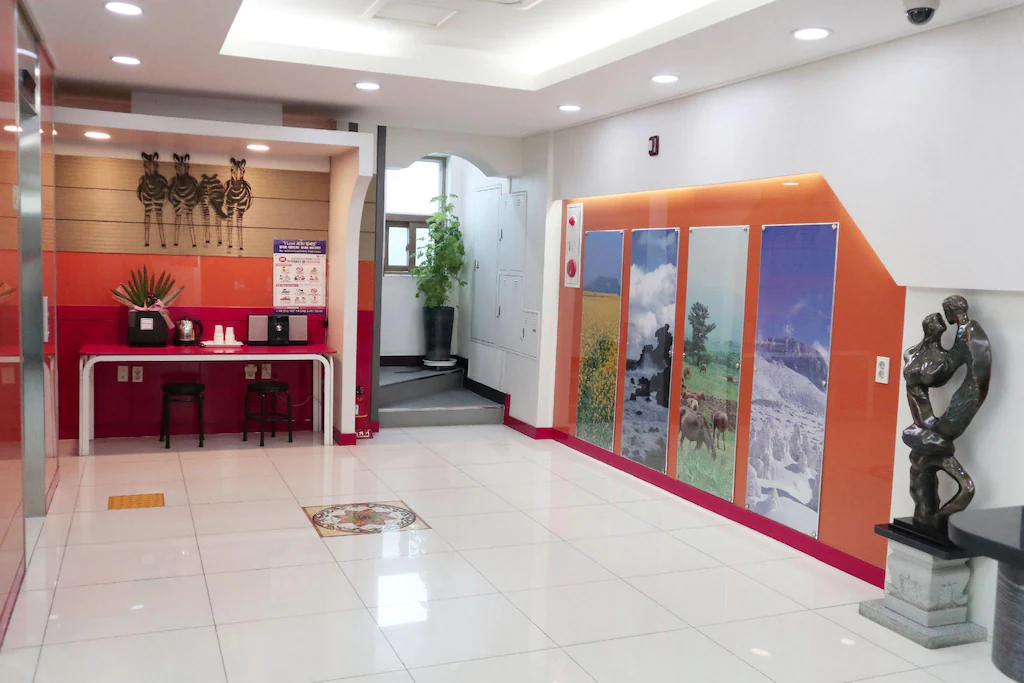 Moreover, I would like to note that for a relatively small cost you can get a double room with a private bathroom.
Depending on your preferences, you can choose a budget room with a small area if you do not plan to spend much time inside, or a room with a larger area which is just a little more expensive.
There is a coffee machine at the reception which is available 24 hours a day.
The hotel location is convenient as it is within walking distance to Dongmun Market.
That very one where you can try all kinds of deliciousss Korean street food, and also watch how they will prepare it for you.
This is a kind of gastronomic mini-show, definitely worth seeing!
Local markets in other countries are generally a great option to get involved into a local culture, especially in Asia!
So, obviously, you should go there.
The hotel itself is also quite an interesting place.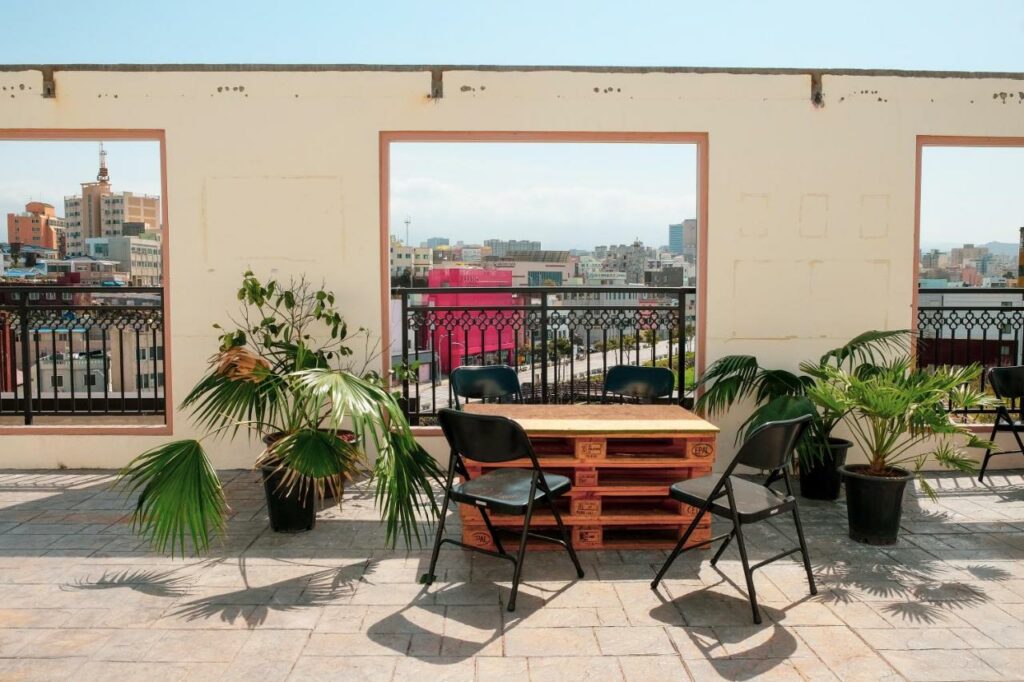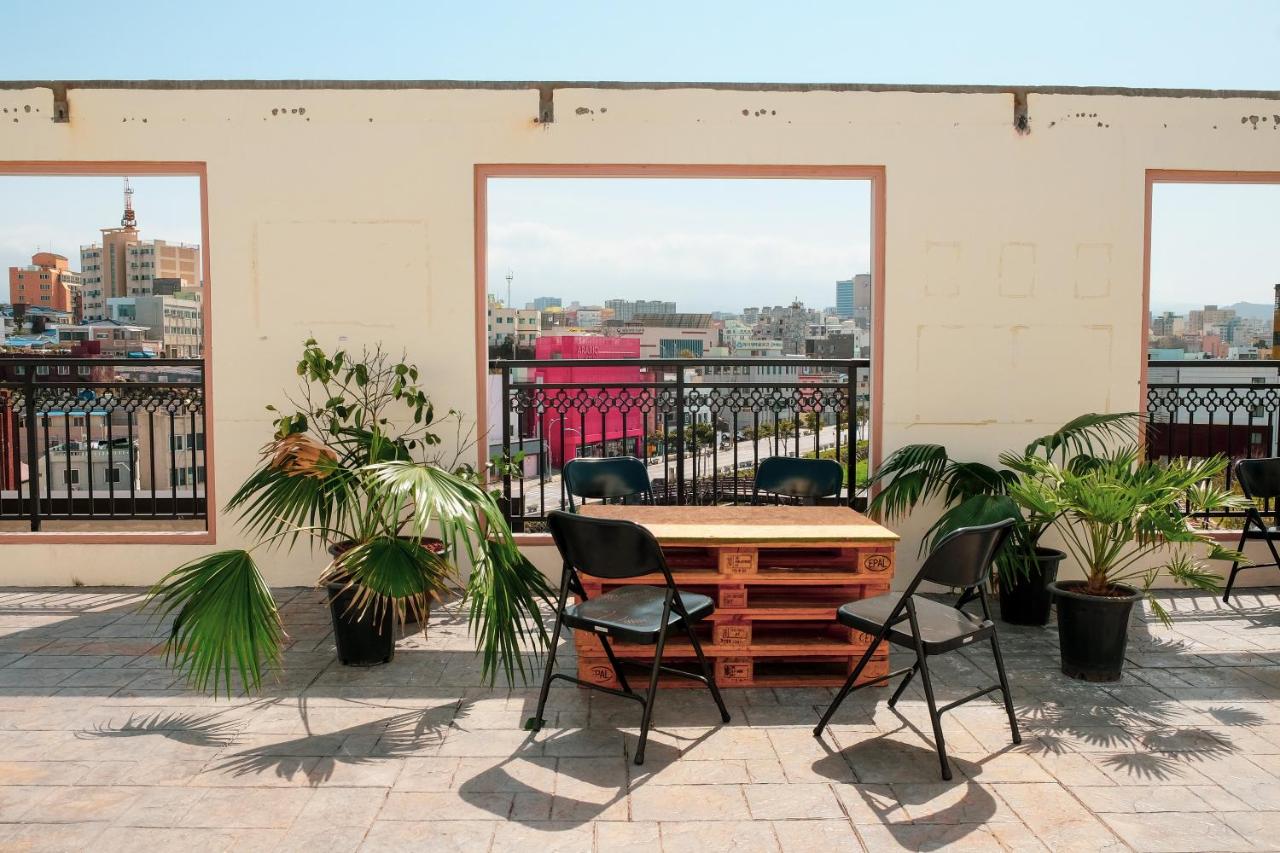 Located right in the center, it offers rooms with views along the Sanjicheon stream and the surrounding area. On the top floor of the hotel there is a cozy terrace with a panoramic view of the old town. 
They offer for guests dormitory rooms or double standards with a private bathroom.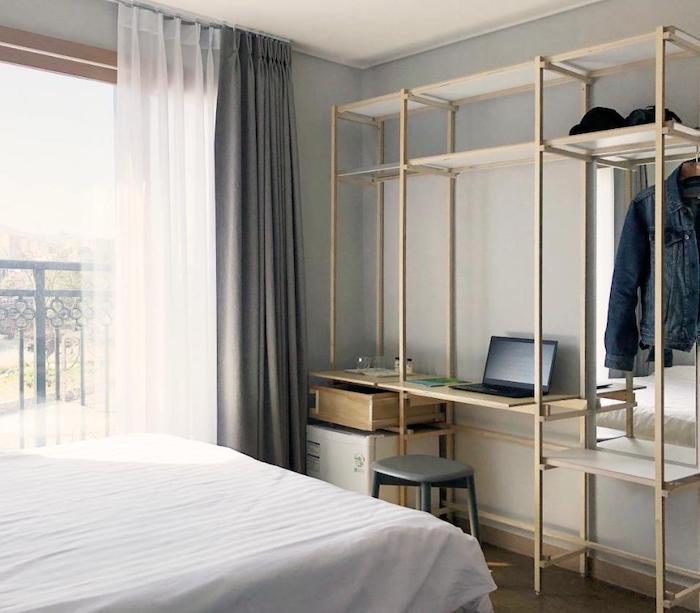 Breakfast is also included in the price of staying.
This is another very alluring accommodation option for travelers without a car.
A unique architectural solution or a futuristic style hotel providing a huge number of different objects for unusual insta content lovers.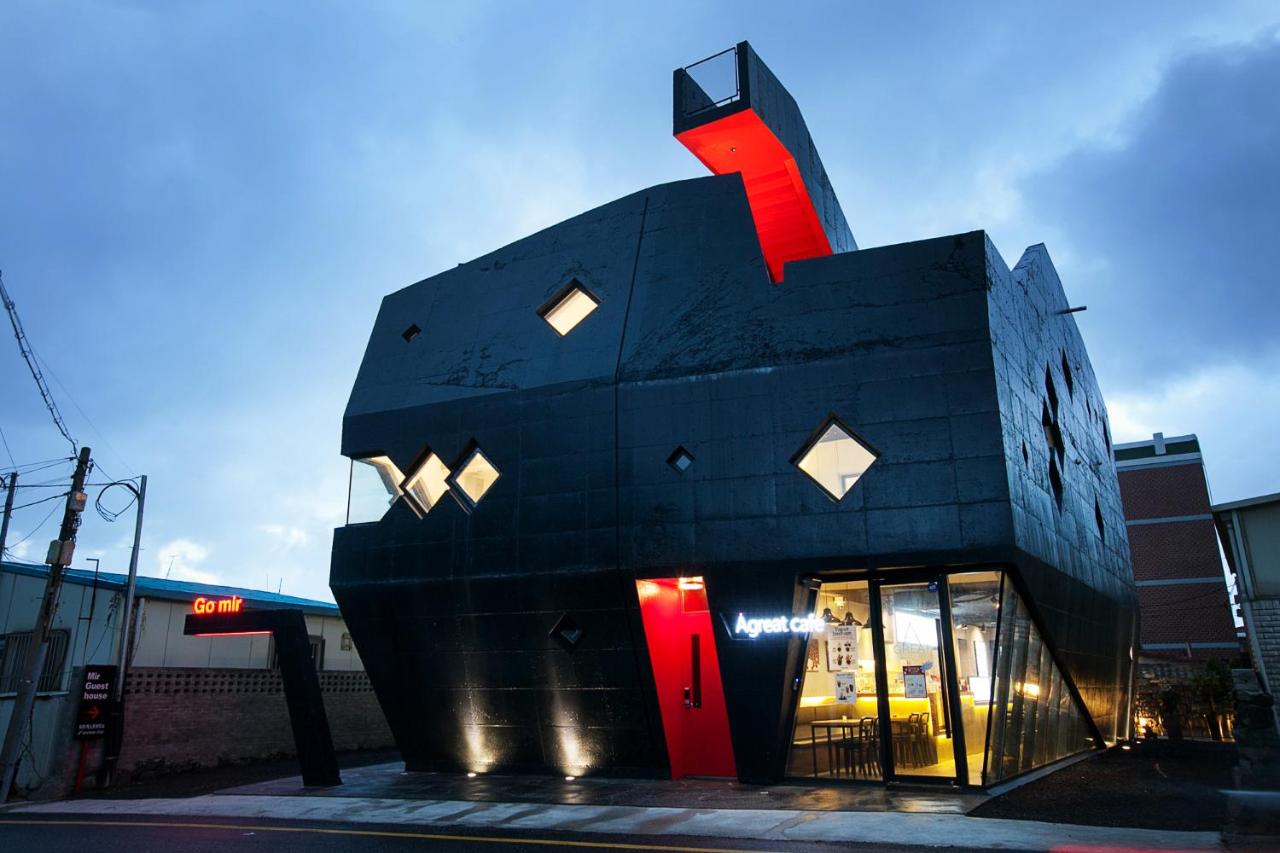 Located in the heart of Jeju City, so most attractions can be reached on foot.
The hotel is situated close to the airport, which is very convenient if you have an early departure or a late arrival. Plus the taxi ride to the airport will take no more than 10-15 minutes, which means it will not hit the budget too much.
The bus stop is right in front of the guesthouse.
Shared and double rooms with a shared bathroom are available, as well as single rooms with private bathrooms. The cost of living, which is more than reasonable, already includes breakfast.
If comfort, convenient location and additional services, such as a gym, a spa center or a tourist desk, in a hotel are important for you, then you can check this hotel.
Providing all what I've mentioned above, they offer ALL the rooms with a direct ocean view.
And it is awesome! The view and the ocean itself!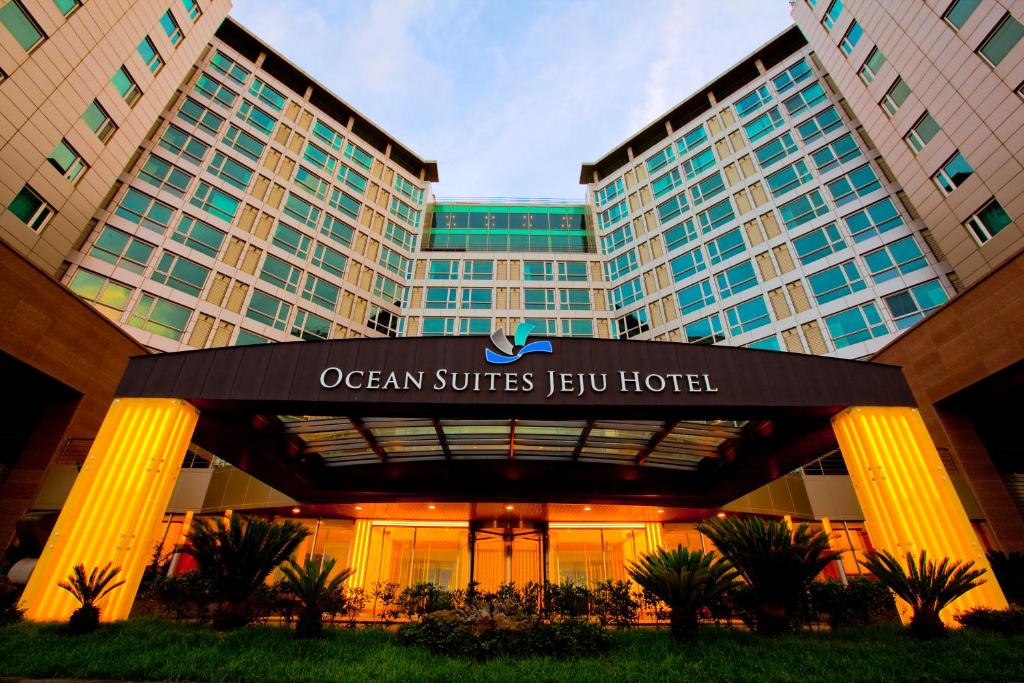 The hotel is located almost on the beachfront, you just need to cross the road to get to the coast.
For lovers of walks along the sea – it's perfect!
Close distance to a lot of restaurants, shops and cafes, as well as major attractions, will make your Jeju gastronomic and cultural experience even more vivid and exciting.
The hotel offers a good choice of rooms of various categories, both for solo travelers and for families or big companies.
Another amazing catch in Jeju city.
Stunning, modern and sophisticated hotel, the interior of which is truly breathtaking.
Very attentive and helpful staff who speak excellent English. If necessary, they will give you recommendations on local restaurants, bakeries and cafes.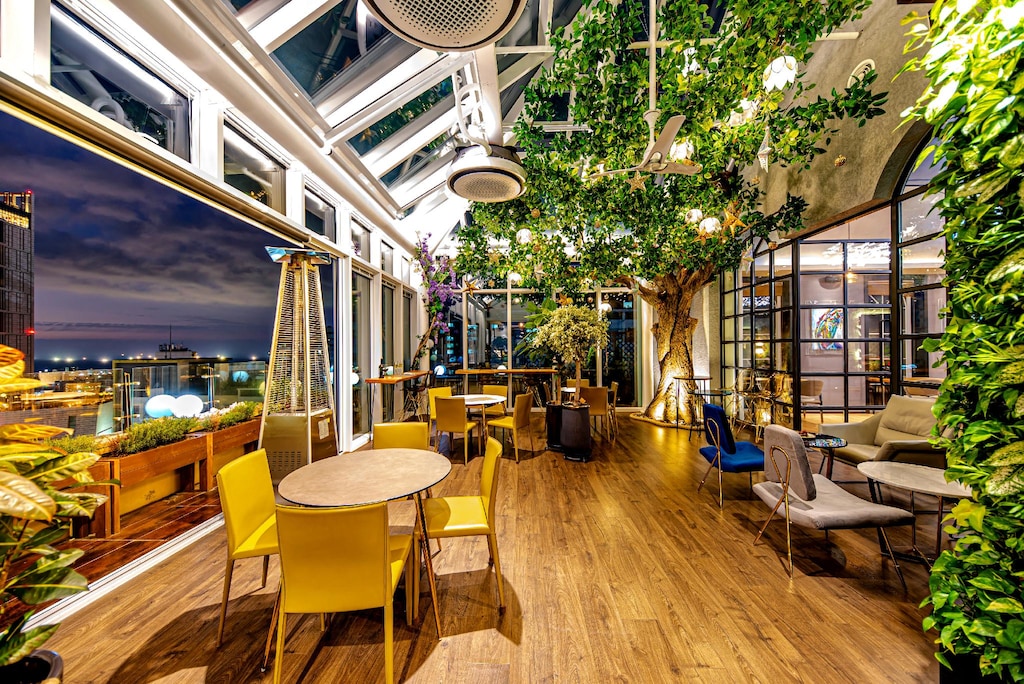 The hotel is close to the airport, so you can get there quickly enough. They also offer a free shuttle for arriving guests, lovely!
There are many venues in the nearest area where you can try unusual South Korean cuisine.
The cherry on top of the cake is the hotel's rooftop bar, located on the 13th floor, with an incredible sunset view. It has to be the perfect place to relax after long walks or trips around the island.
All rooms are spacious, and its bathrooms are made in a classic Korean style.
In Seogwipo City:
If you are planning to visit national parks, see numerous waterfalls, including the only waterfall in Asia that flows directly into the ocean, then you are going to visit the Seogwipo area.
Obviously, here it's possible to find some nice accommodation options for travelers without a car.
The hotel is located right in front of the huge Chilsimni Poetry Park, just 200 meters from the Cheongjiyon Waterfalls.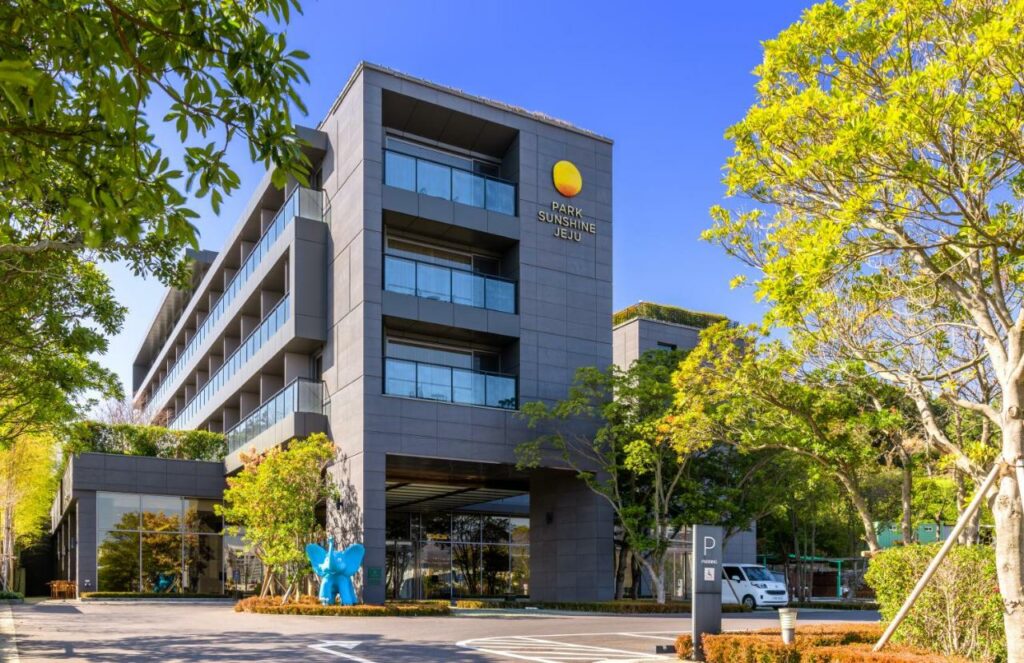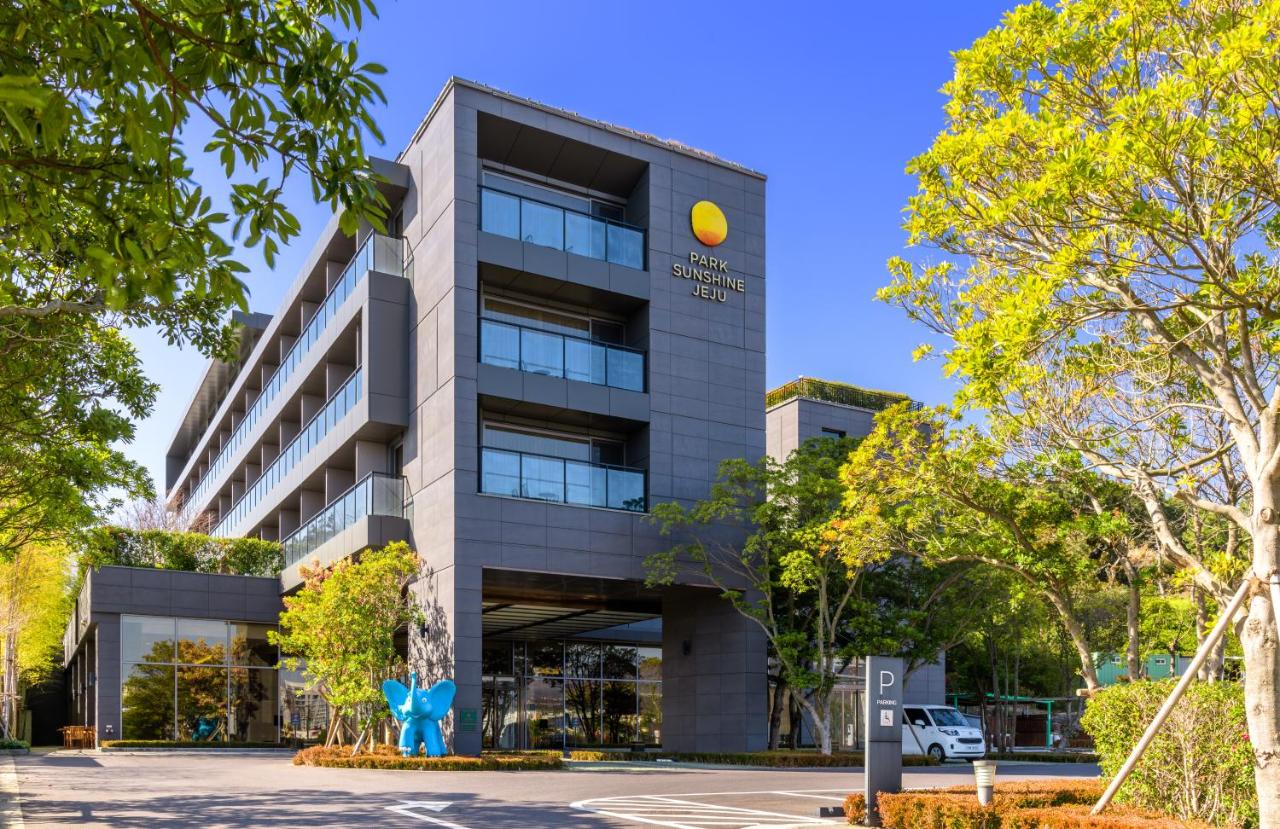 The Chonbang Falls, that very one, where the water falls directly into the ocean, can be reached in 15 minutes. By the way, you can get there from the hotel by bus, the bus stop is just one minute away.
The hotel is located in a quiet and peaceful area of ​​Seogwipo, but most attractions are within walking distance.
All rooms are spacious enough, some of them offer stunning views of the Hallasan volcano.
The hotel is located in the heart of Seogwipo city, which is very convenient for exploring the area. This means also that most of the sightseeing, waterfalls and even the nearest island can be reached on foot.
If you come to Seogwipo to explore its incredible beaches, such as Seonnyeotang Beach or Soggol Beach, they are easily accessible by bus. There are several bus routes around the hotel that connect different areas of the city.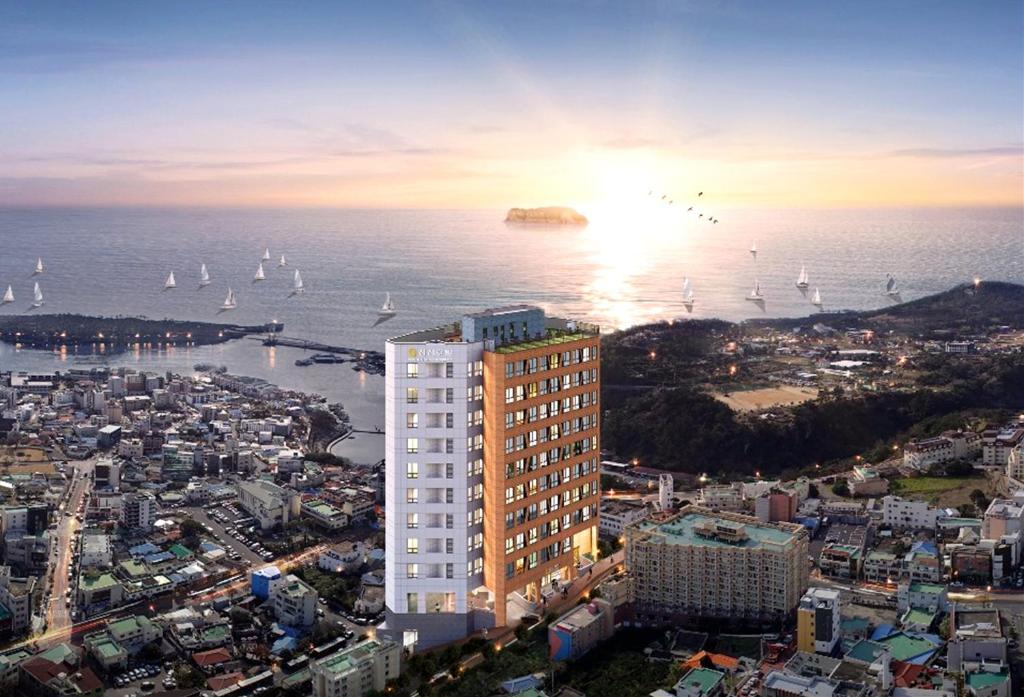 All rooms are quite spacious and some of them have harbor views. By the way, all hotel rooms have a kitchenette (without cooking facilities) and a washing machine.
Another very cozy accommodation option in the city of Seogwipo.
Hostel that combines shared rooms and double, triple or family suites.
The hostel has a common kitchen area where you can cook your own food, and a wonderful terrace on the rooftop.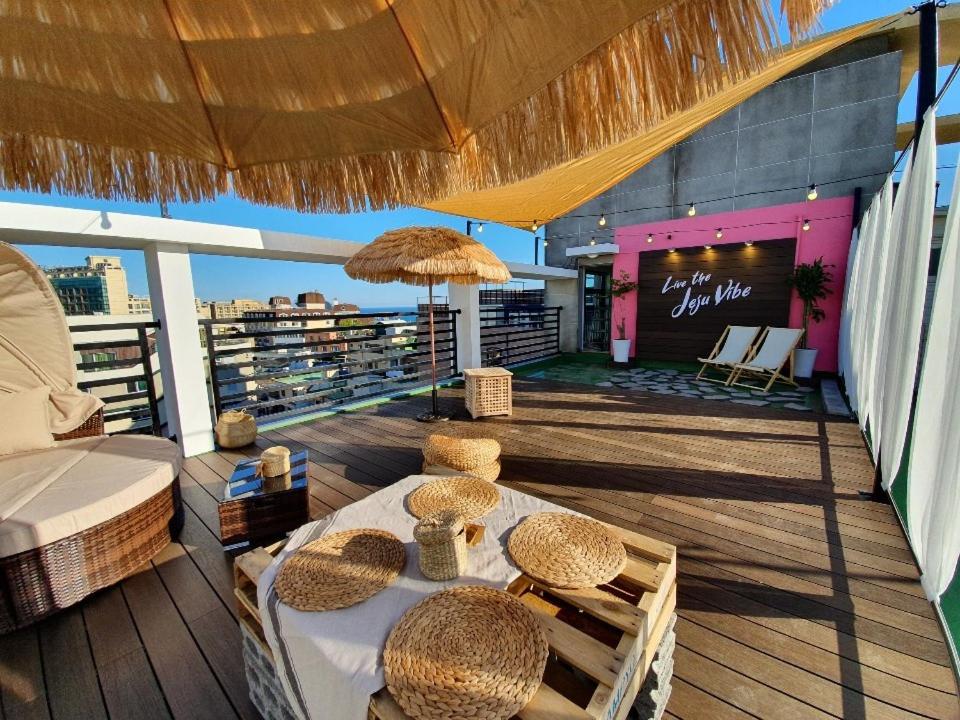 Where at the minimum it will be pleasant to have breakfast or a cup of coffee in the morning, and at the maximum you can try to catch that very mysterious South Korean vibe.
Near Seongsan Ilchulbong peak:
For those who want to enjoy the views of the overwhelming Seongsan Ilchulbong peak with might and main and spend a little more time in this part of Jeju Island, I can recommend one of the very nice guesthouses.
The hotel is only 200 meters from the entrance to Seongsan Park, the one where the extinct volcano crater and the very peak of Seongsan Ilchulbong are located.
There is also a beach with black sand and crystal emerald water.
The place is just a MUST SEE!
On the way to the peak, there are breathtaking views of the green fields like on the Windows XP wallpaper and the horses walking in these fields.
The nearby islands and numerous black rocks year by year are being covered with grass, complete this magnificent picture.
And if you're lucky, you'll meet the famous Korean diver women.
The bus stop is right in front of the hotel, making it easy to get to other parts of the island. There are many cafes and restaurants of South Korean and European cuisines in the nearest area.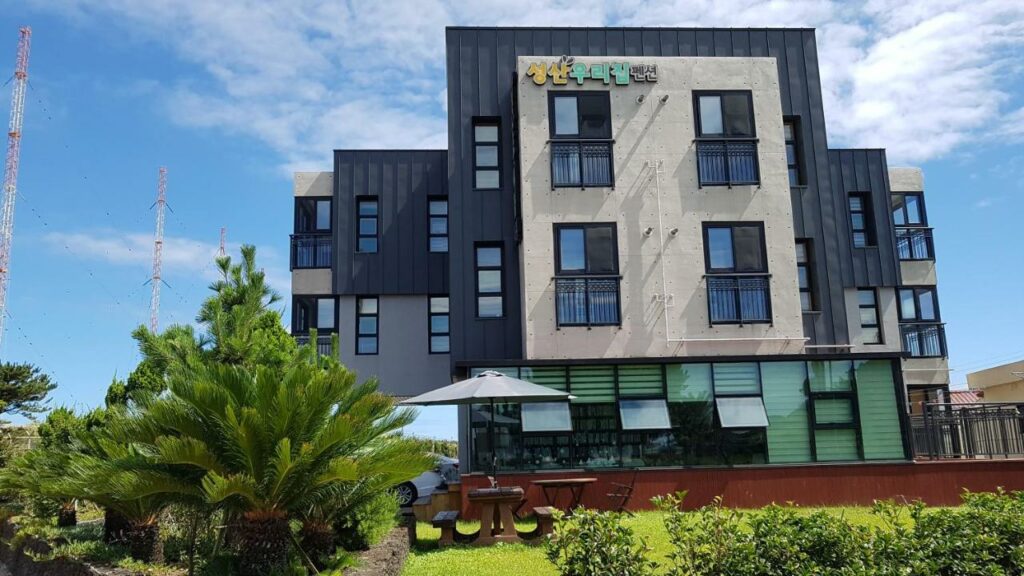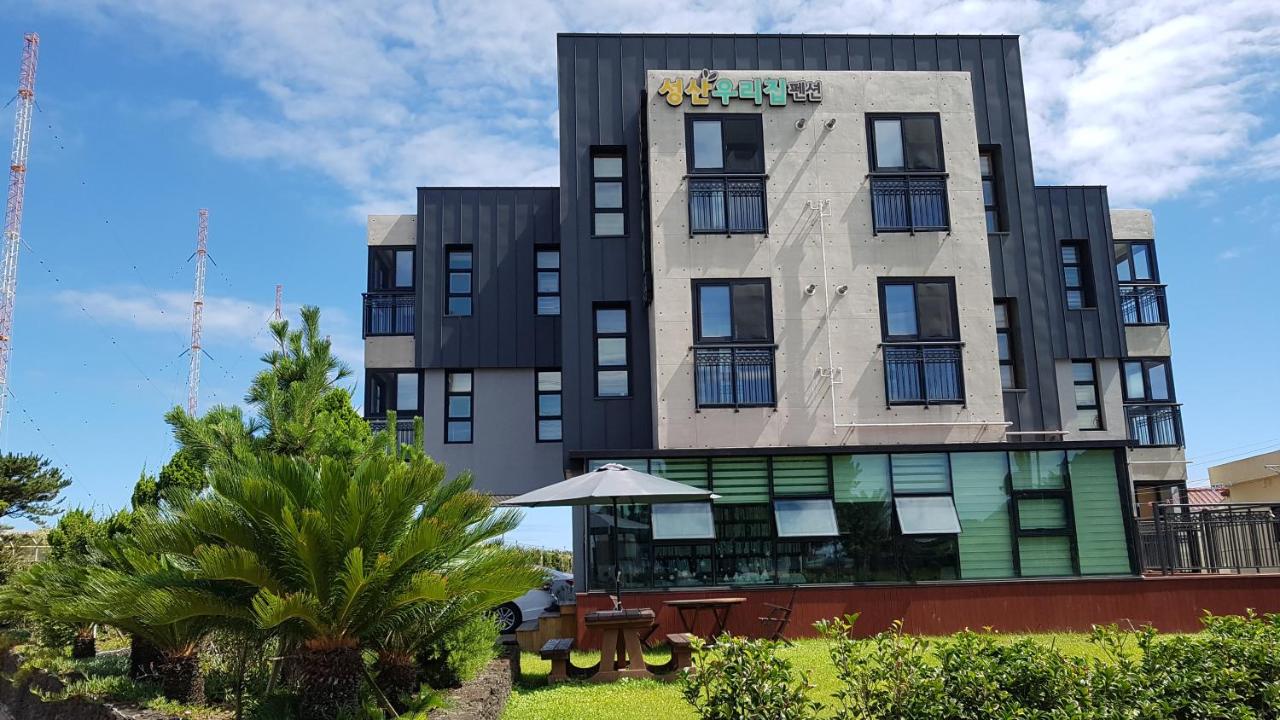 The rooms are designed in classic Korean style, and many of them provide a seaview or a view to Seongsan Park.
---
In conclusion, I want to say that South Korea is an endlessly interesting and unusual country.
By the time I was writing the final part of this article, I realized that I'm ready to go there again and to see places where I have not visited yet, for example, the city of Busan.
Or maybe visit Jeju Island again, but in summertime.
I hope you'll get the same wonderful emotions from traveling in South Korea as I did.
If you liked this article, then you might be interested in my post about the amazing Monster Building in Hong Kong.