Another eco-friendly way to explore Cypriot cities is by renting a bike from Nextbike.
The island's weather, which offers sunny days throughout the year, is also quite inviting for this type of activity.
Nextbike by TIER is the leading bike-sharing service in Europe. Since autumn 2021, it was acquired by TIER, the German leader in micro-mobility services, and is now available in about 20 European countries and more than 300 locations.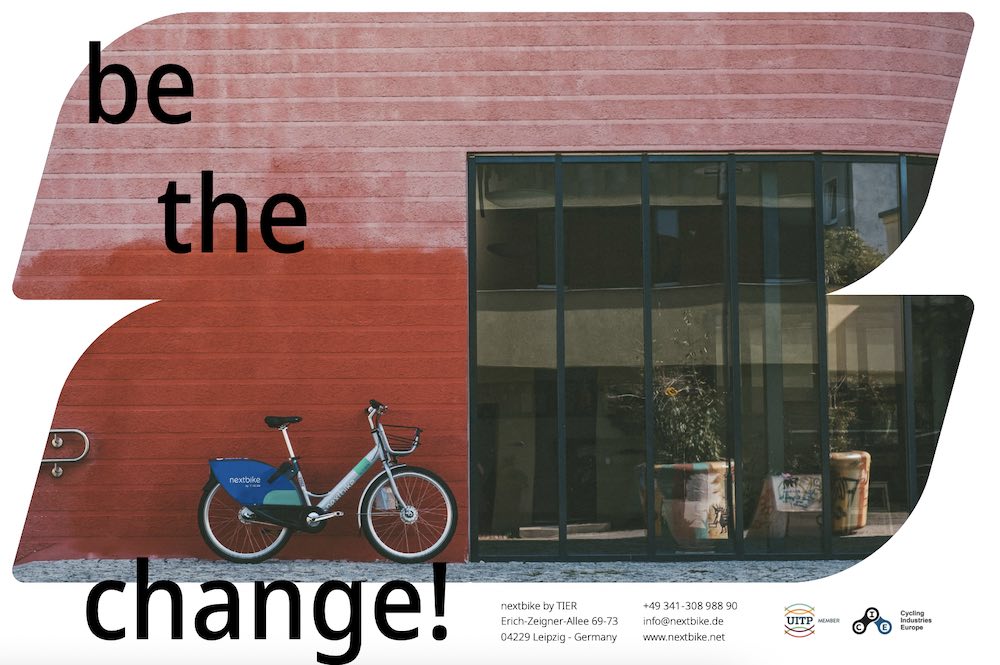 Where Does Nextbike Operate?
Nextbike has a vast operating map, including most European countries, as well as Ukraine, the United Kingdom, Ethiopia, and Mexico.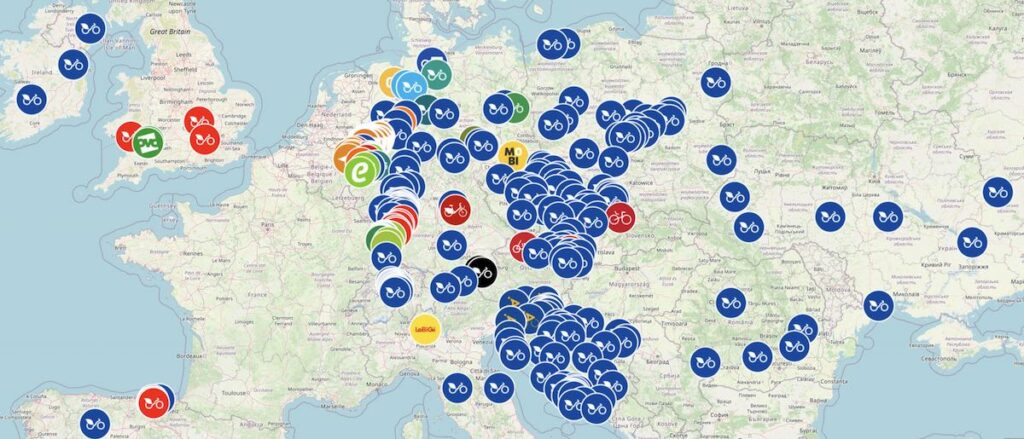 In Cyprus, Nextbike is accessible in the majority of major cities.
In the Famagusta region, bike rentals are available in Ayia Napa, Paralimni, and Protaras. Additionally, Nextbike operates in Limassol, Larnaca, and Nicosia.
Unfortunately there are no Nextbikes in Paphos, but maybe it's just a matter of time.
Click here to read everything about E-Scooter rental in Cyprus
Click here to read my post about new modern area Ayia Napa Marina
Click here to check Best Cheap Hotels In Ayia Napa For Partying
Are Nextbikes Electric?
The company provides both types of bikes in Cyprus – electric and non-electric.
They differ in prices and extra fees, which I'll describe further in the article.


In Famagusta region (Ayia Napa and Protaras) and Larnaca I could find only classic bikes.
But in Nicosia and Limassol, they are available. Here is an example how they are shown on the app map.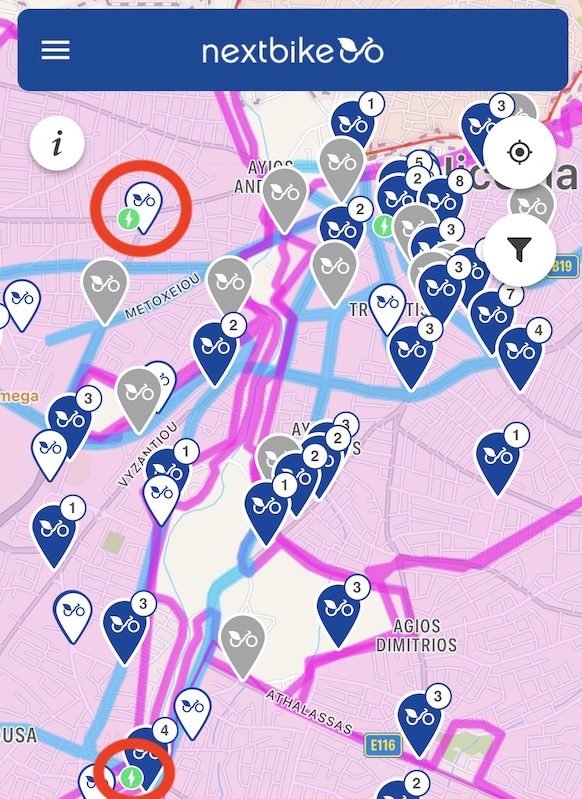 How Do You Use Nextbike?
Well, at the beginning, the user experience might be a bit tricky, but overall, it's not so complicated.
First of all, you need to download the app.
Here are the links for the App Store and for Google Play.
Before starting the rental, you need to sign up in the app and choose a payment method (bank card, ApplePay, GooglePay, or Paypal).
The system requires a deposit of 10.00 euros, which will be charged right after you choose the payment method.
This money can be used for your rides.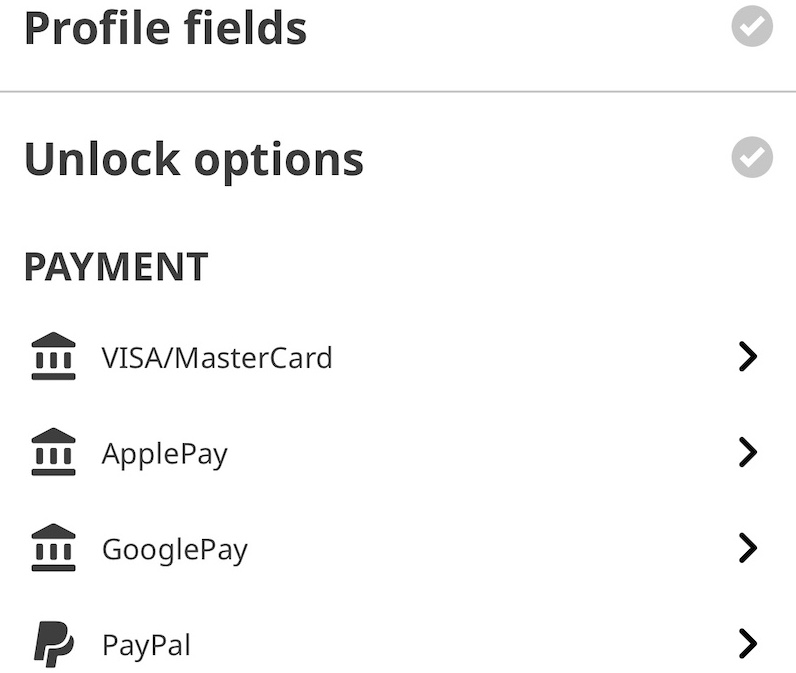 The next step is to find the nearest bike to you.
You can do this by checking the app map while using your geolocation.
The bikes are marked by white and blue pins. You choose a bike in the app and then check it at the parking spot by a serial number.
After you choose a bike and click 'rent bike' in the app, the system will send you a password for unlocking it.
The unlock monitor is located at the back of the vehicle. Enter the password there and press OK.
But that is not all! 😀
After entering the password, you'll hear a "special unlocking sound".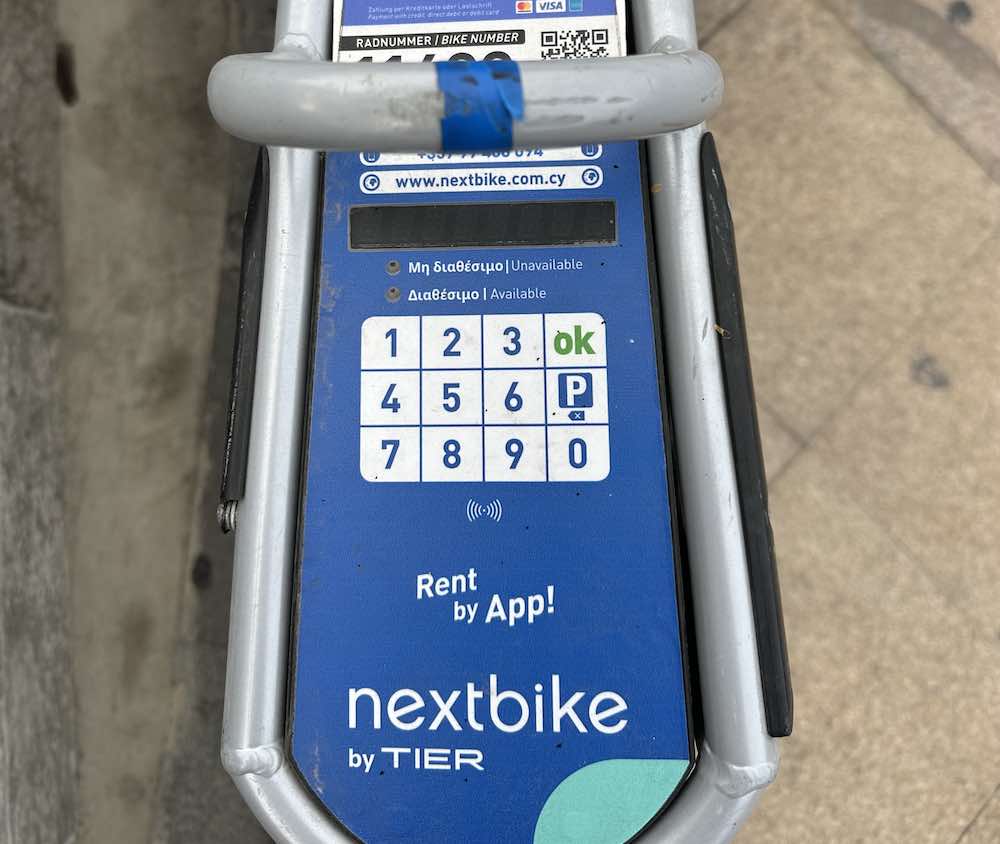 Next, all you have to do is pull the wire out of the wheel spoke to start moving.
Can You Leave a Nextbike Anywhere?
Be sure not to repeat my mistake.
I was guided by the map, which displays permitted zones for cycling and areas where riding is prohibited.
I logically assumed that I could leave my bike anywhere in the permitted zone, similar to how it works with electric scooters.
Especially after I saw that many bicycles were simply parked in random places on city streets.
But in reality, this is not entirely true.
Nextbike allows you to leave your bikes anywhere, but if you leave it outside the parking station, you will be charged an additional amount of money.
Moreover, they will deduct charges every time you leave the bike 'in the wrong place.'
After being charged 2 euros a couple of times, and finding my cycling more expensive than rides on electric scooters, I took a closer look at the map.
That's when I noticed that all the blue dots were bike stations with a free parking option.
To avoid being charged for wrong parking, you need to find 'the blue dot Station' in the app map.
Additionally, there are different types of zones on the Nextbike map – blue ones and pink ones.
Blue zones are located only in Nicosia, and pink zones are situated in Nicosia, Famagusta, Limassol, and Larnaca.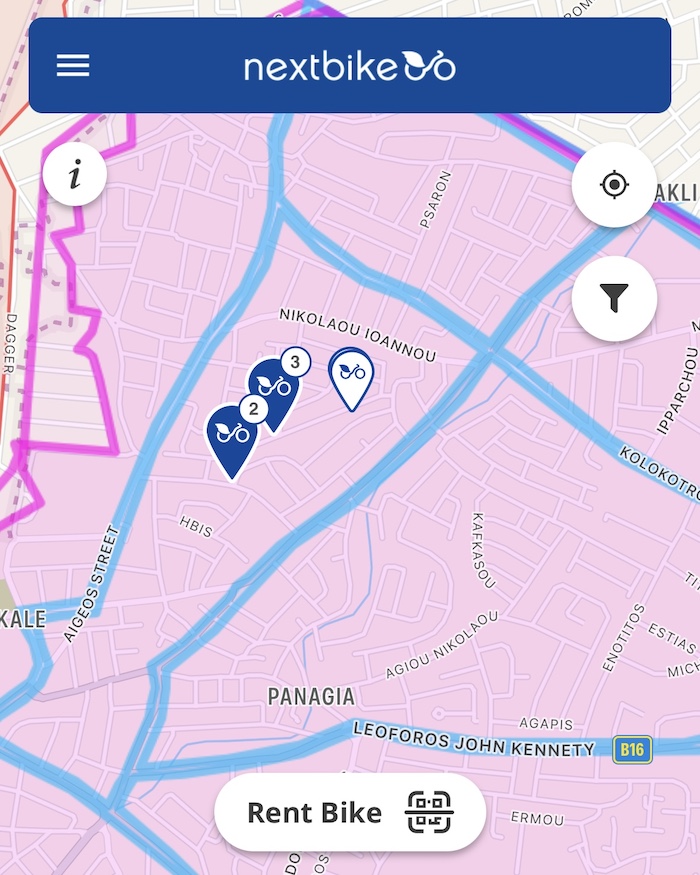 So, if you park a vehicle anywhere but not at the Nextbike station while being in the blue zone area, you will be charged 1 euro for wrong parking.
If you do the same in the pink zone area, you will be charged 2 euros.
With e-bikes, the zone doesn't matter; they will just charge you 20 euros!! (Surprise, surprise…)

I suppose when you're just starting to use some new app and service, it's not so easy to immediately understand how it works and whether there are any additional rules regarding parking, etc.
Don't you agree?
By the way, I submitted a request to the support team regarding these fines and unclear information in the app map, and they kindly refunded me two euros.
Nextbike Rental Cyprus Prices
There are two types of rates for renting bicycles in Cyprus.
Classic Bike Rental Price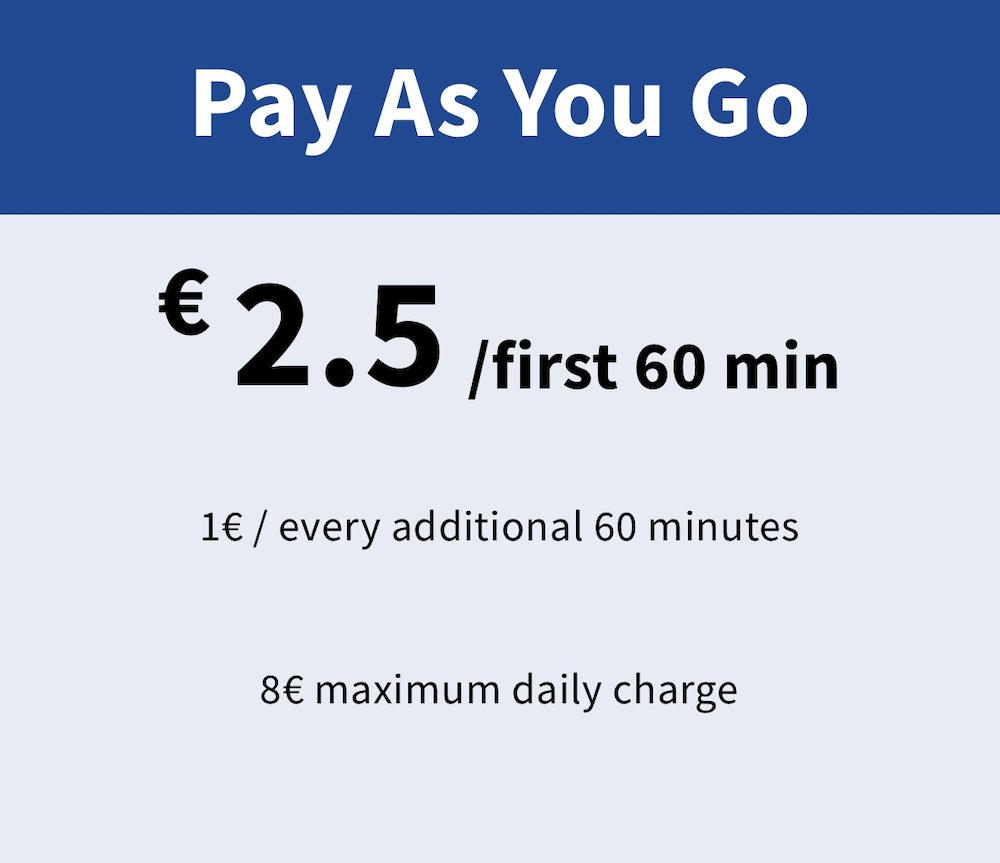 The first and most popular for short-term trips is as follows: the first 60 minutes of rental cost 2.5 euros.
Every extra hour will cost 1 euro, with a maximum charge of 8 euros for 24 hours of rental.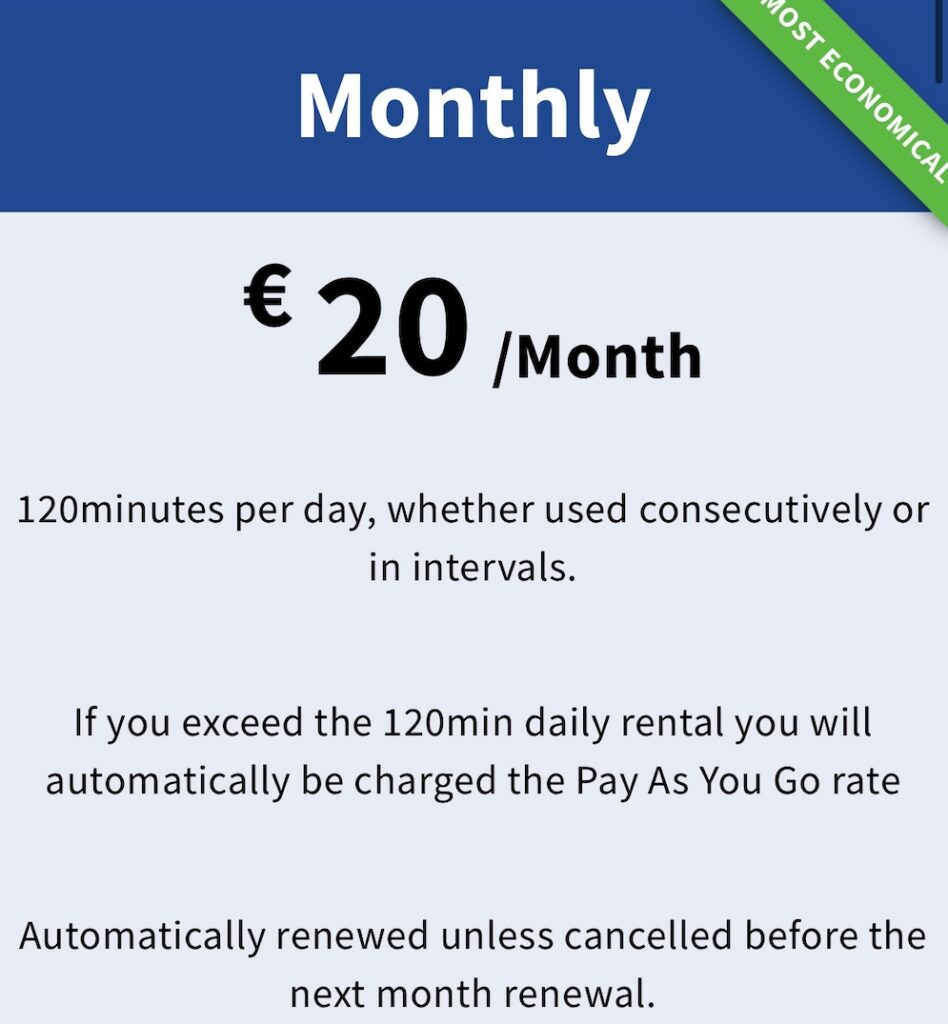 The second option is for those planning to ride extensively, for at least several days.
It costs 20 euros per month and includes 120 minutes of riding daily for a month.
If the limit of 120 minutes is exceeded, the additional payment for each hour will be according to the first tariff, 1 euro per hour.
Please note that this is a subscription plan, so payment for each new month will be automatically debited from the card until you cancel it.
Electric Bike Rental Price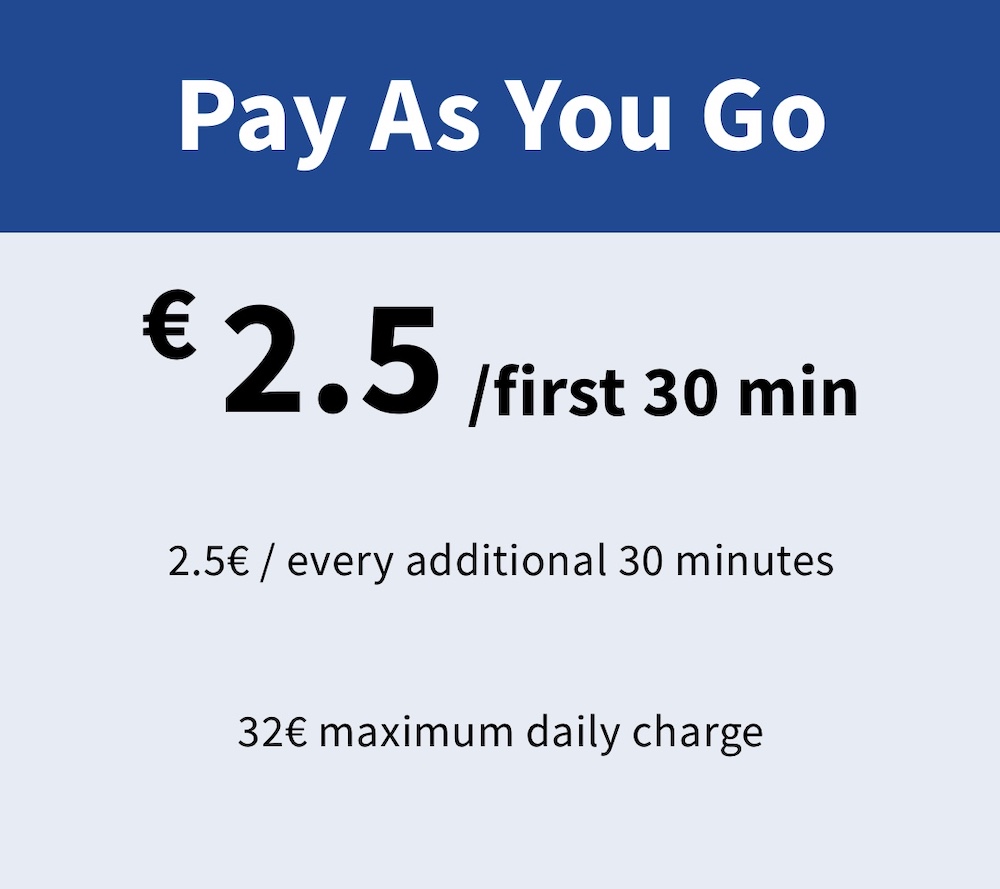 Electric bike rental prices are slightly higher but generally reasonable for short trips.
The first 30 minutes of the ride will cost 2.5 euros, with an additional charge of 2.5 euros for every extra 30 minutes of cycling.
Or a maximum of 32 euros for 24 hours of rental.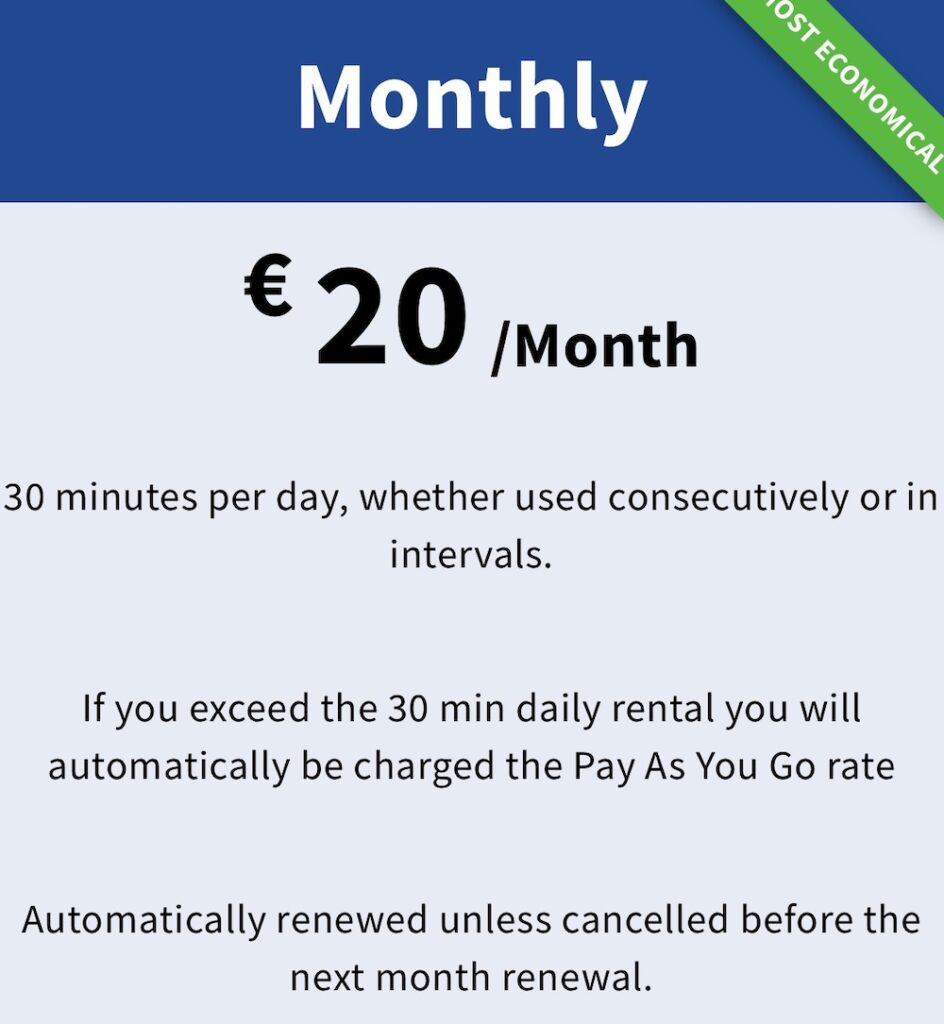 The monthly rate costs the same, 20 euros, but includes only 30 minutes of riding daily.
If the number of minutes of riding is exceeded during one day, they will charge you according to the first rate, which is 2.5 euros per 30 minutes of the ride.
This is a subscription plan, so it will be renewed automatically every month until you cancel it.
Nextbike Cyprus Rental Review
This is my first time experiencing a ride with Nextbike, and overall, I am pleased with the experience.
The bike rides softly and smoothly, and the brakes work well.
It was a bit challenging at the beginning to figure out how to unlock and end the ride, but this is just a matter of experience and repetition.
Each bike has a front basket, which is convenient if you have some bags with you. Some of the bikes also come with a child seat (though not many of them).
If you clear up parking and permitted zones rules to avoid fines, your ride experience will be as cool as possible.
Add there great weather and many sunny days in Cyprus, and voila!