Is Berlin Still Fun?
Berlin is still sexy.
And a looot of fun!
The capital of Germany attracts a lot of tourists from all over the world, before the pandemic more than 13 million people visited it yearly.
Moreover Berlin is known as a super modern and technologically developed city.
There is a huge number of useful apps that can help make your trip to the capital of Germany more convenient, exciting, and comfortable.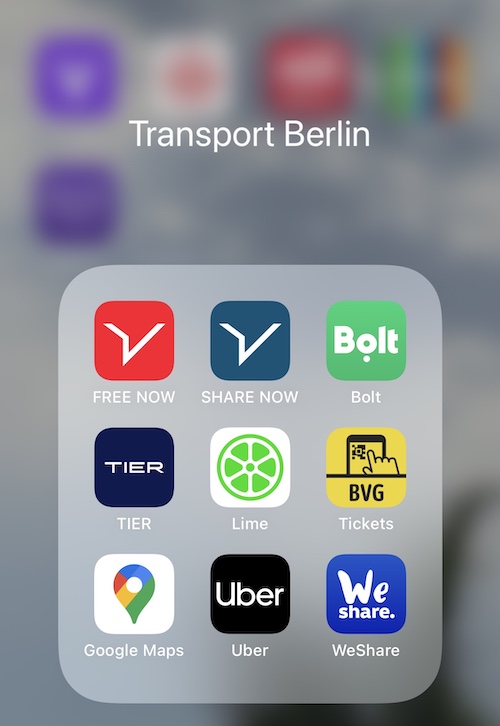 In this article, I give the most basic information about transport in Berlin and share all necessary links that may be useful to you. Obviously you can use some of them in other cities and countries as well. 
Take your time and enjoy!
If you are a foreign tourist, you don't need to pay extortionate roaming charges nor do you need to buy a local SIM card to use E-Scooters in Berlin.
Just get yourself an eSIM instead. It is by far the cheapest and easiest way to get data abroad.
Berlin Public Transport App
As well as traveling to any other city in the world, a trip to Berlin starts with checking local public transport network.
The organization of public transport is regulated by the BVG company, which has developed an app where you can check the metro map, buy a ticket, or choose the most suitable route.
Is There An App For Berlin Public Transport?
The BVG app
Website | iOS | Android

It shows all possible ways to get to any point in the city, including different modes of transport, together with the shortest or the cheapest options.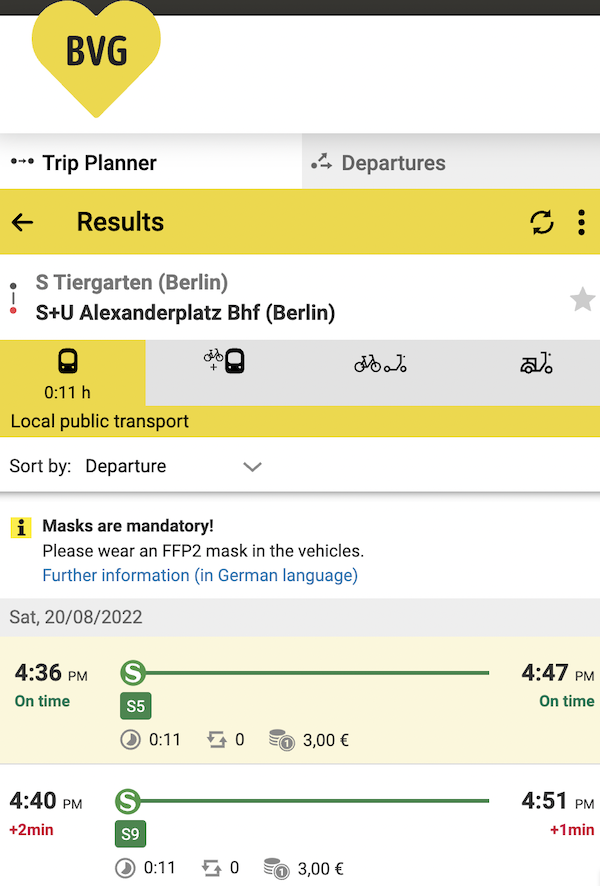 I should also mention that Google Maps app works great in Berlin and I often used it.
I would estimate that about 95% of the information provided was correct, including the live information about traffic and transportation delays!
Google Maps app
How do I pay for public transport in Berlin?
As I mentioned above, transport tickets can be purchased on the BVG website or app.
In addition, at each metro station platform, there are yellow and red ticket machines where you can buy tickets at various rates.
Payment is possible in cash (coins or banknotes), bank cards or Apple Pay/Google Pay.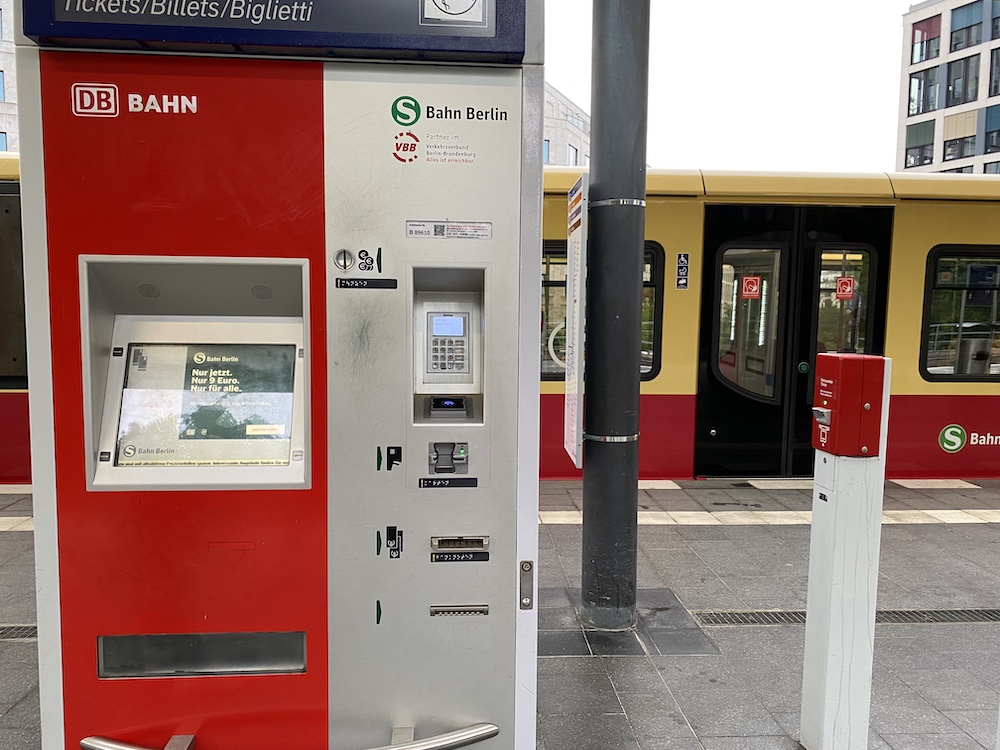 If you purchased a ticket at the terminal, you need to activate it through a validator, which is usually located next to the machine.
Also, until 31 of August 2022, there is a ticket offer in all German cities: a monthly ticket to all types of urban and regional transport of the 2nd class for only 9 euros.
UPD. In 2023 the same ticket offer is available for 49 euro per month.
This ticket can be purchased in the BVG app or on Deutsche Bahn (German railway company) website.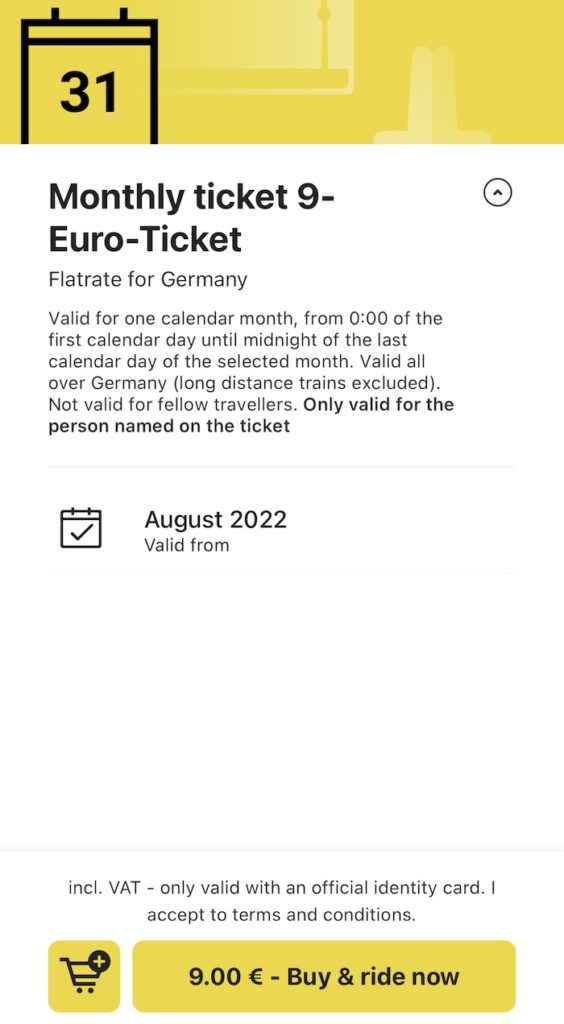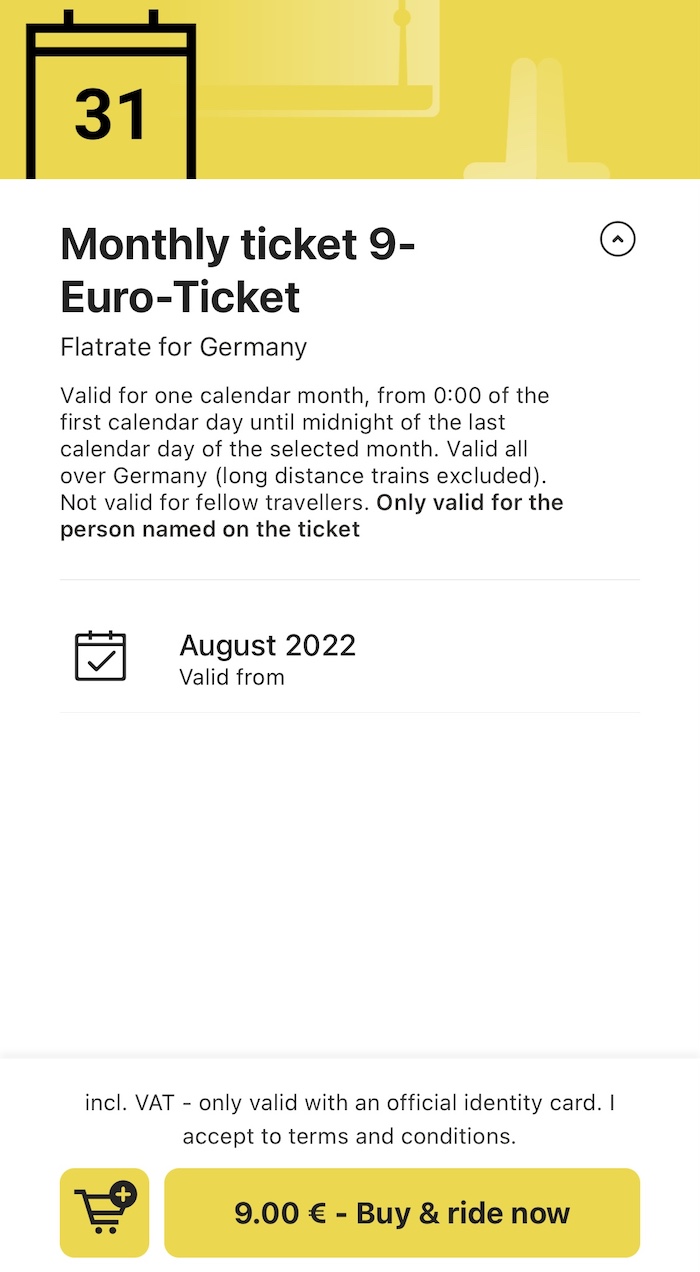 If you are planning an intercity trip, then check the details of this discount, as it is not available on some types of trains.
Can you pay by card on Berlin bus?
If you need to take the bus and don't have a ticket with you, it's possible to buy it from the driver while boarding the bus.
In this case, you can pay for the ticket only by credit card.
Also keep in mind that up to date (August, 2022) the wearing of masks is mandatory in public transport in Berlin.
Berlin Taxi Apps
So, despite the fact that the transport network is very developed in the German capital, ordering a taxi with an app will not be a problem at all.
Just not so long ago, in order to find a taxi in Berlin, you had to call the main taxi call center, tell all your details and wait for the car to be assigned.
But nowadays all this can be done easily just by two clicks in the app.
What taxi app do they use in Berlin?
Free Now App (formerly Mytaxi) is currently the most popular taxi app in Berlin or other German cities.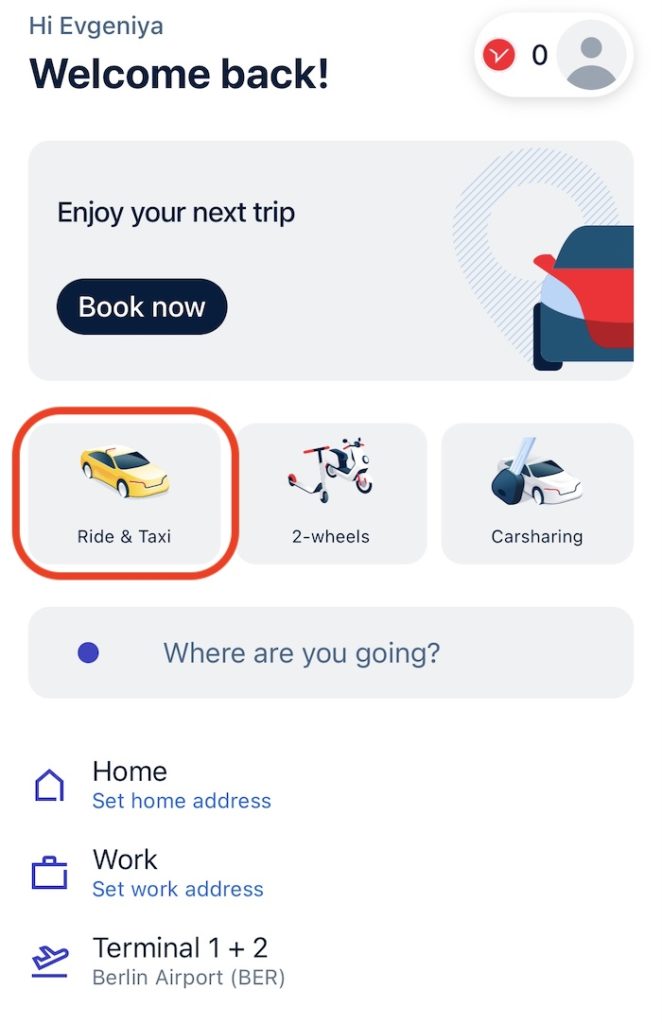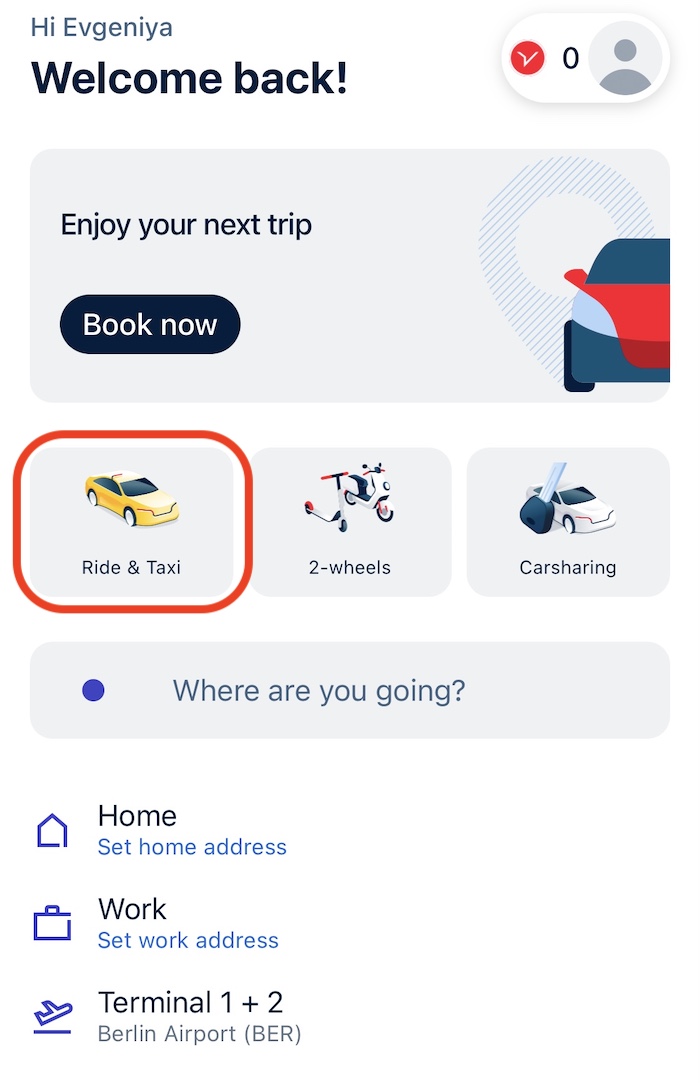 You can order a taxi just by using your phone, and you can also choose a method of payment: cash, card or Apple/Google Pay.
After placing an order it will show on the map which taxi is closest to your address.
Quite often they offer discounts that can make your trip even more cheap.
Does Berlin have Uber?
Yes, it does.
Uber app
Definitely it has many advantages:
– you don't need to download extra taxi apps and share your personal data;
– if you have already used Uber in other countries, then all data, including contacts details and the chosen payment method, will also be valid in Berlin;
– Uber drivers have a score system, which obviously makes the service of this company better comparing with other apps;
– the cost of a trip is often quite low.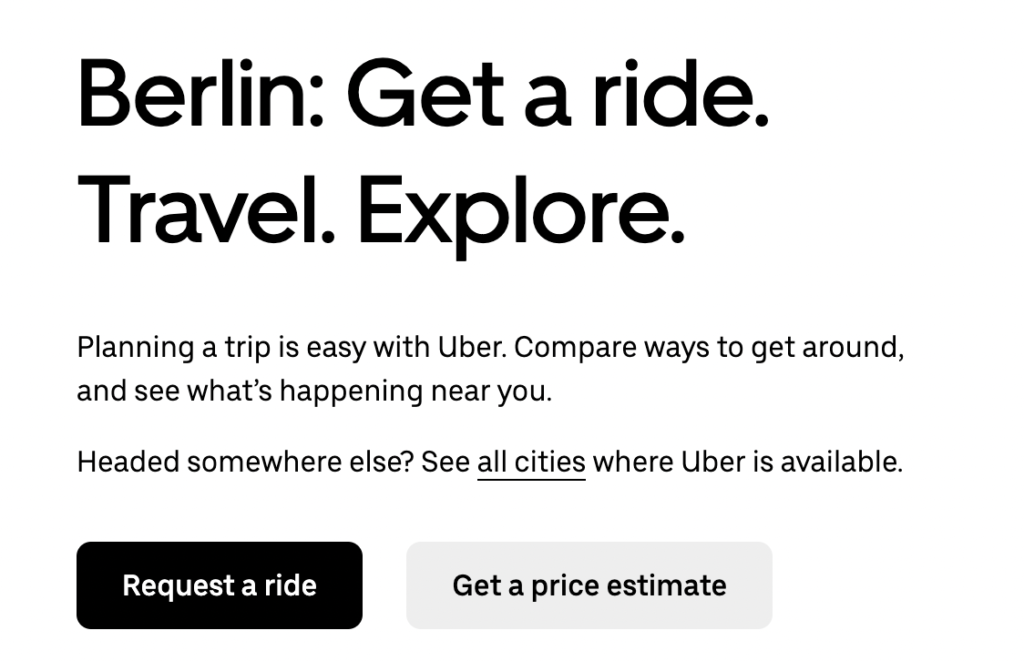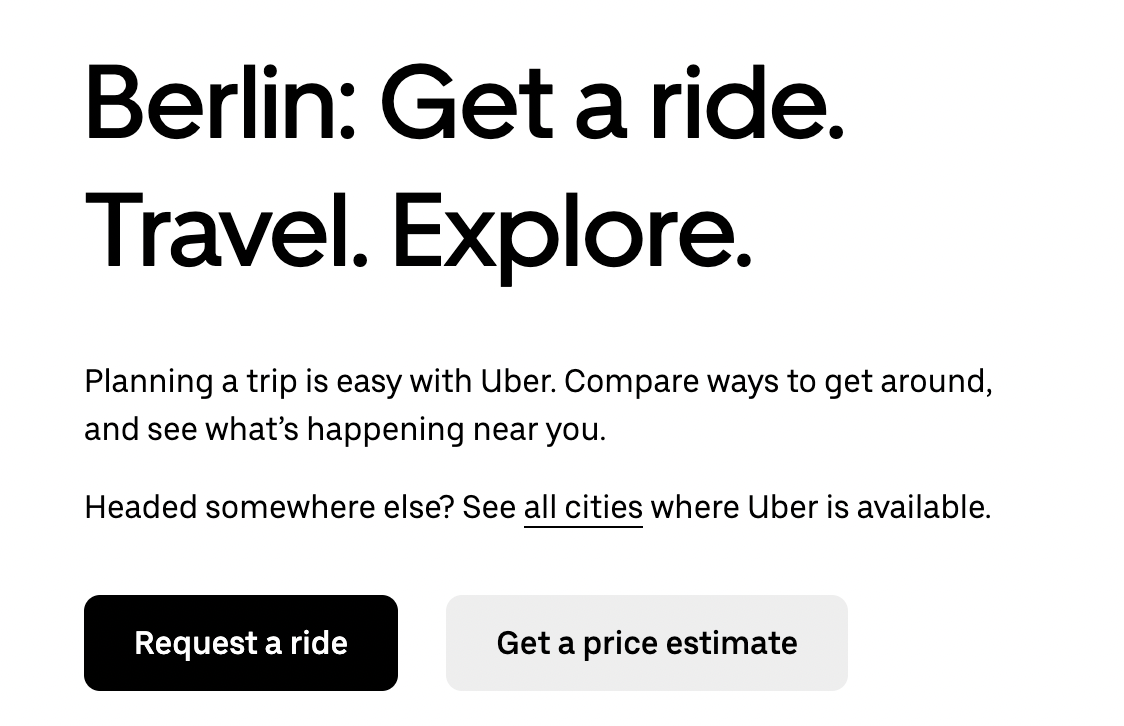 Does Bolt work in Berlin?
Yes, Bolt is also widely used in Berlin.
Bolt app
If you are already a Bolt app user, then it's just easy to order a taxi with it. You can also use the same app to unlock and ride Bolt E-scooters.
Alternatively, you can compare the cost with all three apps I've mentioned above and choose the most profitable option.
Are taxis expensive in Berlin?
It all depends on the route, time of day and weather conditions.
During busy hours and bad weather time (rain, thunderstorm or snow), the cost of the trip will be higher than during other time.
The greater the distance to the destination, the lower the cost of travel per kilometer will be.
On average, the base fare is about 3-4 euros, with an additional rate of approximately 1.5-2 euros per kilometer.
How much is a taxi from Berlin airport to city?
The best way to get from Brandenburg Airport to the city center is to use any of these taxi apps or compare prices across all three of them.
On average, the cost of such a trip is 40-50 euros per ride, but also, as I indicated above, you should always take into account the time of day and weather conditions.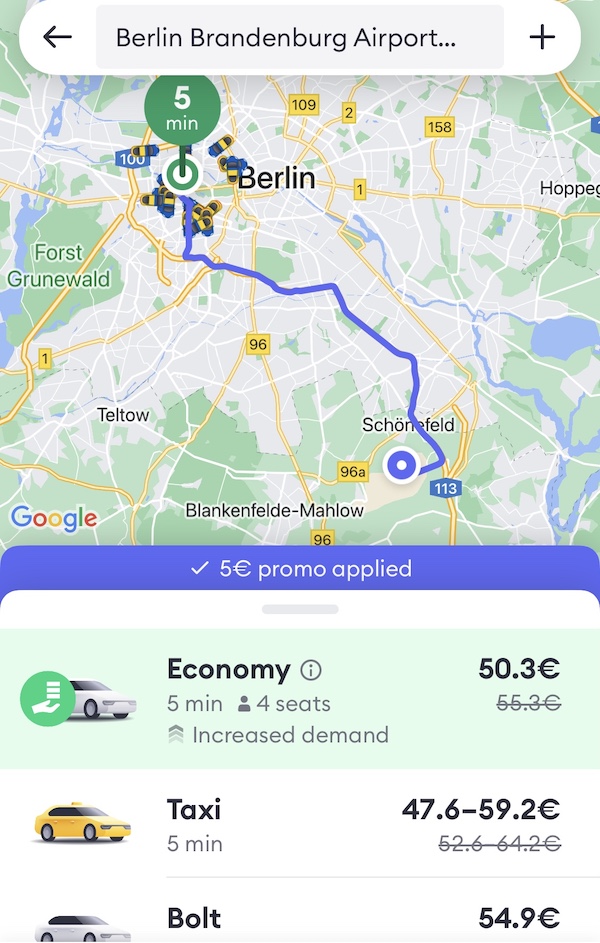 Furthermore you can grab a taxi right at the airport but it's price is usually a bit higher than if you order it with an app.
Rent A Bike App Berlin
Cycling around the city is becoming more and more popular nowadays.
The governments of many European countries found out the benefits of cycling, such as reducing the number of traffic jams as well as a lot of positive influence for the environment.
So they try to do their best in order to support this wave in various ways.
Is Berlin bike friendly?
In Berlin the cycling community is super developed and popular!
First of all, it has its own dedicated line for cyclists and its own traffic signal on the roadway.
Second, you can find bicycle parking everywhere.
Plus there won't be any problems with finding where to leave your bike.
What's more, in Berlin you can even buy your own bike, on eBay for example, and after a while, sell it. There are more than enough offers for buying and selling bicycles there.
Furthermore in Berlin you can easily rent a bike for any period of time you need: 10 minutes /1 hour / 1 day / 1 week or 1 month.
All you have to do is to download an app and sign in there.
How much does it cost to rent a bike in Berlin?
On average, renting a bike for a short period of time is about 20-25 euro cents per minute of a ride + some companies charge an additional fee of 1 euro to unlock the bike.
Mostly, e-bikes are offered at such rates.
If you want to rent a bike for several hours or one day, then the rental price is about 5 euros for 4 hours to 15 euros for 24 hours.
If you plan to rent a bike for a long period, for example, for a month, then the average rental price is about 30-50 euros.
But many companies, especially small startups do discounts and special offers, for example, this company offers to rent a bike for only 19 euros per month.
How does a bike rental app work?
So, the main bike (or e-scooters) rental companies in Berlin are Free Now, Uber, Bolt, Lime, Tier.
If you already have the Free Now, Uber or Bolt app installed, then you don't need to download any other, just open the app and select the 2-wheels tab.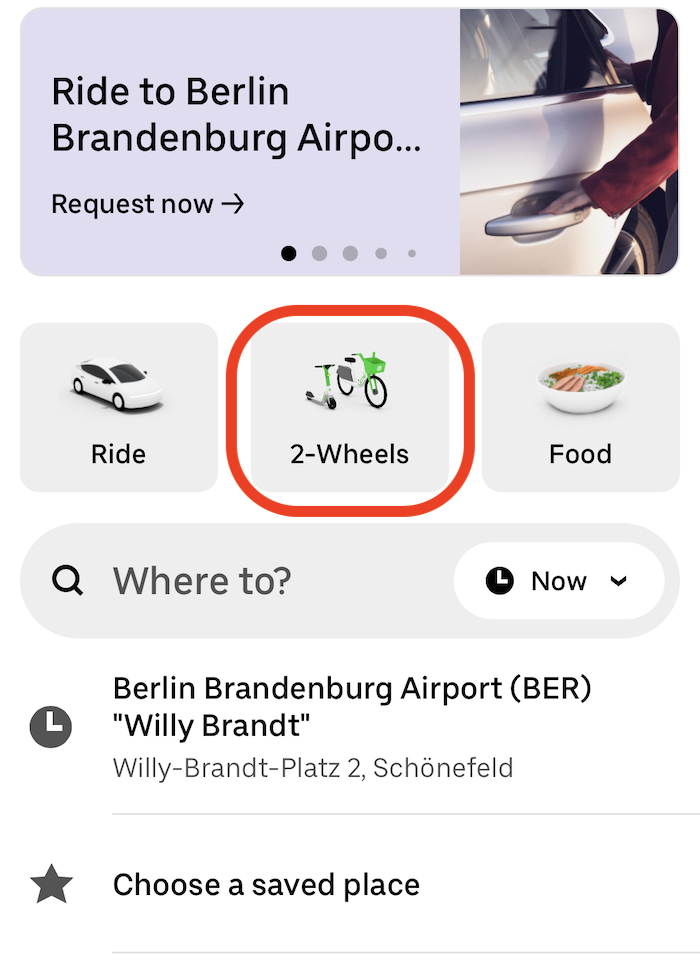 Or download the Lime/Tier app, log in and choose a convenient payment method: card, Apple/Google Pay or, sometimes, Paypal.
After that, you will be offered a map with all available bikes in your area.
You just have to choose a bike, unlock it, pay for an unlock fee if it's needed and start the ride.
Where to leave the bike after the end of the trip? 
There are more than enough bicycle parking spots in Berlin, you can check it on the map of the app.
Berlin Scooter Apps
Renting an e-scooter you just use the same apps as for renting a bike: Free Now, Uber, Bolt, Lime, Tier.
How to rent a scooter? 
1. Download the app.
2. Log in, enter contact details and select a payment method.
3. Open map or a "2-wheels" tab (for apps Free Now, Uber or Bolt)
4. Choose a scooter, unlock it and go.
Just be sure that you have enough mobile data, as you will need it to both unlock and lock the scooters.
We always get a local eSIM when travelling to ensure that we have adequate data, and you'll be surprised at just how much cheaper it is than roaming changes!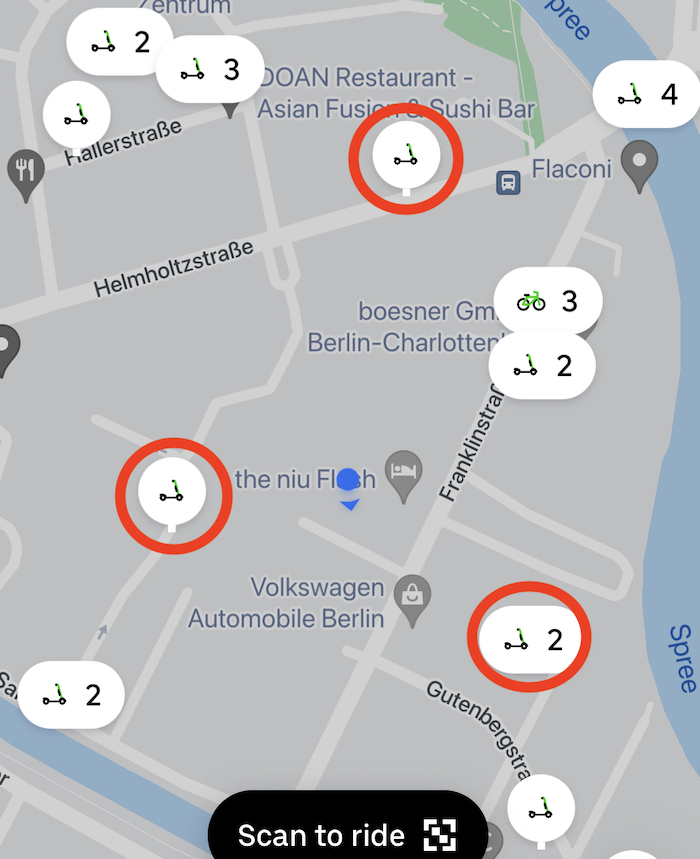 How much does it cost to rent a scooter in Berlin?
Renting a scooter for a short period of time is about 20-25 euro cents per minute of a ride + some companies charge an additional fee of 0.5 – 1 euro for unlocking.
For more detailed information about pricing, check this article.
I recommend trying several companies, as from time to time some of them offer discounts and free minutes vouchers. Also, some scooters may be more comfortable to ride than others.
Ready to try?
For a full review of all e-scooter sharing companies in Berlin, with pricing comparisons, be sure to check out our Berlin e-scooters article!
Car Sharing App Berlin
The popularity of carsharing in Berlin and in Germany in general just keeps growing from year to year.
The Germans have valued all the advantages of a short-term car rental: no need of searching for a parking spot all-the-time as well as no need of paying for parking fees, petrol and car service.
Therefore, many people prefer to choose car sharing instead of buying their own car.
Which in turn reduces the number of traffic jams on the city roads.
For tourists who visit Berlin, carsharing is also a great activity and a way to get to know the city better.
So, you can rent a car in Berlin by ShareNow (car2go & DriveNow), SIXT Share, We Share or Miles.
Each of them offers cars of different classes (middle class, business class, electric cars, convertibles, minivans and others).
For example, the company We Share offers only new electric cars.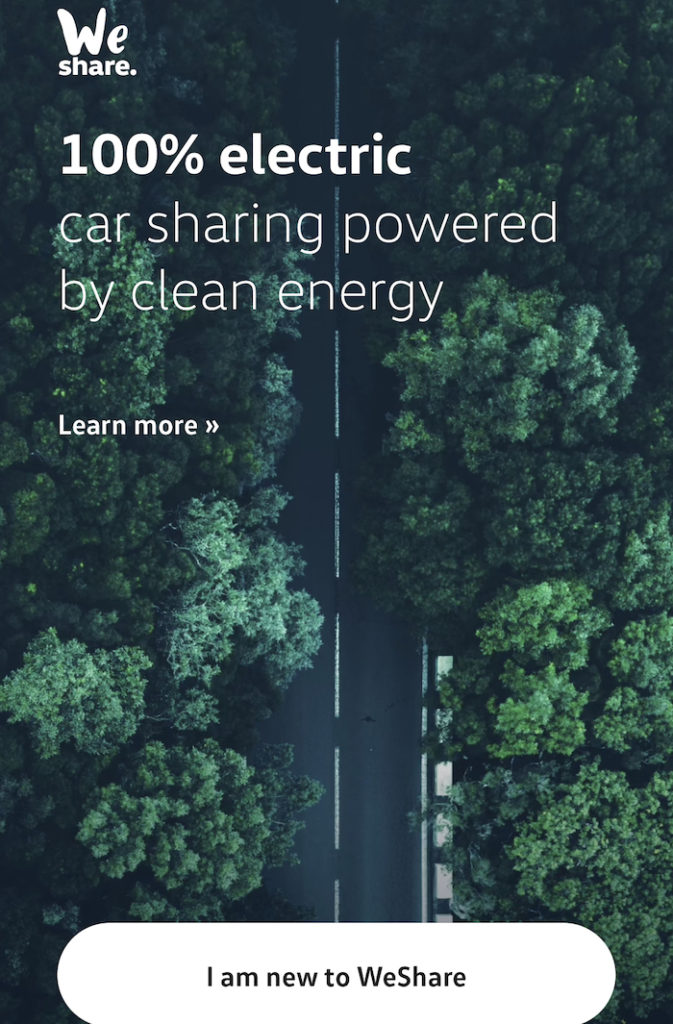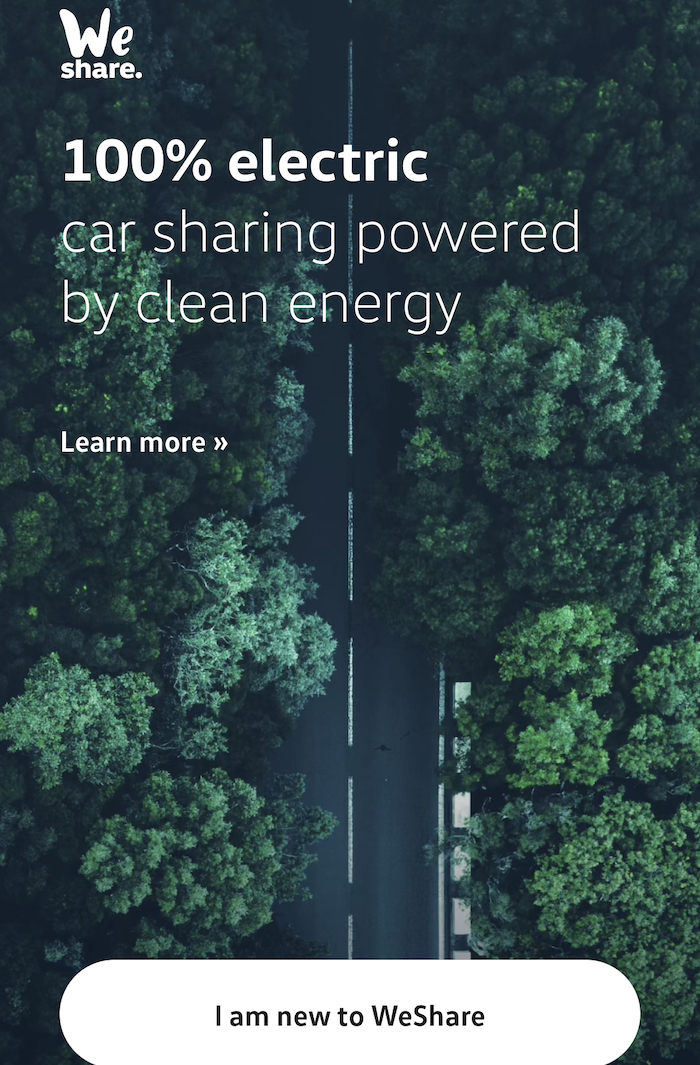 It can be quite difficult to find the right option in terms of class, location and cost, so it's best to compare options in two or three companies.
Prices depend on the company and car class. On average, the cost of one minute of driving varies from 10 to 90 euro cents + some companies charge 1 euro fee for unlocking the car.
The app shows all available parking spaces on the map, as well as the battery level in the electric car, in case you want to rent this particular type of car.
---
Liked this article? Then get ready to find out about one of the most favourite place of many Berliners.