I travel a lot and I am totally passionate about discovering new cities and countries, but there are a few places in the world that have a special place in my heart.
Places, where I am ready to return again and again.
One of these locations is Berlin city. I can keep talking about it endlessly and it would definitely take many hours to list everything that I love about this amazing and extraordinary city.
In this article, I want to highlight one mysterious place that in the past took a huge part in important historical events happening in Europe. And nowadays this place is special for many Berliners and many foreigners, including me.
I am referring to Tempelhof Airport – the former main international airport in Berlin.
Berlin Tempelhof Location
The airport area, which unites several districts of the city – Tempelhof, Kreuzberg and Neukölln – can be reached through three main entrances and seven side entrances from Tempelhofer Damm, Columbiadamm and Oderstraße.
The main entrance to the airport terminal is located in front of the U Platz der Luftbrücke metro station.
The access to the site is free of charge.
When Did Berlin Tempelhof Airport Close?
Initially built for army training, so far in 1909 the Tempelhof field was used to demonstrate the first aircrafts, and in autumn 1923 Tempelhof Airport opened its doors to first passengers.
By the way, the first flight of the currently operating airline Lufthansa departed from this airport in 1926.
The development of the air terminal grew in proportion to the increase in its passenger traffic.
During the Cold War Tempelhof Airport was used as a spot for delivering food to the local areas that were occupied after the Second World War. Since then, the airport has been a symbol of freedom.

After that, it kept the status of the main air harbor of Berlin city for about 30 years, until Tegel Airport was opened. Subsequently, Tempelhof was used mostly as a business transportation, as the length of its airfield did not allow it to receive large aircrafts.
In 1996 the German government decided to build a new city airport, that directly led to a financial crisis as well as decrease in passenger traffic and the number of flights operated by Tempelhof Airport.
In 2008, after being in service for 85 years, it was finally closed, the last official takeoff was a private jet flight in November 2008.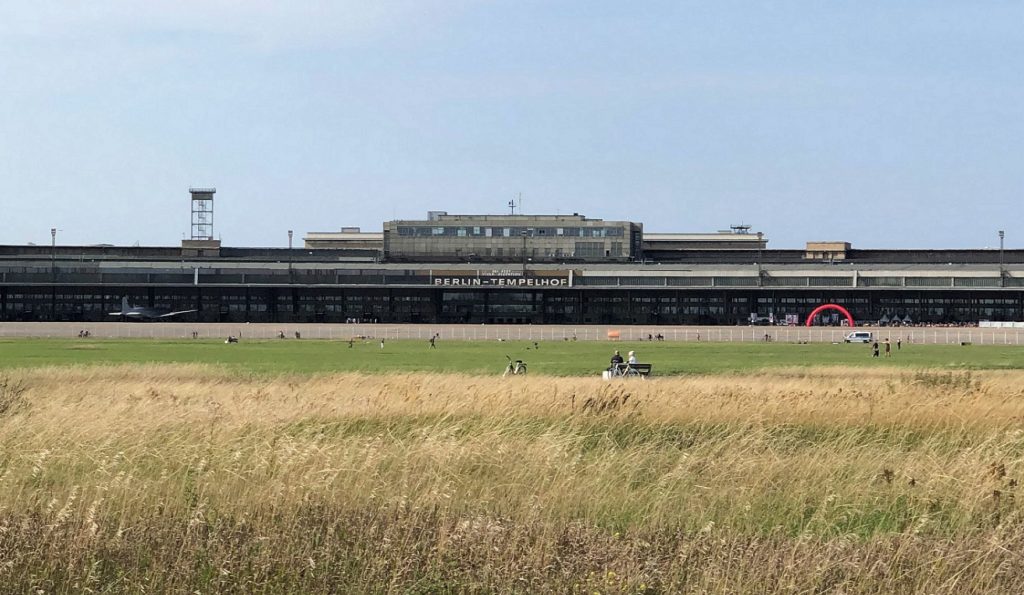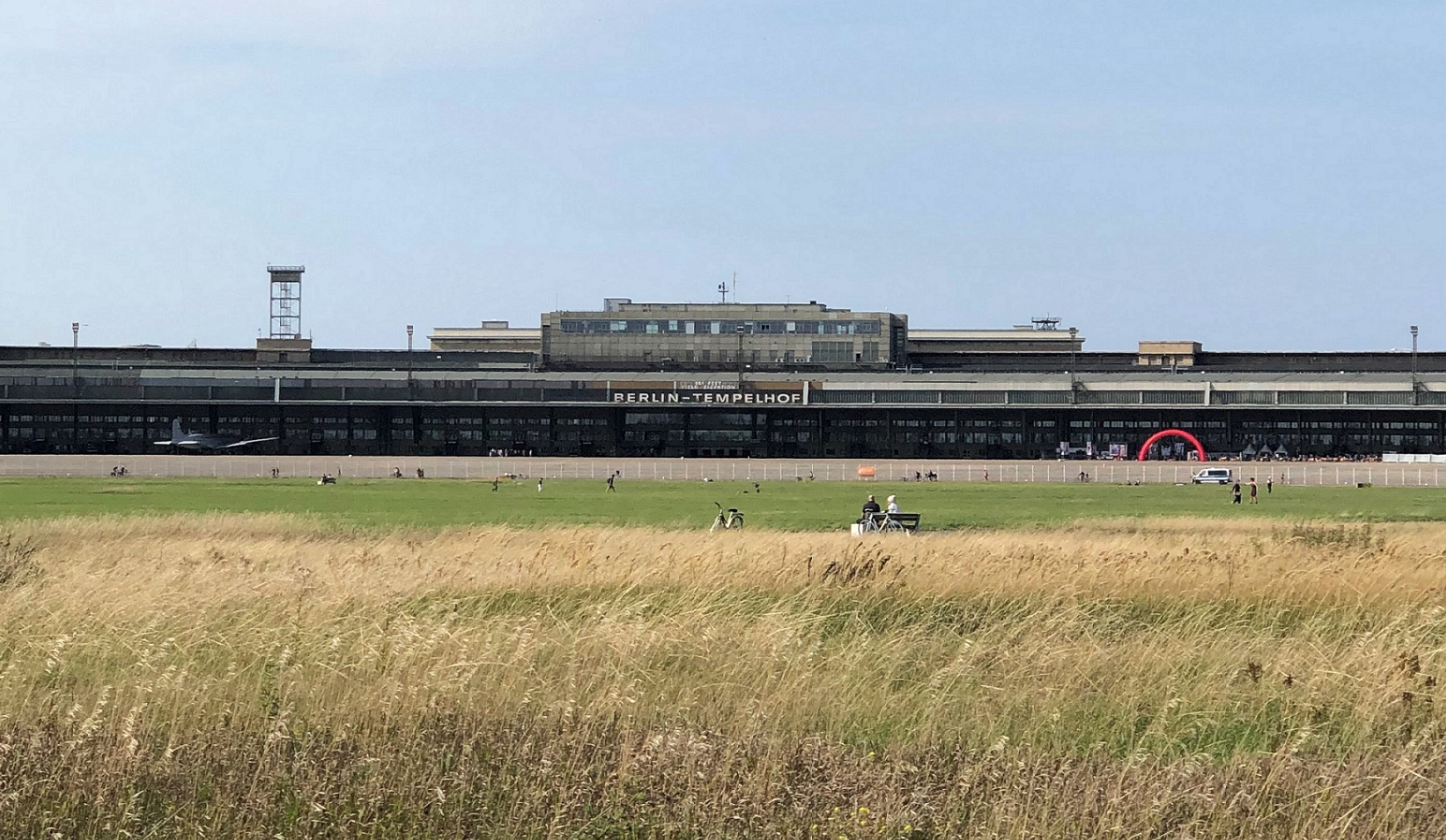 Can You Go Inside Tempelhof Airport?
Now the territory of the former Tempelhof Airport is open and accessible to everyone, on the airfield there is a huge park where Berliners do skating, kitesurfing or have barbecue with friends or family. Sometimes this area is being used for holding music and city festivals.
Despite the official closure, the terminal building continues to be used as a venue for city events, excursions and as a temporary residence for refugees.
Berlin Tempelhof Airport Tour
For those who want to learn deeply about the rich history of this amazing architectural monument, excursions around the airport building are organized.
You will visit the most fascinating places of the terminal building. The guides will tell some historical facts of how the National Socialist Party influenced the construction and Tempelhof authority. Or about hard times in Berliners life after WWII and how much the airport operations were involved in that.
Tours run daily except Tuesdays. The ticket price is 16.5 euros, you can book for a specific date online in advance.
And get ready for a quite adventurous trip!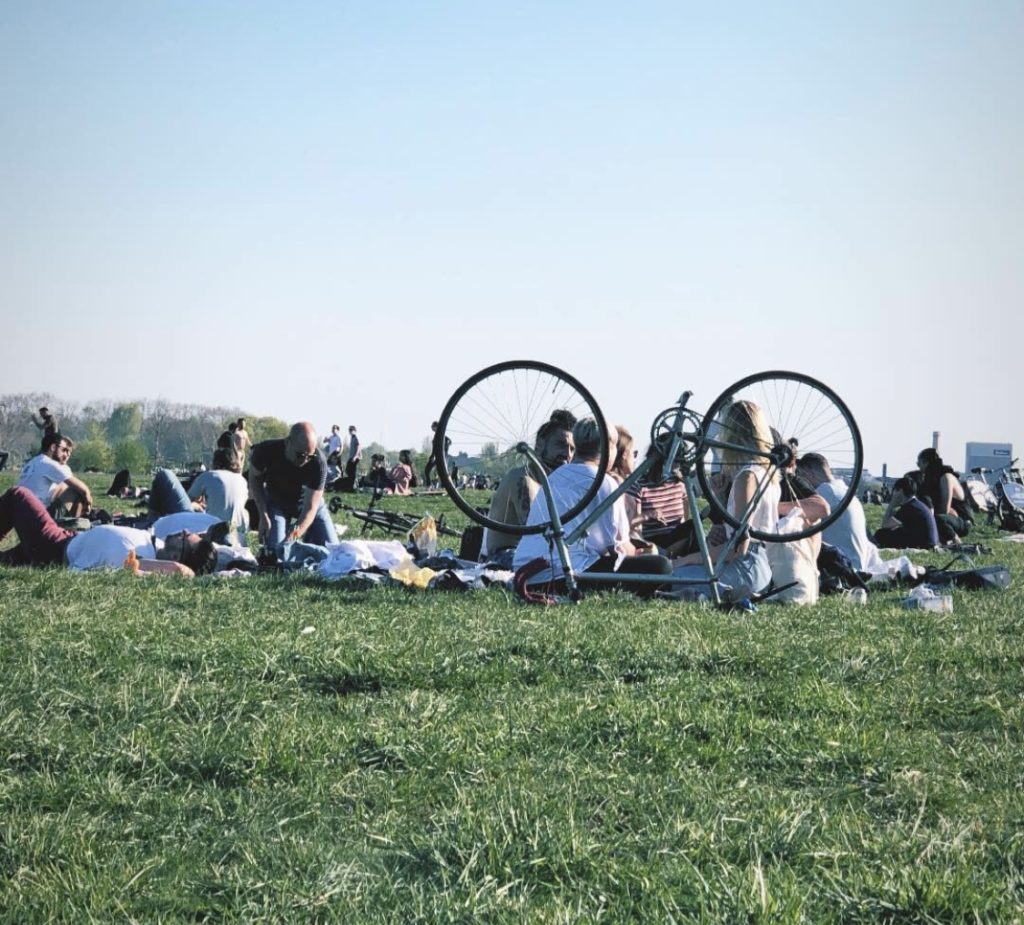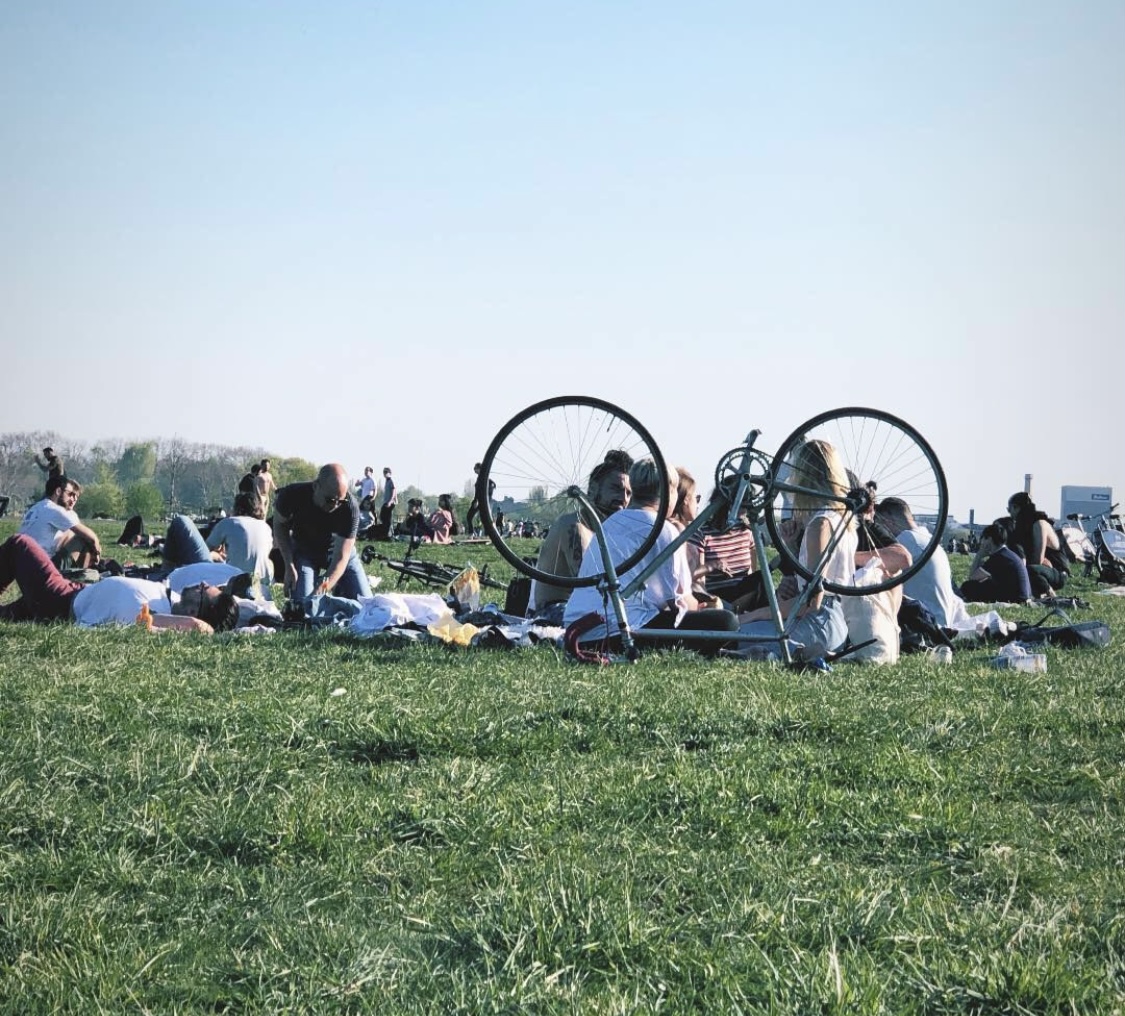 Hidden Places At Berlin Tempelhof Airport
Being a symbol of the power and strength of the Third Reich, the airport, in addition to its direct purpose, was used as a penal camp.
In the deep corridors and cellars of the underground part of the terminal, political prisoners made weapons for the German army.
A separate part of this hidden area was set aside for a system of bunkers and bomb shelters. If it would be necessary this part could accommodate about 100 people.
Moreover, the airport was designed in such a way that it had its own gym with a basketball court, a cinema bunker and even a school. The architect made a lot of effort to show the vibe of those times.

So while walking through the old condemned tunnels of the building, you can easily feel the atmosphere of the historical past of this one of the biggest monument in Europe.
What Is Tempelhof Used For Now?
Being one of the most essential links between German cities and other countries in the past, Tempelhof Airport still takes an important place in the life of Berliners.
It's kind of a place of power. At first sight it seems to be just a large open space area of the former airfield, but when you stay there for some short time, you feel a kind of special magnetism.
I think that the special atmosphere of this place is created by the Germans themselves. Residents of the city come here every weekend to spend time with friends or family, or for self-expression:
Someone is doing yoga.
Someone is learning how to skate.
Someone is kitesurfing.
Someone tries his hand at mini-golf.
Someone is playing a guitar.
Someone is practicing to speak another language.
Someone is meeting someone new.
And someone catches all of these moments and emotions on the camera.
It turns out that Berliners live in the moment here, enjoy their time, recharge their batteries and take a break from everyday boring routine.

Perhaps the historical past of the airport influenced this.
But it seems to me that the atmosphere of the city, in general, gives such a feeling.
If someone asked me to describe Berlin in one word, the first word that would come to my mind is the word "free".
In my past experience there were many countries and cities where I felt a sense of freedom, but in Berlin it always felt more strongly.
And I think this is one of the main reasons why I love this city so much.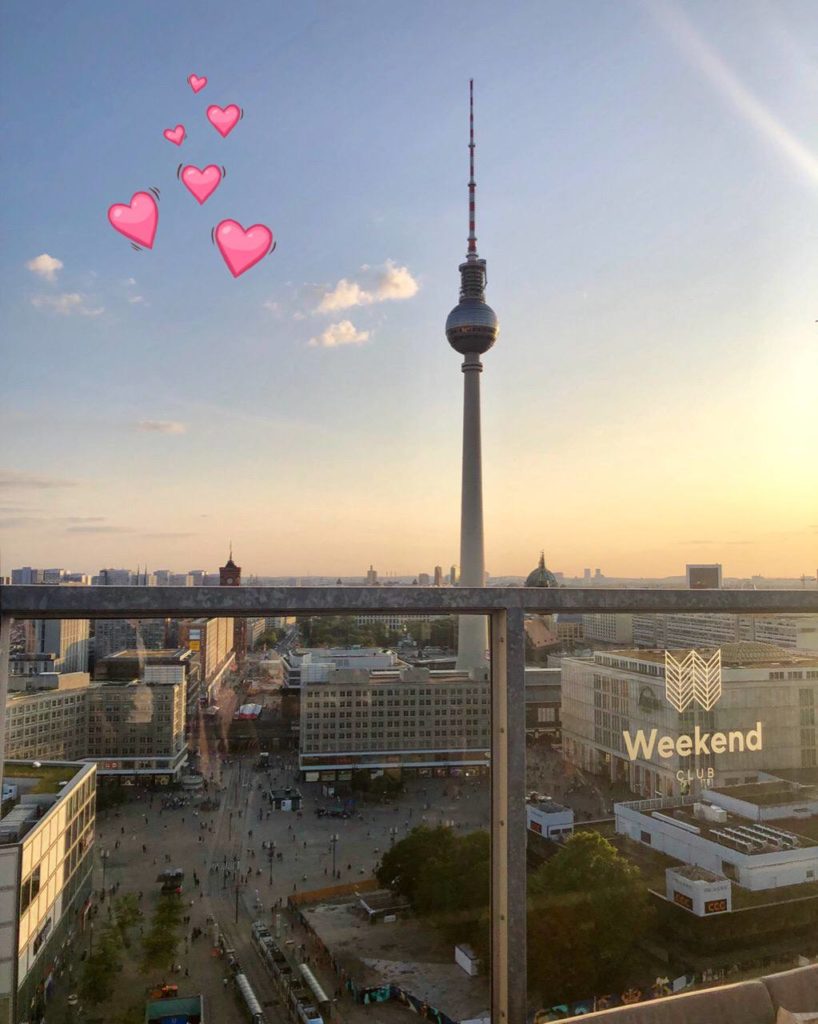 One Small Tip…
If you are a cycle lover, you can easily get to Tempelhof by riding a bicycle.
Berlin has a comfortable cycle path system and the airport is located quite close to its center. So you will definitely enjoy the city views while riding.

It is also quite easy to rent a bicycle if you need one, for example here the price starts from 1 euro per 30 minutes.