A small community of digital nomads, where you feel at home, surrounded by your family or like-minded people. 
People who are passionate about their own projects or engaging work; adventurers open to new experiences and, clearly, in love with Berlin.
THIS IS The Base. Berlin One.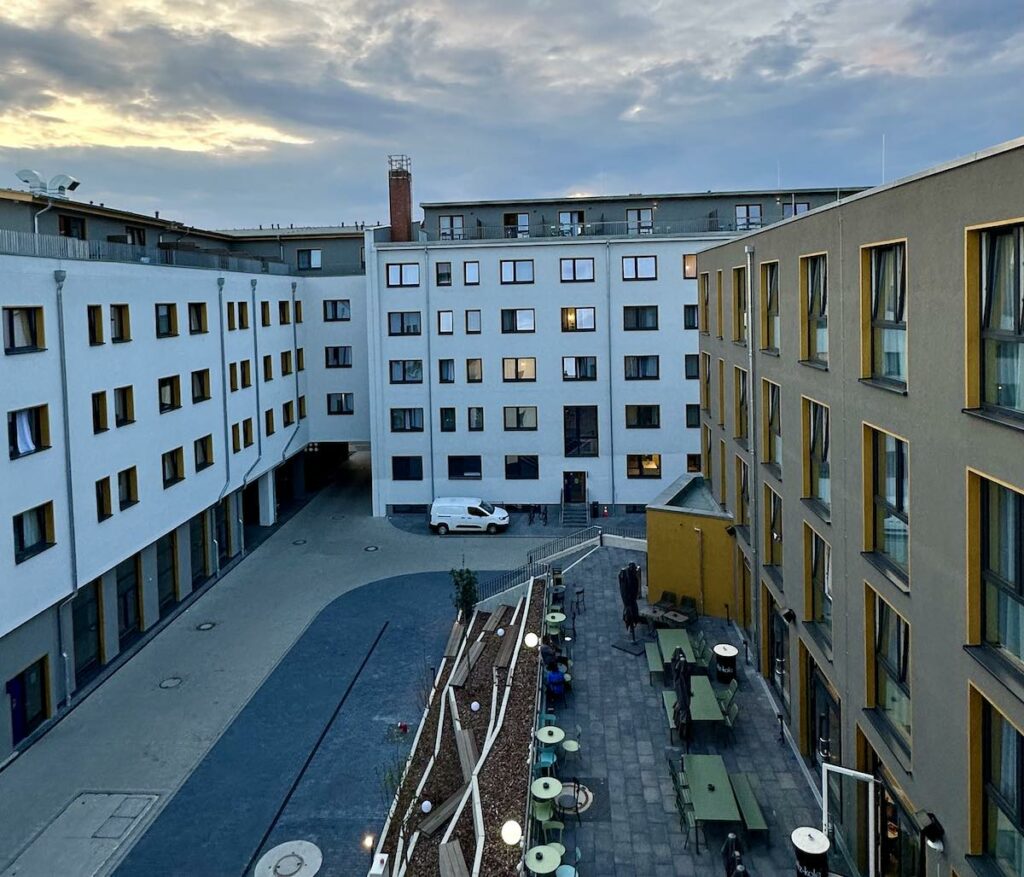 Where Can Digital Nomads Stay in Berlin?
If you are a digital nomad or you prefer to work remotely while traveling, then Berlin is a great city to stay and explore.
It offers a huge range of accommodation options and city activities for remote workers.
Co-working spaces with accommodations:
A very popular and expanding type of rental housing in Berlin. 
Many of these co-working spaces primarily focus on providing a workspace for people while also offering accommodation facilities, allowing digital nomads to work and stay in the same location. Some of them provide additional services, such as laundry facilities, a gym, a coffee shop, or a library.
Co-living spaces: 
Similar to the first one but usually they offer larger shared living spaces with private bedrooms and shared common areas.
Residents in co-living spaces share not only workspaces but also living spaces and resources, creating a more integrated and social living experience.
Berlin has numerous co-living spaces that cater specifically to digital nomads and remote workers. 
Apartments and Airbnb:
Classic.
Renting apartments or booking Airbnb properties can be a flexible and convenient option for digital nomads looking for a more independent living experience.
By the way, another popular option in Berlin is flat sharing. It is also known as WG ("Wohnungsgemeinschaft"), and is quite common in the city, especially among young people and students.
It allows you to rent only one room in a flat, which is obviously much cheaper than renting the whole apartment.
Hostels, guesthouses or extended-stay hotels:
Berlin has a wide selection of hostels and guesthouses, which can be budget-friendly options for digital nomads seeking temporary stays.
It's important for digital nomads to consider factors such as location, shops availability, good internet connection, and proximity to co-working spaces. Additionally, prices may vary based on the area and the length of stay.
Before making a decision, it's advisable to research and compare different options to find the best fit.
The Base Berlin Review
In July 2023, we stayed at The Base for 5 weeks, and I'd like to share our experience in this article.
The Base is a highly modern complex of micro-apartments designed for nomads and remote workers. It includes a spacious co-working space, a hotel, and a range of extra facilities necessary for comfortable living. I will describe them further in this article.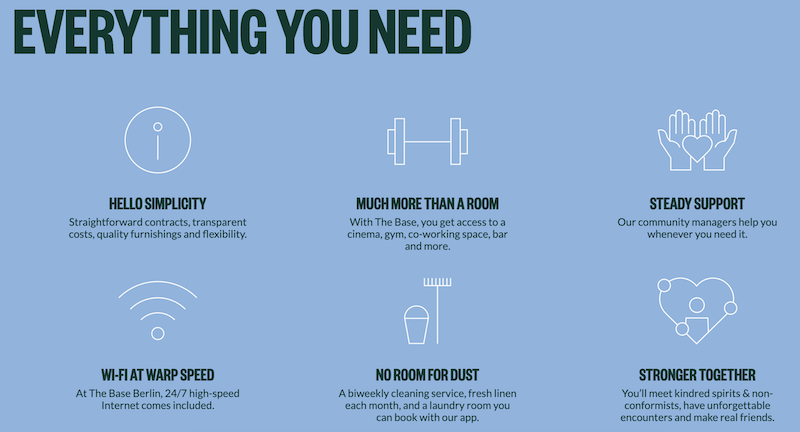 So, the first interaction with The Base, after you've completed the apartment booking, starts with installing their dedicated app.
They keep following modern technology, which means you can check in to a hotel or an apartment without the need for human assistance. You can do everything by yourself through the app.
The Base Berlin App
The Base app will be sent to you via email or direct messages after you have completed the booking.
After the app is downloaded, open it on your mobile device and create an account. You'll need to provide your email address, create a password, and add some extra details such as your interests and hobbies.
After you've filled in all the information, you will get access to the entire The Base community system, including upcoming events, the latest news, laundry service, and more.
On the day of your arrival to The Base, follow the check-in instructions provided in the app. You can either use the keyless entry system or ask for assistance in case of any problems.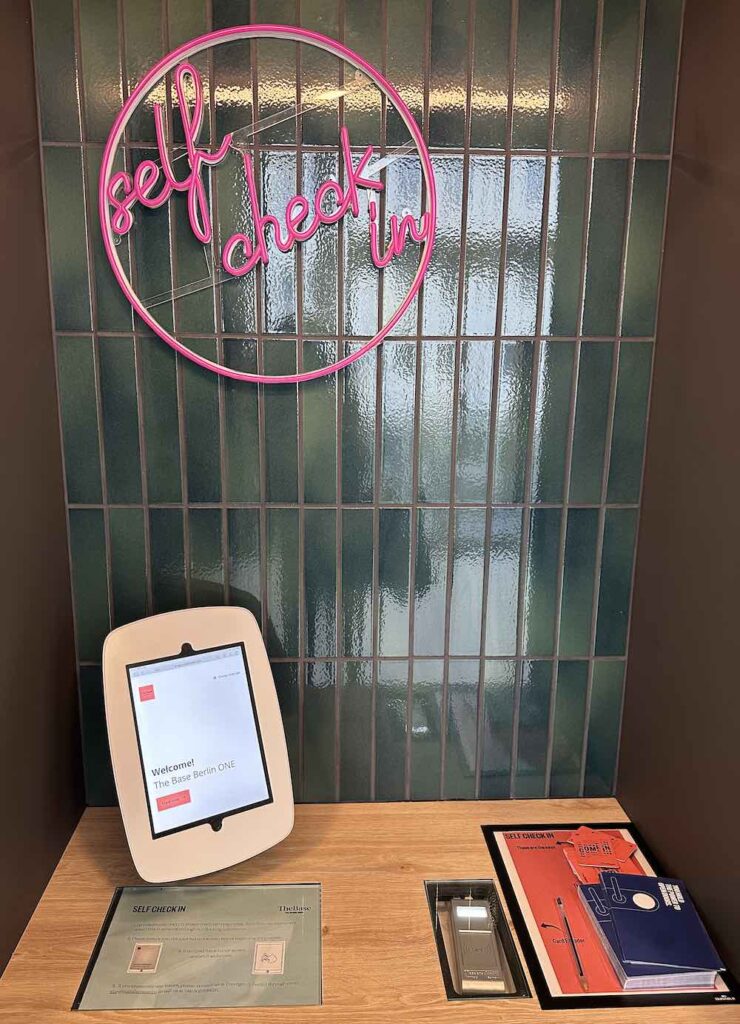 Everyday access to the apartment is managed through the app.
However, you can also obtain a card key so that in case you return home late from one of Berlin's parties and your phone battery is dead, you can still get inside.
When your stay is complete, follow the check-out instructions provided in the app and leave the card key at the reception.
The Base Berlin Location
The Base is located in a nice and quiet Berlin district – Pankow. It is known for its beautiful green parks, historic sites and cosy residential neighborhoods.
This part of Berlin is just a short distance from the Berlin city center. It will take you 15 minutes by tram or 10 minutes by S- or U-bahn to get to the vibrant Prenzlauer Berg, where you will find all kind of restaurants, bars, and other venues.
Another cool feature of the location is that there are two large and beautiful parks just a 5-minute walk from the apartment. Here, you can go for a walk, practice yoga, go for a run, or just visit a local biergarten

There is a large shopping mall located nearly next to The Base, which provides you ATM services, pharmacies, clothing stores, and a large supermarket called Kaufland.
Additionally, several other big supermarkets such as Lidl, Rewe, and Edeka are within walking distance from the apartment.
You'll feel really comfortable staying there because they've got everything you might need during your time in a foreign country.
The Base Berlin Site Map
Awww this is one of the most exciting parts of staying in The Base!
If your arrival is late at night, as it was for us, this map and a few handy tips might be useful.
Since it's a self-check-in, there is no assistant available during the night. So trying to find the right building when you've never been there before can be tricky.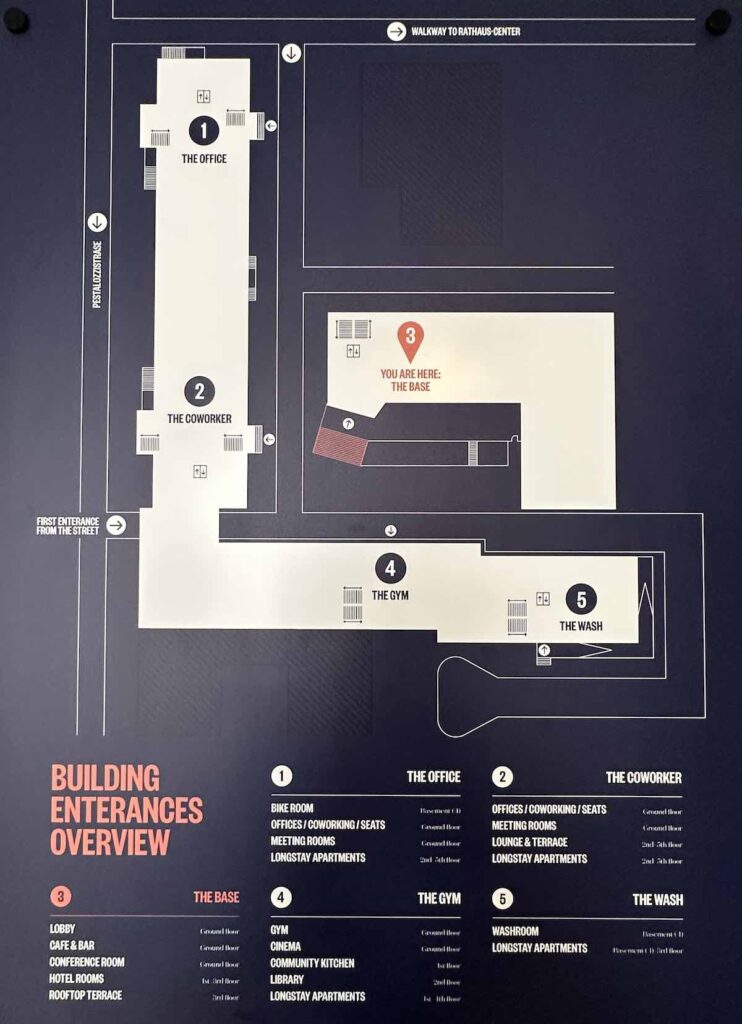 Use this map or save it to your files.
The red dot with the number 3 is the central part of the co-living area where you'll find the reception and self-check-in desk.
The Base offers hotel rooms if you plan to stay for a short period and coworking apartments for bookings of several weeks or longer.
So, the hotel is located in the third building, while the coworking apartments take up several buildings, including The Coworker, The Office, and The Gym.
Each building has a nameplate.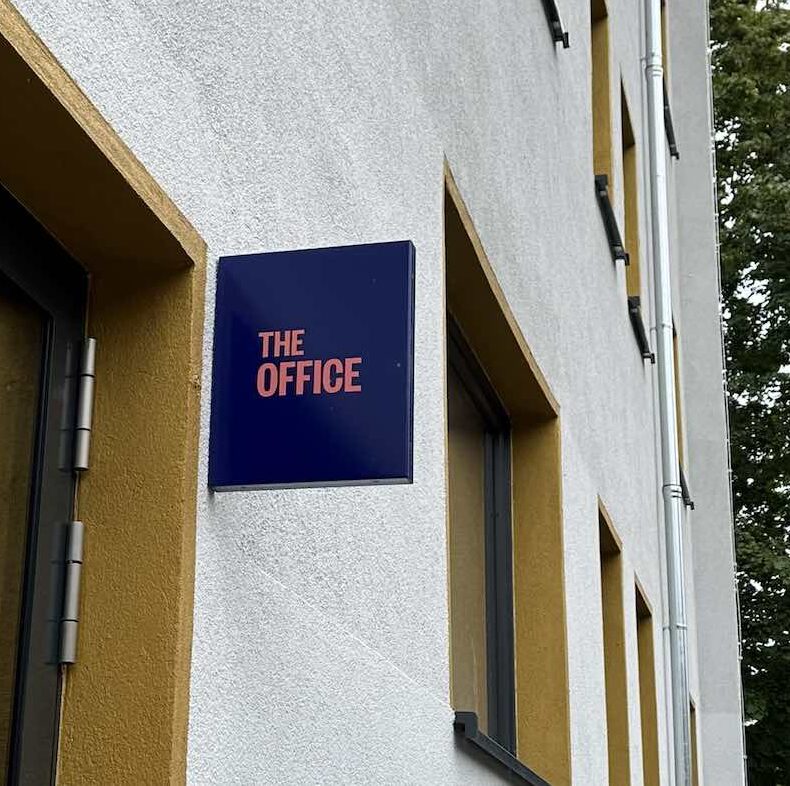 Inside each of the buildings there is a small site map where you can find what is located in your building and in the others.
The social amenities at The Base include a gym, laundry facilities, a game room, a library, two kitchens, the Octopus bar, and a rooftop.
All of these areas, as well as the coworking spaces, are available to all guests at The Base.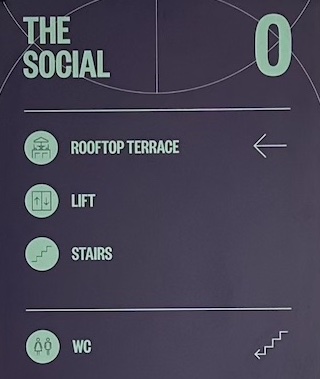 The main building includes the reception and a self-check-in desk. Additionally, there is a large vending machine in case you're too lazy to go to the supermarket.
Another cool feature is that you have your own mailbox with keys, so you can receive mail deliveries.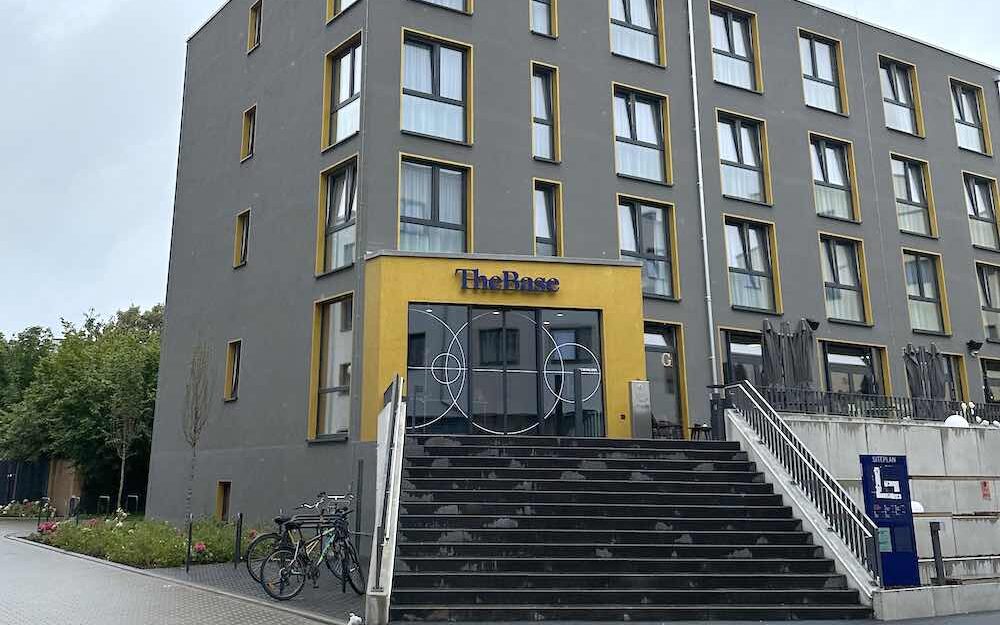 The Octopus Cafe & Bar is a cozy coffee shop located on the ground floor of the main building.
They serve breakfast for hotel guests, offer coffee and other beverages for everyone throughout the day, and provide a space and a meeting room for work, reading, or various activities.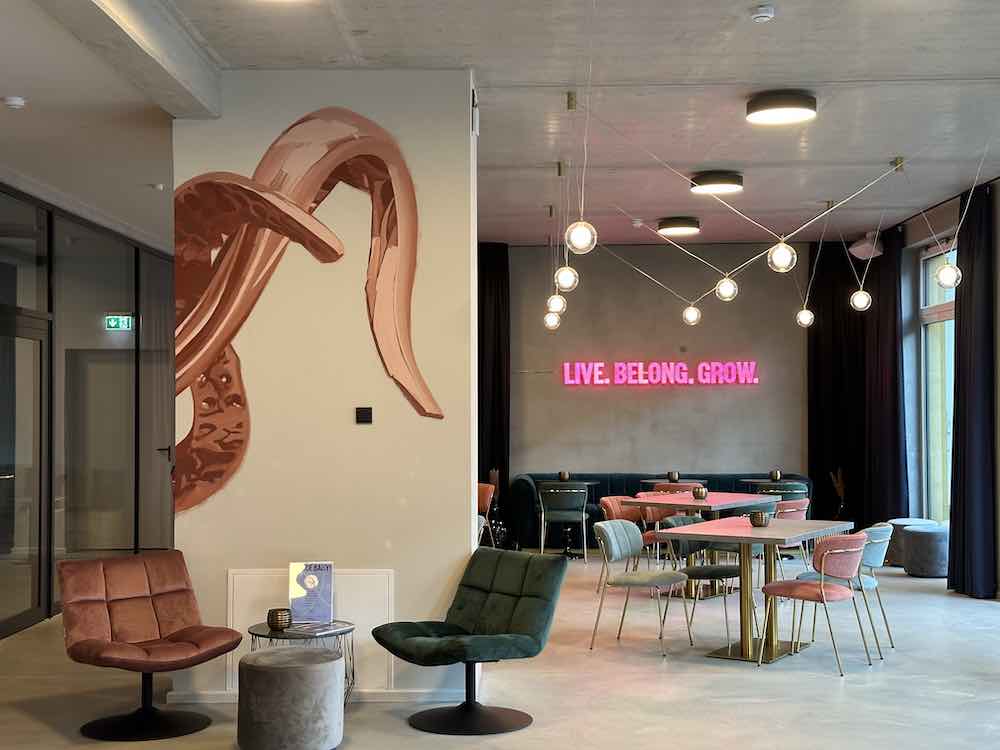 The coworking rooms are located in The Coworker building.
There you can find several meeting rooms named after Berlin nightclubs (which I find totally exciting!) and a canteen equipped with a small kitchen and a coffee machine.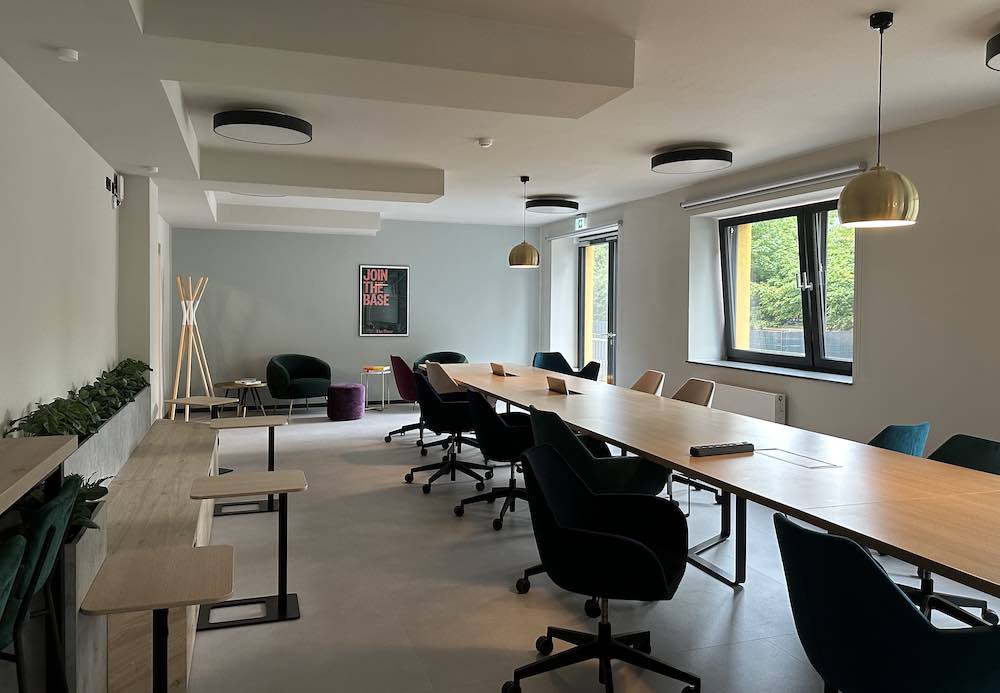 The Base Berlin Timetable
All the latest news you will get through email or app notifications.
This includes information about cleaning schedules, notifications when your laundry is finished, a timeline of upcoming events around The Base, and any other important messages from managers or fellow apartment residents.
Being a part of their small community, you'll be able to buy or sell items through their local classifieds.
For example during the hot Berlin summer days, some departing residents sold fans they obviously no longer needed at half the price you would pay at an electronics store.
The Base Berlin Events
Another exciting part of the co-living neighbourhood!
Coming to Berlin for the first time and don't know anyone there?
Fancy some yoga classes in the morning?
Are you a digital nomad travelling around the world and want to meet your soulmates?
Or perhaps you just want to hang out at the barbecue party on the rooftop?
WELCOME to The Base!
It offers this and more than this!
But no more spoiler alert, get your app and find out yourself.