Croatia is a country of azure sea, emerald mountains and a lot of sunny days!
And also it is known for its mild climate, delicious local food and a rich natural heritage.
For example, Croatia is unique in that, despite its relatively small territory, it has more than 1140 islands.
Can you imagine THAT?
There are large islands that are difficult to get around by car even in one day, there are very small ones that you can walk through on foot, and there are even uninhabited islands, which make up more than half of the total.
Of course, such diversity fascinates and attracts tourists to Croatia from all over the world.
And it's totally clear why!
Here, you can see some of the most beautiful sandy beaches in Europe, explore amazing natural parks, visit Dubrovnik (ohhh, that city broke my heart!), and find out about the Croatian Ibiza – where it is located and how it differs from the real Ibiza island.
And how much seafood there is!
Which you can find and try a lot on the menus of numerous seafood restaurants.
So, is it worth going to Croatia? It's definitely worth it!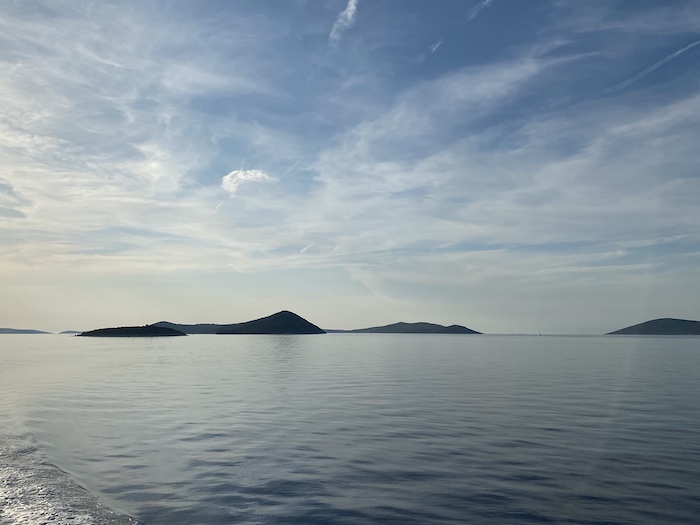 Not so long ago, we came to Croatia for a couple of weeks' trip and decided to explore the Zadar archipelago a bit.
In this article, I will share our experience of visiting Dugi Otok Island, as well as give some small tips that will help you to better plan your trip to this picturesque area.
How Do You Get To Dugi Otok From Zadar?
Why did we choose this particular island?
There are several reasons:
– firstly, we have already visited several islands in the Zadar region, and Dugi Otok remained as a mysterious unexplored place for us;
– secondly, getting there from Zadar is not so difficult and short in time;
– thirdly, there is one of the most beautiful Croatian sandy beaches – Sakarun beach. I think every beachlover can totally understand me, so of course, we wanted to see it for ourselves.
So, after choosing a place, we began to study routes and ways to get there.
Croatia has a well-developed water transport, ferries between the islands and the mainland run daily.
As for the island of Dugi Otok, it is connected to Zadar by three seaports: Zaglav, Bozava and Brbinj.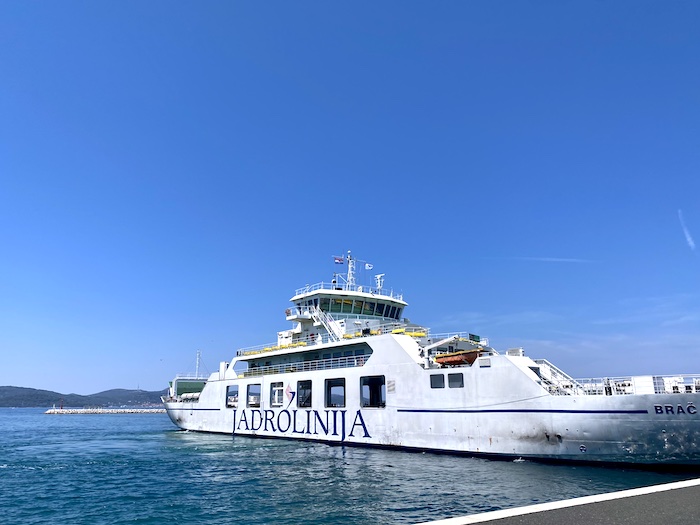 Here you can check the timetable for all routes, duration and a cost of the trip.
For example, you can choose the type of ferry: standard or high-speed.
The duration of the entire journey and the price of the ticket will depend on this: the fastest way to get to the island is 45 minutes by fast ferry or 1 hour and 40 minutes by car ferry.
The price of a ticket varies from 5 to 11 euros one way, it can be purchased on Jadrolinija / G & V Line Iadera ferry companies websites or at the port of departure.
One small tip: it is better to buy a return ticket in advance, because it might not be possible to buy it on the spot before departure.
It is enough to have an e-ticket, so you don't need to print it.

We had a specific date and time selected for this trip, so we decided to go there by a car ferry to Brbinj port, and take a fast boat back from the port of Bozava.
Thus, we could enjoy and take pictures of the beautiful views of the Zadar archipelago, as well as ride from the port of Brbinj to Sakarun beach and explore the island from the bus window.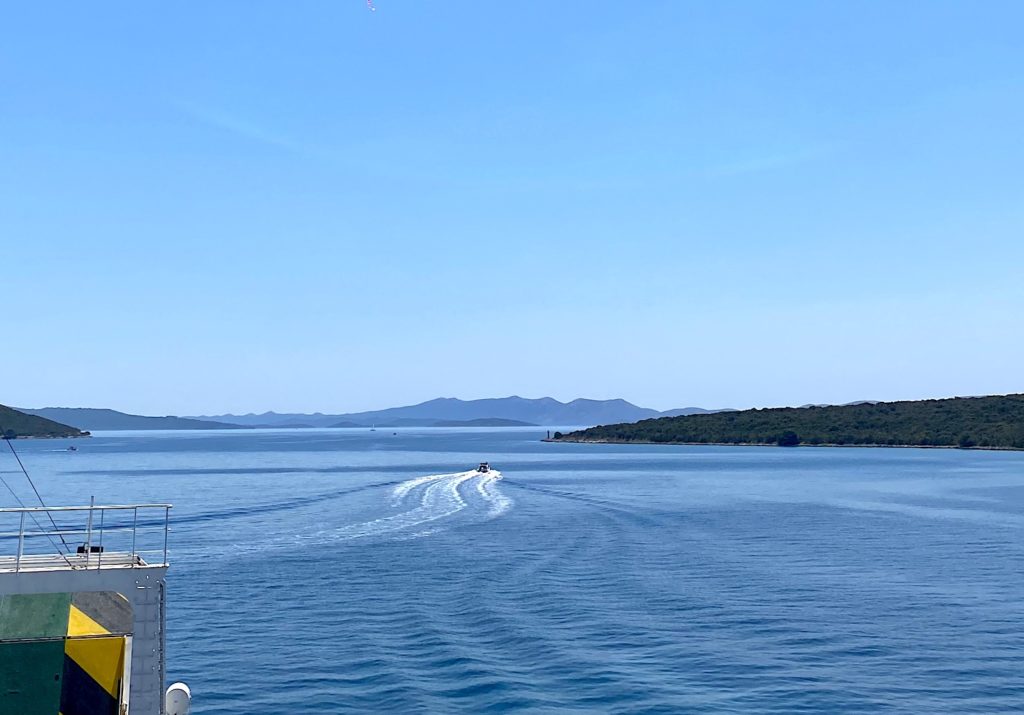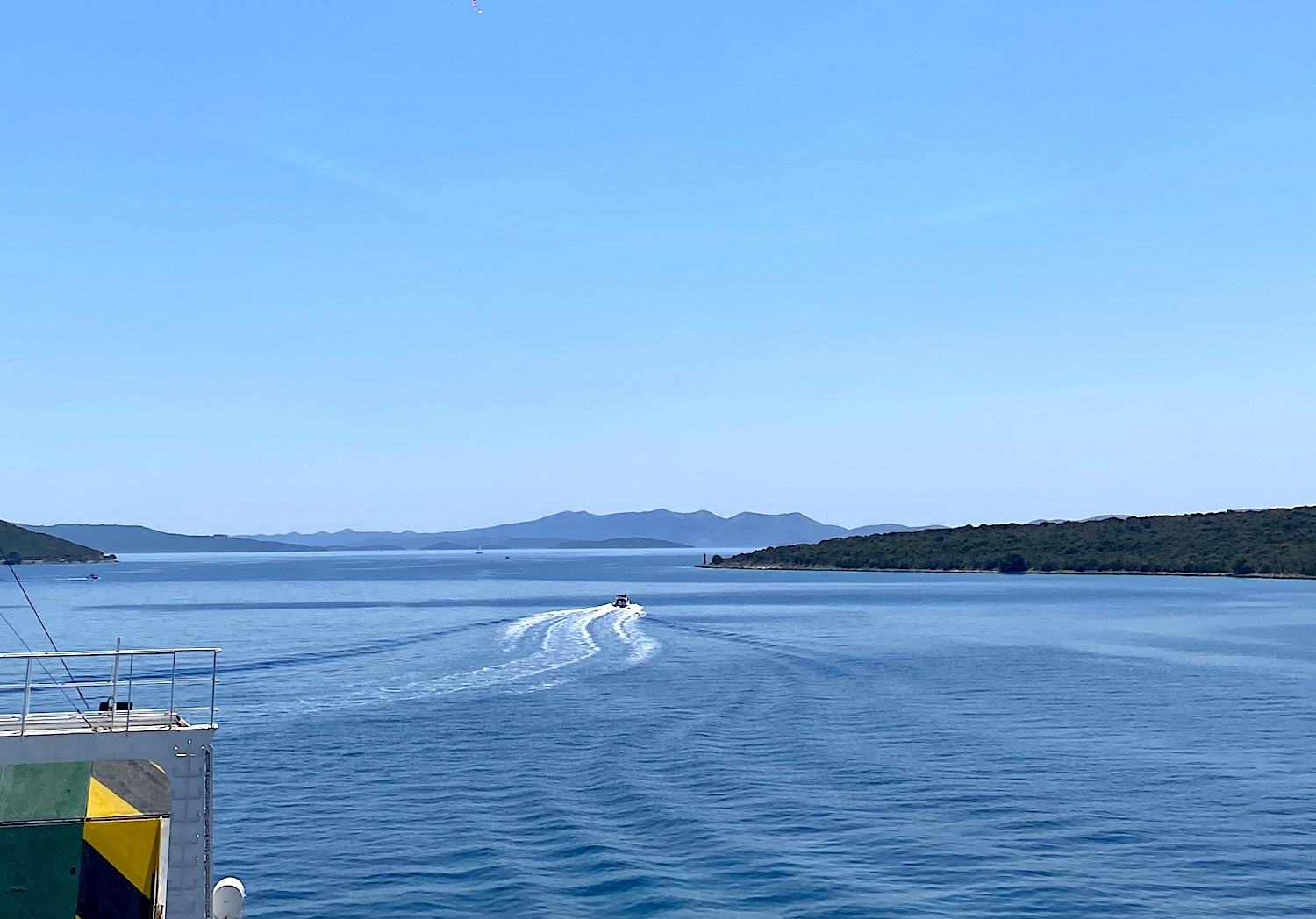 If you do not want to bother with the selection of tickets and ferries, as well as searching for a bus on the spot in order to get to the beach, you can just simply book a boat-trip to the island of Dugi Otok.
For example, a half day trip to Sakarun beach from Zadar will cost 65 euros per person, including snorkeling.
How Do You Get To Sakarun Beach From Brbinj?
So, now everything is clear with how to get to the island of Dugi Otok, but what is the easiest way to get to the Sakarun beach?
If you are traveling on your own or rented car (or scooter), then the most convenient way is to get to the island by a car ferry and then drive to the beach on your own.
There is a small forest area near the beach where you can park your car for free.
If you, like us, travel without a vehicle, then this is not a problem at all 🙂
There is a bus running between the main areas of the island, including Sakarun Beach.
It runs only a few times a day, but its schedule is adjusted for the arrival of the car ferries from the mainland: the bus leaves the port right 5 minutes after the boat arrives.
Moreover, if the ferry arrival is delayed, the bus driver waits for its arrival anyway to pick up passengers.
For example, our ferry was late and arrived 25 minutes later due to a large queue of cars, however, we managed to get on the bus.
Also note that the island bus passes only through two ports: Bozava and Brbinj, it does not pass through the Zaglav port.
If by some reason you missed the bus, then you can use the taxi service: order a car by Uber or Bolt app or take a taxi right on the spot.
I should also add that you can rent a scooter or a bicycle on Dugi Otok island, but keep in mind that the road to the beach is quite long and hilly (about 20 minutes by car), so cycling will not be very comfortable.
How Do You Travel by Bus From Brbinj to Sakarun?
There are two bus lines on Dugi Otok island.
The ferry port Brbinj is connected to the western part of the island – port Veli Rat by route number 201, and the municipal center Sali is connected to the eastern part of the island by route number 202.
So, you just need to get to the 201 bus departing from the port of Brbinj to Veli Rat.
On boarding you can ask the driver if he passes the Sakarun beach area. All the bus drivers speak English.
The ticket fare is 10 kunas.
On the way, the bus passes several villages, of which the village of Soline is the closest to the beach.
You can ask the driver to stop at the nearest spot to the beach. From there, it will only take a few minutes to walk to the coast.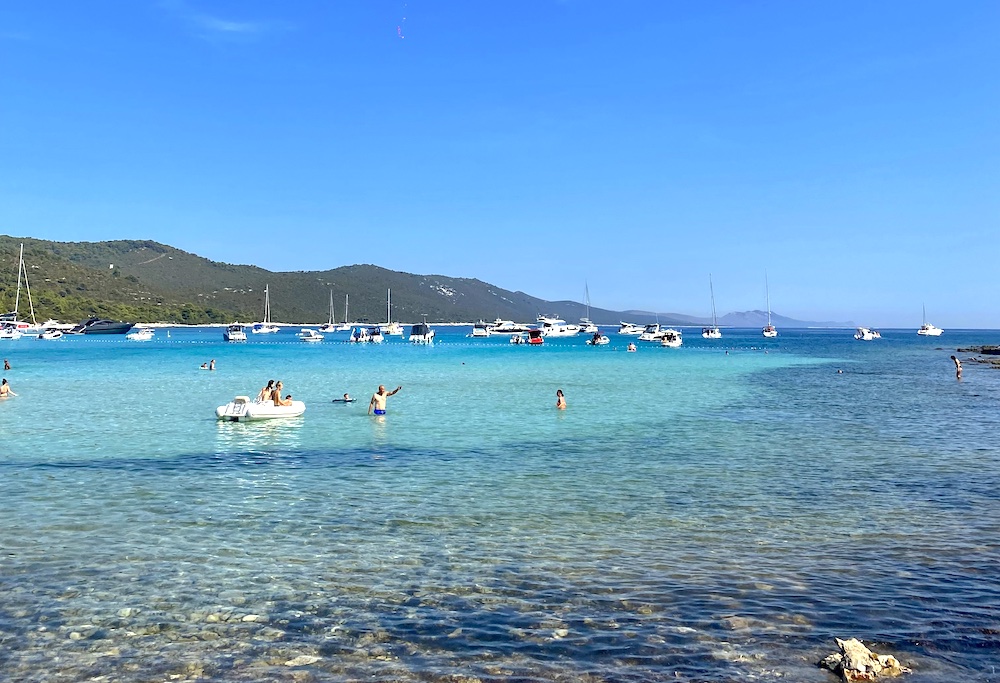 If you need to get back to the port by bus, it is better to check the departure time from the beach with the driver or to use the schedule below.
Dugi Otok Bus Timetable
Route 201, which runs with a stop near Sakarun Beach, makes 4 trips daily on Saturdays and 3 trips daily on other days.
As I have already mentioned above, the timetable is estimated for the arrival of the main ferries from Zadar.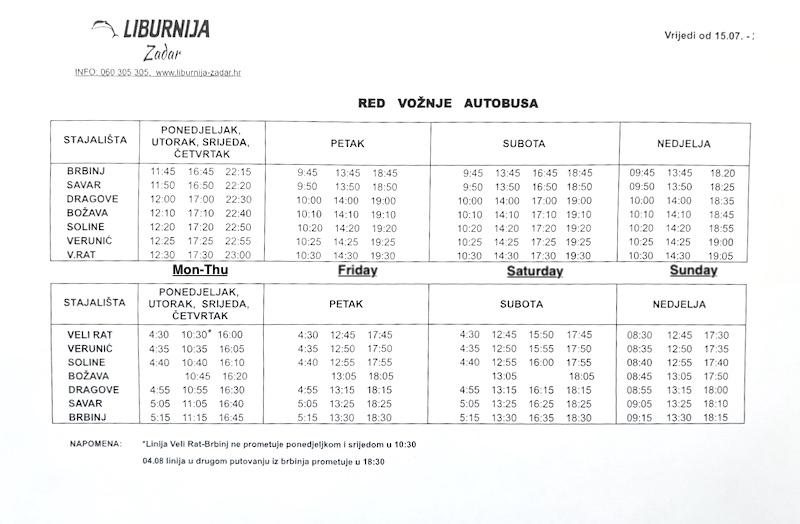 In the table above, you can check the route and time of departure in the direction Brbinj – Veli Rat, and in the table below, you can check the route and time of departure in the direction of Veli Rat – Brbinj.
This schedule is relevant as of the time of publishing this article (August, 2022), it is a subject to change.
Here is one more link where you can also check the schedule for the 201 bus route.
Where To Stay Dugi Otok
Many travelers, especially those who travel by car, choose the Croatian islands as a main spot for their accommodation.
And this is why it is clear: the world is developing, the digital era inevitably propels progress forward, which influences the largest Croatian cities.
At the same time, small Croatian mainland and island villages retain their own unique identities, and the island of Dugi Otok is no exception.
So where is the best place to stay on Dugi Otok?
There are not many hotels available there, because quite a huge territory of the island belongs to the Kornati natural park and the Telasica nature reserve.
In general, most accommodation options are based near ports.
For environmental reasons, there are no hotels on the territory of Sakarun Beach, and only a couple of small cafes can be found there.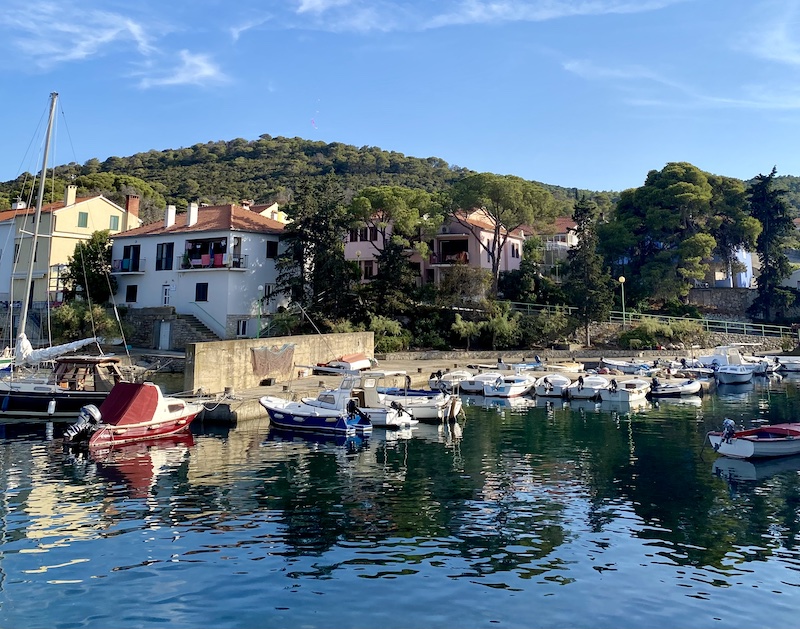 So if you are looking for an accommodation somewhere nearby, then you should consider Soline, Verunic or Veli Rat area.
For example:
– apartments in Verunic with a private terrace from 63 euro per night: Gorgonia Apartments
– apartments in Soline with three bedrooms and sea view from 70 euros per night: Apartments Sakarun Soline
Something that you definitely didn't try before: In Veli Rat you can rent an apartment right on the territory of the lighthouse, from 106 euros per night: Veli Rat Lighthouse
Photos of the rooms can be viewed here.
As for the eastern part of the island, it is better to choose the Zman and Zaglav area, there is all the infrastructure necessary for travelers: shops and cafes.
For example:
– apartments in Zaglav with a sea view from only 36 euros per night: Apartments 8170
– apartments right in the center of the village of Zman with a sea view from 80 euros per night: Apartments Nenich Aves
– lovely apartments in the center of Zman located on the coast from 103 euros per night: Apartments Sea Reflections
I should also mention the port of Bozava, where you will have the most options for staying and eating out.
In summer, a road train goes from there to the Sakarun Beach, as well as there is one of the only two available ATMs on the island – a Euronet ATM.
Accommodation options:
– studio with a sea view in the center of the village from 45 euros per night: Apartment Davorka
– apartments right on the coast with the port view from 80 euros per night: Romantic Boxavia
– amazing hotel with a stunningly beautiful garden, half board included and sea view from 116 euros per night: Hotel Maxim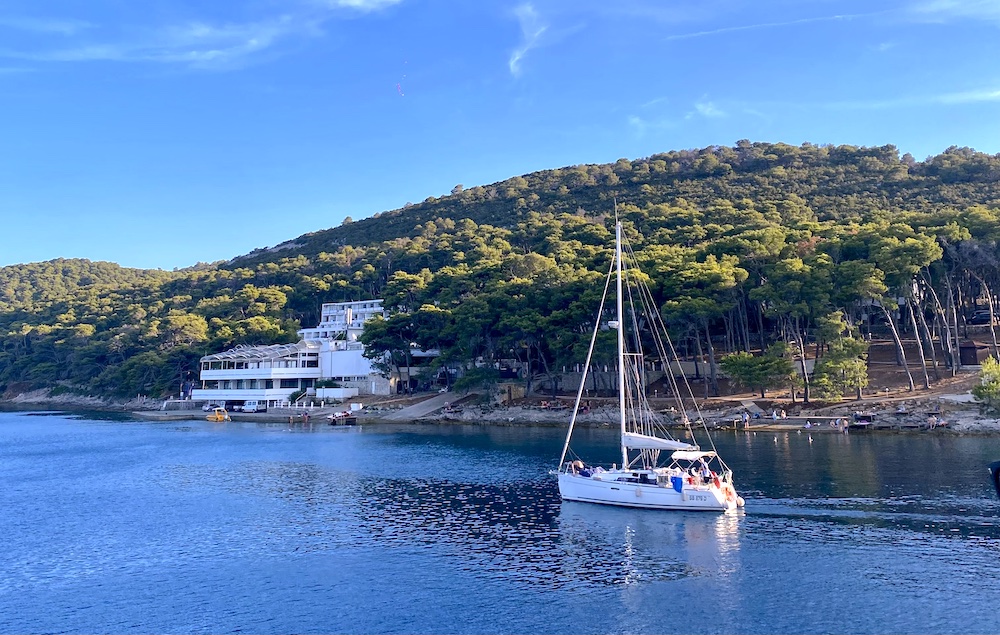 I hope you'll enjoy your Сroatian islands experience.
---
If you like this article you might be interested in my list of ideas on what to do in Rome if you have already been there and don't want to go sightseeing.