We have been living in Cypriot village for almost two months, and during this time we have used local public transport quite often.
Having your own car is certainly very convenient and it helps to get to the desired place much faster.
However according to the fact that we stay on the island just temporarily and on weekdays we are fully busy with work from morning till evening, after some discussion we decided not to buy or rent a car, but to explore some locations by using public transport.
It is much cheaper than renting a car for a short period of time, and what is most important, it helps you to get involved in the local citizens' lifestyle and to have a great cultural experience.
Is There Public Transportation In Cyprus?
Basically, we started to study a transport map and available routes by checking what kind of public transport exists in Cyprus in general and how well it is operated.
So the transport system in Cyprus is not as varied as in other large countries.
The main mode of transport is a bus or taxi. The island is not very large, so to get from the farthest western point to the farthest eastern one you can do in 3 hours, and from the north to the south in 2 hours.
The two difficulties we ran into right away were trying to find the correct bus schedule and trying to find the correct bus stops. It sounds funny, but as practice has shown, not all bus stops in Cyprus are real 😀
Moreover, not all buses corresponded to the schedule indicated on different online resources. Although what else could we expect, being in a Mediterranean country, where the citizens have quite a relaxed lifestyle.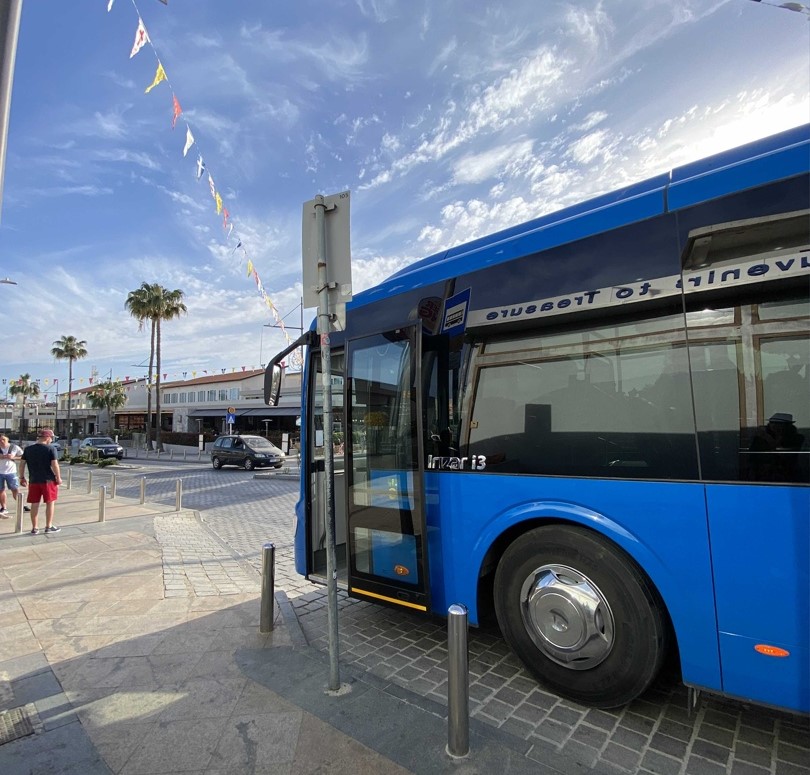 The main idea about public transport in Cyprus, which we learned right from beginning, and that the locals told us about; you can never be sure that your bus will appear 😀 😀
In fairness it must be said that after we found out resources showing right bus schedules and figured out the stops, using transport became much easier and more pleasant.
How Much Is Bus In Cyprus?
What is very nice and does not put much pressure on the budget is that travel by bus in Cyprus is relatively cheap.
Depending on the transport company and destination, one single route ticket costs 1.5 euros daily and 2.5 euros at night (from 9 pm till 4am).
Children under 6 years are traveling for free, plus there is a 50% discount for students and holders of a Cypriot social card.
There is also a system of unlimited travel tickets:
for 1 day – 5€;
for 1 week – 20€;
for 1 month – 40€ (also valid at night).
One Small (Or Maybe Better To Say Big) Tip…
While studying the websites of bus companies, we identified sources whose schedules are correct in most cases.
So you don't have to do the same work, simply use the links below.
You just need to know the area of departure and arrival. Click on the needed route, it will display the schedule on a new tab or in a pdf file that you can save to your phone.
https://osea.com.cy/en/bus-routes/ – transport company operating throughout the Famagusta region and in Larnaca.
http://en.limassolbuses.com/?page_id=92 – transport company operating in Limassol.
https://www.publictransport.com.cy/routes/page/routes-and-timetables – transport company operating in Nicosia and Larnaca.
By the way, one small tip about the bus stops. They can also cause an unsuccessful trip, or better to say, NOT a trip at all 😀
Once we were waiting for a bus at the wrong (??) bus stop and finally missed it, and had some problem with getting back home because the buses do not go to our village often.
When you search for a bus stop to get the bus you need, you may be surprised at how many there are.
Spoiler alert: there are quite a lot of them!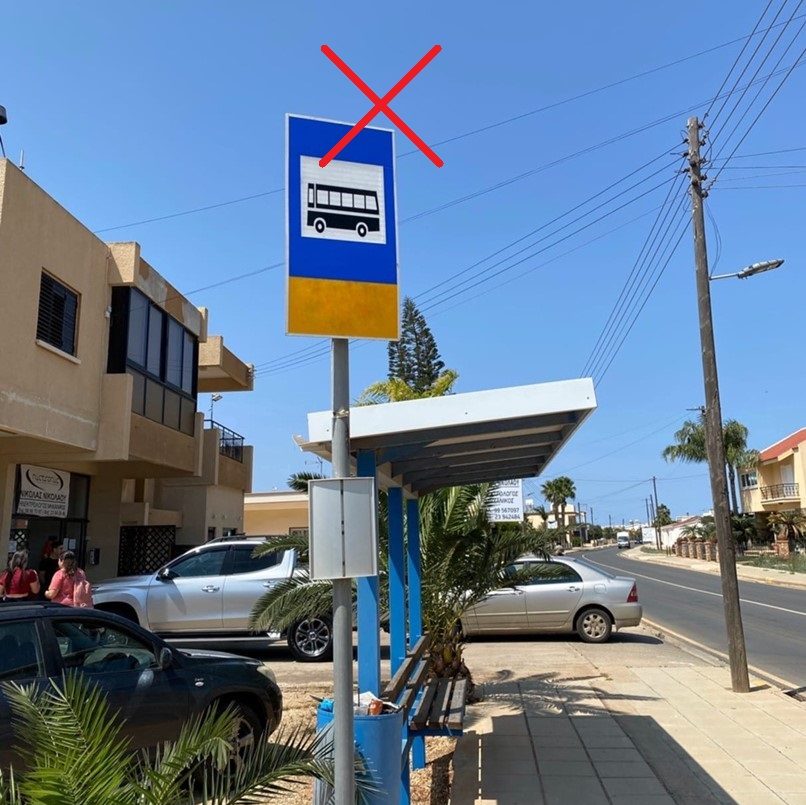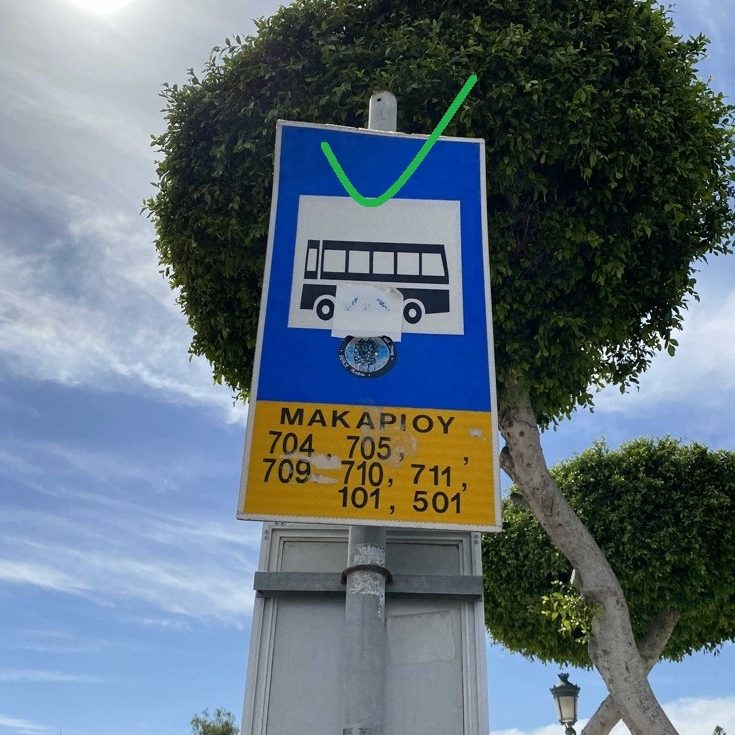 Most bus stops have the official sign in order to mark the location. At the bottom of the sign the route numbers are labeled inside of a yellow box. However some signs do not have any route numbers, which can be confusing!
The correct bus stop is the one with the written number of the route you need. It must be there, if you just see the bus icon on the road sign, without any numbers, then the bus will not stop there.
And, of course you need to stand on the correct side of the road, remembering that in Cyprus, they drive on the left-hand side of the road.
What Is Public Transport Like In Paphos?
Paphos has exactly the same transport system as other cities in Cyprus. It is operated by transport company OSYPA LTD .
https://www.pafosbuses.com/busroutes/ – here you can check bus routes and schedules.
I would like to mention that this transport network is quite developed, and allows you to explore not only Paphos city and its suburbs, but also to visit small villages in the middle of the island, right next to the Troodos mountains.
For example, the village of Arminou and Arminou Reservoir, this area is sooo picturesque that I definitely advise you to visit it.
How Do I Move Between Cities In Cyprus?
Traveling between the cities of Cyprus is also exciting and quite reasonable. The cities are relatively close to each other, so any of them can be reached within 2-3 hours.
Intercity is a transport company, connecting all major cities of the island: Nicosia, Larnaca, Paphos, Limassol, Paralimni and Ayia Napa.
Here are all the Intercity bus company routes with the correct bus schedule and bus stops navigation.
It has slightly different ticket fares – from 4 euros to 9 euros, according to the duration of the trip.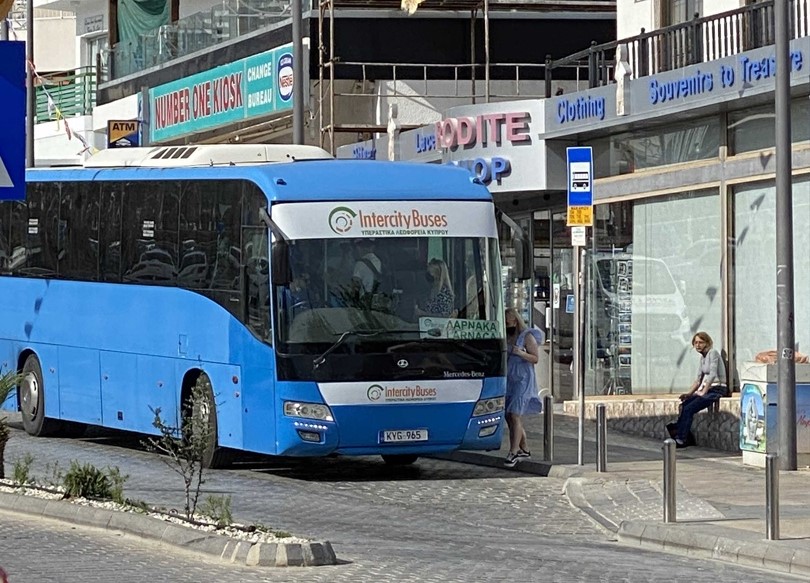 How To Travel From The Airports In Cyprus?
There is a very convenient shuttle-bus system, connecting two international airports with all major cities of the island.
For convenience, I divided them by city and indicated the cost of tickets and trip duration for each route.
How Do I Get From Larnaca To The Airport?
There are several operating urban city routes that can take you to Larnaca International Airport.
You can find out the route numbers and the route here.
The first airport leaves the city at 5-50am, the last one leaves the airport at 11-55pm. On average, the journey takes from 15 to 30 minutes, depending on the city area where you get the bus.
The ticket price is ridiculous – 1.5 euros.
Is There A Bus From Larnaca Airport To Limassol?
If you need to get from one of the Cypriot airports to Limassol, you can use their shuttle service.
One way trip will take about an hour, the ticket price for an adult is 9 euros and 4 euros for a child.
Here you can check the schedule to/from Larnaca Airport.
Here you can check the schedule to/from Paphos Airport.
How To Get From Airport To Paphos?
As well as in Larnaca there are urban city routes in Paphos operating between the city center and the Paphos International Airport.
The first bus leaves the city at 7am and the last one leaves the airport at 1am. The journey will take about half an hour. You can check the schedule and bus routes here.
Again the ticket costs a ridiculous 1.5 euros.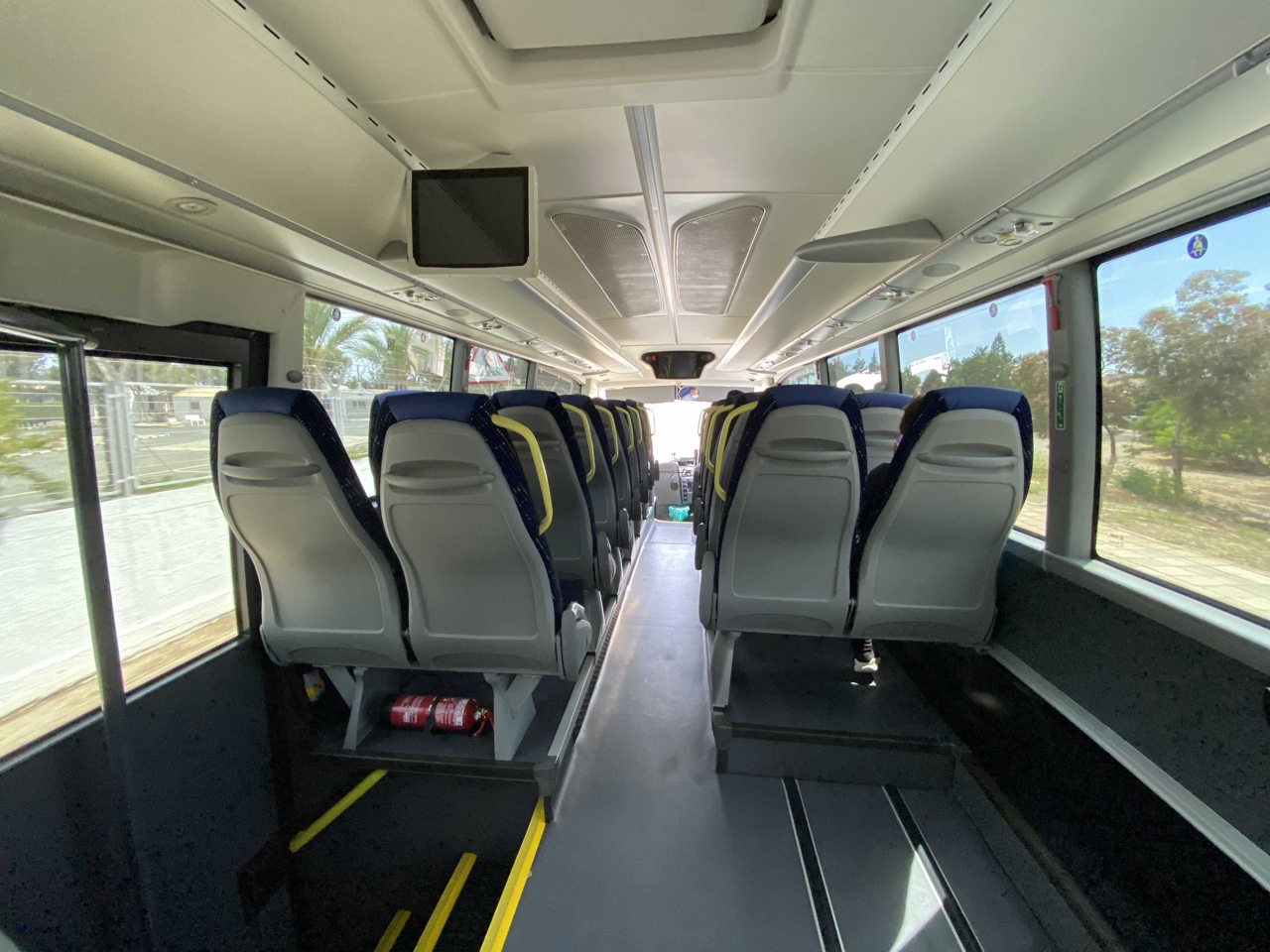 Is there a bus from Larnaca Airport to Nicosia?
If you need to get to the airport from Nicosia, you can also use the shuttle service.
One way trip to/from Larnaca Airport will take about 40 minutes.
A ticket for an adult costs 8 euros, and 5 euros for a child.
One way trip to/from Paphos Airport will take about 90-100 minutes.
A ticket for an adult costs 15 euros, and 5 euros for a child.
Bus schedules are available here.
If accidently you need to get from Larnaca airport to Paphos airport or vice versa, such service also exists.
However buses do not travel so often, on average 2-3 trips daily. Travel time is about one and a half hours.
The ticket price for an adult is 15 euros and 5 euros for a child.
For your convenience you can check the schedule here.
How Do You Use The Bus In Cyprus?
The most common and the most easy way is to pay cash to the driver when boarding the bus.
You can pay for the ticket by card but only at bus stations offices, and there are not many of them, so it is better to prepare cash in advance.
Drivers are really friendly and always happy to help – if you have doubts about whether you took the right bus, just ask the driver where the bus is going. You can also ask him to tell you when you arrive at the stop you need.
In general all the buses are very comfortable, there is an AC system and some of them have USB chargers. Some night routes are operated by minibuses that makes a trip shorter and more relaxed.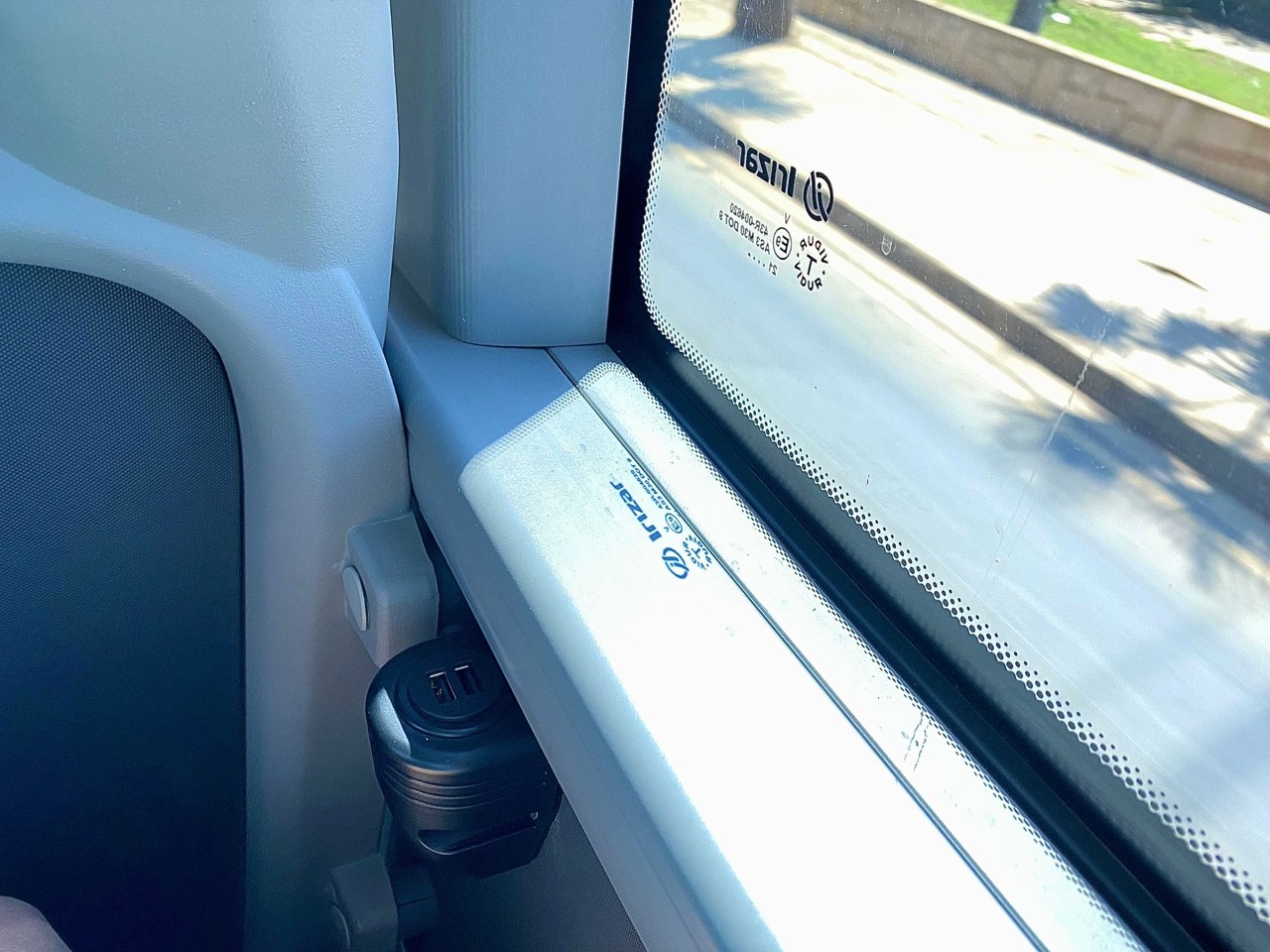 Intercity buses are equipped with a large luggage storage area that can be accessed from a door at the roadside. Luggage is stored under the passenger seating area so as not to clutter the bus.
Regional buses have low level floors that allow easy access for pushchairs and wheelchairs, however this means there is no storage area under the passenger seating. Luggage must be kept in designated storage areas between the seats, usually over the wheel well.
At the time of writing this article (May 2022), it is mandatory to comply with covid restrictions and wear a mask. The drivers can be quite strict about this.
Are There Taxis In Cyprus?
If you are not in the mood of waiting for a bus or you are tired, or you have a lot of luggage with you, you might need to use a taxi in Cyprus.
One of the most common ways to grab a taxi is to get a taxi right on the street. Especially it is popular in tourist areas.
All taxi drivers speak English, you can ask for the cost of the trip before boarding. Most taxi drivers tell you the same prices.
By the way, you may have a lot of fun by grabbing a limo taxi. This is a hilarious feature of Ayia Napa area, and a very convenient way to travel for families or large companies, because it has quite a lot of room inside.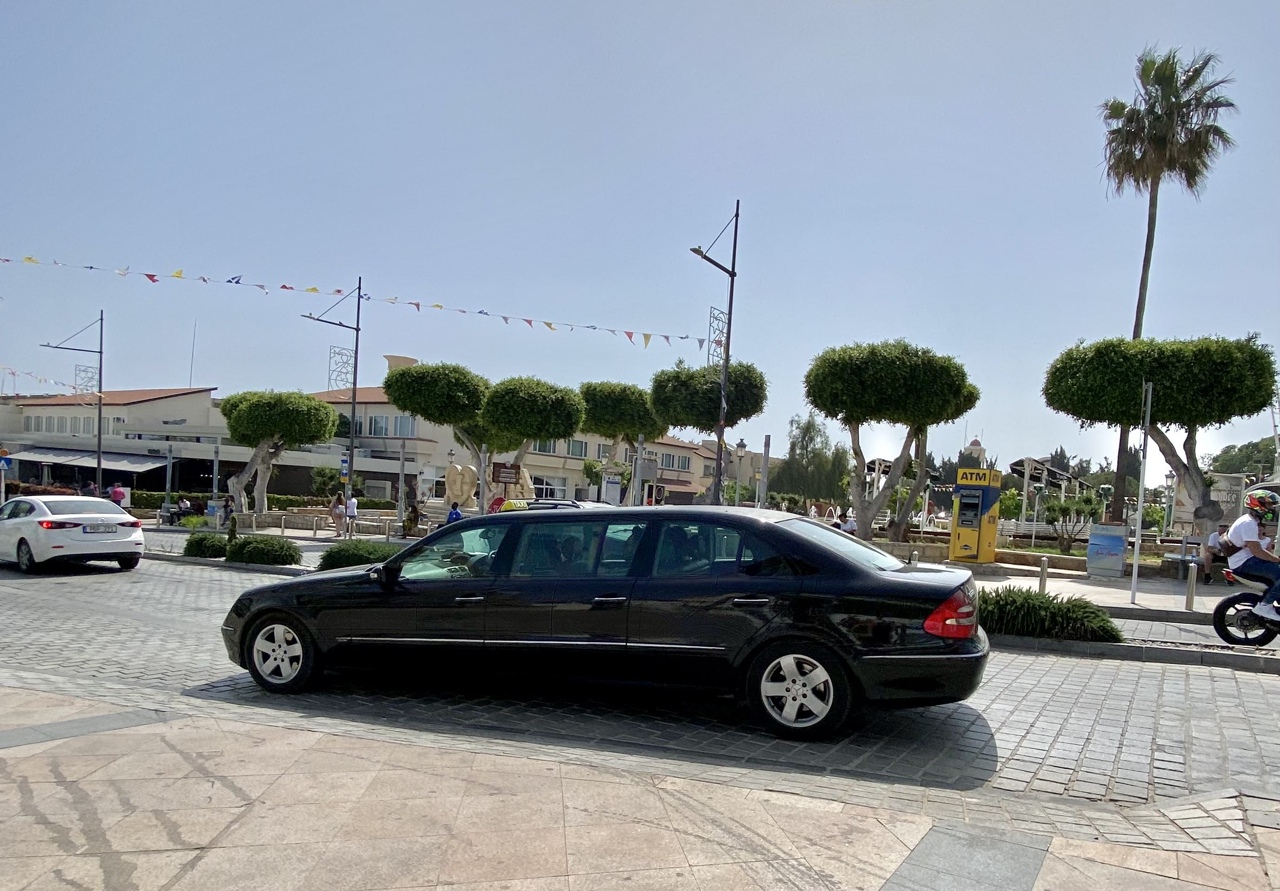 Is There Uber In Cyprus?
Unfortunately not, currently there is no Uber in Cyprus but there are many other companies which try to provide a good service.
So it's possible to order a cab by some taxi app, and this becomes more and more popular from year to year. You can choose a method of payment while making an order.
What Taxi App Works In Cyprus?
Most popular taxi apps:
Bolt: https://bolt.eu/
CABCY: https://cab.com.cy/
Alfa Taxi Service: https://www.alfataxicyprus.com/
During our stay in Cyprus we tried them all, and as the result we were quite happy with service.
Conclusion
If you want to explore more the country lifestile or you have a small budget it's definitely better and worth to use public transport.
Rather than paying 50 euro for a taxi from the airport you can check the bus routes and timetables and to get your transfer to the hotel area just for 1,5 euro per person. I'm not sure if it might be cheaper in any other airport in the world. 😀