The best birthday gift EVER!
At the end of last autumn, we got out of our secluded and cozy Cypriot village and had a chic weekend at the amazing Four Seasons Limassol hotel due to the celebration of my birthday. 
Lovely photos of the hotel and the name immediately caught our attention.
By the way, I want to note right away that the Four Seasons Limassol hotel does not belong to the worldwide FS chain.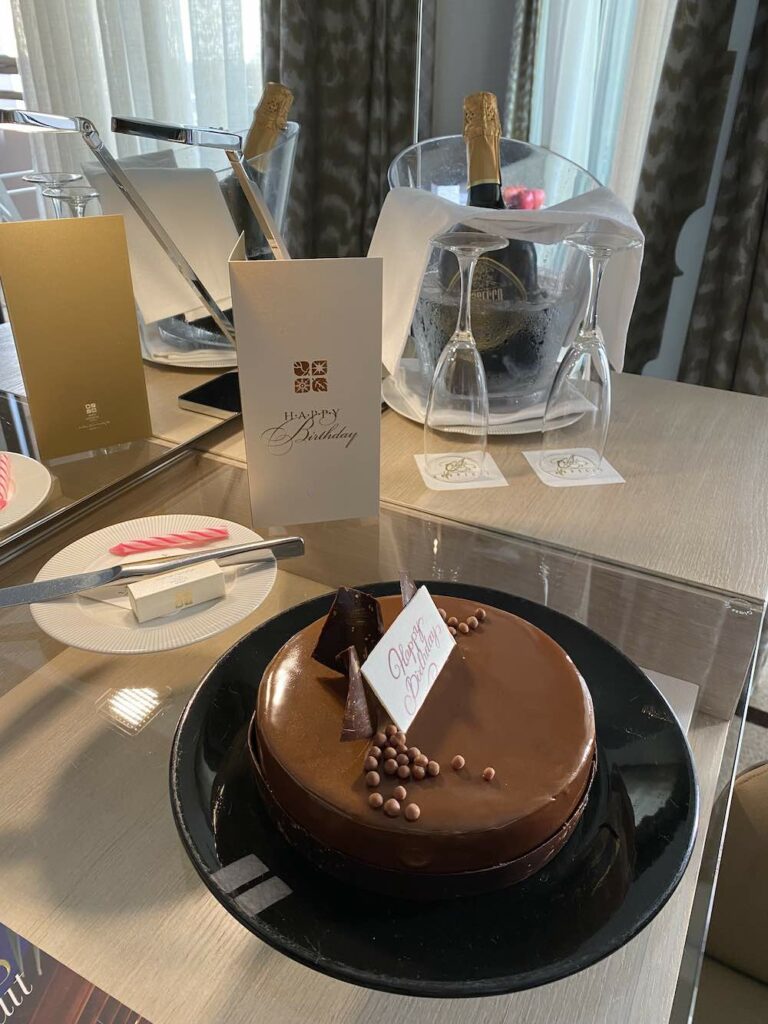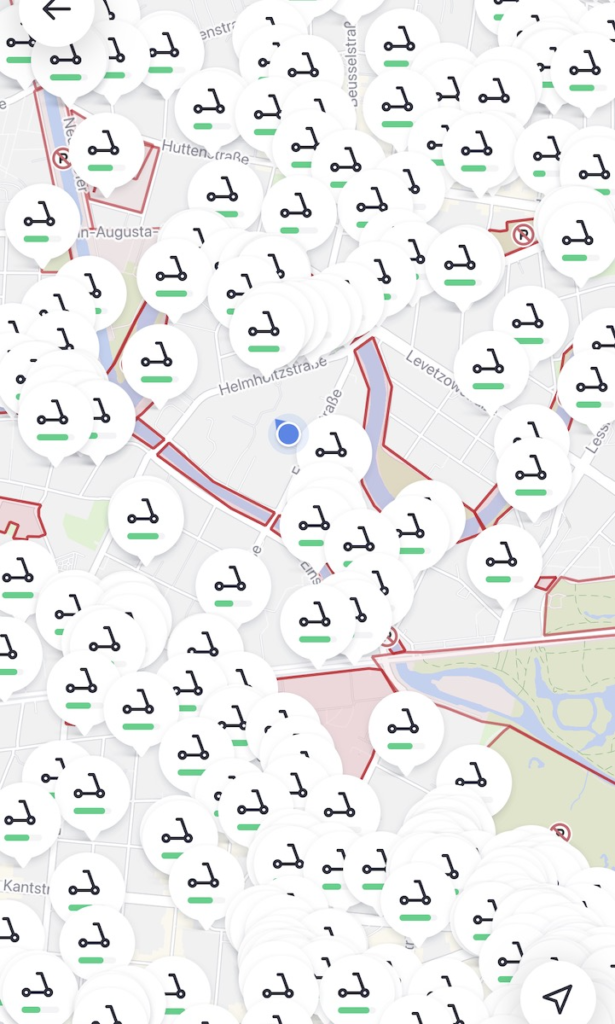 It is a part of Muskita Hotels Ltd, which absolutely does not make it worse in comparison with the others of the same name.
Sophisticated and stylish setting, elegant decor, exceptional service, attention to all the details and feeling just like at home!
Four Seasons Limassol Address
Four Seasons Limassol is a luxury five-star resort, located in the southern part of the island of Cyprus, in the city of Limassol, right in the middle between the two international airports of the country.
Larnaca Airport is 56 km away and Paphos Airport is 70 km away.
The hotel consists of 283 rooms, including 7 Four Seasons Residences, adults only studios, family suites and penthouses.
The accommodation is designed with a contemporary style, incorporating soft, neutral tones and luxurious furnishings. Each room is equipped with modern amenities, including flat-screen TVs, free Wi-Fi, minibars, and espresso machines.
The hotel assistants are happy to provide the concierge services and 24 hour room service for all the guests during their stay.
Restaurants In Four Seasons Limassol
The restaurants and especially bars in Four Seasons Limassol – Are. Just. Incredible!
I love unusual stylish places with a twist, with a unique atmosphere that you can't find in any other venue.
Those that remain for a long time – in your memory; and forever – on your must-visit list when coming back to a particular country.
Those where you just ready to come for a dinner or a drink, even if you stay somewhere else.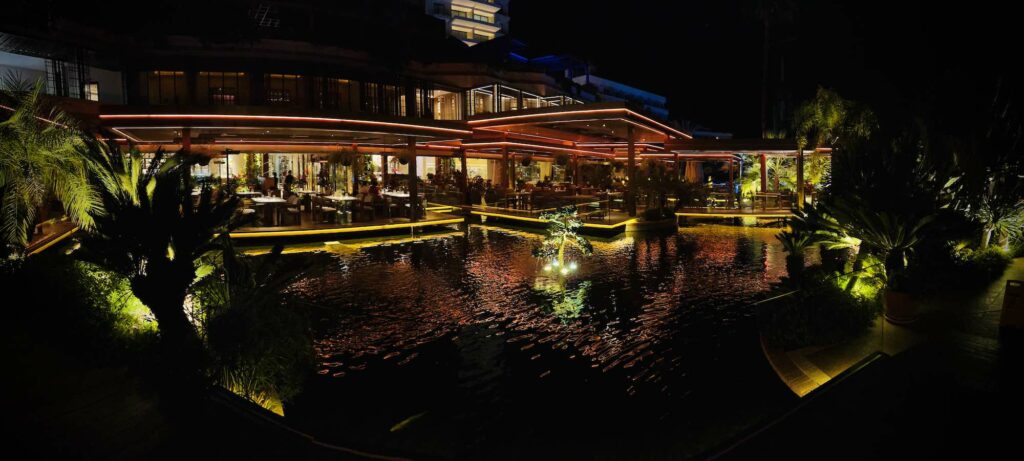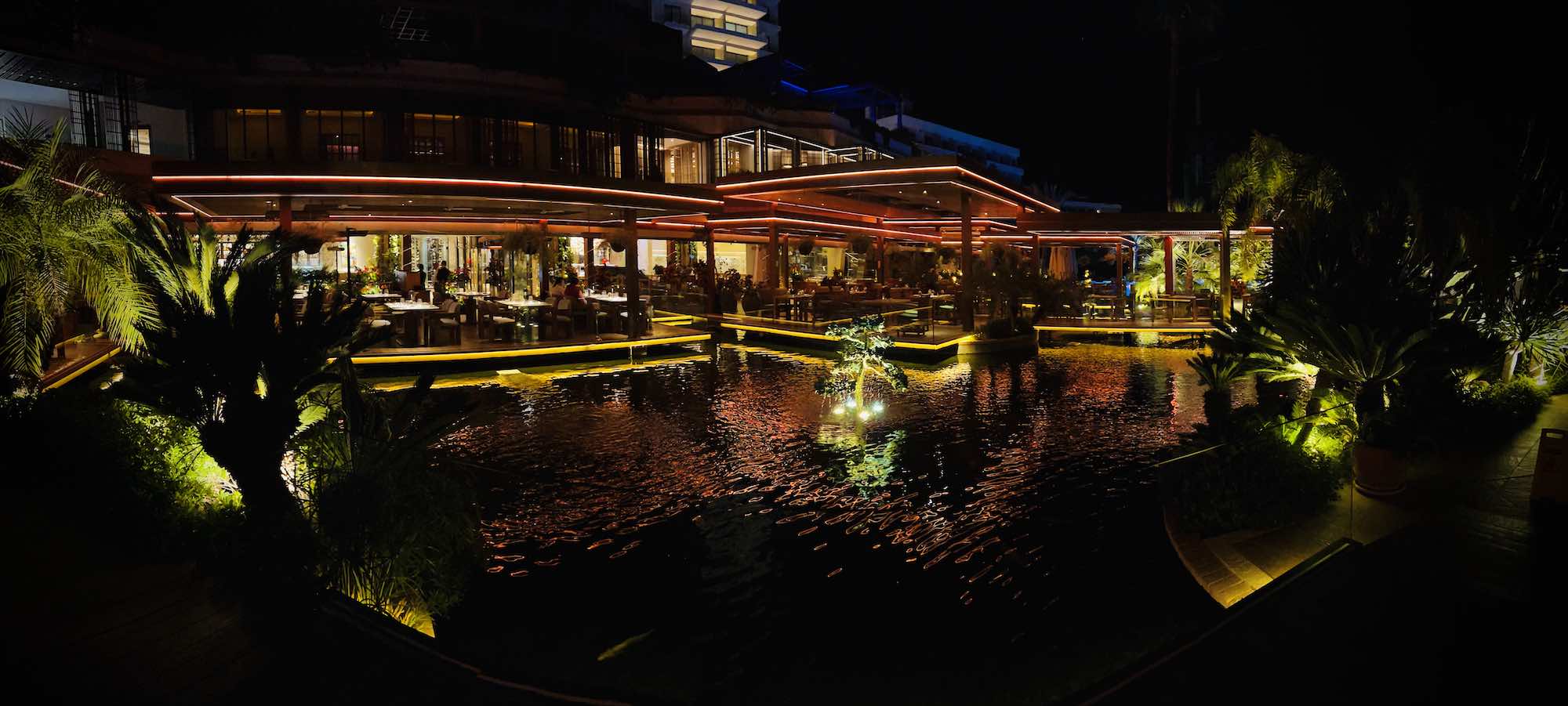 Four Seasons Limassol offers 4 restaurants of Asian and European cuisines, as well as 5 bars, including 2 pool bars, 1 beach bar and Vista Bar with enchanting cocktails and live-DJ gigs 5 days a week.
Pool and beach bars are open daily from 10 pm till 19 pm.
Another Italian restaurant will open in May 2023.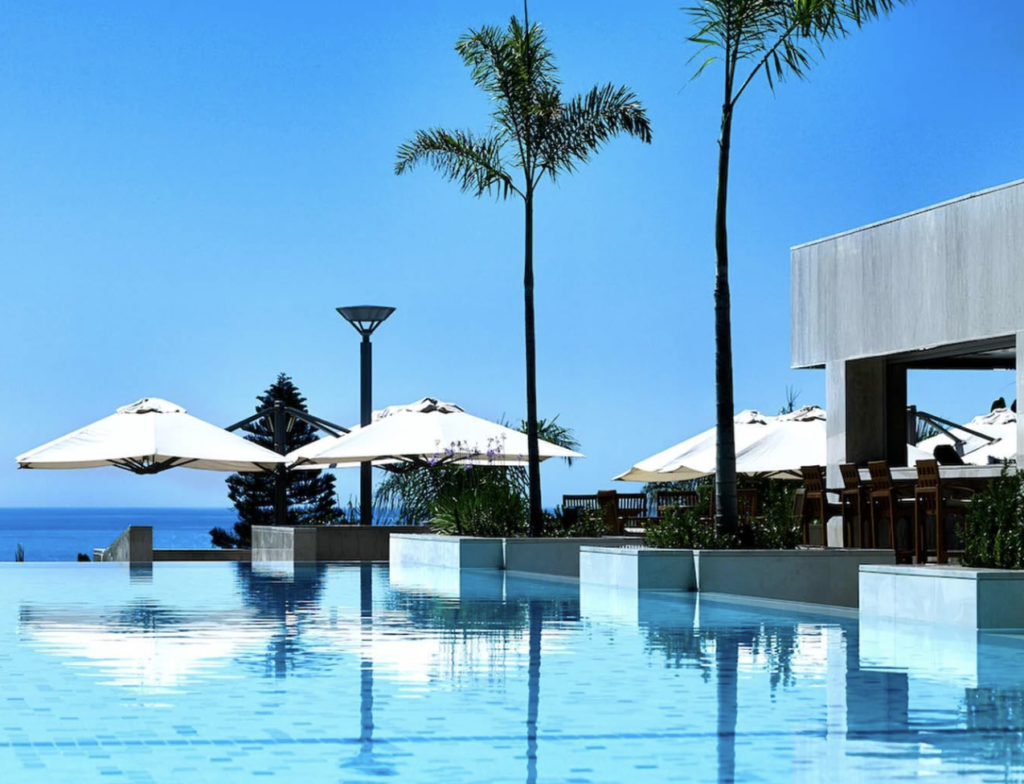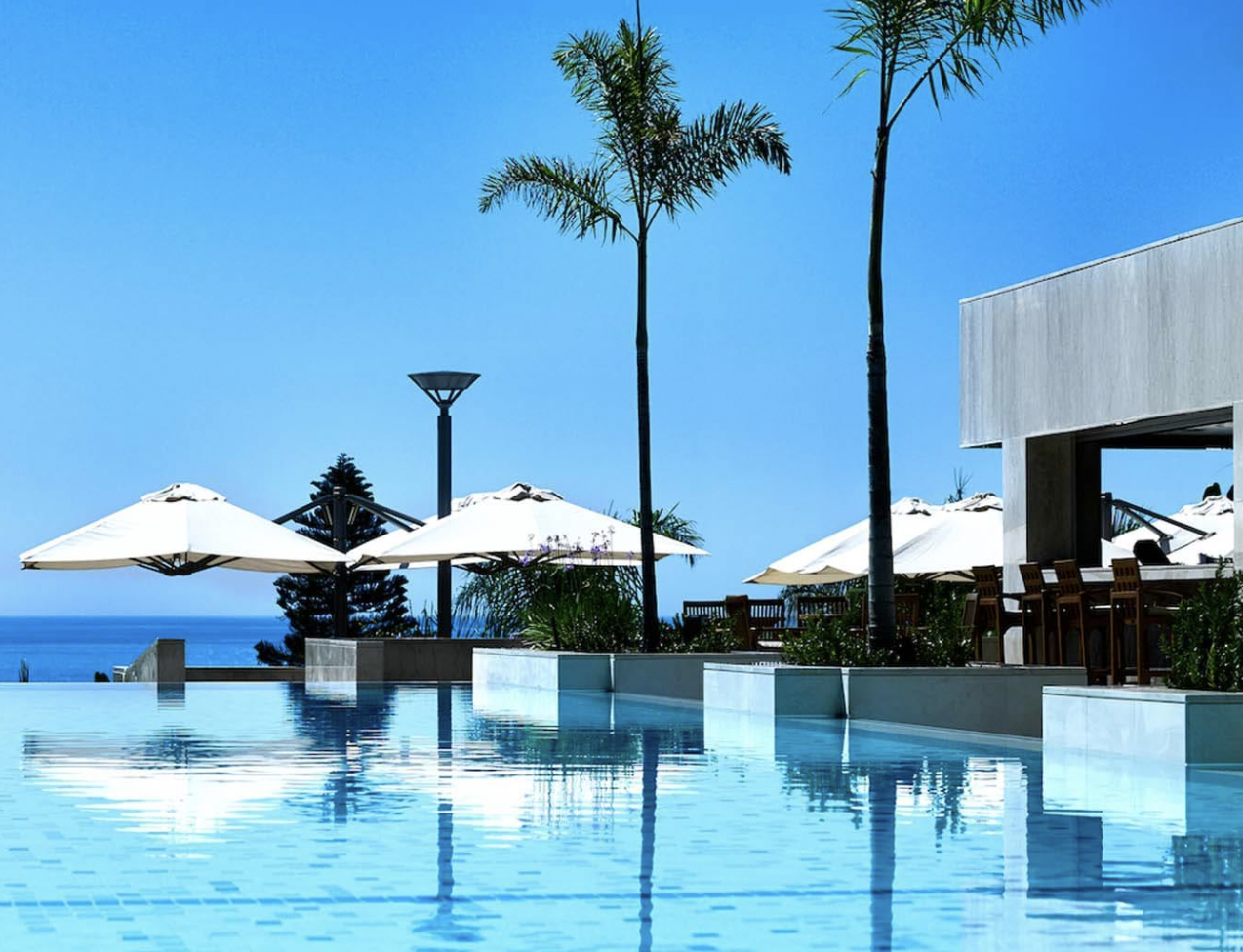 As an Asian food lover I totally enjoyed the M Fusion restaurant (no-day-without-sushi, haha!).
All restaurants provide a special vegan/vegetarian menu for dinner:
Award winning Veggie chef Eddie Shepherd and the Four Seasons team have joined forces to create our new Veggie and Vegetarian menu.

"At the forefront of contemporary plant based cuisine Eddie takes inspiration from nature to create delicious, exciting food with a modern aesthetic"
Eddie is known for his pioneering approach to plant based fine dining, a rapidly growing new field in cuisine. The aim of the menu we have created is to offer vibrant, creative meat-free dishes, delicious in their own right and a great dining option whether you are vegetarian or not!

https://www.fourseasons.com.cy/
Happy hour! From 7 pm till 8 pm in Vista Bar they offer most drink half price.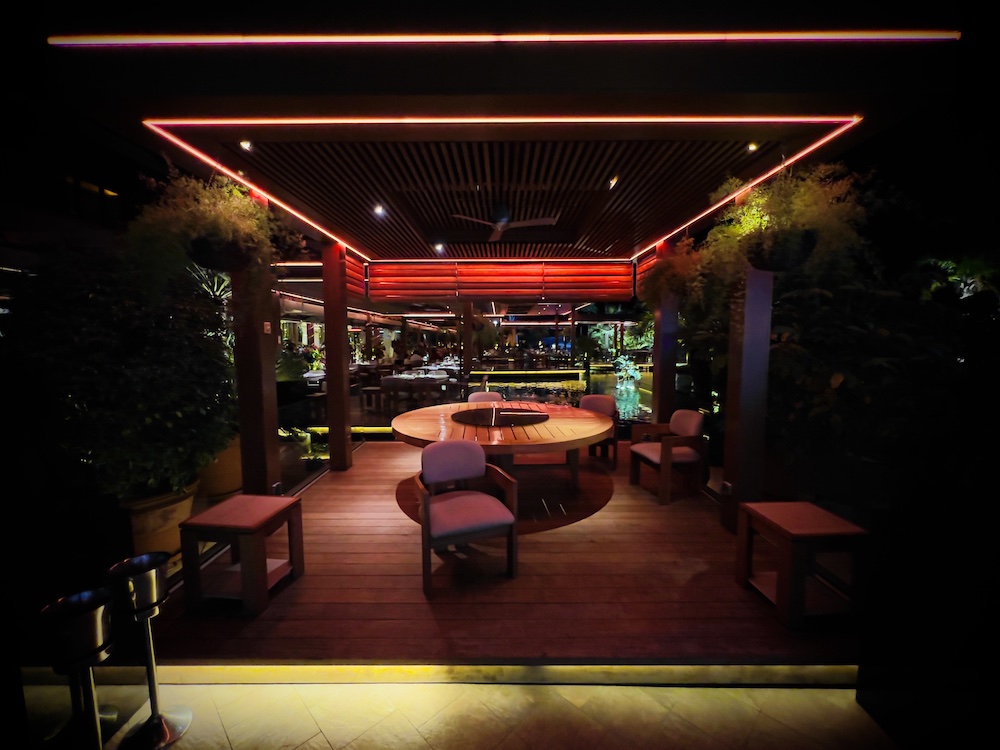 Don't forget to try gorgeous signature cocktails in Vista Bar – you'll love it!
Cheers!
What is the Four Seasons Limassol Dress Code?
The Four Seasons Limassol has a smart casual dress code, where a little sophistication without going too much over the top would be advised.
Women could wear blazers, blouses, trousers, dresses, skirts, heels, boots.
Whilst men could wear dress shirts, polos, blazers, chinos, sweaters, trousers, boots, loafers.
Just simple – smart casual.
One thing to remember, be sure to avoid wearing swimsuits and shorts in the dining hall.
Does Four Seasons offer Dine Around?
Something special only for the hotel guests – Four Seasons Limassol Dine Around!
The Dine Around concept allows you to pre-book dinner at any of the five Gourmet Collection restaurants for 60 euro per person, excluding drinks.
According to the concept, the guests of the restaurant will be offered a tasting menu designed specially for each restaurant.
Dine Around can be purchased with a minimum of 3 vouchers (or visits), available in packs of 3, 5 or 7 vouchers. Discounts do not apply to children. 
Vouchers can be purchased at reception and must be presented upon arrival at the restaurant.
Four Seasons Limassol Beach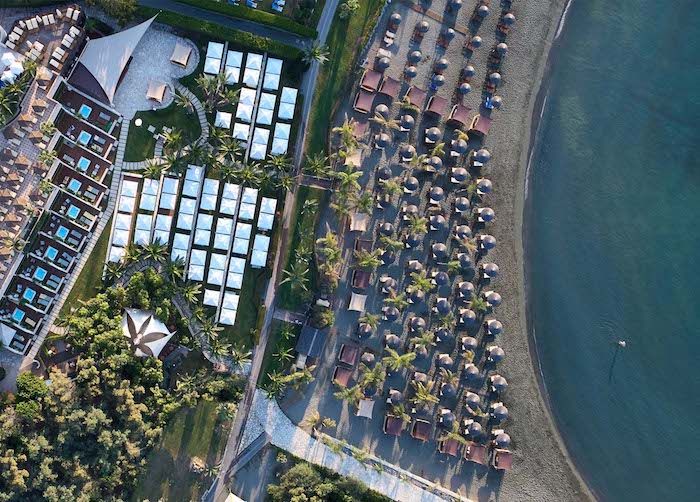 The Four Seasons Hotel Limassol features a private beach that offers guests a luxurious and exclusive setting for relaxation and recreation.
Stunning views of Mediterranean Sea crystal-clear waters and a secluded beach with silvery-yellow sand!
The beach itself is spacious and well-maintained, with comfortable wood sun loungers, beach cabanas and towels provided for guests.
For those seeking a more active beach experience, the Four Seasons Hotel Limassol also offers a range of water sports activities or diving lessons from a 5 Star PADI Diving School.
In addition to the beach amenities, guests can also enjoy complimentary afternoon treats and services of the hotel's beach bar which offer a selection of refreshing drinks.
Four Seasons Limassol Spa
FS Limassol offers so many spa programs and services that it took me quite a long time to choose what I most wanted to try!
Massages, facials, body treatments, nails and feet treatment, epilation and so on and so on… 
One of their signature spa treatments is the Four Seasons Four Senses Ritual, a unique full-body treatment that will inflame your senses with a combination of aroma, sound and touch effect.
Or Thai Quartz Crystal Healing Massage, which uses warm amethyst stones to release tension and promote relaxation. 
Additionally, they offer seasonal promotions and programs for men, teens and pregnant women. 
Sound irresistible to you? Click here to check the hotel prices!
For a full up-to-date list of the current programs, check the official website or contact the hotel directly.
Four Seasons Limassol Pools
The hotel has three swimming pools:
The largest one is the main outdoor pool with a kids area, one water slide, as well as a jacuzzi area and air bubble beds. The pool is located in the hotel's landscaped gardens, close to the beach.
The pool area also features a pool bar, serving a range of refreshing drinks and snacks.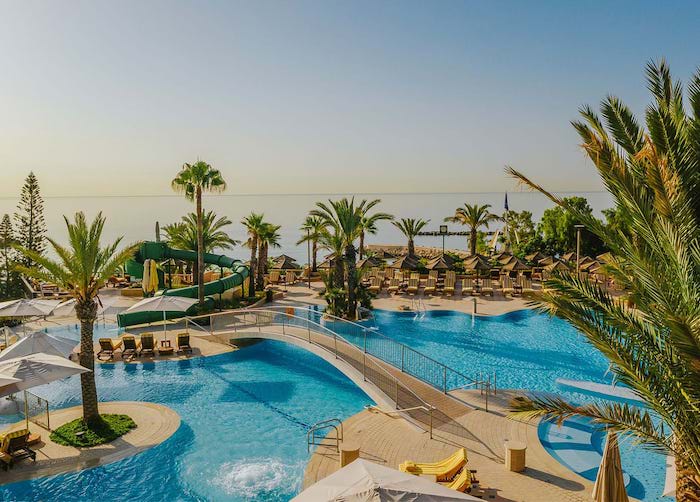 For those seeking a more secluded and private pool experience, the hotel offers a shimmering infinity-edge adults only pool, with a sea view. For maximum relaxation, there is also a jacuzzi area and air bubble beds.
Breathtaking views, cool photos, tranquillity and serene environment to unwind…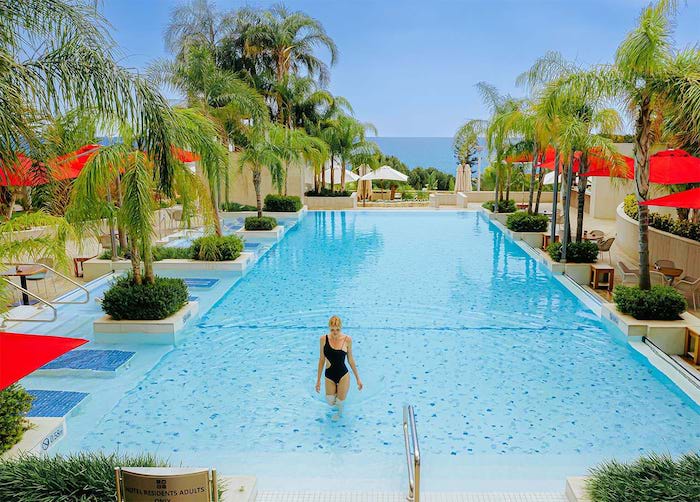 Indoor heated pool, including an adult and kids area. Sunbeds and evening lighting complete the main concept of the hotel.
Next to the indoor pool sauna, two steam rooms and ICE room are located. They are available daily from 8 am till 8 pm.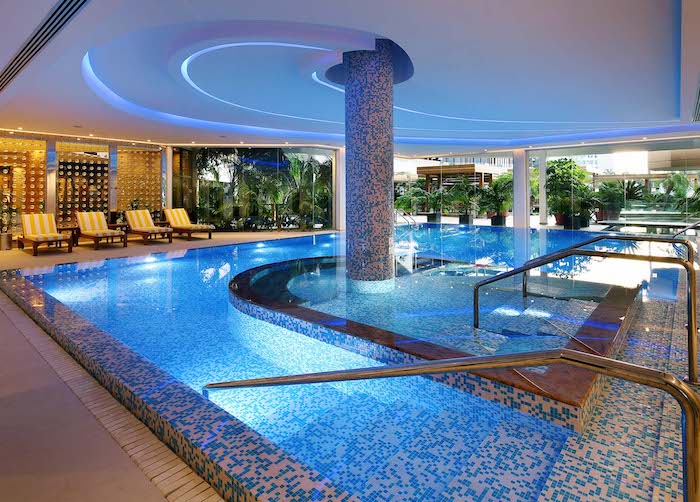 Four Seasons Limassol Day Pass
For guests from other hotels, the FS Limassol hotel offers a Day Pass system, which costs 40 euros per adult and 25 euros per child under 12 years old.
This day pass allows you to use the main and indoor pools, as well as the hotel beach.
Please note that there is a limited number of passes issued daily and access to the adult only pool is not allowed.
I would recommend you to contact the hotel assistant the day before in order to check for pass availability.
---
In summary, the Four Seasons Limassol Hotel offers guests a luxurious and elegant retreat in a beautiful seaside location, with exceptional amenities and service to ensure a memorable stay.
We will definitely come back! And what about you?
Click here to check for great deals on Booking.com.
Click here for further information about the Spa treatments.
Click here to visit the official hotel website.