We live during amazing times.
To order freshly brewed coffee and freshly baked buns for breakfast in the morning, OR to make a video call with the person at the other end of the world, OR to pre-order the next world bestseller, you JUST need to press ONLY two buttons.
Our rhythm of life has accelerated so much, but despite this, we started to appreciate the advantages of slightly slower but more nimble electric vehicles and bicycles, instead of using traditional modes of transport such as cars or buses.
Here is a short comparison:
eco-friendly
does not require paying for gasoline
no traffic jams
don't need a parking space
costs dozens of times cheaper than a car
air pollution
parking fee
waste of time in traffic jams
fuel and maintenance costs
expensive fares
---
And nowadays it is not necessary to own a bicycle or an e-scooter at all, as in most big cities all over the world it is enough to download the app, go out on to the streets and unlock a vehicle you need.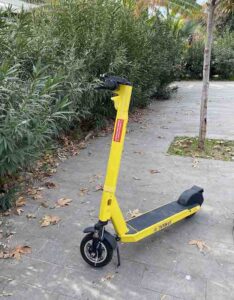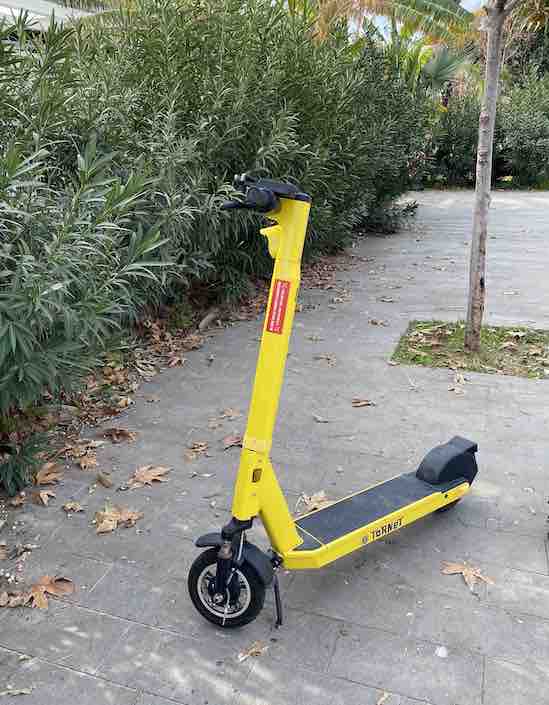 It is clear that this short comparison table above is only suitable for residents of cities with a developed infrastructure and transport network.
If you live in a village where you need to drive 15-20 minutes to the nearest shop, or you need to cover a distance of 100-200 km every day, or carry a lot of cargo, then you definitely cannot do it without a car 🙂
Of course, cars have many advantages, and I absolutely do not deny them.
But still I think that electric vehicles are the future, and it has already begun!
Are Electric Scooters Legal In Turkey?
Yes, they are.
E-scooters in Turkey can be found not only in Ankara or Istanbul, but also in other tourist cities, such as Antalya or Kemer.
They can be legally used both by locals and tourists.
Based on the safety rules for the use of e-scooters in Turkey, the minimum possible age for driving is 16 years old.
Scooters cannot be used on intercity roads and highways, as well as on pedestrian roads.
The speed limit is 18 km/h.
Do You Need Licence For Hired Electric Scooter?
A motorbike driving license will be required for people 16-18 years old, everyone over 18 years old can rent an e-scooter without a license.
What Do You Need To Hire An E-scooter?
And here is where the fun begins.
In general, in order to rent an electric scooter in Turkey, all you need is a smartphone with internet access and a downloaded app (Beam, BinBin and others).
Usually there are no questions about it, simply get the app from Google Play or App Store, download it and then sign up. Just be sure that you have enough mobile data, as you will need it to both unlock and lock the scooters.
We always get a local eSIM when travelling to ensure that we have adequate data, and you'll be surprised at just how much cheaper it is than paying roaming changes!
So, RULE №1:

About half of the companies providing electric scooters in Turkey accept only Turkish phone numbers.
Of course, if you live or work in Turkey permanently, this will most likely not be a problem for you.
But if you come as a tourist for a short time, for example, for a week or two, then it doesn't make any sense to purchase an extra SIM card just to rent a scooter for a quick ride.
When travelling, we usually like to get an Airalo eSIM for roaming. However we don't usually need to get one for both phones.
During our stay in Turkey recently, we reviewed all Turkish companies that offer electric scooters rental, compared them in terms of prices, comfort in riding, as well as the ability to rent with a non-Turkish phone number.
Electric Scooter Antalya App
I have divided all electric scooter rental companies in Turkey into two groups: those that require a Turkish number for signing up and those that do not.
For those that do not require a Turkish number, I will share additional thoughts from our experiences of using them.
Turkish e-scooter rent companies that don't require Turkish phone number
We were successful with signing in and for driving e-scooters provided by Beam and BinBin.
Beam
Perhaps the most popular e-scooters in Antalya.
They can be found absolutely everywhere in the city center and quite often in other more remote areas.

The rules of unlocking an e-scooter and driving are exactly the same as in other European countries: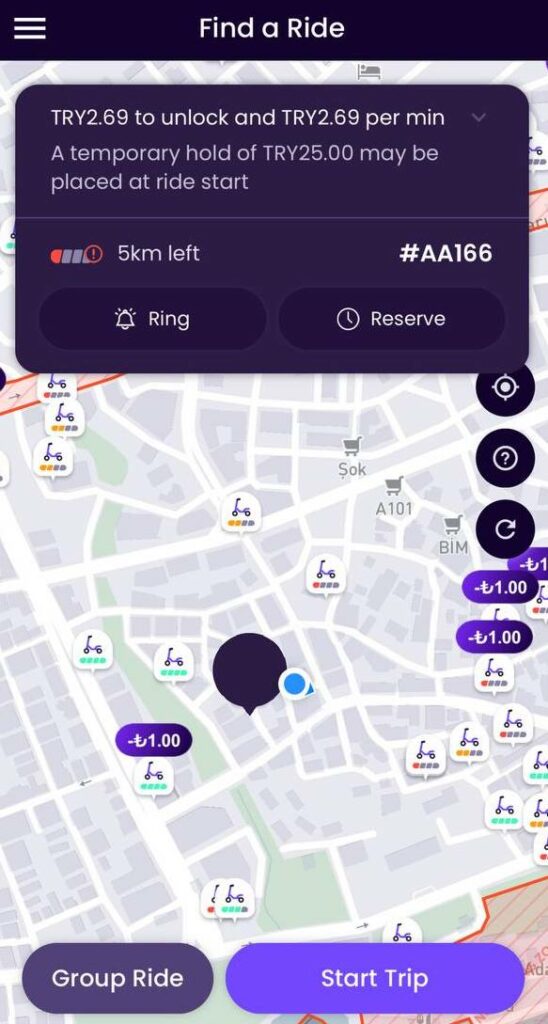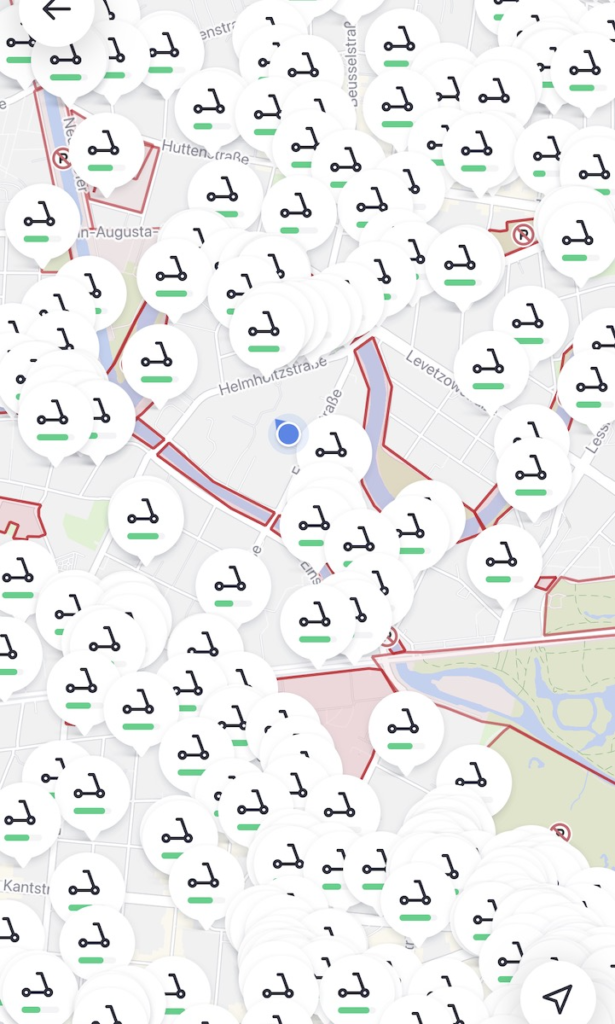 Scooters are quite smooth in driving, there is a phone holder on the handlebars.
I would only mention the slightly "tight" brakes, but perhaps I was unlucky with the scooter.
The app works well, and by the way, it allows you to rent two scooters from one device, which is obviously an advantage.
Beam scooter rental price:
In general, the cost of e-scooters rental in Turkey is more than affordable.
Beam makes it simple:
2.69 TL for unlocking fee and 2.69 TL per 1 minute of ride.
If you rent two e-scooters from the same device, the unlock fee is charged for both scooters.
BinBin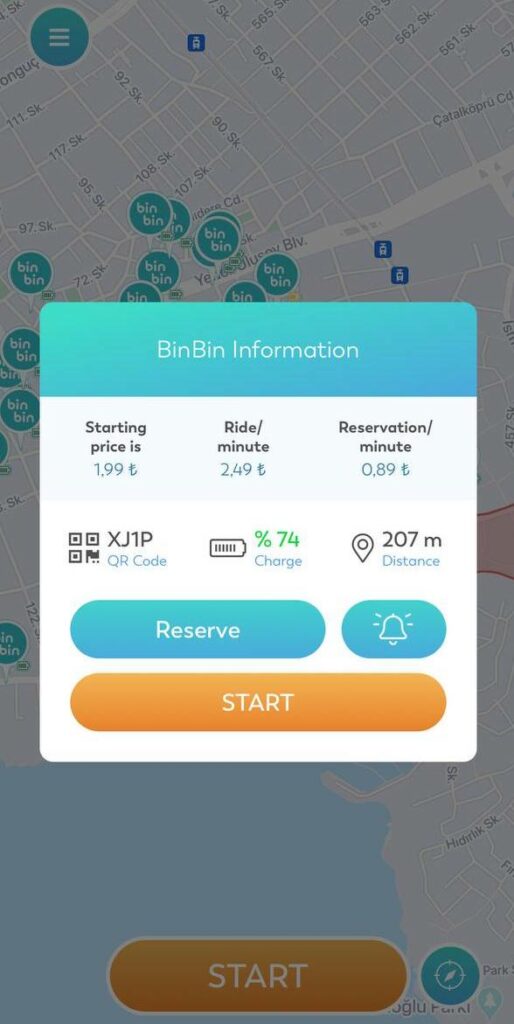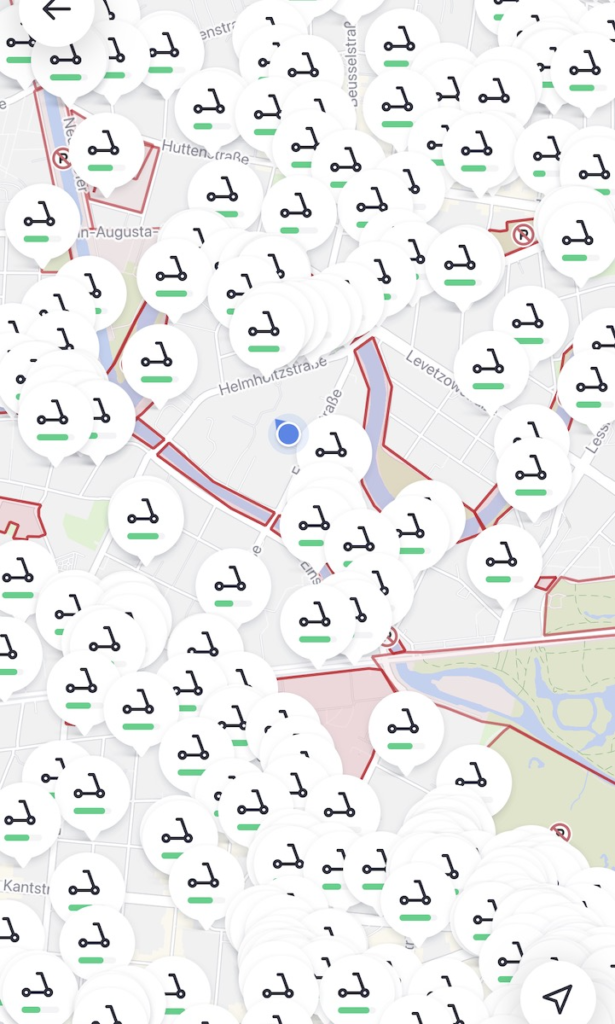 BinBin e-scooters are very similar to Beam in terms of ride comfort, I would even say there is not much difference between them.
Therefore, you can use just any scooter of those that is closer to your geolocation.
They don't have a phone holder, but they do have a cable lock to park the scooter if you're planning on making a stopover.
Only one scooter can be rented per device.
BinBin scooter rental price:
Unlock fee – 1.99 TL; the cost of 1 minute of a ride – 2.49 TL. 
Which ultimately makes BinBin scooters a little cheaper compared to Beam.
BinBin also offers a scooter reservation service, costing 0.89 TL per 1 minute of waiting.
Turkish e-scooter rent companies that require Turkish phone number
At the time of writing this article (March, 2023) we were unable to log in to the apps of the following companies without a Turkish number: Marti, Tornet, GEZ, Hop.
They may change their policy in the near future, so I recommend you still try to download these apps and to sign in.
For your convenience, I have attached their direct download links.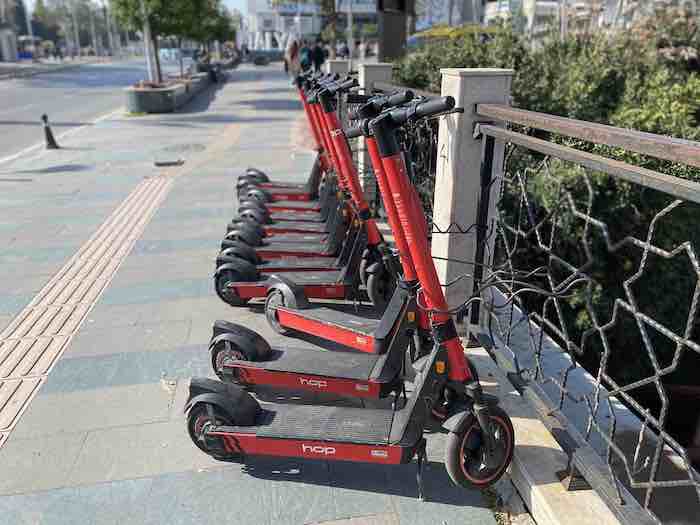 If you have a Turkish phone number or manage to log in to the Marti app, then you should know that they offer not only electric scooters for rental, but also push bikes.
One Small Tip
If you are planning to rent e-scooters in Antalya, be sure to take a ride in the marvelous Konyaalti Beach Park.
This is a huge modern leisure area including a long sandy beach, sports grounds, a big park and a food court area with dozens of coffee houses, bars and restaurants of different world cuisines.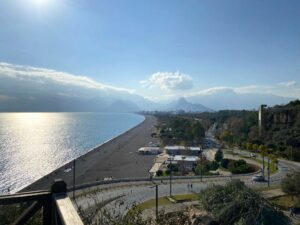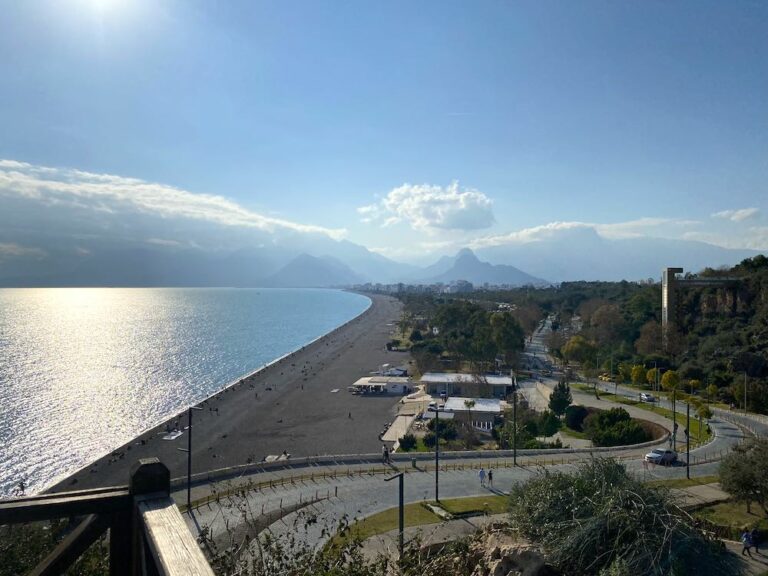 There are equipped bike paths for a comfortable ride and breathtaking views of the surreal mountains of Kemer and the Mediterranean Sea.
Actually we enjoyed this area of ​​Antalya so much that on our next visit to the city, we decided to stay right there.
For example, in the beautiful beachfront Pearly Hotel 3*, which costs only 43 euros per night in March.
Their rooms with jacuzzi on the balcony and sea view are just something!