E-scooters have become an increasingly popular mode of transportation in cities around the world and its popularity keeps growing every year. 
And Spain is no exception in this topic.
Want to take a scooter ride right now? Click here to get a free ride with Bird!
Or for those of you looking to find the right scooter sharing service for you, read on…
Are There Electric Scooters In Tenerife?
Yes, you can find E-Scooters in both the north and south of Tenerife. It is very easy to get started, simply choose a scooter, download the app and go!
Just be sure that you have enough mobile data, as you will need it to both unlock and lock the scooters.
We always get a local eSIM when travelling to ensure that we have adequate data, and you'll be surprised at just how much cheaper it is than roaming changes!
Tenerife is the largest of Spain's Canary Islands, it is known for beautiful beaches, stunning landscapes, and vibrant nightlife.
In recent years, however, the island has also become known for its e-scooter rental services. 
E-scooters are located at every corner around the city, and can be unlocked and rented just by using a smartphone app.
It is an affordable and convenient way to get around, particularly for short distances or for those who don't want to walk or use public transport or taxis.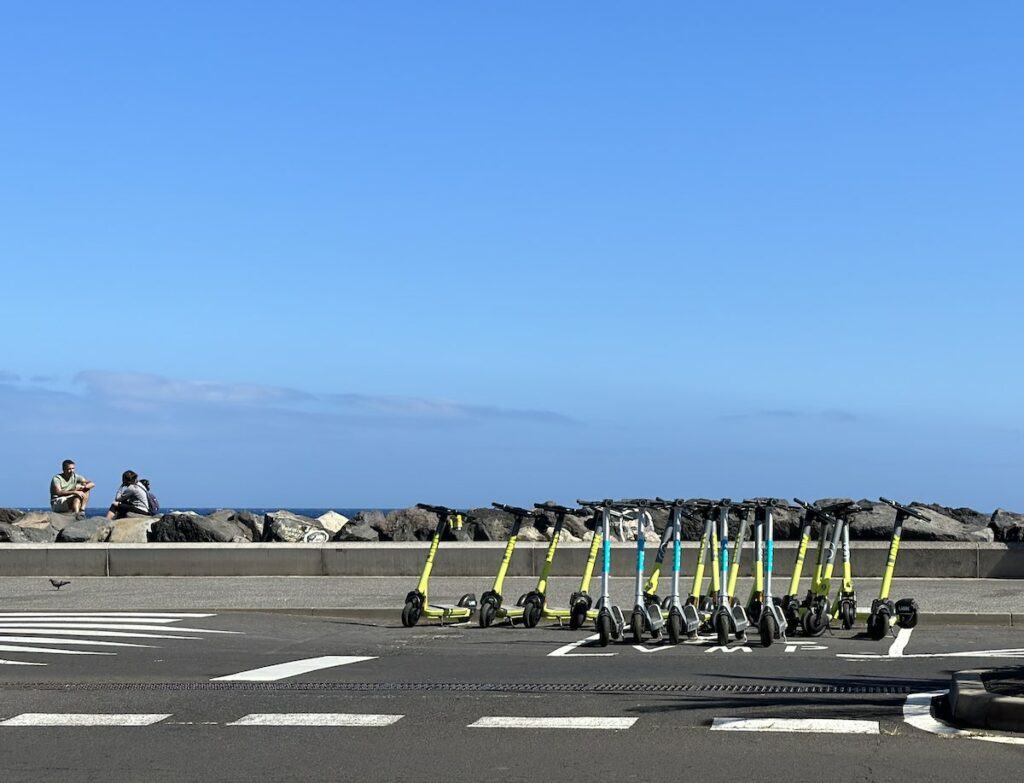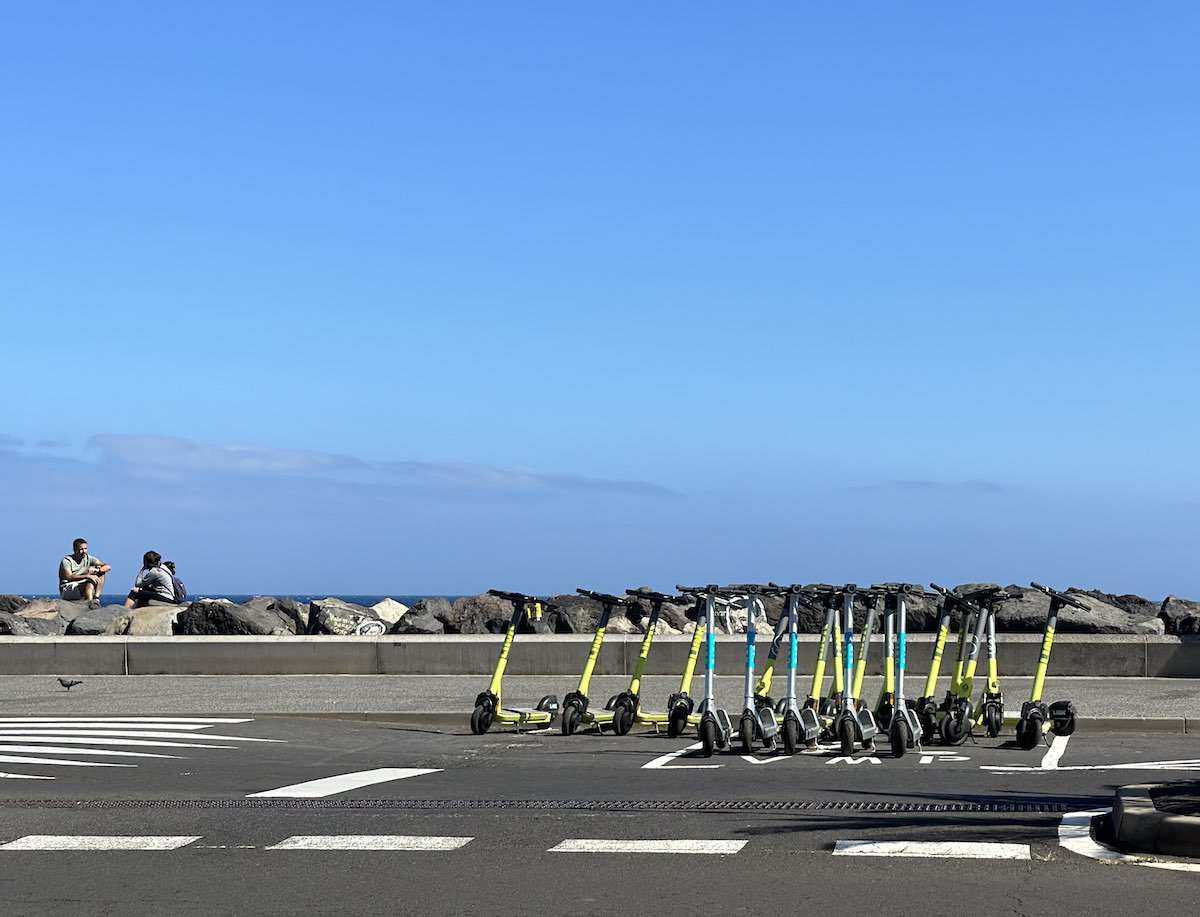 They are particularly useful for getting around the city's busy streets, as they can navigate through traffic and cycle lanes much more easily than a car. 
Moreover it's just a lot of fun to explore Tenerife, because it doesn't matter where you are in the city, you can enjoy riding and looking at breathtaking landscapes!
Click here to check 10 Best Coffee Places For Nomads In Tenerife
Click here to check 8 must-visit spots on the island
Click here to check 10 Best Hotels in Tenerife up to 100€ per night
What What Are the Rules for Riding E-Scooters In Tenerife?
There are certain rules and regulations that riders must follow to ensure their safety and the safety of others. 
Here is the short list of most important rules for riding e-scooters in Spain:
E-scooters are not allowed on motorways or highways, you can use it only within a city territory.
The maximum speed limit for e-scooters is 25 km/h.
Riders must be at least 16 years old to ride an e-scooter.
E-scooters are not allowed on sidewalks or any pedestrian areas. They must be ridden on the road or in designated bike lanes.
When riding on streets that are shared by people, such as those found in the city center, there is a maximum speed of 10 km/h and you should alway give priority to pedestrians. 
Only one person is allowed on an e-scooter at a time.
E-Scooters should not be ridden under the influence of drugs or alcohol.
Helmets are required, though you won't see anyone riding an e-scooter with a helmet. I suppose this rule will be updated in the near future.
It's important to follow these rules to avoid fines or accidents while riding an e-scooter in Tenerife.
Which E-Scooter Apps are Available in Tenerife?
There are a number of E-Scooter companies in Tenerife that you can try, each with their own pros and cons:
LINK E-Scooters Tenerife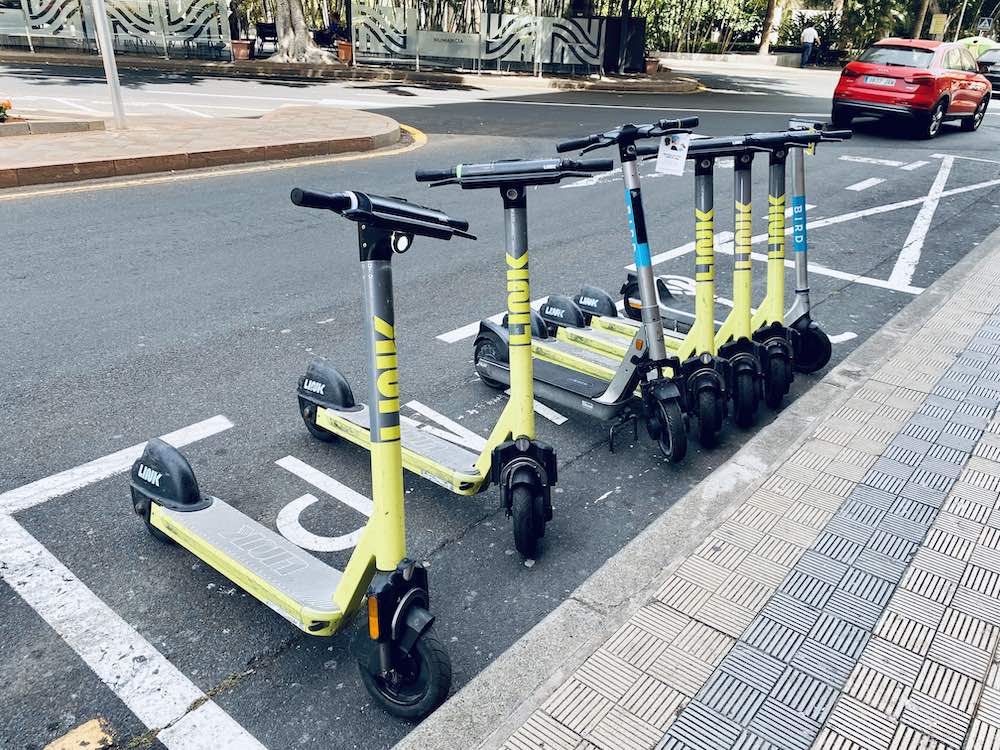 One of the most popular e-scooter rental services in Tenerife is LINK. 
It is a product of the US start-up company Superpedestrian which started their history in 2013 in Massachusetts, USA.
Currently they operate in 13 US states and in 8 European countries.
In Tenerife you can find it in Santa Cruz de Tenerife and Las Americas. 
LINK e-scooters are bright yellow and can be easily spotted anywhere in the city.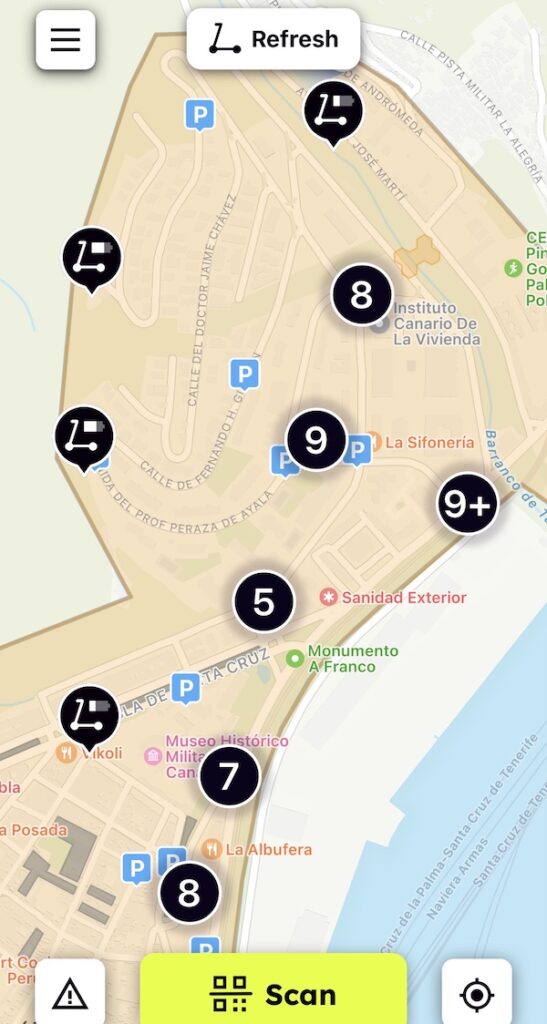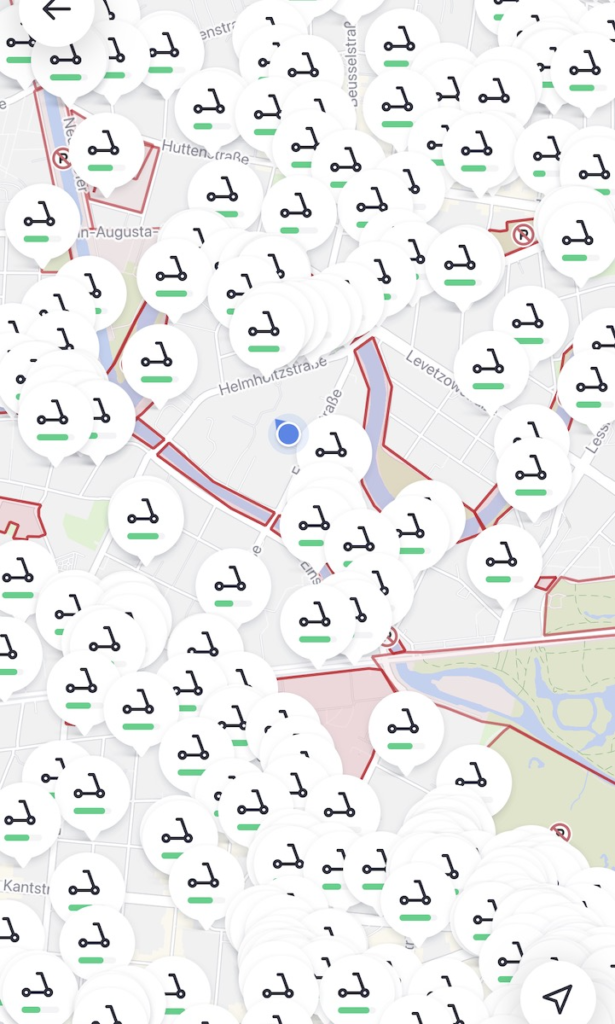 How To Use LINK E-Scooter?
To rent an e-scooter, you just need to download the LINK app and sign up with your phone number.
Once logged in, you can locate a nearby e-scooter using the app's map, scan the QR code on the e-scooter to unlock it, and start riding.
LINK Scooter Price Per Minute
Some companies charge a mandatory fee for unlocking the e-scooter.
LINK made everything just simple – 0.00 euros per unlock and 0.25 euros per one minute of riding in Santa Cruz de Tenerife and 0.29 euros per 1 minute of ride in Las Americas.
The scooters itself and the ride experience in the south are just the same as in the north.
LINK Scooter Passes
In addition to its service, LINK offers a system of ride passes, which allows you to pay less on ride minutes.
The screenshots below show the current offers available in Tenerife, passes options may differ depending on which city you are staying in.
A simple mathematical calculation makes it clear that by the standard price of 4 euros it is 16 minutes of ride (0.25 euros per minute).
So taking this ride pass is worth it if you plan to have two rides during one day, each of which longer than 8 minutes.
The cost of this pass is equal to 40 minutes of ride by the standard price.
So, it becomes profitable in three cases where you plan several short trips within one day:
5 rides, longer than 8 minutes each.
or 4 rides, longer than 10 minutes each.
or 3 rides, longer than 14 minutes each.
We continue our math lesson 🙂
A 7-day pass that includes up to 10 rides of no more than 15 minutes each and costs 20 euros.
By standard price 20 euros is 80 minutes of riding.
So this pass is profitable if you plan to have up to 10 trips around the city during one week, which in total will be more than 80 minutes.
For example, it could be 10 rides, each more than 8 minutes. Or 7 rides, each over 11.5 minutes. Or even just 6 rides if each of them will be over 13.5 minutes.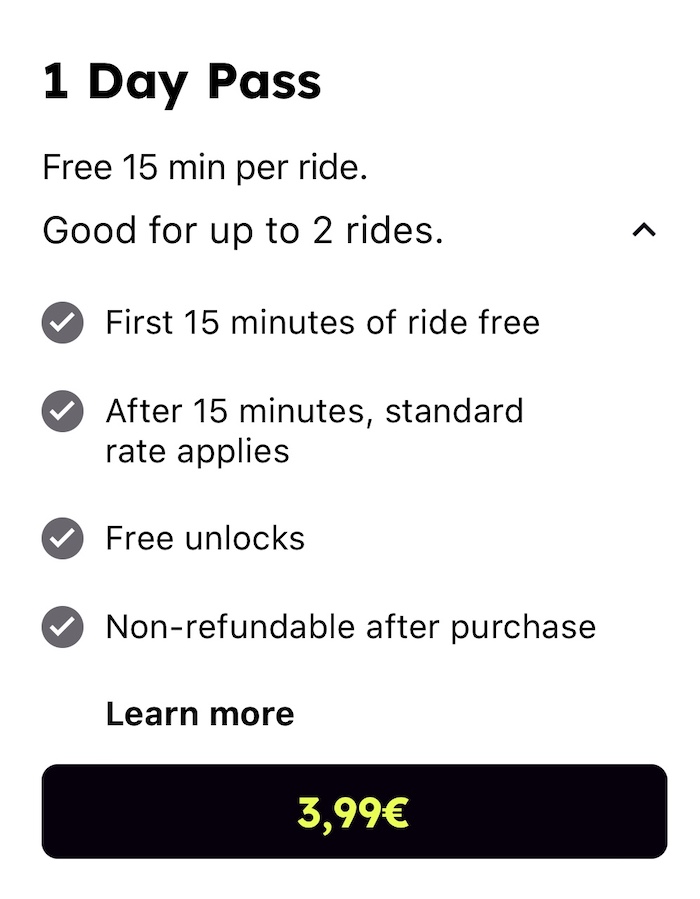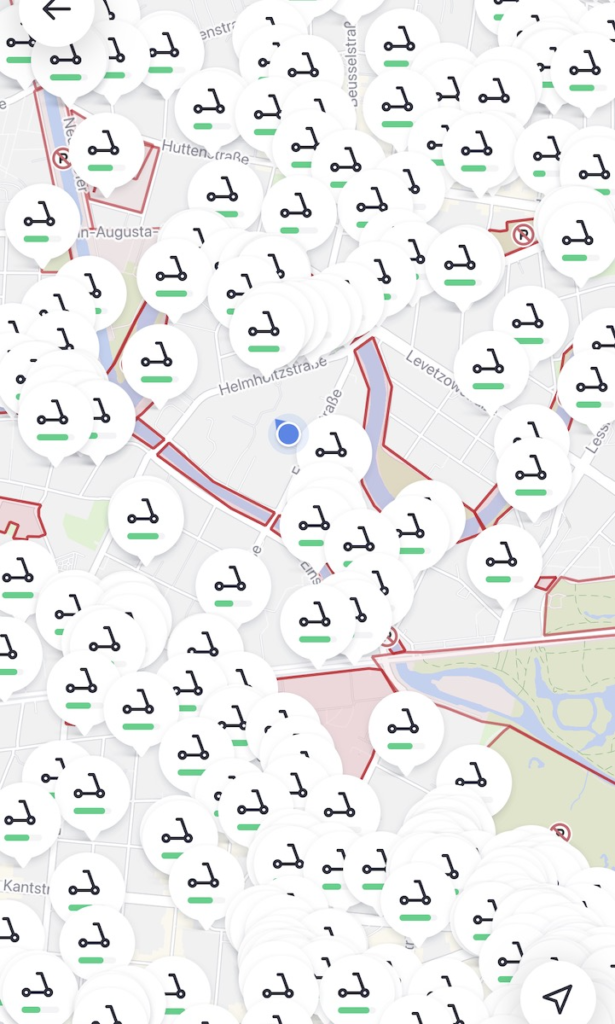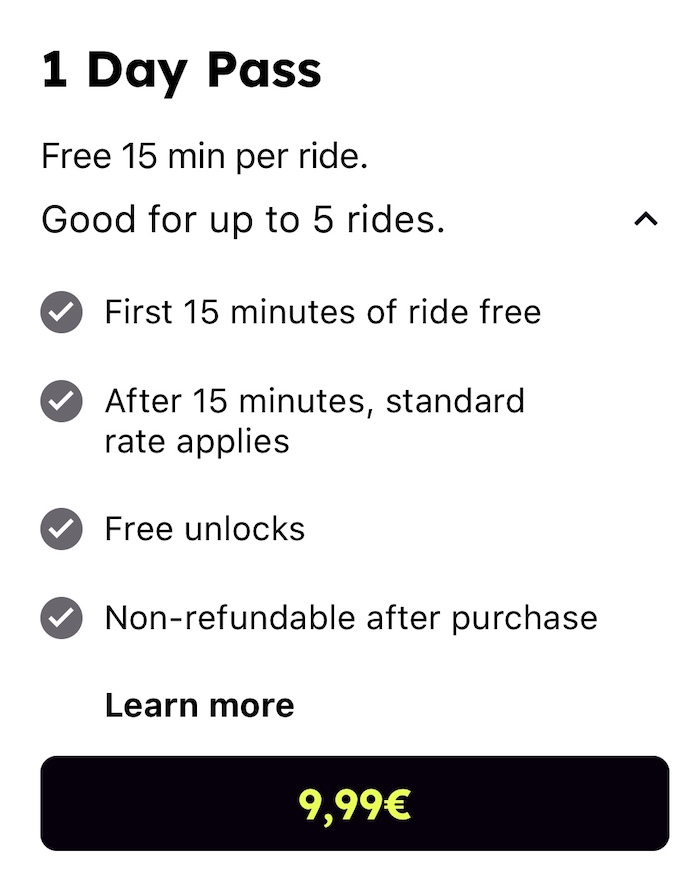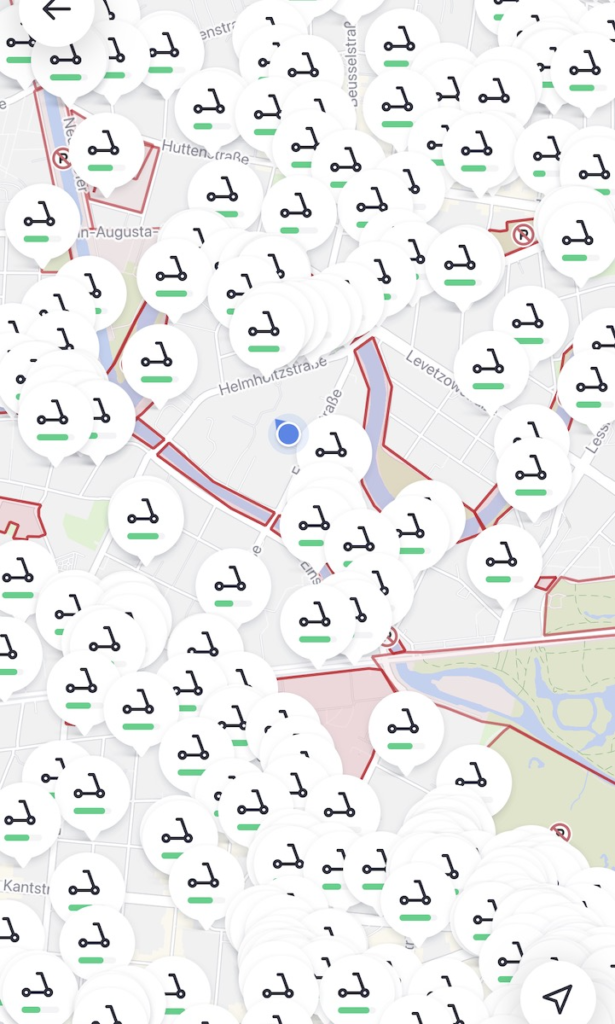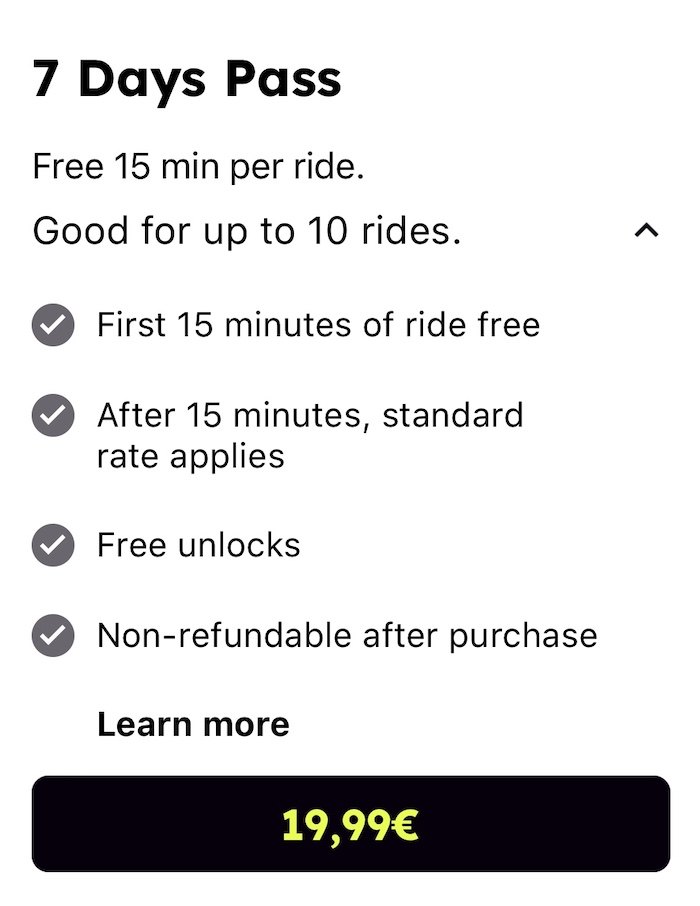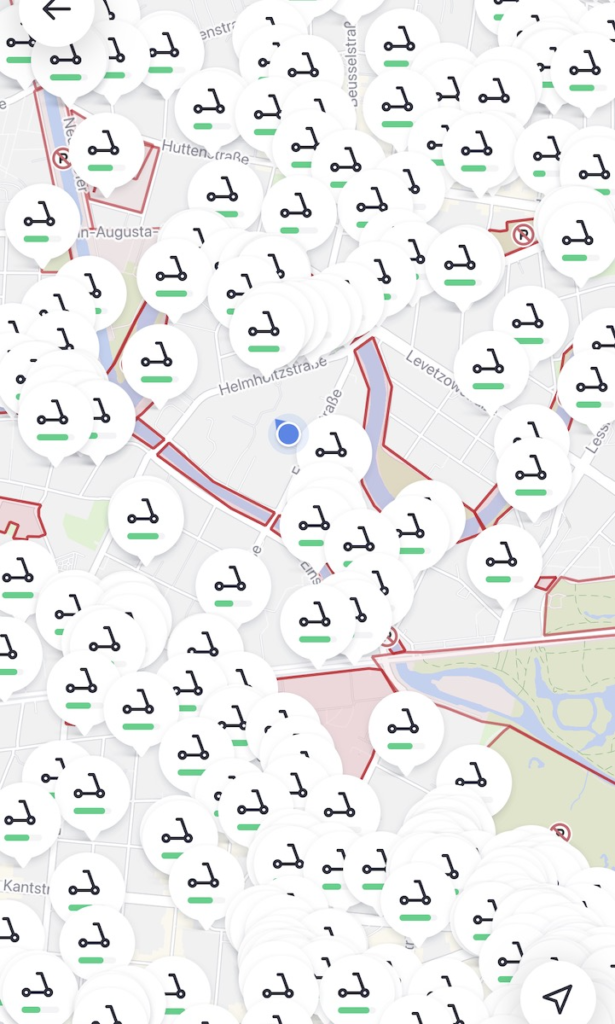 LINK Scooter Review
So what about the scooters themselves?
LINK scooters are quite nice and comfortable to drive. But most of them are quite used, which you can definitely feel on a rough road.
Another point is that scooters don't show the battery level, which can be checked only in the app after unlocking it. And you can't check the speed while riding.
Anyway there are still some benefits: when turning from the bike path to the pedestrian zone, the scooter automatically reduces the speed up to 10 km/h for safety reasons.
As you remember "Safety – first!" So we think this is a great feature!
The app is quite easy to use, you do not need to share any extra information, like ID number or uploading a selfie.
Only your phone number and a bank card details for payments are needed, and that's it.
A couple of times the app crashed and had to be reloaded, so in general, we can rate it 4 out of 5.
Bird E-Scooters Tenerife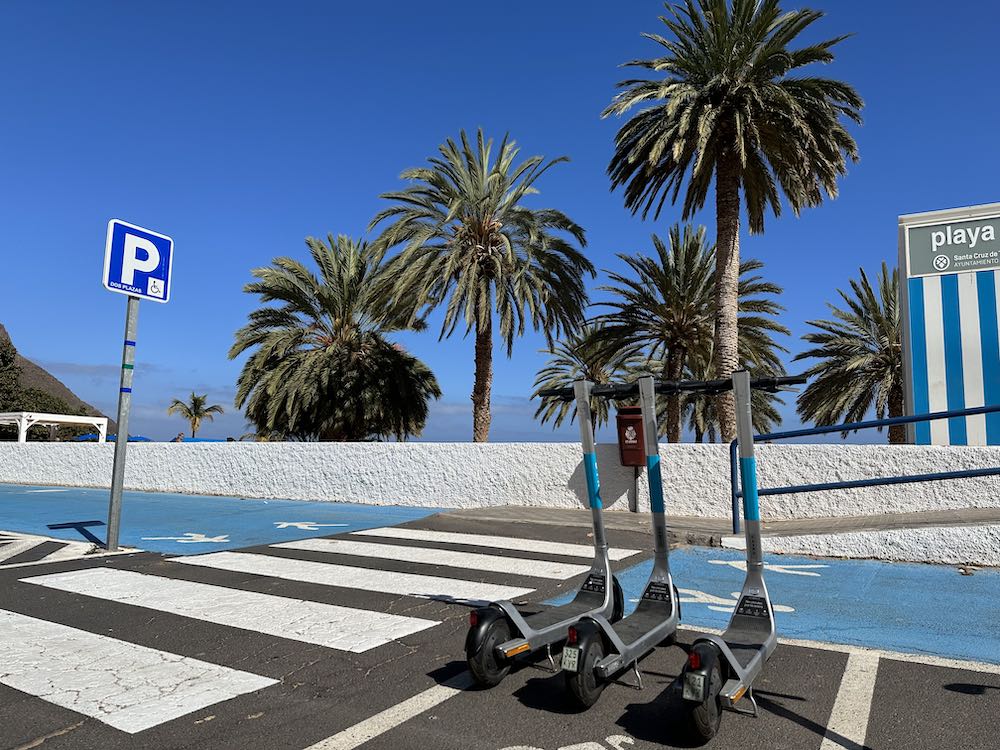 The second popular e-scooter rental company on Tenerife island is Bird.
I am totally in support of their main concept – "less traffic, cleaner air, and safer streets".
The company works with cities and universities all over the world in order to provide new car-free alternatives, such as e-scooters and e-bikes.
Here you can read more about their main idea.
We wanted to try it in Berlin half a year ago but unfortunately by that time they decided to leave the city so we were lucky "to catch a Bird" in Tenerife!
How To Use Bird E-Scooter?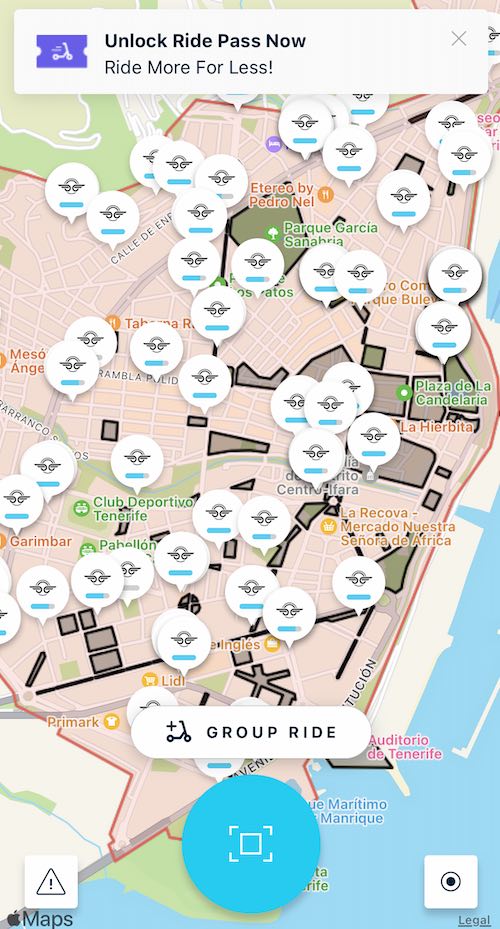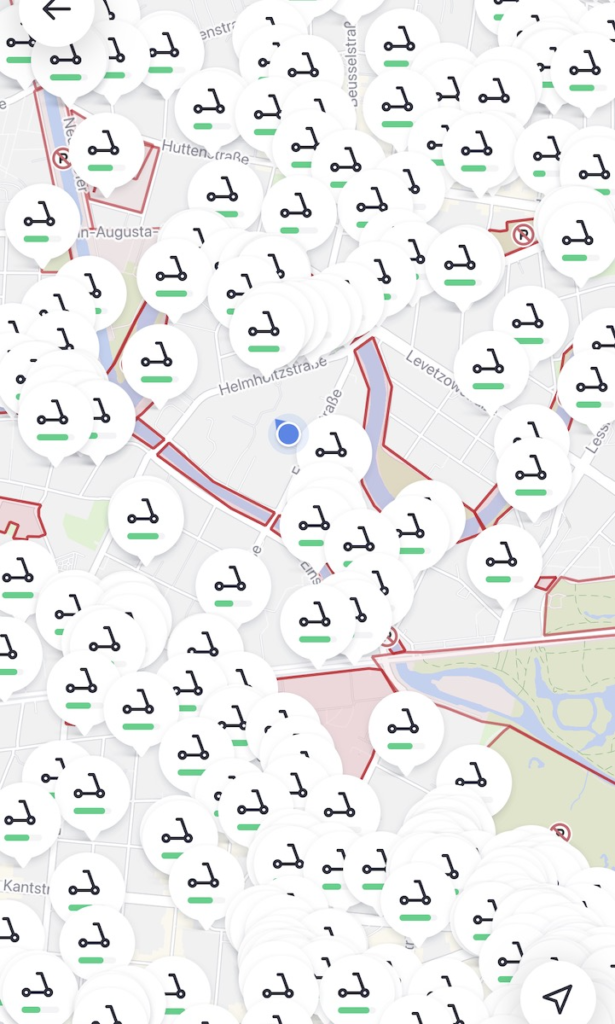 Riding Bird is very simple:
Download the app.
Sign up with your email and choose a payment method.
Use the map in order to find a Bird near you. You can see the scooter battery level on the map before starting the ride.
Scan the scooter QR code with the app and GO!
Bird Scooter Price Per Minute
Bird prices slightly differ from LINK.
They charge 1,00 euro per unlock and 0,20 euro per minute of riding. Since you unlock a scooter you can keep it reserved for up to 30 minutes.
If you compare the prices of both companies it turns out that LINK is a bit cheaper if you ride for under 20 minutes.
But if you plan to ride for more than 20 minutes Bird becomes more profitable as the savings made on cost per minute offset the unlocking fee.
Bird Scooter Passes
For intensive city rides Bird offers two options. If you plan to stay on the island for a few months, then this pass may suit you:
90 days of unlimited free scooters unlocks for 7 euros.
Which clearly makes it profitable even if you have only 8 rides during all the time. 
The more rides, the more savings on the unlock fee will be.
---
Another option for active citykillerz.
A €40 monthly pass that gives you 25 free rides, up to 30 minutes each.
No unlock fees or any other fees!
When it's worth to get this pass?
40 euros is approximately 13 rides of 10 minutes each at the standard rate, including the payment for ride minutes and the unlock fee.
If you plan to use the scooter at least once every two days or more often for at least 10 minutes within 30 days, then it is worth to take a pass.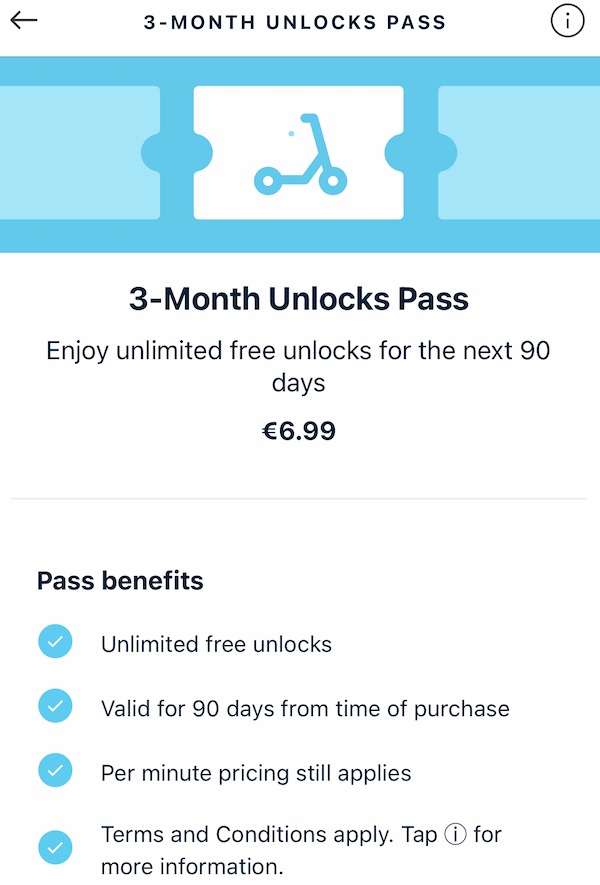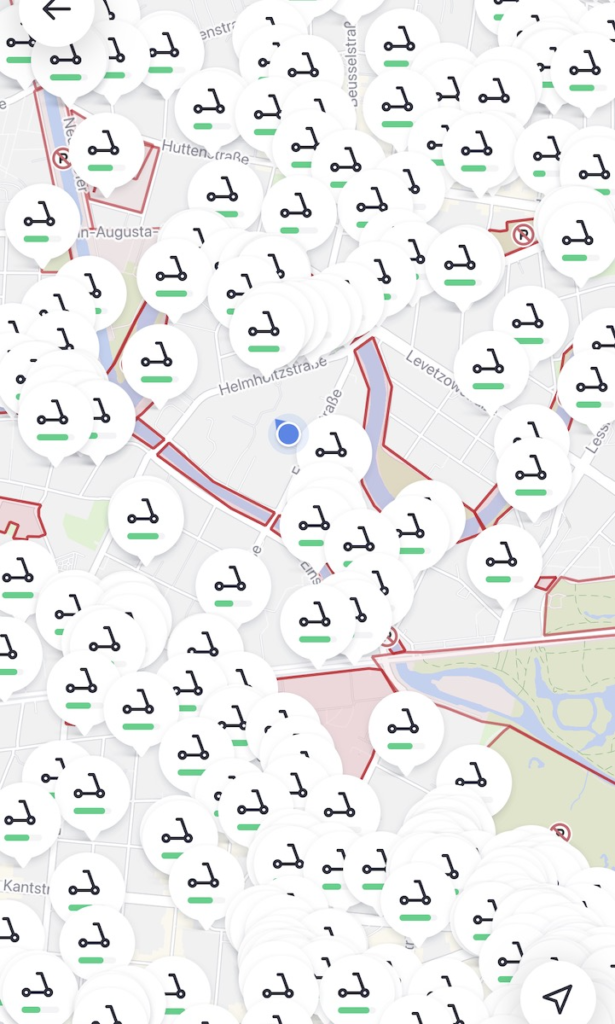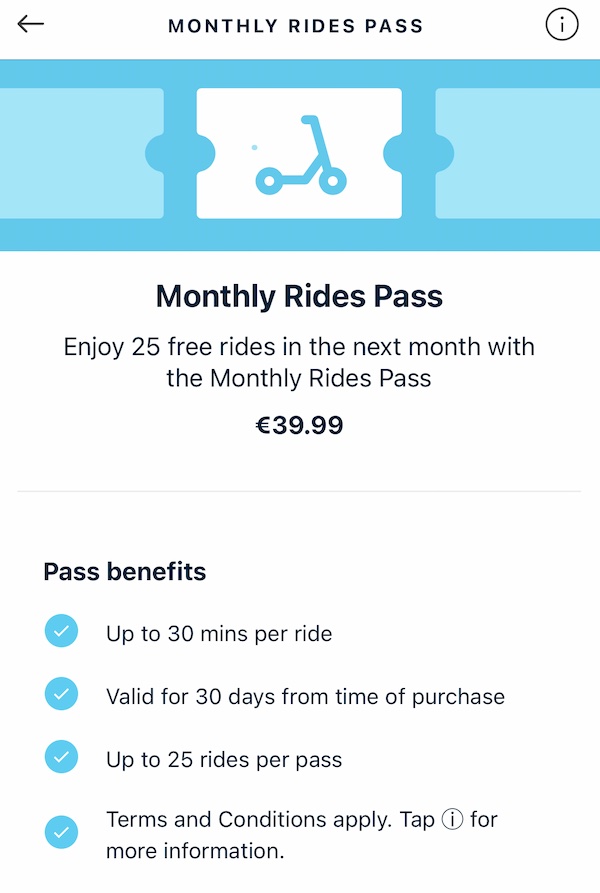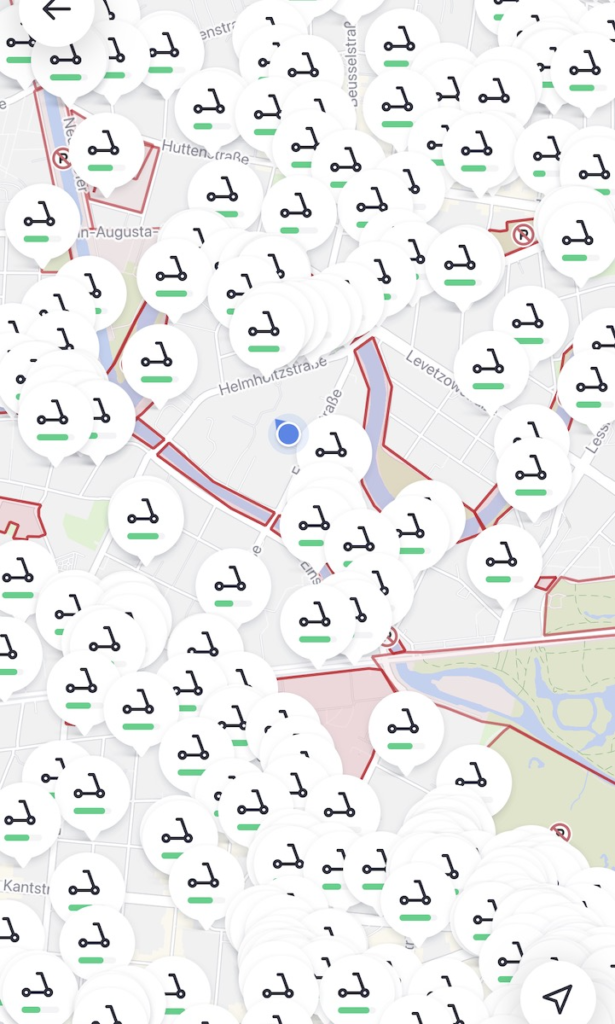 Bird Scooter Review
Early on I considered the Bird scooters to be very similar to the Link ones in riding experience.
But at some point we realised that the Bird offers two different types of scooters – old ones and newer ones.
The newer ones are very smooth in riding no matter what kind of road it is. Trust me, sometimes it might be a big problem when you ride a scooter and feel like you are driving an old truck.
In general maybe they don't compete for the first place with our favorites, but in terms of ride quality they are very very close to them.
The scooter rides smoothly, the brakes work properly.
Like the LINK scooters, they do not have smartphone holders on the handlebars.
But there are a couple of benefits:
With Bird you can get a group ride if, for example, there are two of you and one does not have mobile data or a downloaded app.
Moreover with Bird, unlike LINK, you can check the charge level of the scooter in advance, before unlocking it. And while riding you can see the speed.
But they do not have the function to auto-reduce the speed when crossing a pedestrian zone, which in this case is a large plus in favor of the LINK.
The Bird app is fast and hassle-free.
Bird Free Rides
Yes, that's true. You can get a free ride with Bird.
With this offer you can get free rides for yourself and your friends.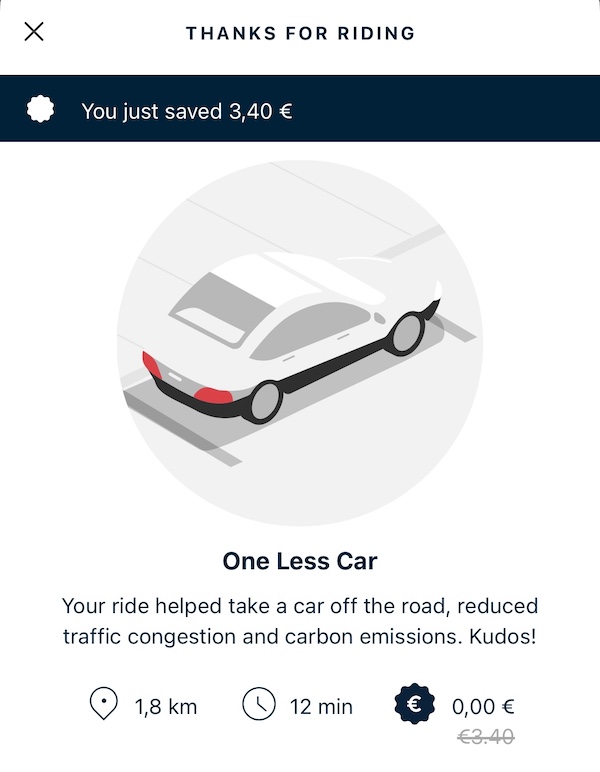 How does it work?
Send a friend a link with your promo code to download the Bird app. The link can be sent directly from the Bird app to any messenger.
If your friend downloads the app and signs up, he or she will get one free ride worth up to 5 euros.
After your friend makes a first ride, Bird will also send you a promo code for one free ride up to 5 euros.
We already tried it – it works!
Get the Bird app here and receive ONE FREE RIDE!
Hopp E-scooters Tenerife
Hopp is a relatively new micromobility start-up founded in Iceland in 2019.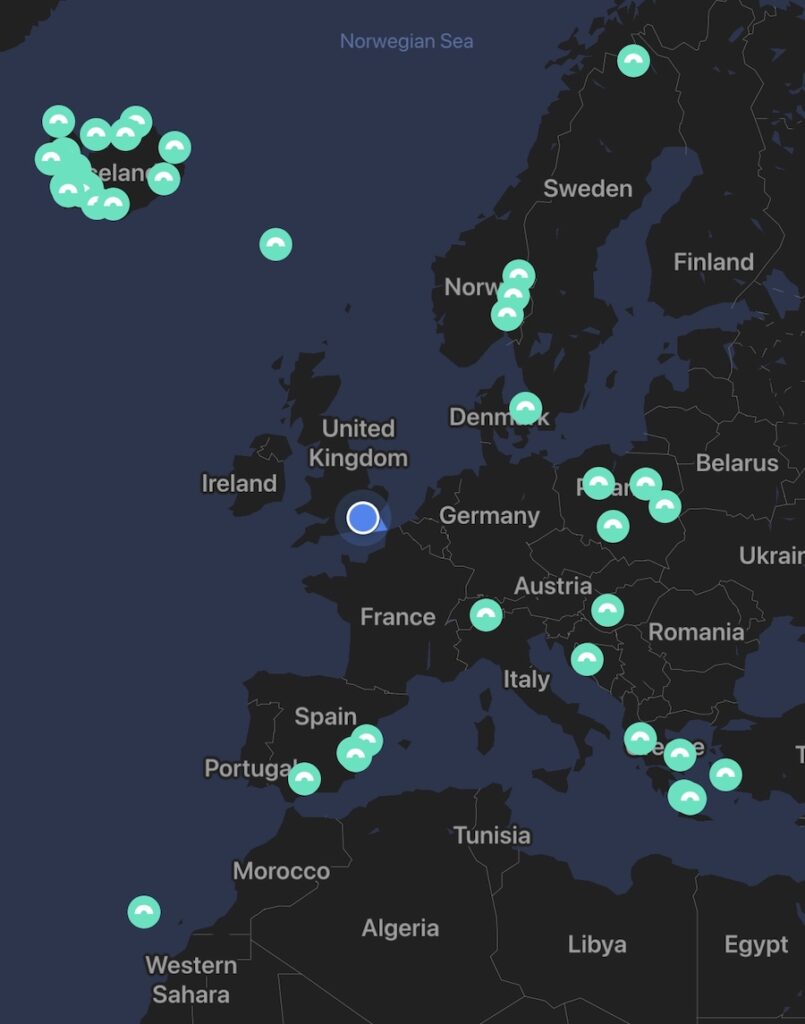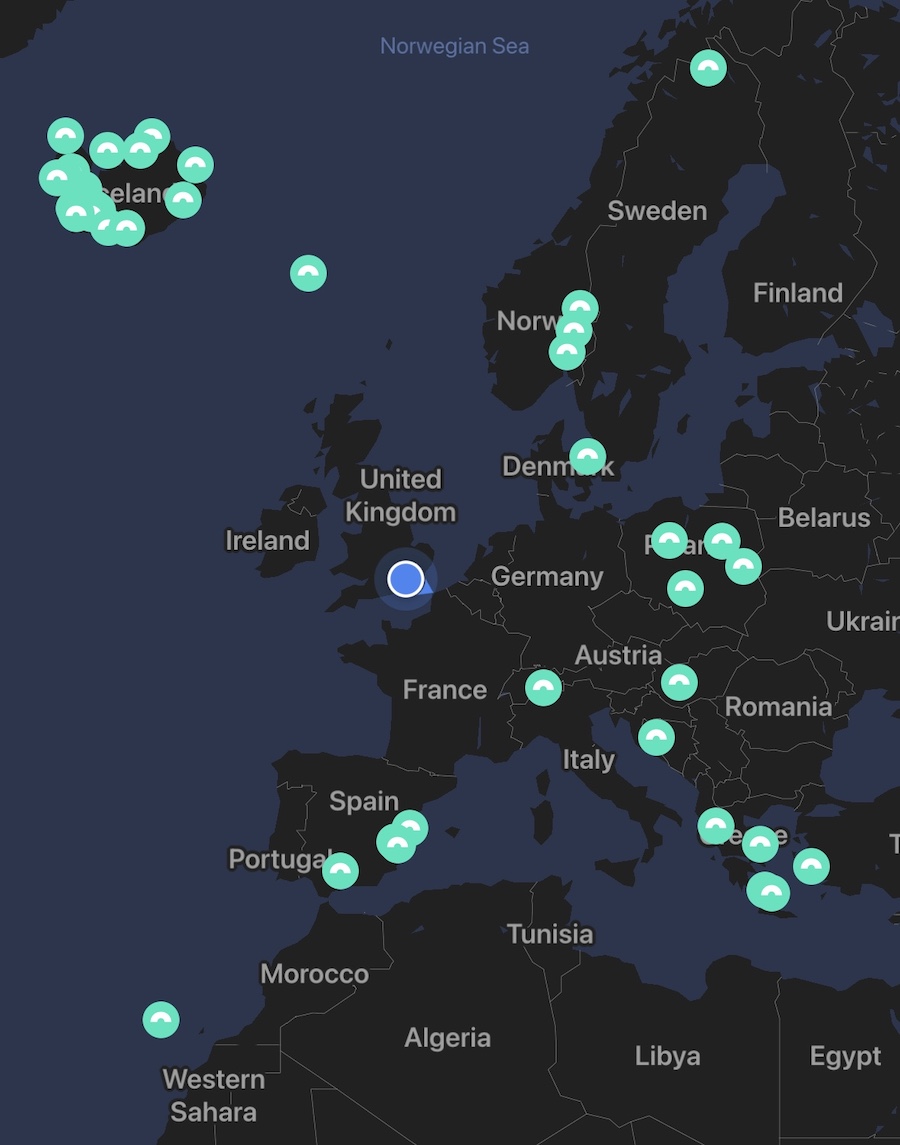 In Tenerife these e-scooters are based only in the south part of the island – Las Americas and Costa Adeje.
Compared with Link and Bird there are just a few Hopp scooters options on the streets. 
In some areas it's possible to find them only by using an app. 
Hopp Scooter Price Per Minute
The Hopp price system is similar to the Bird, they charge a fee for unlocking – 0.90 euros per e-scooter. The cost per minute of ride is 0.20 euros.
At the time of writing this article, there are no Hopp ride passes or free ride offers available in Tenerife, but they might introduce something in the near future.
Hopp Scooter Review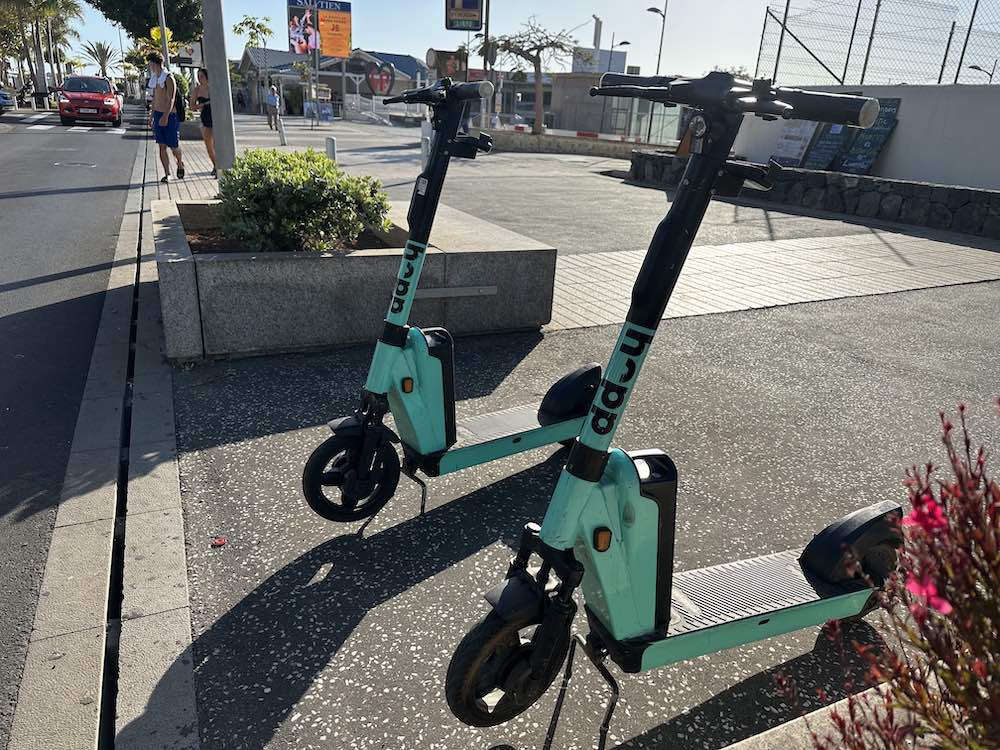 For me the riding experience was very similar to Link e-scooters.
The difference is that they have a smartphone holder and it's possible to check the battery level before unlocking the scooter as well as to check the speed during the ride. 
The app works correctly, no delays, no mistakes.
If there would be more vehicle options on the street it could really compete with our favourite, Bird E-scooters, but as far we prefer to get the one which is available near our location, Hopp doesn't quite hit the mark… at least for now.
AdriGo E-Scooters Tenerife
We managed to try one more new e-scooter company based in the south part of Tenerife.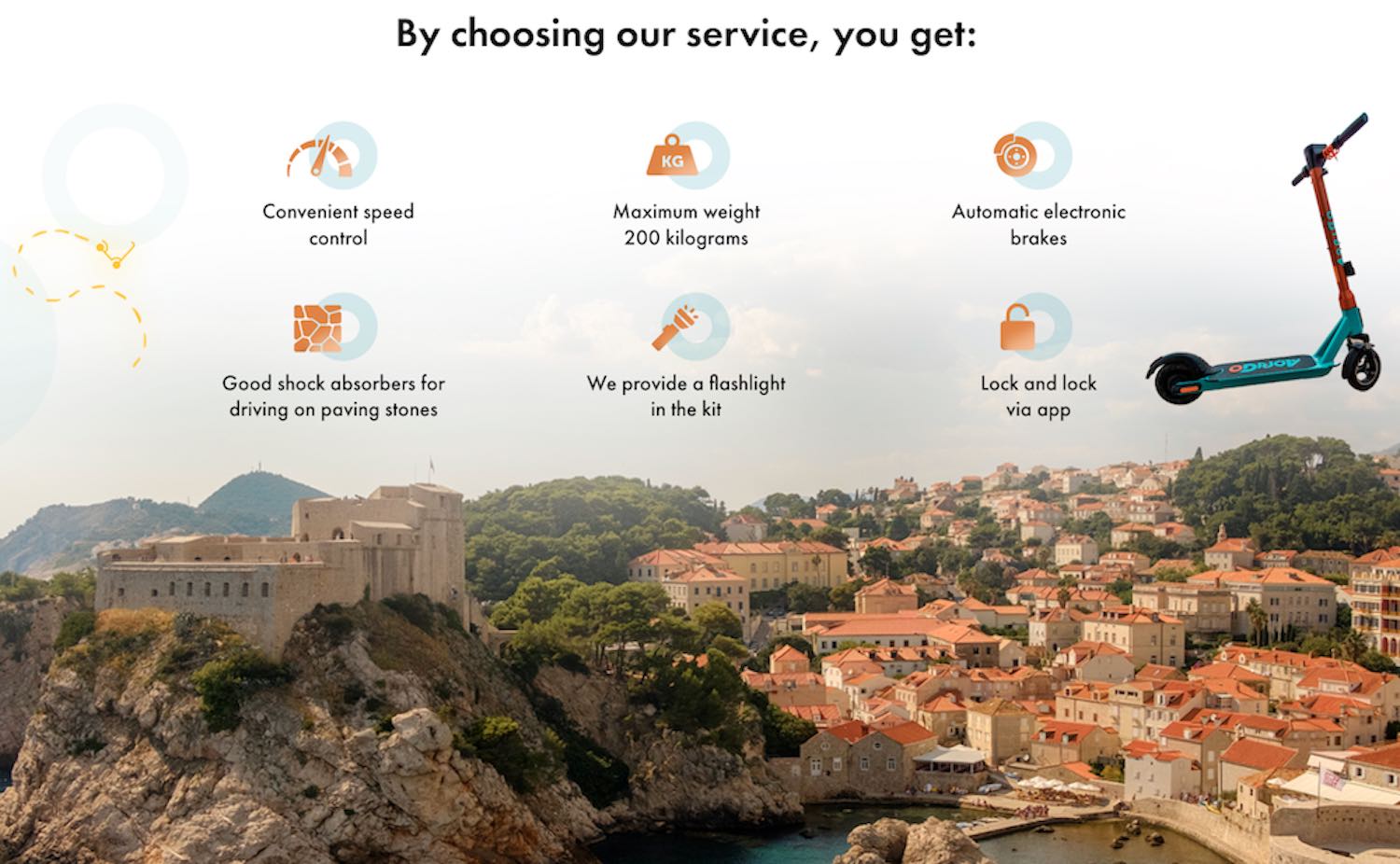 The bright colorful vehicles produced by Croatian start-up AdriGo got our attention immediately!
And then left us with mixed feelings.
AdriGo Scooter Price Per Minute
First of all the app requires a minimum spend of 10 euros on credits, which is not ideal if you just plan to have just a short quick ride.
We ended up having just one ride for about 4 euro, but the rest of the deposit was never returned to the bank card.
Okay, that's not a big deal if you plan to use e-scooters at least twice or more.
They charge 1 euro per unlock and 0.29 euro per minute of ride time, which is more expensive than ALL the other e-scooter options on the island.
So what about the ride itself?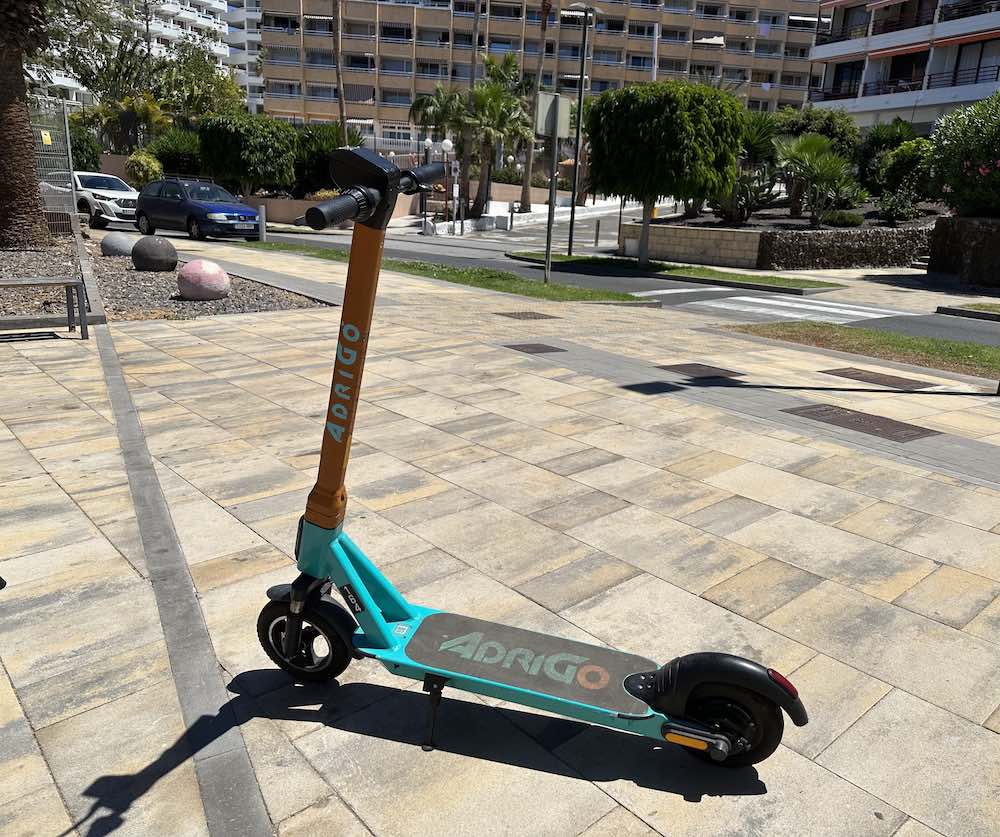 AdriGo Scooter Review
On the first sight the ride was very comfortable and smooth, plus you can check the speed level on the scooter. 
But compared with other companies the disadvantage is that the brake is only on one side and it's quite hard to ride the scooter up the hill.
The scooters do not see quite a sturdy as other brands and some corners seem to have been cut in the manufacturing process.
For example the single rear brake is a lower performing drum brake, compared with other manufacturers who have opted to use a disk brake.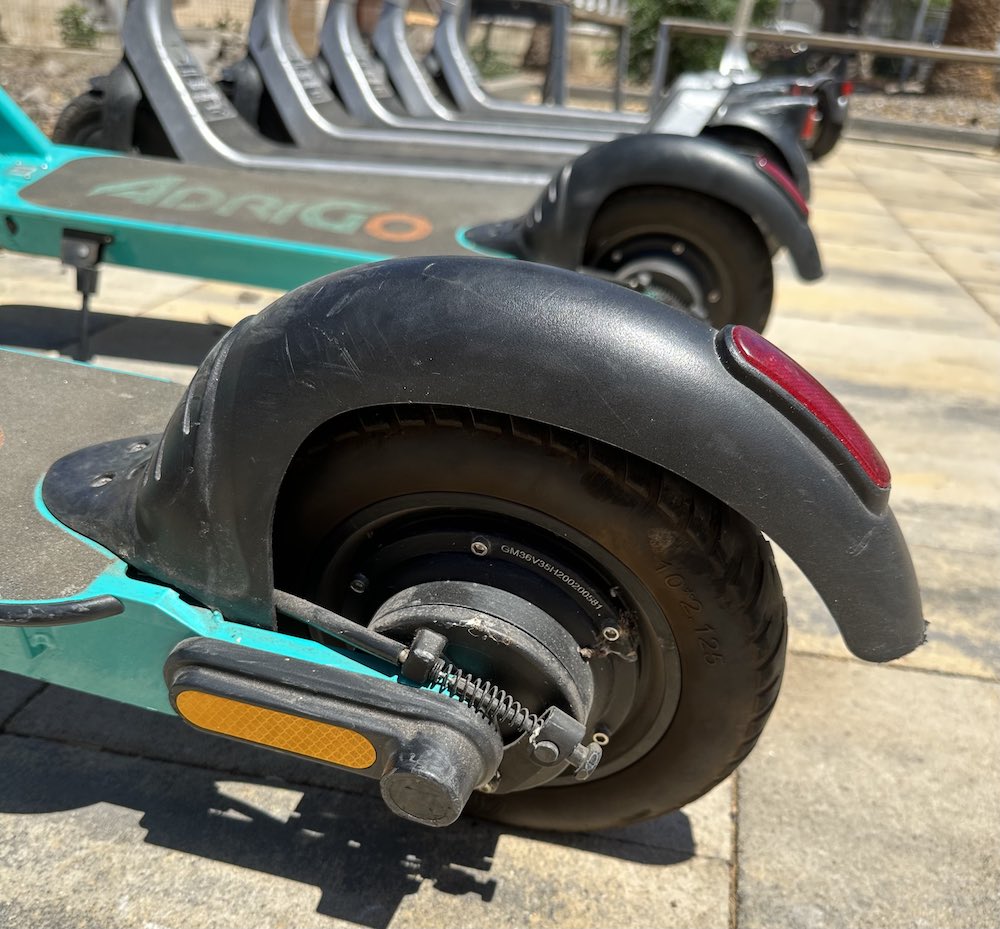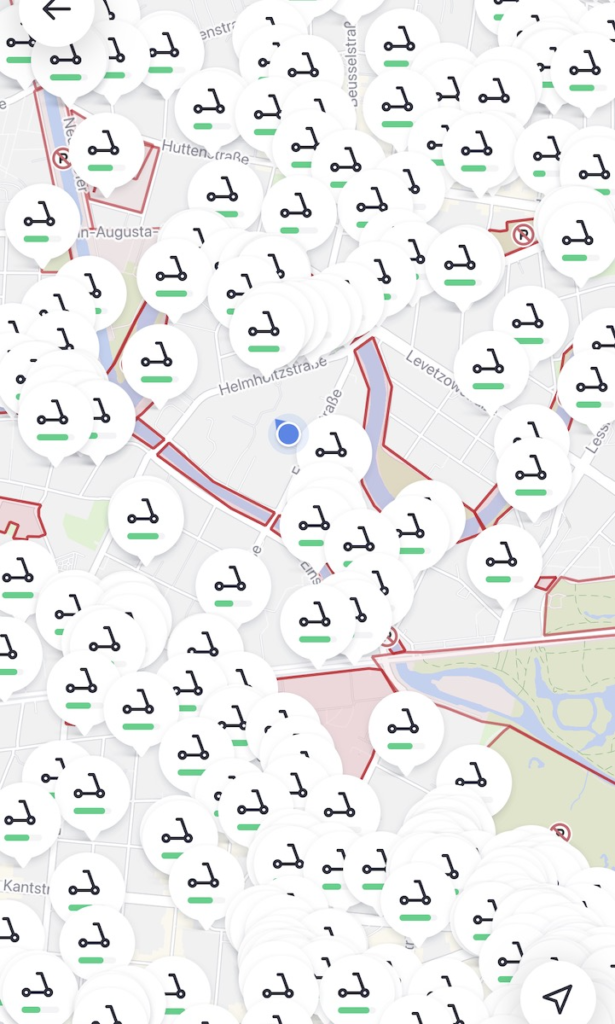 Despite these drawbacks, I really enjoyed the ride and for me the more nimble ride was enjoyable.
My partner however did not enjoy the rides at all and thought they were underpowered for a guy of his size and weight.
So Which Is The Best?
And the winner is…. the Bird!
They have a lot of benefits:
Updated e-scooters that ride softly and have good brakes.
Lots of vehicles everywhere in the city, basically at least a couple of them are on any street next to you.
Available indicator of speed and battery level.
Ride passes system and loyalty program "Free rides".
The option of a group trip.
In comparison with other companies, it is clear that these guys are trying to improve the service and attract as many people as possible to their idea.
Yes, they also have disadvantages:
The cost of the ride is slightly higher than the other offers, but only until you decide to get a ride pass.
In rare cases, the app may freeze or geolocation might be wrong.
But even in such a situation, if you were charged more money due to the minutes spent, they are ready to consider the complaint and give a refund (checked by us!).
---
In any case, I recommend that you try all of the companies and choose your favorite one by yourself.
As it depends on where you stay on the island, on your budget and on the number of trips you plan to make.
Maybe you will love something else 😉
If you liked this article check our Great E-Scooter Berlin Experience Review.