Moscow is one of the most high-tech cities in Europe.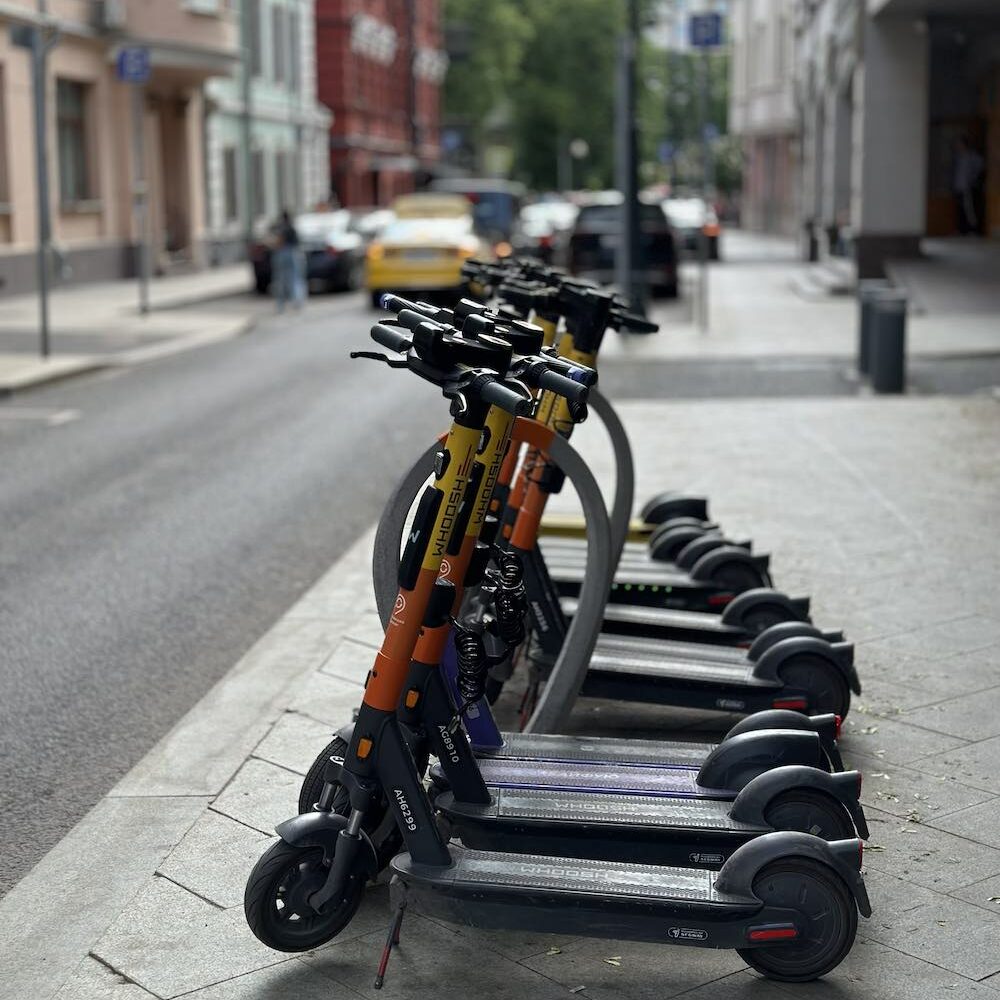 The high population density, active rhythm of life, environmental focus and fast progress have done their best: electric scooters in the Russian capital are totally integrated into social life.
And even though there are not so many bike lanes in Moscow available at the moment, riding e-scooters there is just a pleasure!
Wide prospects, lots of parks, lots of vehicles on every corner and the ability to leave the scooter literally anywhere!
Click here  to get the list of top activities and tours in Moscow  JUST from 2 euro!
What Are The Rules For Riding E-scooters In Moscow?
– The minimum age for riding e-scooters is 14 years.
– Each scooter must have proper brakes and front and back lights (which the rental companies have taken care of).
– You don't need to have a driving license in order to rent an e-scooter. The only e-scooters that require it are those with a maximum speed of 50 km/h and a power of 250 watts or higher.
– You are not allowed to ride an e-scooter under the influence of drugs or alcohol. 
Can You Ride An E-scooter On The sidewalk?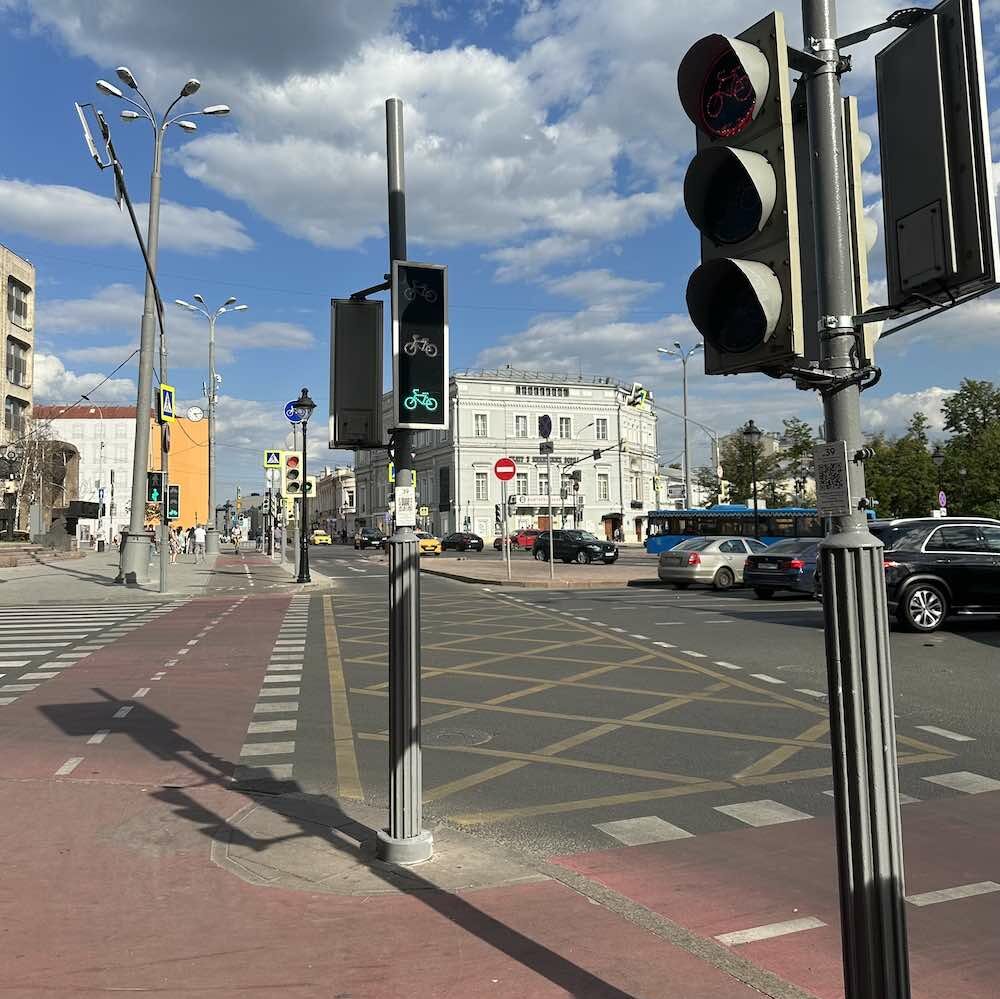 – You can ride an e-scooter on sidewalks, pedestrian and bike paths.
– It is also allowed to ride on the right side of the roadway on those roads where the speed does not exceed 60 km/h.
– There aren't many bike paths available yet, and most of them are located in the very center of Moscow city. On pedestrian roads and sidewalks, priority is always given to pedestrians.
Where You Can Not Ride An E-scooter In Moscow?
– You should avoid roadways with allowed speed of 60 km/h or more.
– You cannot ride an e-scooter on highways or on any road if there is a sidewalk or bike lane available.
What Is The Speed Limit For Electric Scooters In Moscow?
The maximum speed of riding is 25 km/h.
Some companies made it up to 19 km/h, which in general is a plus, given the hecticness of Moscow roads during peak hours.
Can You Ride An E-scooter In The Rain?
Yes. It is absolutely safe, since the motor and the battery are completely hidden and protected from moisture. 
Just be careful on wet roads, as they become more slippery, especially when turning.
Can Two People Ride One Scooter?
According to the rules, one person per scooter.
In fact, in Moscow this rule is followed in about 80% of cases.
Therefore, everything is under your responsibility. I am all for safety, so if you want to ride as two of you, then avoid roadways and do it in parks or big squares.
How To Rent An Electric Scooter In Moscow?
The technique is very simple and absolutely the same as in any other city in the world.
1. Download the e-scooter app.
There are several e-scooter companies providing service in Moscow, and further in the article I share a detailed review of each of them.
2. Sign up to the app, open access to geolocation and find the nearest scooter on the map.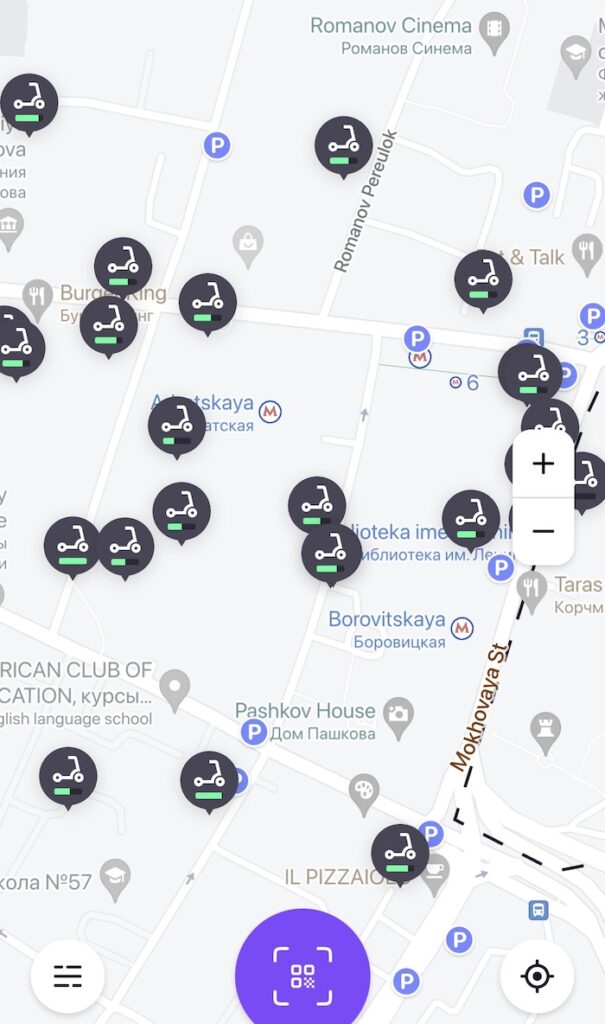 3. The scooter can be unlocked in two ways:
– choose the one you like in the app and unlock it,
– if you are outside, find a scooter and scan the QR code on its handlebars.
4. Then you just need to click "start", and in a couple of seconds you will be riding along the beautiful wide streets of Moscow 🙂
How To End A Trip On An E-scooter In Moscow?
First of all, you choose a parking spot and stop there.
The good news is that in Moscow you can park almost everywhere.
During all my rides I have stopped the scooters anywhere around the city with no need to search for parking spot.
After stopping, you need to put the e-scooter on the footstep, finish the ride in the app and take a photo of the scooter as a proof that everything is alright with it.
How Much Does It Cost To Rent An E-Scooter In Moscow?
Some companies have slightly higher costs, some a bit lower prices, but on average, 1 minute of riding costs 6-7 rubles, plus sometimes you need to pay an unlock fee which is 50 rubles.
Also, e-scooter companies offer discounts, ride passes and promo codes that allow you to save rubles on rides.
What Is The Cheapest E-scooter In Moscow?
There are three large startups in Moscow providing electric scooters for rent. These are Whoosh, Urent and Yandex Go.
One more company providing e-scooter rental is Lite, but at the time of writing this article, their scooters can only be found in the districts near Moscow or in some other Russian cities.
I have tested all three of these companies, and further I will compare them regarding prices, the use of the app, and the ride experience itself.
Whoosh
This company provides the largest number of e-scooters in Moscow.
You will see them everywhere, in any small street, in some areas right near the apartment entrances, and of course, in the city center.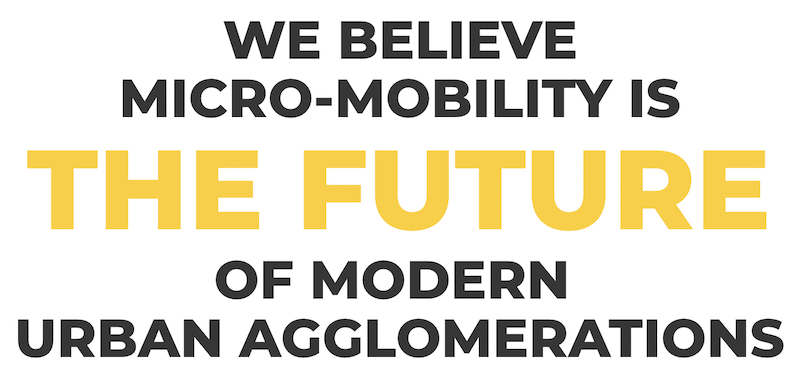 I am appealing to their idea of modern urban cities that embrace technologies to improve people's lives while minimizing harm to the environment.
How Do You Use a Whoosh Scooter?
The way of using Whoosh is exactly the same as I mentioned above in the article.
You need to download the app, log in with your phone number (no other data is required), link a card for payment and select the e-scooter you need.
There are two ways to unlock the vehicle: scan the QR code on the handlebars of the scooter through the phone's camera or click on the one you choose right in the app. In the second case, you will still need to find this e-scooter on the street.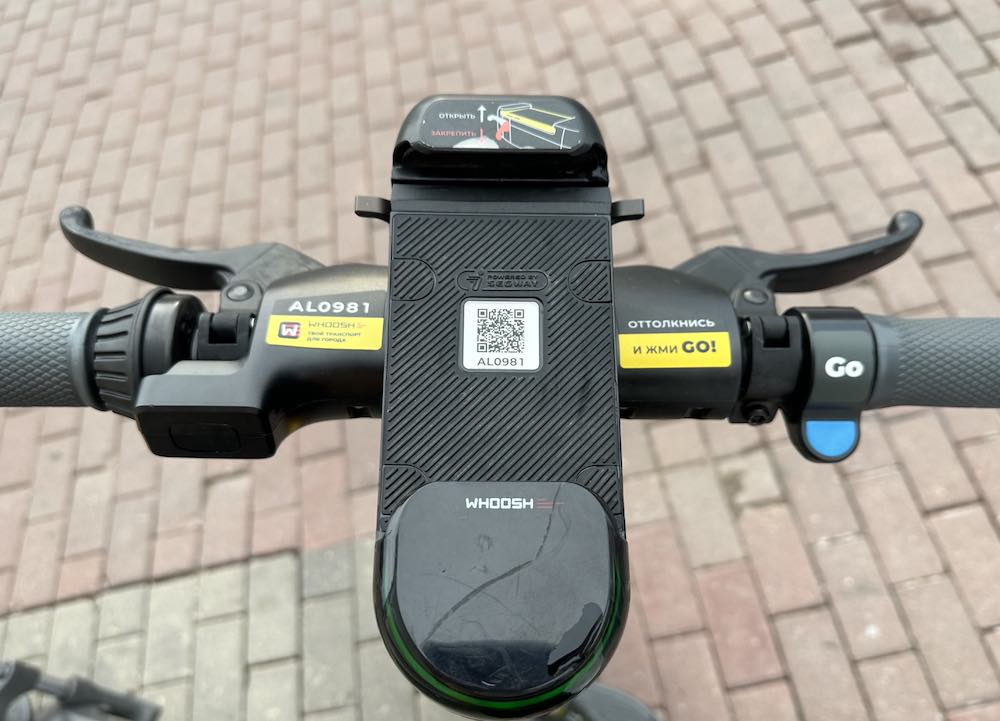 After you have reached your destination, you need to stop the scooter, put it on the kick stand and complete the ride in the app. 
The system will ask you to take a photo of the scooter as confirmation that everything is alright with it. You make the photo directly in the app and it will be automatically saved in the program.
Nothing else needs to be done, just make sure that the ride is definitely completed and the scooter is locked.
How Do You Start a Whoosh Scooter?
After unlocking the scooter, you need to stand with one foot on the platform, gently push off with the other foot, and press the GO button.
That's it.
So simple and so convenient to navigate through the city streets.
How Much Does a Whoosh Scooter Cost?
You'll love Moscow prices for e-scooter riding!
One minute of ride will cost only 7 rubles, and for unlocking a scooter they charge 50 rubles.
So with this price, half an hour of your ride will cost you only 260 rubles (or only 2.68 euros at the exchange rate on July 1, 2023).
BUT!.. That's not all 🙂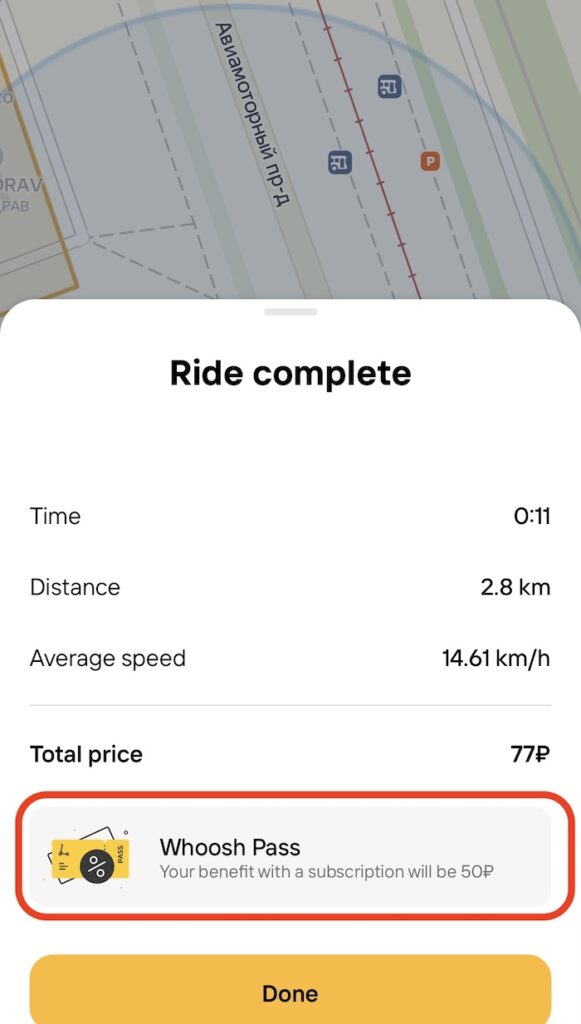 Even with such a good pricing Whoosh offers a lot of extra promotions.
For example, from time to time they offer promo codes for free scooter unlocks. In this case, you will only have to pay for the minutes spent on the ride.
I was able to use these promo codes several times, and in the end, some trips lasting about 10 minutes cost only 80 cents!
Whoosh Ride Review
So how is the Whoosh ride itself?
I've had many rides with Whoosh, primarily because their e-scooters were usually the easiest to find in my nearby area.
In general, I can say that the rides were quite comfortable, scooters are easy to ride.
They have a speed limit of 19 km/h, although for busy Moscow roads, this is actually a benefit.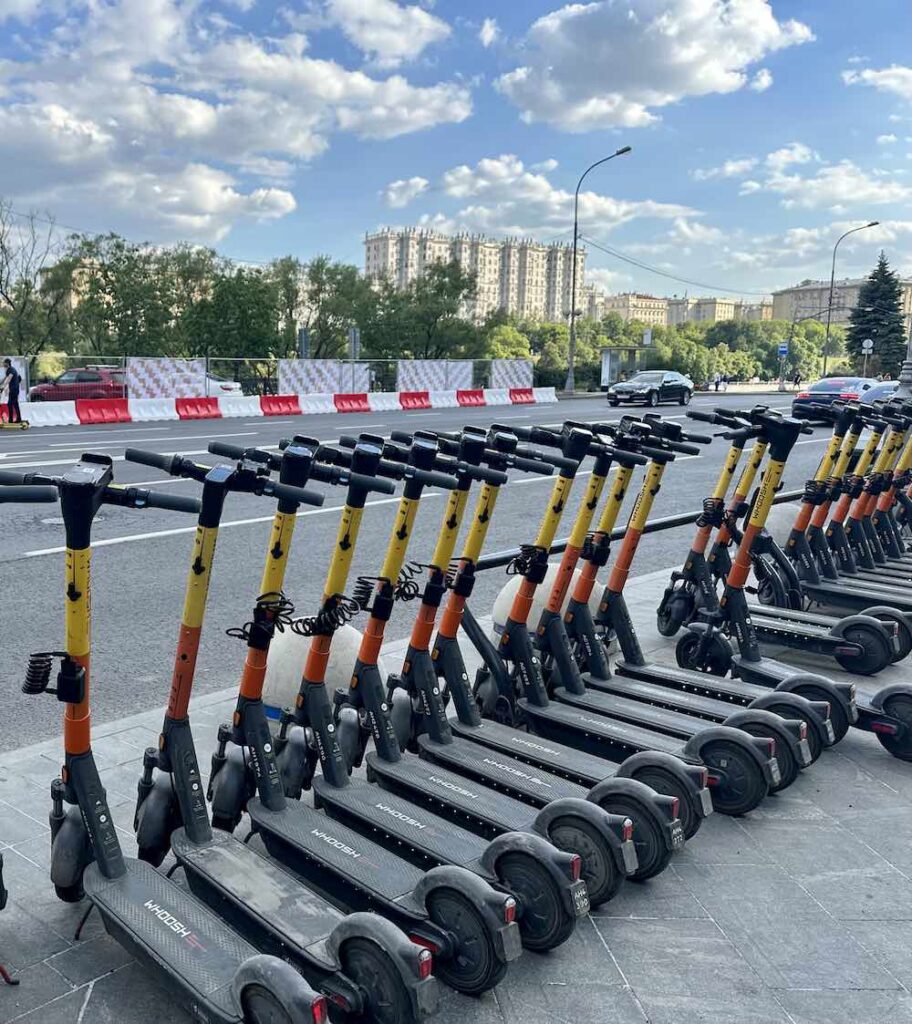 The app runs without errors and does not break. Some scooters have a phone and a bag holder on a handlebars as well as a lock.
Indeed, considering the price, you can't expect anything better.
Urent E-scooters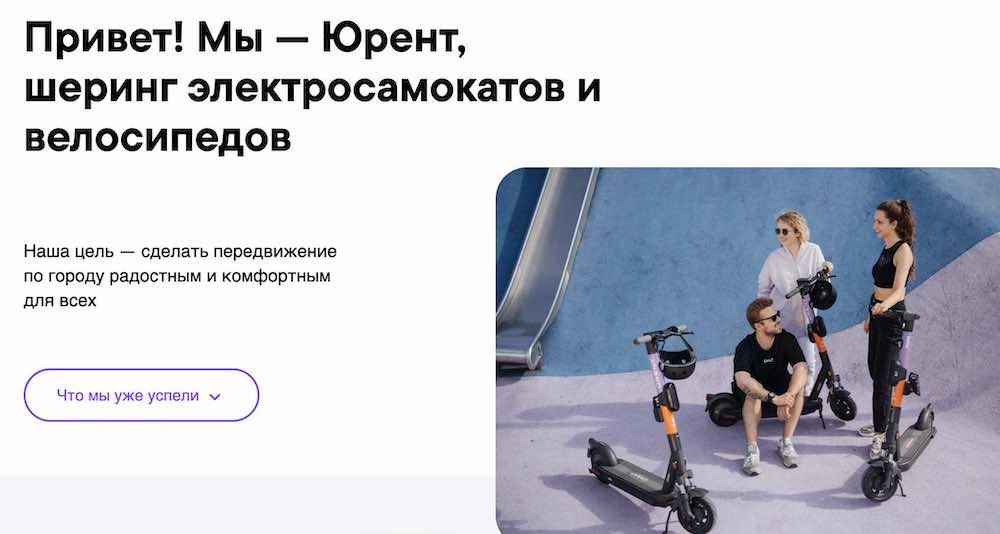 Urent is a small start-up operating since 2018. It is based in Russia and available in more than 100 Russian cities.
The company's main idea is – simplicity, mobility, fun.
Since 2018 over 3,000,000 people have experienced Urent rides.
How Do You Use a Urent Scooter?
The Urent team shared detailed instructions on how to use an e-scooter on their website.
The key points are:
Scan the QR code on the scooter handlebars. If you are unable to scan it, enter the code manually.
Then, press the "start the ride" button in the app.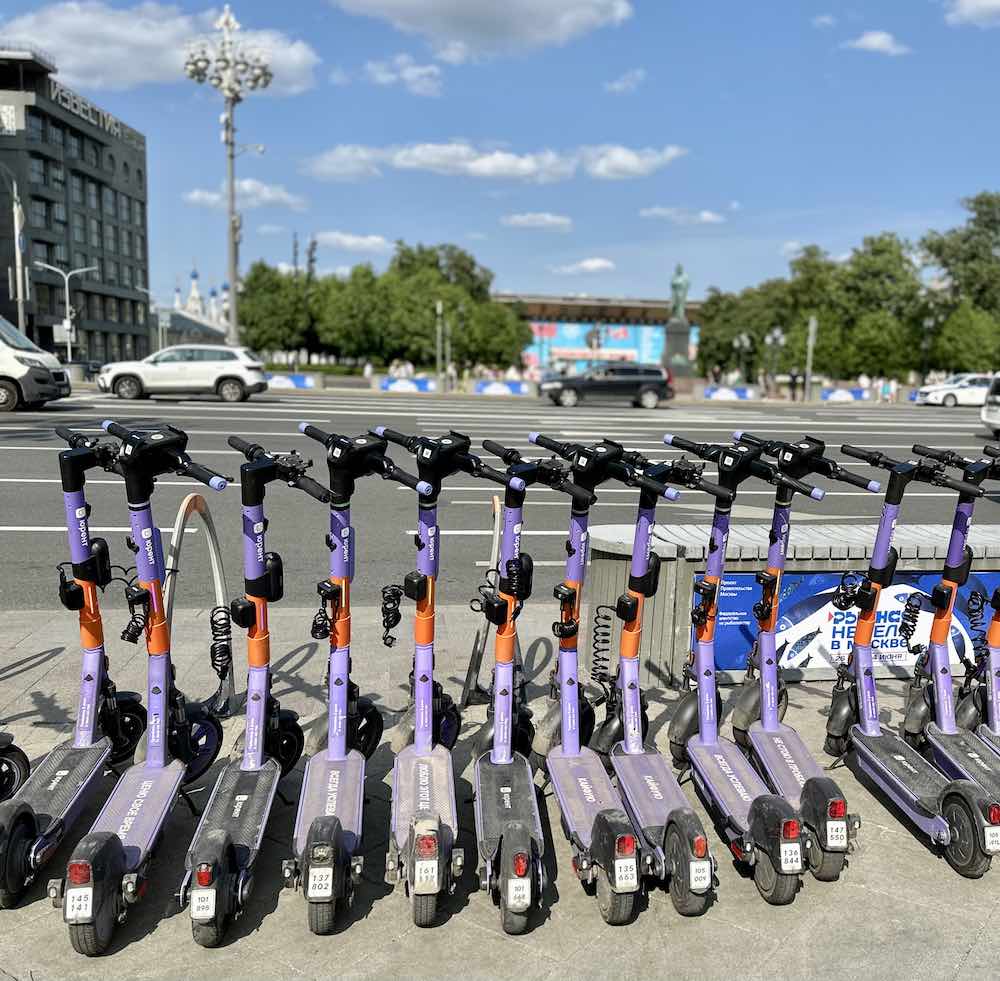 In order to start moving, push off with one foot and press the "gas" button on the handlebars.
Before starting a ride, you can check the battery level of the scooter. The app will show how much time is left until it is completely discharged.
How Much Does a Urent Scooter Cost?
Same as with Whoosh, the Urent scooter prices are very reasonable. 
I must note that it's even a bit cheaper than other scooter rentals due to the fact that you don't need to pay for an unlock fee.
So there you just pay for minutes: 7,19-7,29 rubles per minute of ride and 0,00 rubles per unlock. Though some in some areas you might be charged for an unlock fee, but in my experience I never paid for it.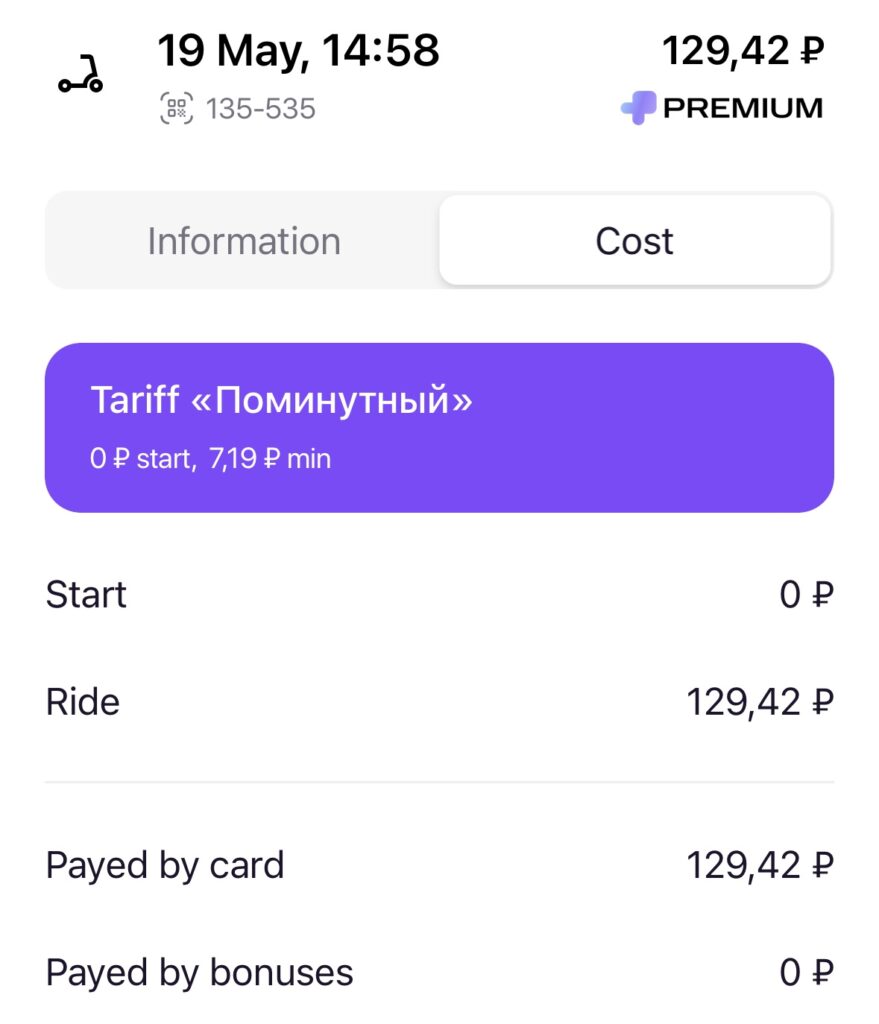 Plus the company offers different kinds of promotions, daily passes and subscriptions which can make your ride even more cheap. 
For example, if you plan to take a trip from Red Square to Vorobyovy Gory or just use a scooter a lot during the day, you might be interested in a one hour pass or "till full discharge" pass.
A three-hour pass will cost you around 815 rubles for 180 minutes, which makes the price very reasonable – only 4,5 rubles per minute.
These offers appear constantly so you just need to sign in the app and wait 🙂
One benefit of Urent is that you can rent two scooters with one phone.
How to do it? Scan and unlock the first scooter, start your ride, and then scan and unlock another scooter.
Urent Ride Review
In fact, I didn't notice any difference between riding Urent scooters and Whoosh scooters.
The rides were smooth and comfortable. The handlebars, gas, and brakes worked properly.
The app didn't experience any issues either.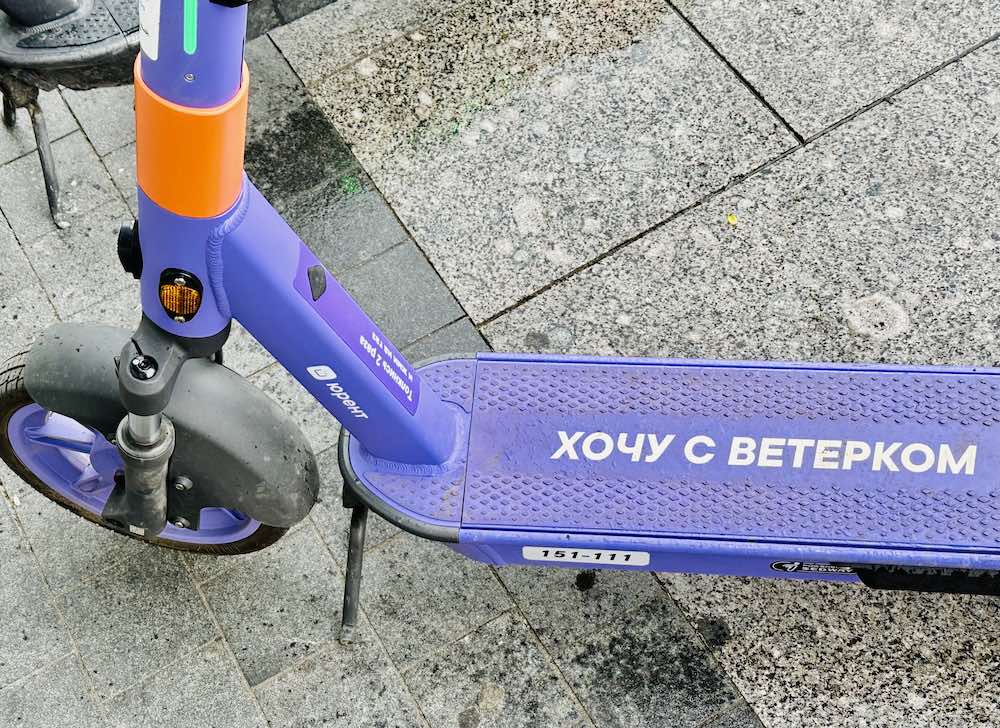 The e-scooters themselves are quite light, which is important for someone of my build 🙂
What Is Better: Whoosh Or Urent?
Whoosh is better because they offer more vehicles around the streets.
Urent is better because, in most cases, you don't need to pay for an unlock fee, which makes them cheaper than rides with Whoosh.
Additionally, if you use promo codes and discount offers, your rides can be just slightly more expensive than bus ticket fares.
Yandex Go
I can assume that even if you haven't used Yandex Go scooters before, this name may still be familiar to you.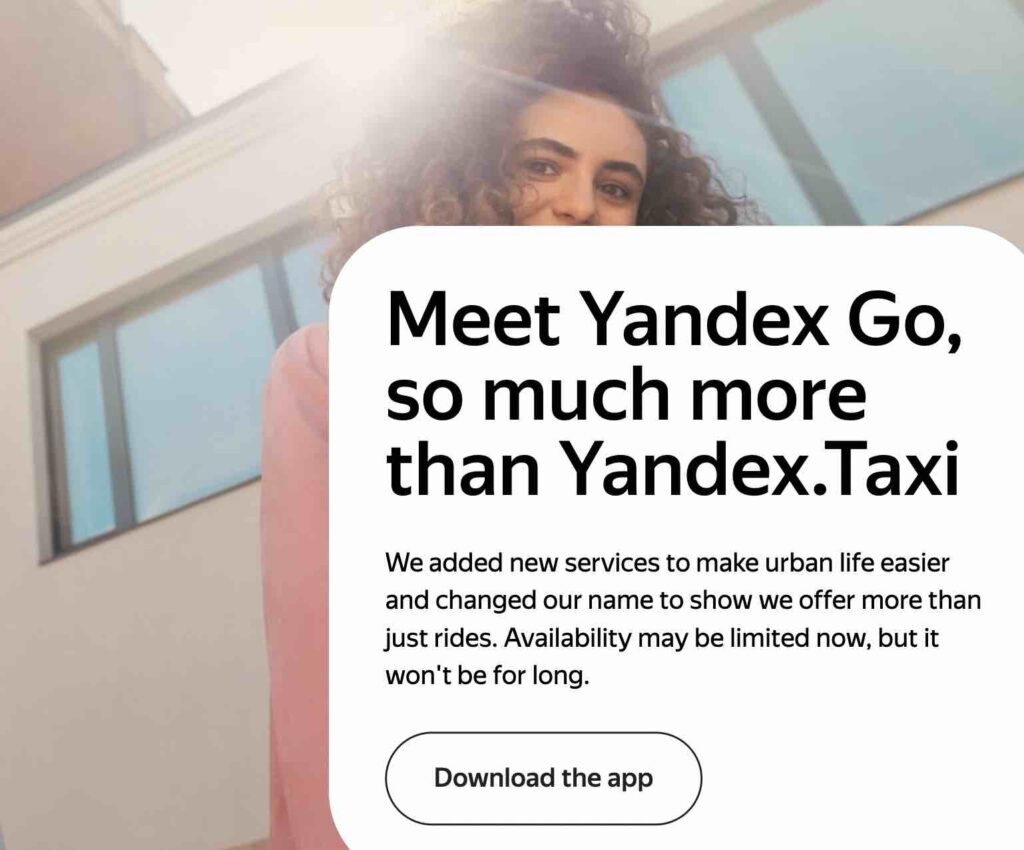 Yandex is a massive Russian IT corporation that includes its own search engine, internet portal, and many other online services and products.
I won't delve into all the details, as you can find all the information about the company here.
Despite the fact that the e-scooter project was launched only in 2021, it is currently undergoing active development and is already available in five cities in Russia: Moscow, St. Petersburg, Kazan, Yekaterinburg, and Krasnodar.
How Do You Use a Yandex Go Scooter?
Renting Yandex Go scooters is just as easy as renting any other electric scooter: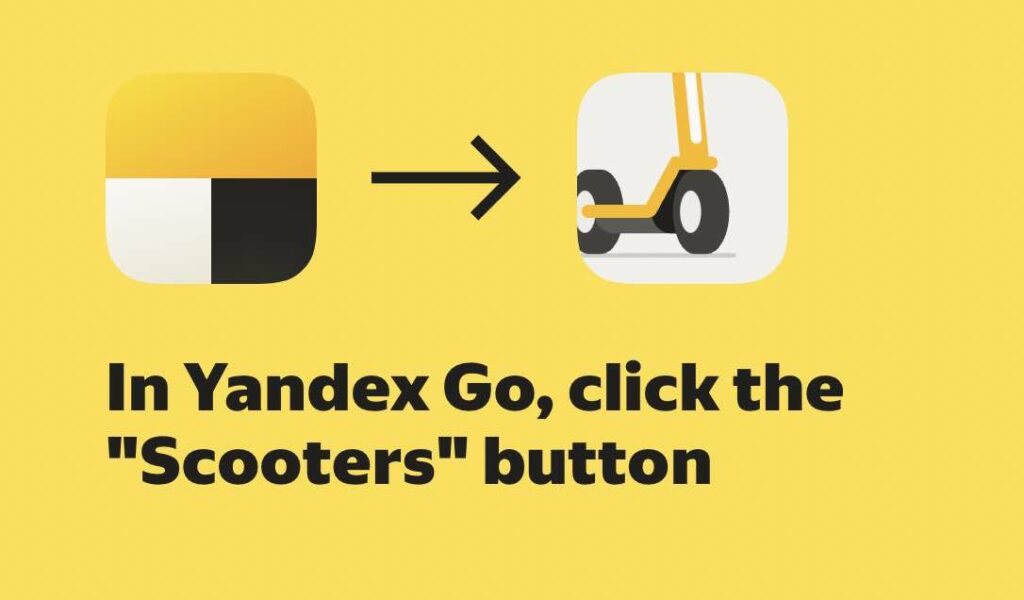 And that's it!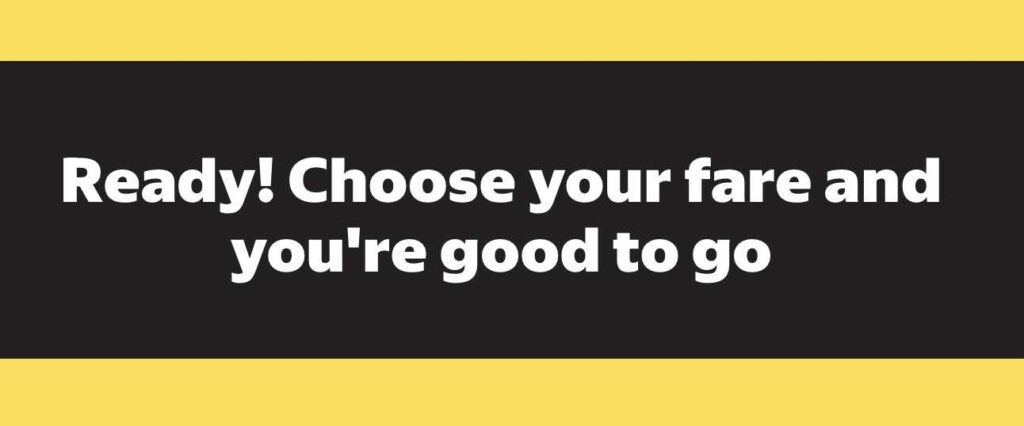 Okay, everything with riding and renting is clear. What about prices then?
How Much Does A Yandex Go Scooter Cost?
Yandex offers several tariffs for its e-scooter users.
The first and the most used one is the per-minute charge.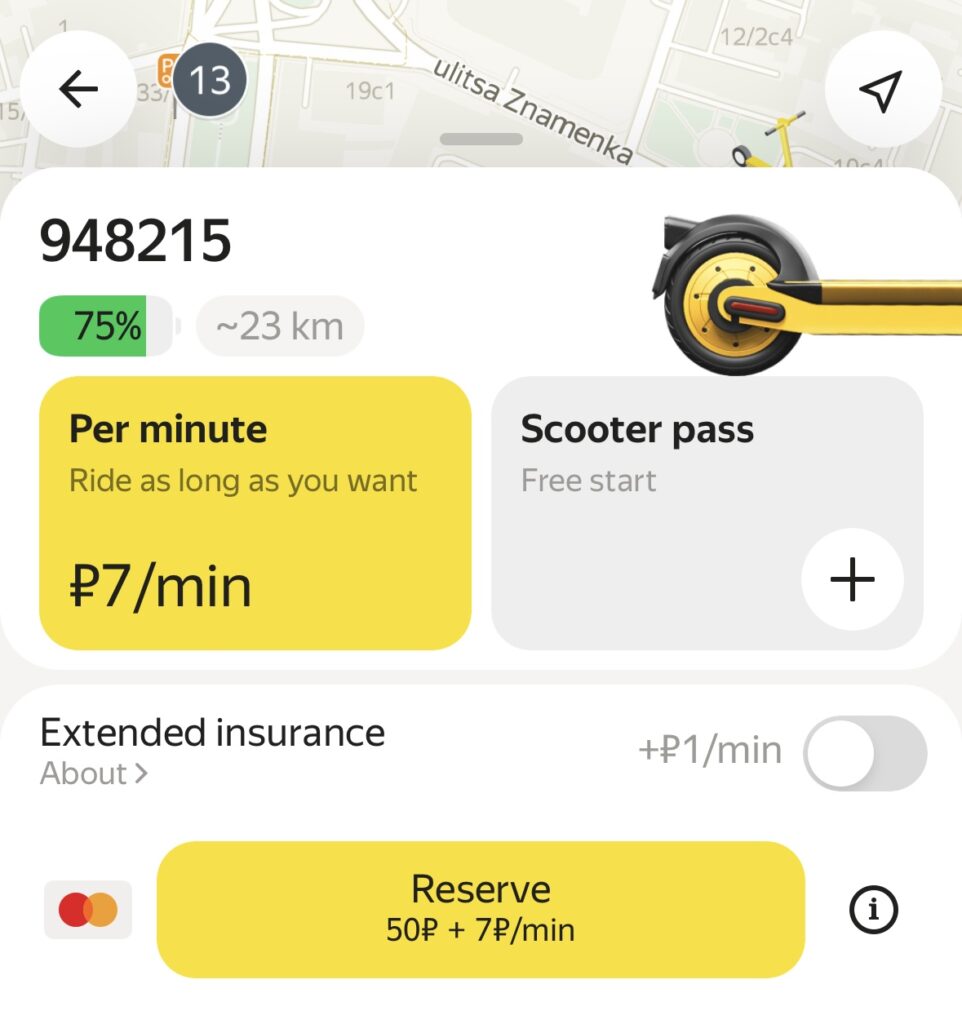 This tariff is suitable for short trips around the city and in cases where you don't know the exact destination or have multiple routes.
With this tariff, the cost of a minute of ride is 7 rubles, and an unlock fee of 50 rubles is also required.
Another very convenient tariff is the fixed price option. If you know the exact destination, you can find out the cost of the entire ride in advance and get it fixed.
How To Ride A Yandex Scooter For Free?
Yandex offers free start subscription.
It costs 199 rubles per month and allows you to unlock scooters for free.
But that's not all!
This subscription allows you to rent up to three scooters from a single device.
Yes, I know you can rent two scooters from one phone, but three?
That's totally something unusual!
So, if the standard cost of unlocking a scooter is 50 rubles, a simple mathematical calculation shows that the subscription becomes cost-effective after 4 rides if you're riding alone, or after just 2 rides if you're riding with a friend or two friends.
Yandex Go Ride Review
Yandex Go is definitely my favorite company among all e-scooters startups in Moscow!
The comfort of the ride, along with the bright and modern design of the scooters, as well as a stable and reliable app that doesn't crash.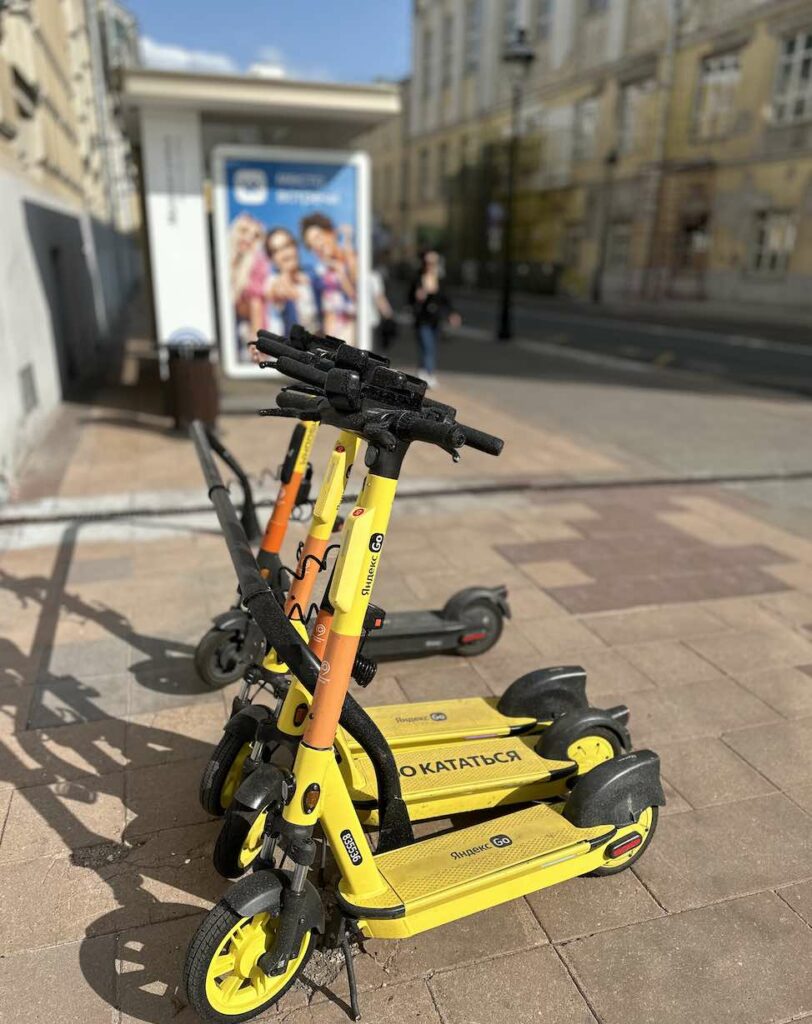 Alisa voice assistant will notify you when the rental starts and after it ends.
Having 15 minutes of waiting time included for free can be convenient for quick stops, such as a visit to the grocery store.
And obviously, the option to book three scooters with one device is just amazing.
Basically, Yandex has put a lot of effort into making their scooter rides convenient and enjoyable for their users.
---
Travelling to the Russian capital?
Did you know that it's possible to get on Moscow river cruise for just 1 euro? Check my post about how to do it.